An excerpt from Thomson & Craighead's "Trooper."
"Trooper" (1998), a single-channel video by Thomson & Craighead, shows a police officer yanking a woman from her car at gunpoint, forcing her to the ground and cuffing her hands behind her back. The short scene, taken from a CNN webcast, repeats more than 20 times, speeding up with each replay until the action looks cartoonish and jerky, and the voice-over devolves into a wordless, helium-high squeak.
The repetition of something inherently disturbing can have multiple, contradictory emotional effects, as Warhol made clear 50 years ago in his screenprinted grids of electric chairs and car crashes. Today's relentless tide of traumatic sound- and sight-bites affirms: Repetition can numb, but it can also amplify. Here, as the audio commentary becomes inconsequential, the visual evidence only grows more brutally distilled. Made in the first decade of the Web, "Trooper" feels dismayingly prescient.
The piece serves as one chronological bookend in a gnawing brainworm of a show at the West Hollywood gallery Young Projects. The other is nearby, settled into a velvet-lined box and encased in a vitrine. It's a bottle of perfume that Thomson & Craighead concocted to evoke the end of days. Fittingly blood-dark, "Apocalypse" (2016), has a sharp, vegetal scent, the olfactory counterpart to the thunder, hail, dead sea creatures, opened earth and burning lake described in the Book of Revelation. Even doom can be marketed, and opulently.
Jon Thomson and Alison Craighead, a couple based in London and the Scottish Highlands, have myriad ways of getting under the skin and staying there. The audio and video installations here are joined by printed balloons, an altered clock and a set of posters. Drawing from Flickr, YouTube, other websites and data streams, the works all enact shifts in context and structure that trigger a sense of instability, a dislocation that ranges from amusingly benign to psychologically daunting.
In 2010, they re-edited the 1960 film "The Time Machine" so that all of the spoken dialogue occurs in alphabetical order. The narrative is re-schematized as a collage, in keeping with the temporal discontinuity at the heart of the story, and at no expense to its drama. Snippets of incongruous footage linked by a common word flutter by, yielding an engrossing found poetry: greetings, heavens, help, here, honestly, how, hurry, and so on.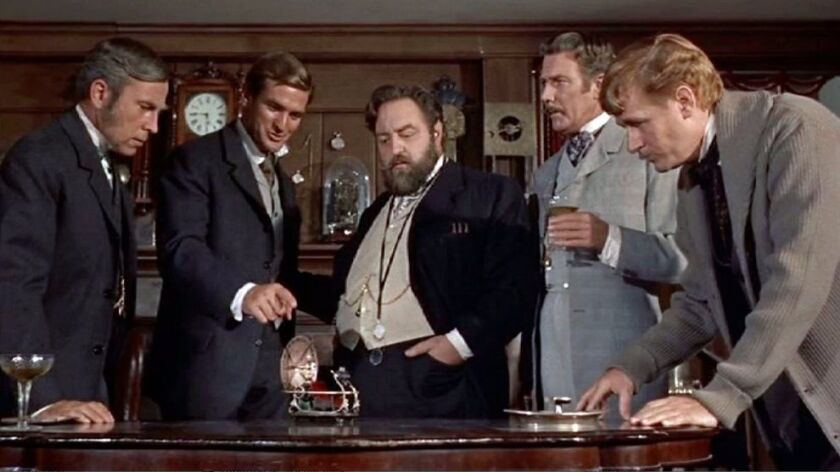 SIGN UP for the free Essential Arts & Culture newsletter »
In "Help Yourself" (2016), listeners can compose a sound montage for themselves, armed with a headphone jack and a bank of options: 32 audio sessions encouraging different sorts of self-improvement, such as unlocking creative potential and curing depression. The smorgasbord of affirmations speaks to a hunger for internal stability; surrounding works address broader causes for unease. One monitors the safety of nuclear waste depositories and another samples personal chronicles of war.
Throughout, Thomson & Craighead zoom in, then pull back, toggling between individual voices and global phenomena. Complex but understated, their work addresses the forces of belief, fear and uncertainty. It relies upon media heralded as connective to reveal something of the disconnection it wreaks. Much here will linger and haunt, not least the pungent scent of "Apocalypse."
Young Projects, Pacific Design Center, 8687 Melrose Ave., West Hollywood. Through April 15; closed Sundays and Mondays, open Saturday by appointment. (323) 377-1102, www.youngprojectsgallery.com
Follow the Los Angeles Times' arts team @culturemonster.
ALSO:
The NEA works. Why does Trump want to destroy it?
L.A. Without the NEA: Series looks at what a city loses if funding gets the ax
Kerry James Marshall's paintings insist on black self-representation
Mark Ryden's foray into set design is a fantastical ballet
---