Oaxacan muralists' L.A. works give voice to indigenous peoples — but the artists cannot travel to the U.S. to view them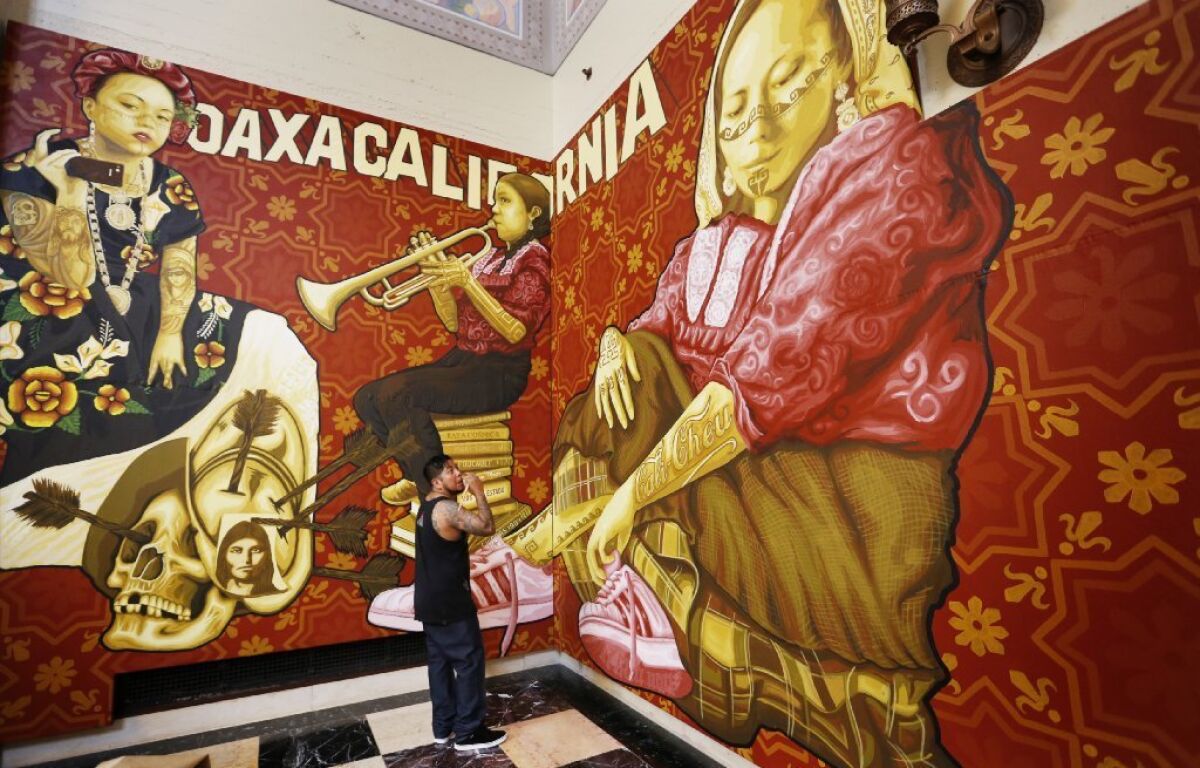 Eight bold and colorful murals by Oaxacan artist collective Tlacolulokos have anchored the Los Angeles Public Library's domed rotunda for the past year, drawing nearly 100,000 visitors to the downtown branch and stirring acclaim. "Visualizing Language," part of the Getty Foundation's Pacific Standard Time initiative — and its mural component, "For the Pride of Your Hometown, the Way of the Elders, and in Memory of the Forgotten" — addressed the history and under-representation of indigenous peoples as well as L.A.'s Oaxacan community. Fans of the work showed up at the library on Sunday to celebrate the murals and bid them farewell during a closing reception for the exhibition.
Noticeably absent from the festivities: the artists themselves.
The artist duo Dario Canul and Cosijoesa Cernas have been banned from reentering the U.S. for the next five years, they told Daniel Hernandez, editor of the web publication L.A. Taco. Upon arriving at San Francisco International Airport on Jan. 8 to pursue possible creative projects there, their visitor visas were confiscated and revoked.
The Library Foundation did not respond to multiple requests for comment on Wednesday.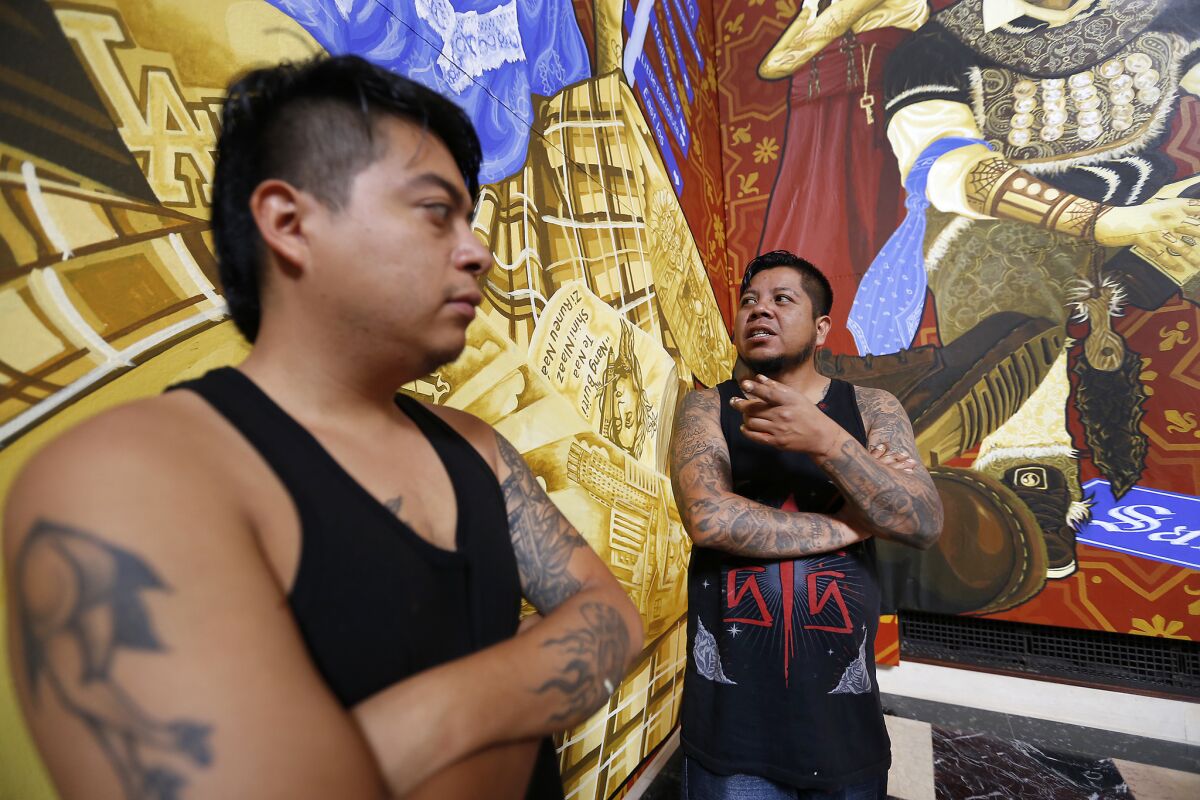 Louise Steinman, the Library Foundation's longtime ALOUD series director, played a key role in initiating the "Visualizing Language" exhibition; ALOUD associate director, Maureen Moore, was the exhibition producer. Because of their recent departures from the Library Foundation, reported on Wednesday, neither could speak to The Times to comment on the Tlacolulokos artists' case.
"It's incredible, but not surprising what's happening here," said Carlos Rogel, interim executive director of the arts nonprofit Social and Public Art Resource Center (SPARC), which has hosted Oaxacan shows and mural collectives in the past, including artist trio Lapiztola — whose work is notably showcased on Guelaguetza restaurant — but not Tlacolulokos. "International artist exchanges have always been critical here in L.A., the arts institutions here benefit from the exchange," Rogel says. "But we've seen this happen historically, with artists losing their visas in the U.S. as a way of censoring their work here."
With the collective Tlacolulokos, Rogel adds, "it's the politicization of the content of the murals themselves, as we're in an anti-immigrant environment — the depiction of indigenous culture is radical, it's threatening and it fits this desire to exclude immigrants, particularly immigrants of indigenous communities in Mexico and Central America. Artists are pulled into whatever political climate we're in. Artists should be protected by their sponsors, point blank."
The LAPL, according to L.A. Taco, said it was unable to intervene officially and help Canul and Cernas after customs agents confiscated their visas – they were, at the time, traveling independently of the LAPL – and after a night in detention, they were put on a plane headed back to Mexico the next day.
"La banda estaba sacada de onda [We were freaked out]," Canul told L.A. Taco.
Xochitl Flores-Marcial, a consultant on the "Visualizing Language" exhibition and a professor of history at Cal State Northridge, told L.A. Taco that earlier this year the library did consult with immigration attorneys about helping Canul and Cernas, but that it was already too late.
It's not uncommon for artists from other countries to travel to the U.S. on tourism visitor visas while pursuing creative projects, said Jesse Lerner, an independent curator who's organized multiple art and film projects between Los Angeles and Latin America, including Oaxaca, over the past 15 or so years. It's not a violation of their visas, he said, "just to discuss work and have a conversation."
"I don't see how meeting with galleries, even to discuss a commission, is a violation – we have free speech, we can discuss whatever we like," Lerner said. "If they come back later and on a commission, they should probably get another visa. Everything's gotten harder for artists because of a racist, xenophobic administration in Washington."
A representative for the Mexican consulate in Los Angeles declined to comment on the Tlacolulokos case.
The ultimate irony is that the "Visualizing Language" murals are meant to give voice and representation to the Zapotec community along with other indigenous communities whose back stories have been overlooked.
Even the location of the Tlacolulokos murals in the rotunda was a statement: They were installed directly below artist Dean Cornwell's 1933 murals about California's early history. Pastel renderings show Native Americans bowing down to European colonialists. Yet Tlacolulokos' strong burgundy and gold hues scream against Cornwell's quiet palette, making the artists' voice ever-present in their works, even if they couldn't be there in person.
The murals were donated to the permanent collection of Long Beach's Museum of Latin American Art, which plans to show them in late 2019 or early 2020. But first they are headed to Lille, France, where they will be exhibited in November 2018 as part of the town's festival honoring Mexican culture. The LAPL exhibition closes Friday.
"MOLAA deeply regrets the artists were not able to attend last Sunday's event," the museum's president Lourdes Ramos said through a spokesperson. "We're confident the matter will be successfully resolved in the near future so that they're able to continue as cultural ambassadors of the Mexican artistic tradition."
Follow me on Twitter: @debvankin
---
UPDATES:
12:18 p.m. This article was updated to reflect that the departures of ALOUD series director Louise Steinman and ALOUD associate director, Maureen Moore, were unrelated to Dario Canul and Cosijoesa Cernas' visas being revoked on January 8, 2018.
---
Get our L.A. Goes Out newsletter, with the week's best events, to help you explore and experience our city.
You may occasionally receive promotional content from the Los Angeles Times.