In 'Tyler's Suite,' voices unite against bullying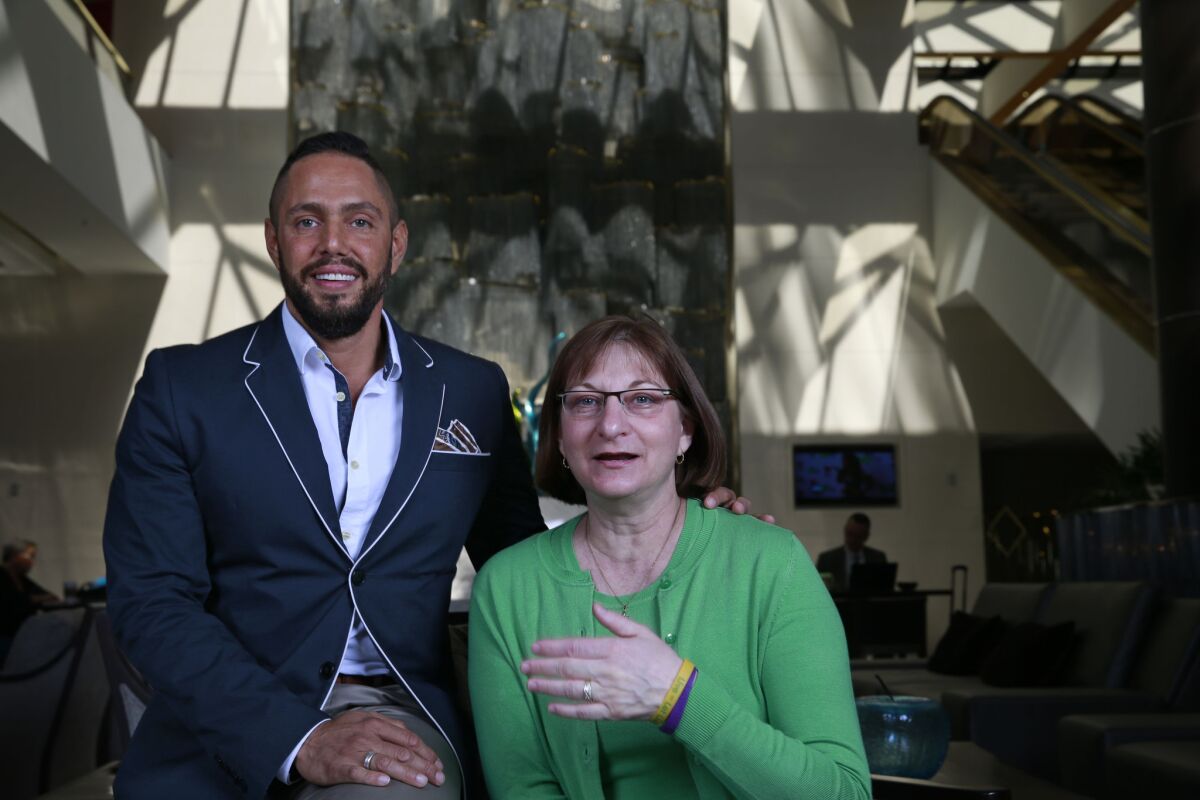 When Jane Clementi's son Tyler went off to Rutgers University in fall 2010 and began playing violin for a school orchestra composed primarily of upperclassmen and graduate students, she thought the skill he had been perfecting since age 3 — even teaching himself how to play while unicycling — had paid off.
But days later, 18-year-old Tyler jumped to his death off the George Washington Bridge. His roommate had set up a webcam, viewed him being intimate with another man and through Twitter invited others to watch.
"We are hoping to create a kinder, gentler society that embraces differences as opposed to humiliating people because of their differences," Jane Clementi said about her activism since Tyler's death. "I see a lot of great progress and changes. We still really have a lot of work to do."
The Gay Men's Chorus of Los Angeles will further that work in a concert Saturday titled "Heartstrings" at the First Congregational Church of Los Angeles. The performance will include the Southern California premiere of "Tyler's Suite," a suite of eight songs about Tyler's life written by the likes of Stephen Schwartz ("Wicked"), John Corigliano (the opera "The Ghosts of Versailles"), Jake Heggie (the opera "Dead Man Walking") and singer-songwriter Ann Hampton Callaway. Violin is woven through the songs.
"We wanted to provide a window into who this person was," said Chris Verdugo, executive director of the Gay Men's Chorus. "We hope that this special concert will honor the memory of Tyler Clementi and emphasize the continued need for a dialogue about the damage bullying causes across the country."
In addition to "Tyler's Suite," the concert will feature Well-Strung — violinists Edmund Bagnell and Christopher Marchant, violist Trevor Wadleigh and cellist Daniel Shevlin — performing its mix of pop and classics and the chorus, conducted by Joe Nadeau, singing such songs as "No One Is Alone" from "Into the Woods."
Members of Tyler's family, including his mother, will attend the event. They worked closely with lyricist Pamela Stewart on "Tyler's Suite" to ensure the songs reflect their feelings of both nostalgia and grief.
One movement, "Just a Boy," adapts a poem that Tyler's father, Joseph Clementi, wrote after Tyler's death: "He was just a boy. He was my son. The last of three, my youngest one. He could make me laugh and sometimes cry. Now he's left me here to wonder why."
"I Love You More" recalls a childhood game between Tyler and his mom in which the response to "I love you" was always "I love you more."
Jane Clementi said in an interview that commemorating her son through music "just makes sense."
"Music meant so much to Tyler," she said. Through this music, the audience "will get to love him. Each movement shows the multifacetedness of him."
It conveys a life beyond what landed in the headlines.
Tyler's roommate, Dharun Ravi, was convicted of invasion of privacy and bias intimidation and sentenced to 30 days in jail, three years' probation, 300 hours of community service and a $10,000 fine. The tragedy started a national conversation about bullying that continues nearly five years after Tyler's death.
Tyler's parents founded the Tyler Clementi Foundation in an effort to "end all online and offline bullying," Jane Clementi said.
"I hope it will trigger a resolve that no one else will ever have to struggle [like Tyler]," she said. "Stop bullying online and offline. Create a safe space."
Jane Clementi wants events like the concert Saturday to bring the message home: Stop being bystanders and pledge to be upstanders, "someone who will speak up in a bullying or intimidation or humiliation situation," she said.
"If one of those witnesses had spoken out for Tyler, I think the end result would've been very, very different."
------------
'Heartstrings'
Who: Gay Men's Chorus of Los Angeles and Well-Strung
When: 8 p.m. Saturday
Where: First Congregational Church of Los Angeles, 540 S. Commonwealth Ave., Los Angeles
Admission: $35-$100
---
Get our L.A. Goes Out newsletter, with the week's best events, to help you explore and experience our city.
You may occasionally receive promotional content from the Los Angeles Times.