Review: Vija Celmins' L.A. show: Chalkboards, ocean waves and other improbable wonders
Twice in Vija Celmins' quietly gripping show at Matthew Marks Gallery, we face seemingly identical wood-framed chalkboards, hanging side by side. In each pair, one is an old, found object, and the other is a recently made one. To scrutinize them for clues as to which is which is to get ensnared by the how, the technical agility at play, and to relegate the artwork to the status of solvable puzzle.
For 50 years, Celmins' work has nudged us more fruitfully down the looping, destination-free trail of why.
In the case of the blackboards, both the found and the fabricated are artifacts of intimate experience. One set, at 15 by 10 inches each, is scaled to the hand, a pre-digital tablet and its twin. The others (roughly 18 by 24 inches each) sport ledges finely dusted by greenish chalk, the material residue of thought, or its contrived counterpart. These memory slates feel almost archaic; Celmins' patient replication registers as homage.
It's been more than a decade since the Latvian-born, New York-based artist's last show in L.A., an extraordinary drawing retrospective at the Hammer. This one occupies both Matthew Marks locations and concentrates on recent work — paintings, drawings, prints and sculpture.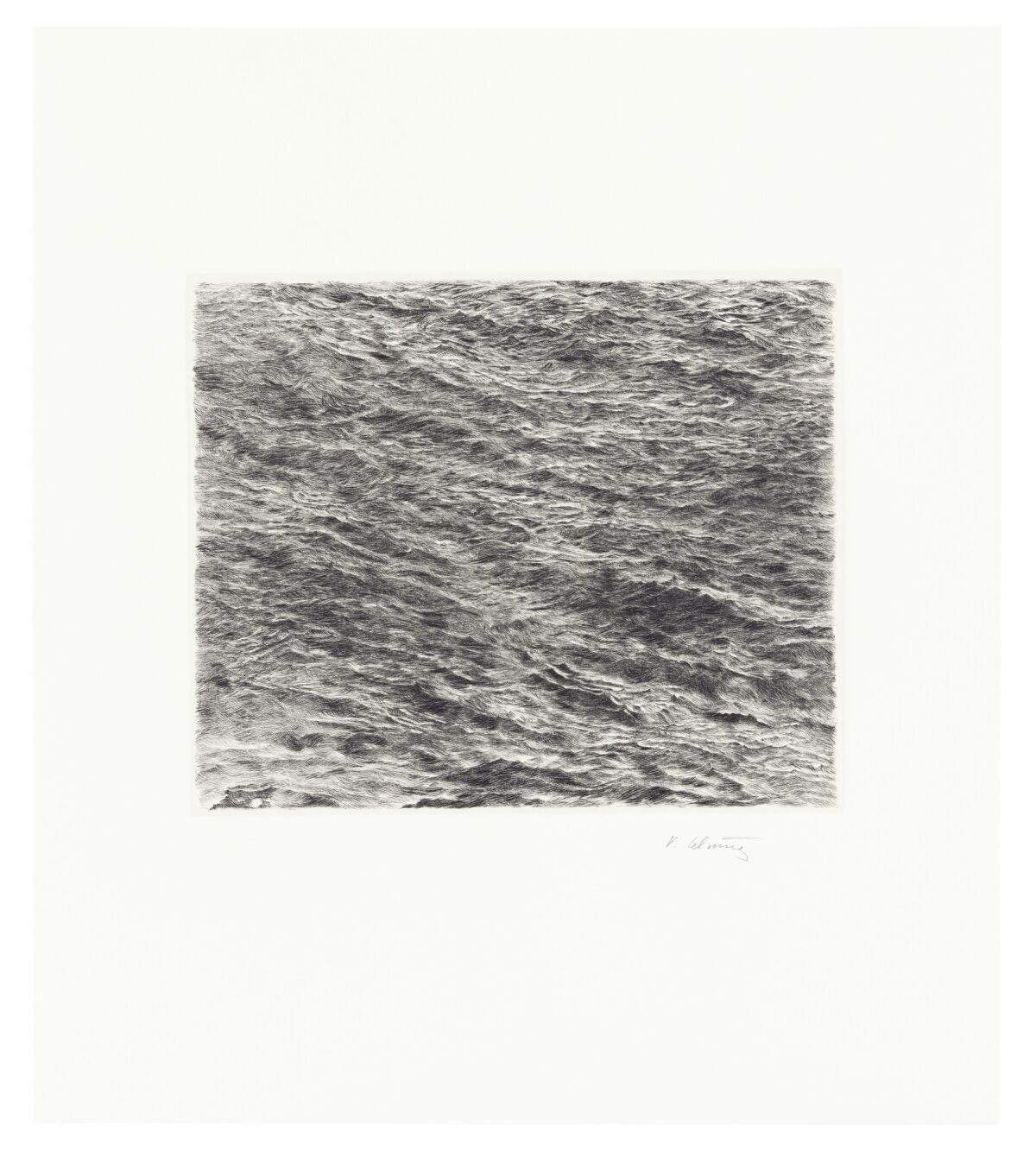 Imagery that Celmins has mined for decades prevails: Edge-to-edge excerpts of rippling ocean and star-flecked night sky. There are also thrilling, newer directions represented, such as the "reverse" night skies begun in 2005. Neither the large painting nor the smaller charcoal here read as negatives of the nocturnal. Their pale, freckled fields suggest instead the microscopic worlds of skin or stone.
In her newest work, a not-yet-titled painting dated 2017-18, Celmins maps the veiny cracks of a glazed ceramic surface with exquisite specificity.
There is a reverential intensity to Celmins' enterprise, in the confluence of observation and touch, as well as in the Morandi-like repetition of a narrow set of themes. Celmins' attention is extreme, but it yields objects and images possessing an aura of restraint. Her modestly sized pieces evoke the greatest vastness. The work's meticulously recorded particularities amount, paradoxically, to a kind of placelessness. And Celmins' focus on outward appearances registers, ultimately, as a deeply personal, interior process. Such improbabilities and more pervade the work, inducing endless wonder.
Matthew Marks Gallery, 1062 N. Orange Grove Ave. and 7818 Santa Monica Blvd., West Hollywood. Through March 31; closed Sundays and Mondays. (323) 654-1830, www.matthewmarks.com
See all of our latest articles at latimes.com/arts.
ALSO
Does the Broad's new Jasper Johns exhibition hit the bull's-eye?
At 89, Robert Irwin finds beauty in the benign
It takes a striptease to enliven 'Stories of Almost Everyone' at the Hammer Museum
---
Get our L.A. Goes Out newsletter, with the week's best events, to help you explore and experience our city.
You may occasionally receive promotional content from the Los Angeles Times.