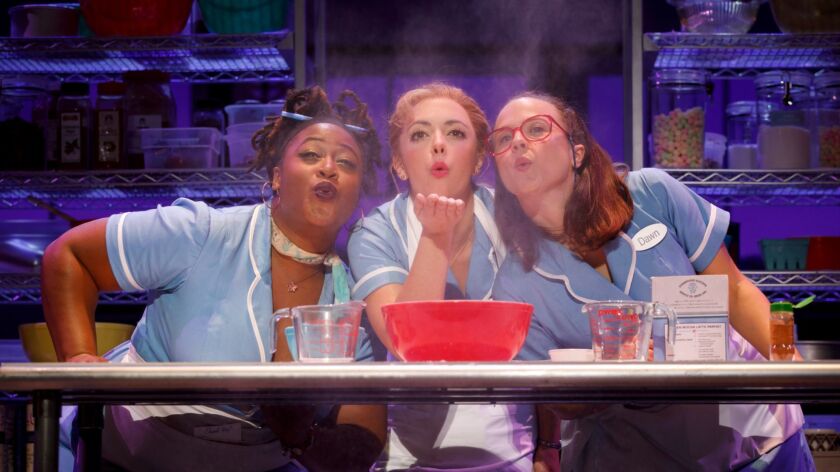 Like the pie fillings dreamed up by its central character, the 2007 independent movie "Waitress" is made of ingredients that wouldn't seem to belong together yet combine into something delicious.
The recipe was tweaked — just a bit, but needlessly and ham-fistedly — for a stage musical adaptation that is still playing on Broadway after nearly 2½ years and has reached Southern California on tour. Yet much of its strange magic remains. As performed by a thrilling talented company of actors and musicians, the show has audiences at the Hollywood Pantages Theatre alternately whooping with excitement and dabbing at tears. Further engagements are scheduled for November in Costa Mesa and San Diego.
Adrienne Shelly wrote, directed and costarred in the film, a bundling of talents that she'd been honing in a string of offbeat independent projects. "Waitress" made an acclaimed debut at Sundance that likely would have thrust her to a new plane, but before she could enjoy it, she was dead in an at-home homicide.
Her spirit of empowerment is manifested in the musical, for which women fill the key creative positions. A particularly inspired choice for the team is Sara Bareilles, the singer-songwriter of such anthems of self-determination as "Love Song" and "Gravity," working here as a first-time composer-lyricist for the stage.
The story's central character is Jenna, a small-town pie-baker and waitress in her 30s. Her husband is controlling and angry. They never have enough money. So she's already feeling plenty bound to other people's needs when she learns she's pregnant.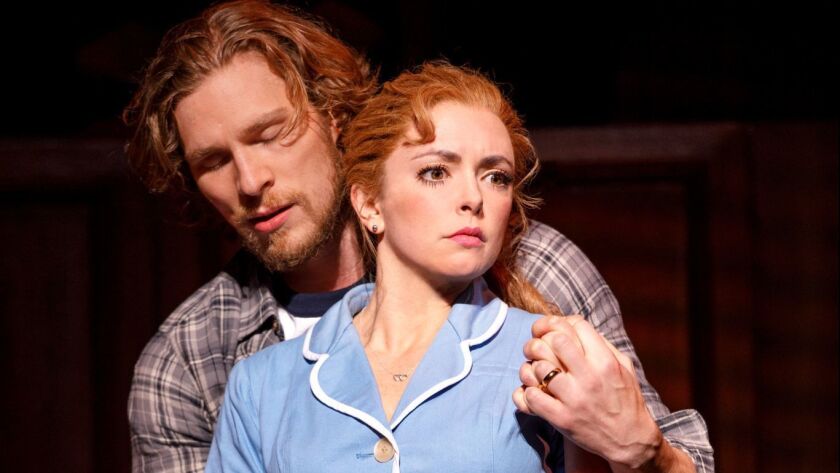 Life is never going to knock Jenna down, however, so long as she's devising her improbable pies (they come in rushes of inspiration marked by sudden shifts of light and the ethereal incantations of offstage voices) and she has the friendship and support of her fellow waitresses.
Jenna passes through each day with few smiles for the world, but the songs give Desi Oakley other ways to convey warmth and resolve, her power-soprano building from introspective hush to sustained fortissimo. Her connection to the other waitresses is symbolized in tight, close-harmony singing with Lenne Klingaman as nerdy, easily flustered Dawn (the part played by Shelly in the movie) and Charity Angél Dawson as stylish, outspoken Becky.
Jenna deserves a nice guy like her new OB-GYN. Sure, he can seem awkward and odd (Bryan Fenkart infuses the role with wonderfully geeky physical comedy, as when a prescription slip gets away from him and flits like a butterfly while he grabs at it), but there's something solid and even sexy about him. Too bad that he, like she, is married.
Jessie Nelson's script, like the movie's, veers from drama to comedy and back again. This keeps us off-balance, as does the locale's exaggerated charm. Against a landscape of unrelenting flatness and lonely telephone poles, set designer Scott Pask drops us into a cheery diner where the production's lively six-player band often rolls into view and customers slap their tables in time to the music. Are we seeing life as Jenna might try to gloss it? Or is something supernatural in the air?
It's an odd whirl of elements, but director Diane Paulus keeps everything tightly counterbalanced so it doesn't fly out of control.
Bareilles' songs are smooth, propulsive and emotionally compelling, some given an overlay of country, others percolating with … doo-wop? Where did that come from? Like everything else about "Waitress," the music keeps us guessing yet fits snugly into its puzzle of styles.
It's frustrating, though, that the creative team didn't trust the quietness of the original material and instead dialed the comedy to such extremes that many key characters are flattened to stereotypes and situations are pumped to the point that the audience laughs merely because it's expected to.
The lives that Shelly devised are messy and raw. But people claim ownership of their destinies and help others who are struggling to do the same. From imperfect ingredients, they bake new possibilities.
SIGN UP for the free Essential Arts & Culture newsletter »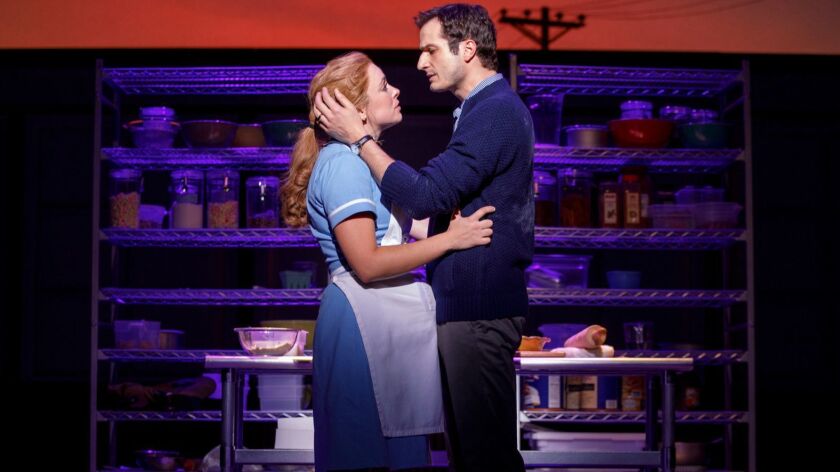 ♦ ♦ ♦ ♦ ♦ ♦ ♦ ♦ ♦ ♦
'Waitress'
Where: Pantages Theatre, 6233 Hollywood Blvd., Hollywood
When: 8 p.m. Tuesdays-Fridays, 2 and 8 p.m. Saturdays, 1 and 6:30 p.m. Sundays; ends Aug. 26
Cost: $49-$175
Info: (800) 982-2787, www.hollywoodpantages.com
Running time: 2 hours, 40 minutes
Also at Costa Mesa's Segerstrom Center for the Arts, Nov. 13-25, www.scfta.org, and San Diego's Civic Theatre, Nov. 27-Dec. 2, sandiegotheatres.org/waitress
Twitter: @darylhmiller
---