Yayoi Kusama's Infinity Mirror Rooms at the Broad: A first look inside the 'infinite mysterious beauty'
A sneak peek at Yayoi Kusama's "Infinity Mirrors" exhibit at the Broad. It runs from Oct. 21 to Jan. 1.
Blame it on Katy Perry. Or maybe Adele.
The popularity of Yayoi Kusama's trippy, immersive Infinity Mirror Rooms — which both pop stars have Instagrammed and which subsequently became selfie magnets on social media internationally — has reached a feverish peak.

For the record:
5:35 p.m. Oct. 19, 2017This article says the pumpkin sculptures in "Infinity Mirrored Room — All the Eternal Love I Have for the Pumpkins" are made of fiberglass. They are made of acrylic.
Six of the rooms anchor the exhibition "Yayoi Kusama: Infinity Mirrors," opening Saturday at the Broad museum, each chamber no larger than a modest storage shed and equipped with mirrors, lights and sculptural objects. But as the exhibition has traveled from the Hirshhorn Museum and Sculpture Garden in Washington, D.C., to the Seattle Art Museum and now L.A., these Infinity Mirror Rooms have generated "Hamilton"-scale hype every step of the way.
During its 11-week run at the Hirshhorn, the museum broke attendance records and saw its membership climb to more than 10,000 people from just 150. When the Broad unleashed 50,000 advance tickets online in September, the $25 passes sold out in less than an hour. The museum soon released an additional 40,000 tickets — and they went within two hours. The first U.S. museum survey of the 88-year-old Tokyo artist's Infinity Mirror Rooms will be the Broad's most popular exhibition since its inaugural show in 2015.
But just why are the rooms so popular?
"It's unprecedented in recent years, at least since I've been a curator," says the Hirshhorn's Mika Yoshitake, who organized the exhibition. "A lot of it has to do with the rise of social media. But also, in an age of social media where we're inundated with our cameras and smartphones, these are all analog. It's a very refreshing, immersive experience. You can't reproduce the physicality of the mirror rooms, but you wanna capture it so badly and share it. And that's very much in the vein of Kusama's radical connectivity."
Kusama, in an email interview, puts it more simply: "I believe that people are attracted by the infinite mysterious beauty that the artwork has. I am also attracted."
Looking into "Infinity Mirrored Room — Love Forever," 1994, one of the artist's six rooms in the exhibition "Yayoi Kusama: Infinity Mirrors" at the Broad museum in downtown L.A.
(Robert Gauthier / Los Angeles Times )
"Infinity Mirror Room — Phalli's Field," 1965.
(Robert Gauthier / Los Angeles Times)
"Phalli's Field."
(Robert Gauthier / Los Angeles Times)
"Infinity Mirrorer Room — Aftermath of Obliteration of Eternity," 2009.
(Robert Gauthier / Los Angeles Times)
"Dots Obsession — Love Transformed Into Dots," 2007.
(Robert Gauthier / Los Angeles Times)
The exhibition "Yayoi Kusama: Infinity Mirrors" also includes the Japanese artist's sculptures.
(Robert Gauthier / Los Angeles Times)
Yayoi Kusama's "Walking on the Sea of Death," sewn stuffed fabric, fiberglass rowboat.
(Robert Gauthier / Los Angeles Times)
Detail of "Walking on the Sea of Death."
(Robert Gauthier / Los Angeles Times)
Yayoi Kusama on screen during installation of her exhibition at the Broad museum on Monday.
(Robert Gauthier / Los Angeles Times)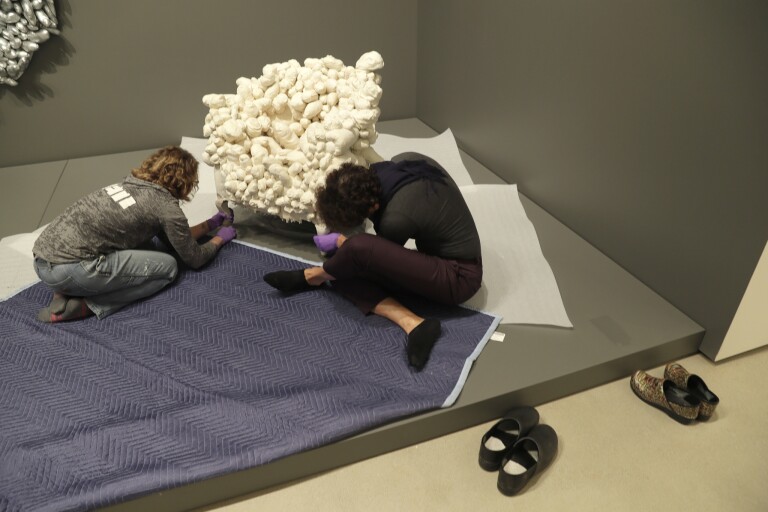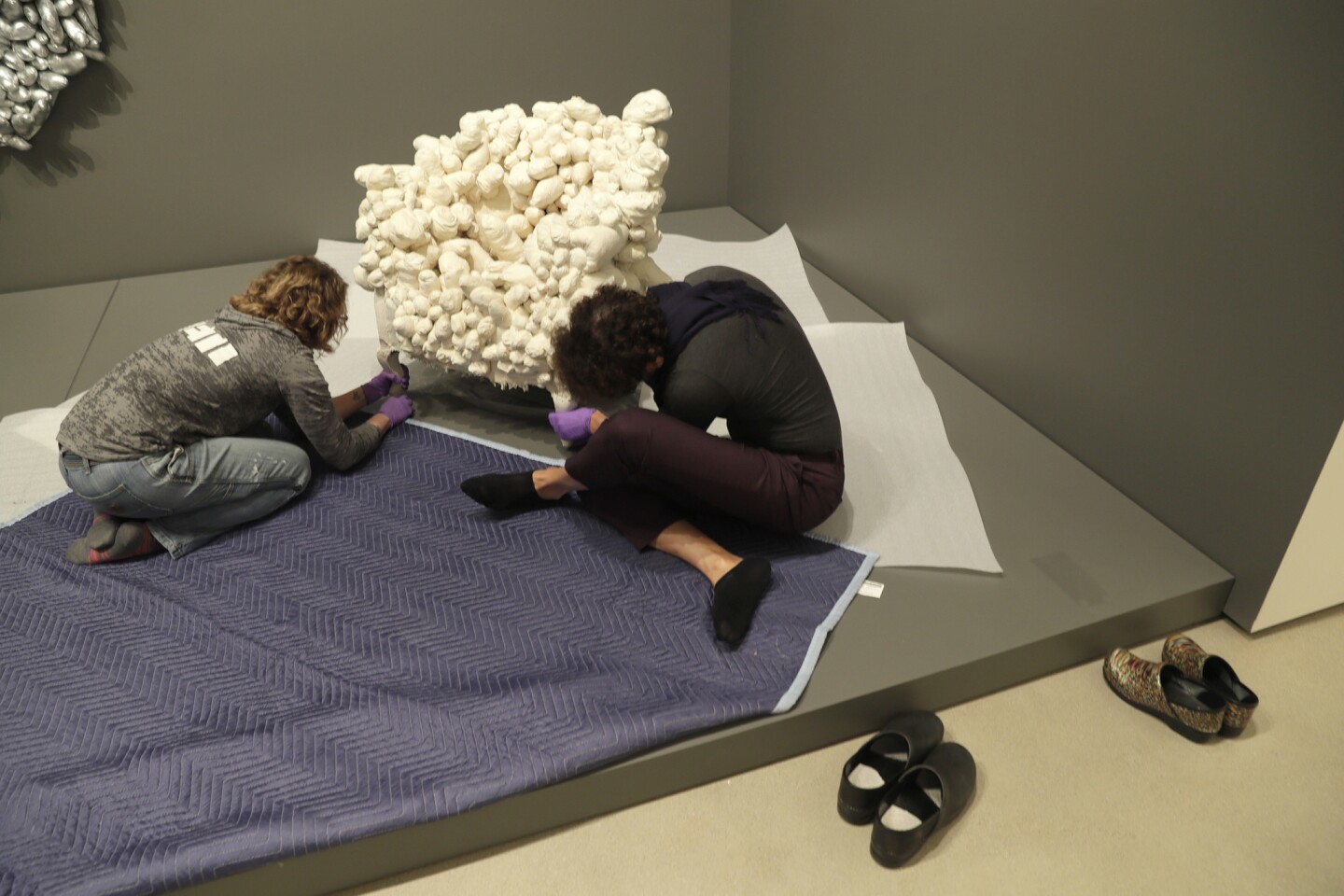 Workers prepare another Kusama sculpture for installation.
(Robert Gauthier / Los Angeles Times)
"Love Forever," in a different light.
(Robert Gauthier / Los Angeles Times)
"Love Forever," in yet another part of the light sequence.
(Robert Gauthier / Los Angeles Times)
Workers uncrate more work by Yayoi Kusama in preparation for the Broad opening.
(Robert Gauthier / Los Angeles Times)
The Infinity Mirror Rooms won't open at the Broad until Saturday, but during The Times' sneak peek, installation of the exhibition is a colorful if frenetic affair, unfurling across the museum's first-floor galleries. Crews hang paintings and affix wall text as Kusama's studio representatives apply her signature dots to hot-pink vinyl balloons and inspect the tentacles in one of her soft sculptures. The cacophony of drilling and hammering fills the air.
One of Kusama's dreamy, psychedelic mirror rooms, however, is awash in peace.
Visitors on the tour peer inside, and half-moon slivers of faces stretch into infinity. An eye blinks in the darkness, an almond-shaped orb and feathery lashes twitching before being swallowed up by a swirling galaxy of flickering, multicolored lights.
In another, silhouettes are floating, serenely, amid a sea of glowing, golden lanterns. Inky shadows shimmy all around, receding until they are merely pinprick figurines.
Finally, invisibility sets in. Figures, like ghosts, pass through the faint sketch of a living room bathed in white paint.
"For all the frenzy the social media images create when they appear online, it's amazing how calming and centering being in one of the rooms actually is, especially alone," says Broad Director Joanne Heyler, stepping out of a room titled "Phalli's Field." The work, Kusama's first Infinity Mirror Room, finished in 1965 and re-created in 2016, places the viewer in a grove of crimson-spotted, tuber forms reflected in surrounding mirrors, an Alice in Wonderland-like field of poppies.
The so-called "Polka Dot Princess" is notoriously secretive about the magic behind her Infinity Mirror Rooms. But the materials they're made of are surprisingly simple: hand-sewn and stuffed cloth, board and mirrors in her first room; wood, metal, mirrors and tiny, multicolored lightbulbs in her second. The Infinity Mirror Rooms became more sophisticated as new technology emerged. Works since 2007 may include LEDs, black glass and multimedia video projections. But mirrors remain in them all.
"I love mirrors," Kusama says via email, "and as long as mirrors give me infinity, I will keep on creating mirror artworks."
Broad visitors will be allowed to enter each Infinity Mirror Room alone or in groups of two or three for roughly 30 seconds. Some may write off the art as gimmicky, but others note that the reflections and repeated sharing of photos online echo deeper themes in Kusama's work. The immersive experience is meant to address life, love, human connectivity, mortality and the afterlife, not to mention identity and the infinitely reflected — or "obliterated," as Kusama calls it — self.
As long as mirrors give me infinity, I will keep on creating mirror artworks.
— Artist Yayoi Kusama
In the 1960s, Kusama performed in her Infinity Mirror Rooms and hired photographers to take pictures as she posed in them for publicity or documentation.
"Part of it was this intuitive or conceptual understanding that the works are activated by a body being in them," says Sarah Loyer, who steered the exhibition at the Broad. "And she usually stood in for that body."
Much of the allure of Kusama's work comes from the mystique she has built around herself. The artist in the fiery red wig has lived, by choice, in a Tokyo psychiatric hospital for decades. Despite recently opening her own museum in Tokyo, she remains extremely private and grants limited interviews. She won't be traveling to L.A. for the opening.
At 6 years old, Kusama began experiencing hallucinations — swaths of dots — which she channeled into drawings to soothe herself. She studied traditional Japanese-style "Nihonga" painting early on but came of age as a boundary-pushing, feminist artist in New York's avant-garde scene in the '60s. She exhibited with Andy Warhol, assemblage artist Robert Morris and sculptor Claes Oldenburg while also staging political performances and street happenings. In 1966 she took a sudden break from making her large-scale Infinity Rooms, and didn't return to them for 25 years.
Kusama had a breakdown in the late '60s and moved back to Japan permanently in '73, shortly after the death of one of her closest friends, artist Joseph Cornell. Her father died soon after. She focused on painting, sculpture, novel-writing and dark collages featuring subterranean landscapes. Much of the work dealt with themes of mortality. It wasn't until a retrospective of her work in 1989 at New York's Center for International Contemporary Arts that she regained the notoriety, confidence and monetary resources to revisit her Infinity Mirror Rooms.
Of Kusama's 20 Infinity Mirror Rooms, six were chosen by Yoshitake for their historical significance. "Phalli's Field" was not only Kusama's first but also speaks to process: The artist couldn't hand-produce her soft sculptures fast enough to fill her appetite for repetition, so she used mirrors to infinitely reflect them. "Love Forever," a 1966 hexagonal peep chamber that's pulsating with electric color, is psychedelic and political at once and addresses civil rights, sexual liberation, voyeurism and anti-war sentiment. "All the Eternal Love I Have for the Pumpkins," Kusama's newest Infinity Mirror Room, from 2016, features delicate, hand-painted, fiberglass pumpkins, a recurring image in her work, reflected in black glass.
"Infinity Mirrored Room — the Souls of Millions of Light Years Away," part of the Broad's permanent collection, has been central to the museum's identity. It has been the most popular artwork on view, drawing about one visitor per minute while the museum is open — more than 300,000 people in the last two years. It has helped the Broad draw social media-savvy millennials.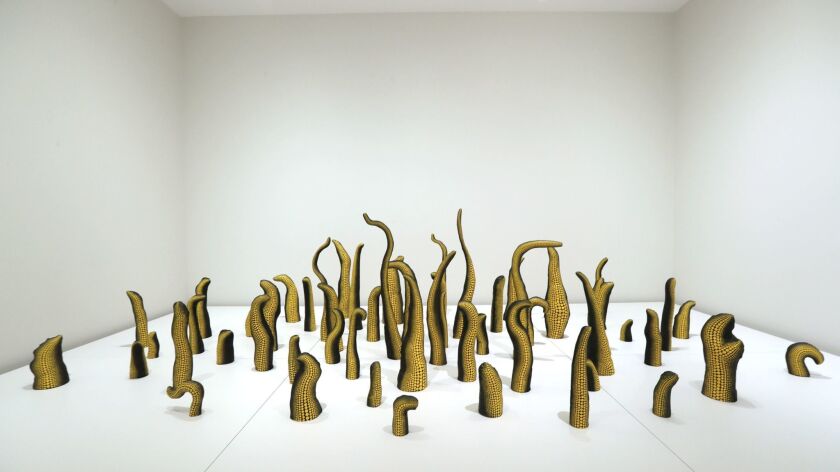 "The whole idea behind this show," Heyler says, "is to give our visitors, so many of whom have a tremendous passion for that piece, and Los Angeles, a fuller view of Kusama's work and the wonderful context of her entire career."
The exhibition includes Kusama's paintings, sculptures and works on paper. Kusama still paints every day, and her recent large-scale works from the series "My Eternal Soul" address repetition, the obliterated self and bodily memory. The Infinity Mirror Rooms are strategically spaced out between these more two-dimensional exhibits so that visitors can unwind with the framed works and sculptures between the timed room entries.
Related programming includes films of Kusama's performances and live performances by L.A.'s Ron Athey and by the Joshua Light Show, who performed with Kusama in San Francisco in 1968.
Just don't take any photos in "All the Eternal Love I Have for the Pumpkins." At the Hirshhorn, an overly enthusiastic visitor accidentally smashed one of Kusama's sculptures. Since then, phones and cameras haven't been allowed inside that installation.
Beyond the presold tickets, $30 same-day tickets will be available on-site. Managing the daily flow of visitors to its "Souls of Millions of Light Years Away" has been good practice, the museum says, and visitor service and security staff has been increased.
The hope is that "Yayoi Kusama: Infinity Mirrors" will be a slow and contemplative experience, where visitors linger in exhibits and, maybe, mull some of life's big questions.
"They make you feel vast and tiny at the same time," Heyler says of the Infinity Mirror Rooms. "And I think that's how we all feel a little bit in today's world, which is so technology-driven and complex and information-driven."
Kusama couldn't possibly have predicted this 21st century effect when she created her early works, but now they feel "a bit prophetic," Heyler says.
"You feel significant and insignificant at the same time – and that just strikes a human chord."
♦ ♦ ♦ ♦ ♦ ♦ ♦ ♦ ♦ ♦
'Yayoi Kusama: Infinity Mirrors'
Where: The Broad, 221 S. Grand Ave., L.A.
When: Opens Saturday; ends Jan. 1
Tickets: Advance tickets are sold out; limited same-day tickets available on-site for $30
Info: (213) 232-6200, www.thebroad.org
Follow me on Twitter: @debvankin
ALSO
With Lucas Museum on the way, Natural History Museum plans another makeover
Review: Bellini masterpieces at the Getty make for one of the year's best museum shows
Two decades after Gehry's Guggenheim Bilbao, where does architecture stand?
---
Get our daily Entertainment newsletter
Get the day's top stories on Hollywood, film, television, music, arts, culture and more.
You may occasionally receive promotional content from the Los Angeles Times.