What's it like to hear the L.A. Phil play your music in Disney Hall? Ask these composers, ages 16 to 18
Conductor Christopher Rountree stands illuminated by a spotlight on the Walt Disney Concert Hall stage. He takes a soothing breath and encourages the 2,100 middle school students seated before him to help perform John Cage's seminal composition, "4'33"," which requires the audience and musicians to participate in silence for four minutes and 33 seconds.
For this young audience, Rountree asks for just a minute of silence — in order to hear the music that resides within.

For the record:
11:50 a.m. June 3, 2023An earlier version of this article omitted the word "Composer" from the name Nancy and Barry Sanders Composer Fellowship Program. It also misstated the number of applicants for the fellowships; the number was 20, not 60.
"Try not to perform coughing, try to perform listening," he says after an initial attempt goes awry. "This is an incredibly difficult piece to perform. OK, everybody with their full attention on listening."
Silence ensues for a beat, beat, beat and then a lone throat in the audience hawks a ginormous loogie and the kids in the great hall dissolve into hysterics.
Rountree gives up with a good-natured shrug. "This piece is really hard to get right. But for a moment while there was silence, there was this little shuffling that was quite beautiful."
It's such a foreign concept that people are alive writing classical music today.
— Luca Mendoza, 18
Right now is all about educating young people about the joy of classical music. Four teen composers, graduates of the Los Angeles Philharmonic's Nancy and Barry Sanders Composer Fellowship Program, will hear their compositions performed by the orchestra for the first time in Disney Hall.
The event is part of a weeklong outreach program for young people called Symphonies for Schools. The junior composers, however, are completing an intensive curriculum that lasts two years and includes classes and mentoring under program director Andrew Norman and others.
Before and after the goofball Cage moment, the students are remarkably well behaved, lavishing explosive applause on Rountree and the orchestra and proving to be particularly attentive during the pieces written by the young fellows: Benjamin Champion, Robby Good, Luca Mendoza and Ethan Treiman.
Rountree is a natural with his young charges, knowing just how to talk to them and breaking down explanations of the art form into easily digestible nuggets of wisdom. His performance is scripted and employs a foil in the form of a young actress who wanders onstage snapping selfies.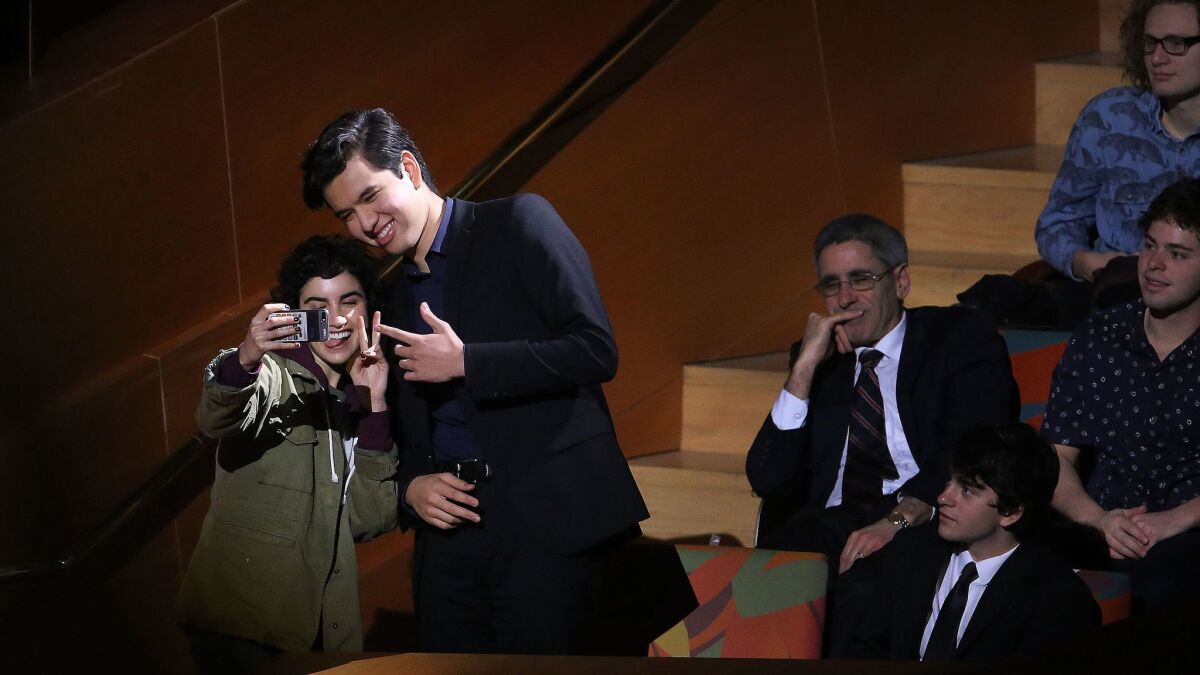 Selfies, Rountree says, are an art form because "you are using your everyday life to create art. Art is anything done with intentionality."
The fellows are keenly aware of intentionality. Each of their compositions was informed by something in daily life — the migration of birds (Champion), the unexpected community found on the L.A. Metro (Mendoza), the moody sun rising over the Arctic (Treiman), and a roaring wildfire that devastates the landscape (Good).
After watching one of the world's finest orchestras perform their compositions in one of the world's most famous concert halls, the fellows aren't simply celebrating a monumental sense of accomplishment. They are talking about what they could have done better.
This has been as much a learning experience for them as it was for their audience. The solitary nature of their chosen art form has left them alone with their computers; hearing real musicians perform their pieces clued them in to the power of certain notes above others, and the way particular phrases fell flat.
The teens amble into the green room at Disney Hall dressed in smart suits. They laugh about the loogie gag. For a moment they appear to be just a group of pals, horsing around and full of jokes. But once they settle shoulder-to-shoulder on a couch, they unleash a torrent of feelings and insights about the nature of classical music and their future within it that reveal them to be extraordinarily articulate, thoughtful and intellectually curious.
There is a reason these four, out of the more than 20 students who applied to be fellows, are sitting here, says Norman, director of a program celebrating its 10th anniversary.
"We wanted kids who were capable of pushing themselves and pushing the art form," he says. "The L.A. Phil is not just interested in preserving classical music's past but in taking it forward."
That goal was front and center during the program at Disney Hall. For starters, the fellows weren't anxious to have their work showcased in front of so many teens, a prospect that might put the most seasoned composer on edge. The baroque social structure, puzzling pecking order and cacophonous clamor on display made it easy to conjure the inspiration for "Lord of the Flies."
Treiman, 18, a student at Crossroads school in Santa Monica who was recently accepted to Yale, is pragmatic about the experience.
"I wasn't very nervous. I know each of them have something they like to do, and I'm sharing this thing I love to do," he says. "I think this style of music is becoming more accessible as it breaks rules and really allows composers to express what's in their hearts."
Mendoza, 18, who also attends Crossroads and is embarking on a tour of conservatories, builds on that thought: "When I hear people talk about classical music, which is never, it's Bach, Beethoven, Mozart. It's such a foreign concept that people are alive writing classical music today. But classical musicians are pushing boundaries in ways that other genres are not."
Good, a 16-year-old from Hart High School in Santa Clarita who is the most jocular of the group and wants to compose for video games and film, says classical music first blew his mind during a performance of Polish composer Krzysztof Penderecki's "Threnody to the Victims of Hiroshima."
"I was absolutely terrified and I was like: 'People make this? This is the craziest thing I've ever seen in my life,'" he says while the group nods emphatically. "That's what drives us to make music. We want to keep experimenting and trying new things."
For this type of music to resonate with audiences, young and old, those audiences have to be as inquisitive as the creators. They have to be open to it, the fellows say.
"I would hope that my music, even if it's not obviously accessible, is enjoyable for just about everyone," says Champion, 16, who left his home in South Dakota to attend Idyllwild Arts Academy. "But I know that world doesn't really exist yet. My dream is to create a world where my music can thrive."
It's hopeful that some of the joyful seeds scattered by the L.A. Phil, Rountree and the fellows will sprout in the minds of the young people filing out of Disney Hall while the junior composers talk about their dreams.
A scent beyond a mixture of bubblegum, stale school lunch and sweaty socks emanates from the old yellow school buses that temporarily block Grand Avenue outside the hall. If the astute passersby pause long enough, they may detect the fragrant bloom of curiosity. It is young and fresh and exquisite — like a moment of pure silence inside Disney Hall.
ALSO:
Diego Rivera's Cubist masterpiece arrives at LACMA
At the Hammer Museum, Jimmie Durham's art throws some well-aimed stones
This female photographer's goal? To change perceptions of black men
Life in Iran: Contemporary photography exhibit tries to build a cultural bridge
'Waitress' and 'The Color Purple' coming to the Hollywood Pantages
Get our L.A. Goes Out newsletter, with the week's best events, to help you explore and experience our city.
You may occasionally receive promotional content from the Los Angeles Times.