Appreciation: A critic's take on the power of Zaha Hadid
Los Angeles Times Architecture Critic
Like many architecture critics, I have spent a good chunk of the last two decades, or the bulk of my career, grappling with the force, the flaws and the complexities of Zaha Hadid's work. Hers was the shadow none of us could escape, and whose contours we puzzled over and tried, often in vain, to precisely measure.
As the first female architect to win the Pritzker Prize, the profession's top honor, she found her notoriety and her gender always intertwined. Hadid, who died Thursday at age 65 of a heart attack in Miami, was deeply frustrated by that fact.
And for good reason: You could make a case that Hadid, who was born in Baghdad in 1950 and spent her career in London, has been the single most important figure in the field over the last quarter-century, not just the most important female one.
She was doubtless the most polarizing, a magnet for controversy, a larger-than-life personality and in certain ways the standard-bearer for an approach to architectural practice that has come in for intense scrutiny in recent years. In a nutshell, that approach relied on a simple philosophy: that the meaning and power of architecture lies in its forms — the more striking and unorthodox the better — rather than its social or humanitarian role.
It was not architecture's job, she believed, to save the world. Or even to try.
Her stubborn commitment to that idea had left her out of step in recent years with a profession she once stood astride. Even as other leading architects — including Rem Koolhaas, with whom she briefly worked early in her career — pivoted away from form-making and toward a broader engagement with political or ecological issues, she remained steadfast in her approach, less nimble or more consistent, depending on your point of view, than her more opportunistic, quicksilver colleagues.
Patrik Schumacher, a longtime partner in Zaha Hadid Architects and an eager polemicist, has often stepped in to defend the firm's work, posting long, rantish essays on social media that claim architecture is losing focus and going soft. He has taken particular exception to the way the Pritzker jury and the organizers of the Architecture Biennale in Venice, arguably the two leading tastemakers in the field, have increasingly been honoring architects doing socially minded work.
When this year's Pritzker was awarded to Alejandro Aravena, well known for designing low-cost housing in his native Chile, Schumacher took to Facebook to complain.
"The PC takeover of architecture is complete: Pritzker Prize mutates into a prize for humanitarian work," he wrote.
Though Hadid appeared to take few if any steps to muzzle Schumacher, who settled into an online role as her outspoken alter ego, she preferred to let her buildings do the talking.
Well, her buildings and one lawsuit. In 2014, she sued the New York Review of Books and writer Martin Filler, saying that he had made "false and defamatory" statements about her and Al Wakrah Stadium in Qatar, designed for the 2022 World Cup. Filler wrote that an estimated 1,000 workers had died while erecting the stadium, when in fact full construction at that point had yet to begin.
Clockwise from top left: MAXXI contemporary art museum in Rome; London Aquatics Centre; Bergisel ski jump in Austria; Zaha Hadid in West Hollywood in March 2004
(Clockwise from top left: Roland Halbe; John Walton / PA via Associated Press; Helene Binet; Kevork Djansezian / Associated Press)
Zaha Hadid visits the Riverside Museum, her first major public commission in the United Kingdom, in June 2011 in Glasgow, Scotland.
(Jeff J Mitchell / Getty Images)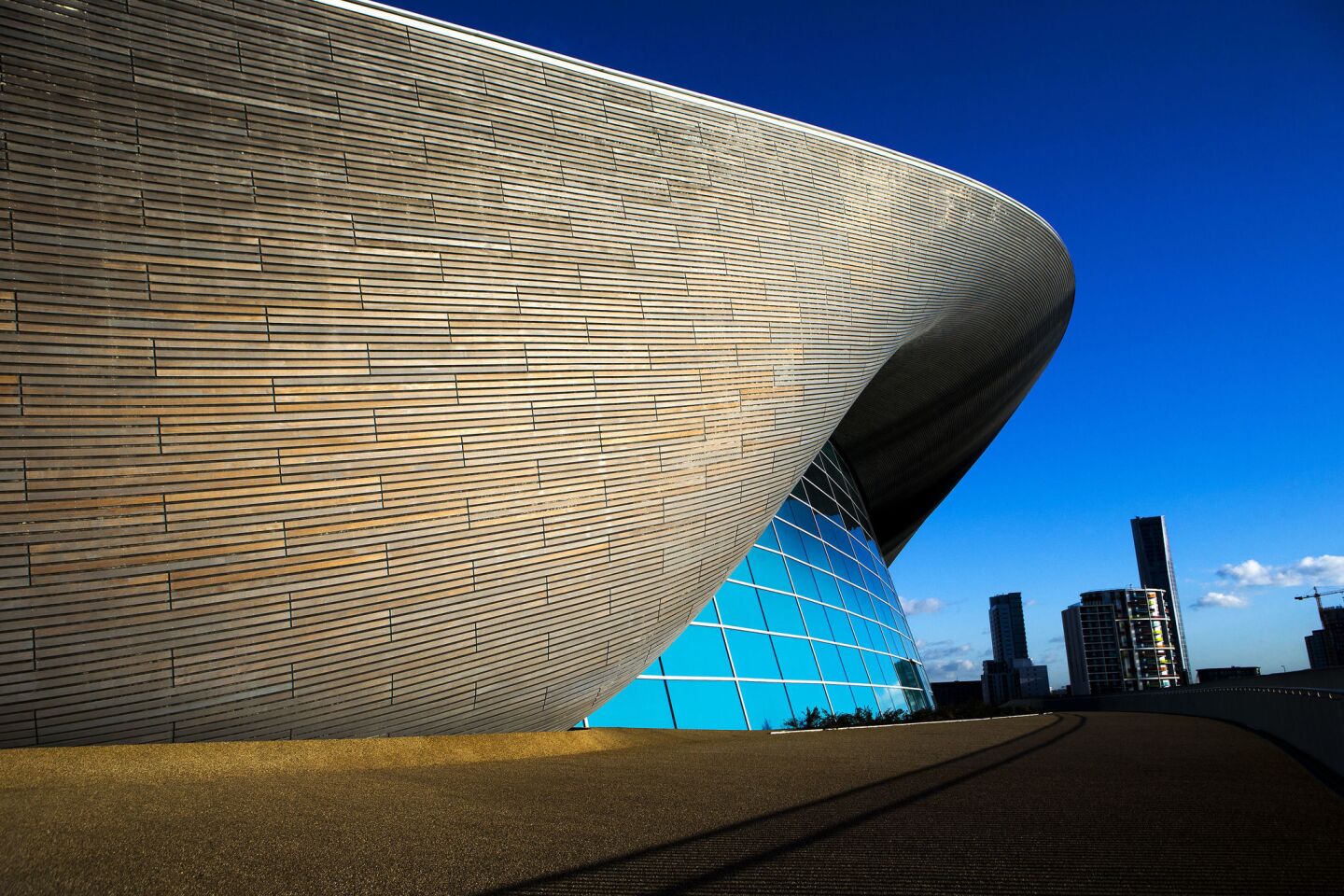 The Hadid-designed London Aquatics Centre was built for the 2012 Olympic Games.
(John Walton / Associated Press)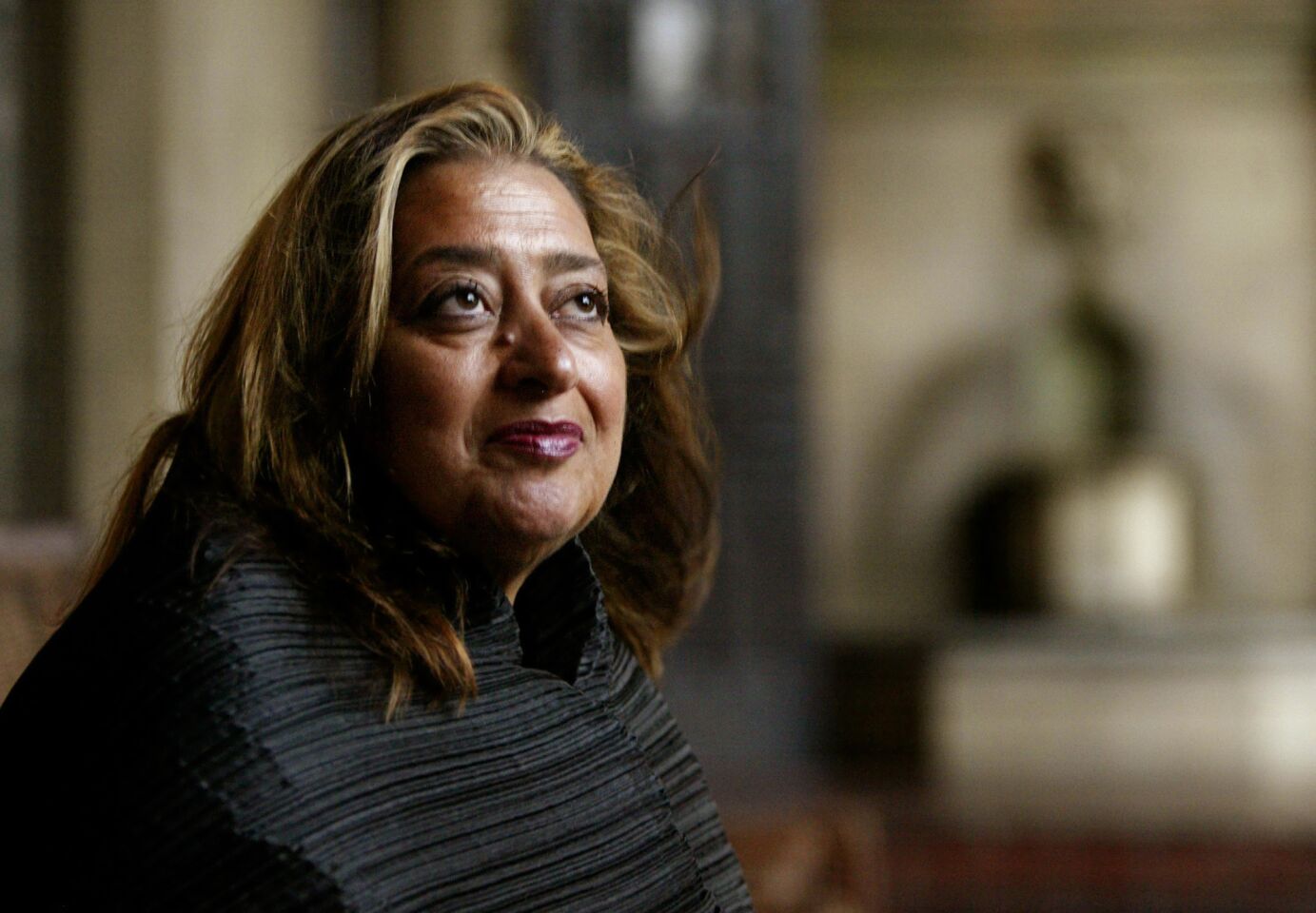 Iraqi-British architect Zaha Hadid poses in West Hollywood in March 2004.
(Kevork Djansezian / Associated Press)
Iraqi-British architect Zaha Hadid in 2013, outside the extension she designed for the Serpentine Sackler Gallery in London.
(Leon Neal / AFP/Getty Images)
Zaha Hadid Architects designed the sets for the 2014 Los Angeles Philharmonic production of the Mozart-Da Ponte opera "Cosi fan Tutte" at Walt Disney Concert Hall.
(Anne Cusack / Los Angeles Times)
The New York Review retracted the article and reached a settlement last year with Hadid. Still, despite that major error, the piece was right to find Hadid vulnerable on accusations of caring too little about working conditions on her buildings. Hadid's comments on that score — "I have nothing to do with the workers," and "It is not my duty as an architect to look at it" — drew deserved criticism.
Some of that controversy had begun recently to obscure the power of her achievement as an architect, the outsize role she had played in the field for more than three decades.
Beginning with the conceptual projects she produced as a student at the Architectural Assn. in London in the 1970s, as an architect in the Office for Metropolitan Architecture and then, by 1980, on her own — drawings, models and even paintings on huge canvases that relied on a vertiginous point of view, showing buildings as if seen from a helicopter — she announced herself early on as a figure with the power to reshape the profession.
She made a major splash in 1983, at age 33, by winning a design competition for the Peak, a club in Hong Kong, with a Suprematism-inspired design that was never realized.
Her first completed building, a small fire house on the campus of the German furniture company Vitra that was finished in 1993, was so full of ideas and shard-like strength that it hardly seemed to matter that it was never used for its intended purpose, existing instead as a kind of shrine to Hadid's work, a pilgrimage site for young architects from around the world.
In recent years, overseeing a giant London firm and working for a global roster of clients, she lived up to that promise with an astonishingly diverse body of built work: museums in Rome, Cincinnati and East Lansing, Mich.; an opera house in Guangzhou, China; a ski jump in Austria; the swimming and diving venue for the 2012 London Olympics; a BMW factory in Leipzig, Germany.
She attracted controversy for accepting commissions from autocratic regimes — not just in Qatar but also in the United Arab Emirates and Azerbaijan — though she was certainly not alone among leading architects in cashing those checks.
A smaller but significant furor attached itself to her design for the main Olympic stadium for the 2020 Summer Games in Tokyo; after its budget swelled past $2 billion, the government decided to hand the job over to Japanese architect Kengo Kuma.
The degree to which Hadid's legacy will rest on how powerfully she smashed architecture's glass ceiling is a complicated question. It is easy to understand why she resisted the idea of being thought of as a female architect first and an architect second; who wants to be pigeonholed in that way?
And certainly, the way in which the architecture media insisted on analyzing her solely as a headstrong "diva" was deeply unfair. As personalities go, she was no more or less difficult to deal with than her fellow Pritzker laureates Koolhaas, Richard Meier and Jacques Herzog.
Still, she was a groundbreaking figure for her career path as well as for the singular quality of her buildings, and she changed the power dynamics of a profession that desperately needed to evolve — and that desperately needs to keep doing so. According to recent figures from the American Institute of Architects, just 19% of registered architects in this country are female. The figures in other countries are similar, if not worse.
Last fall, I spent a month-long residency at the American Academy in Rome. During that time, I paid regular visits to MAXXI, the contemporary art museum designed by Hadid that opened in 2010.
Like much of her work, it is a contradictory package: thrilling in its big gestures, a soaring and angular lobby and a twisting black staircase in particular, far less impressive in its details and in the way the architecture of the galleries doesn't just overwhelm certain artworks but also seems to pin them, cowering, to the walls.
During my last week in Rome, my family came to visit, and I went with my wife and two daughters, then ages 11 and 6, for a final trip to MAXXI. I watched as the girls ran ahead and up those black stairs, turning to look down at us across that cavernous lobby, framed by the museum's concrete walls and red accents as if they were inside a huge Malevich painting.
It didn't matter to them that this was a museum designed by the first female architect to win the Pritzker Prize; they were instantly and completely awed by the space itself. But as their father — as someone who hopes they will be able to forge careers in the arts if they want to, careers over which they can have the same total and freeing control that Hadid, through both toughness and pure virtuosity, managed to achieve — it mattered to me.
---
Get our L.A. Goes Out newsletter, with the week's best events, to help you explore and experience our city.
You may occasionally receive promotional content from the Los Angeles Times.