Review: Where the chisel hits the marble: Zarouhie Abdalian seeks the moment nature becomes art
Zarouhie Abdalian's beautifully spare exhibition at LAXART takes a close look at the point where the chisel hits the marble. The New Orleans artist is fascinated by the moment when natural materials become something else — tools or art — the two basic categories of human-made objects.
Her work raises questions about our relationship to nature and the nature of making.
The walls in the main gallery are lined with small, white, abstract reliefs. The rectangles were excised from an abandoned chalk mine in Mississippi and exhibit the craggy surfaces, pockmarks and scoring of the mining process. They are also quite beautiful: a soft white, tinted with various pastel hues. One could be forgiven for assuming they come from natural rock formations.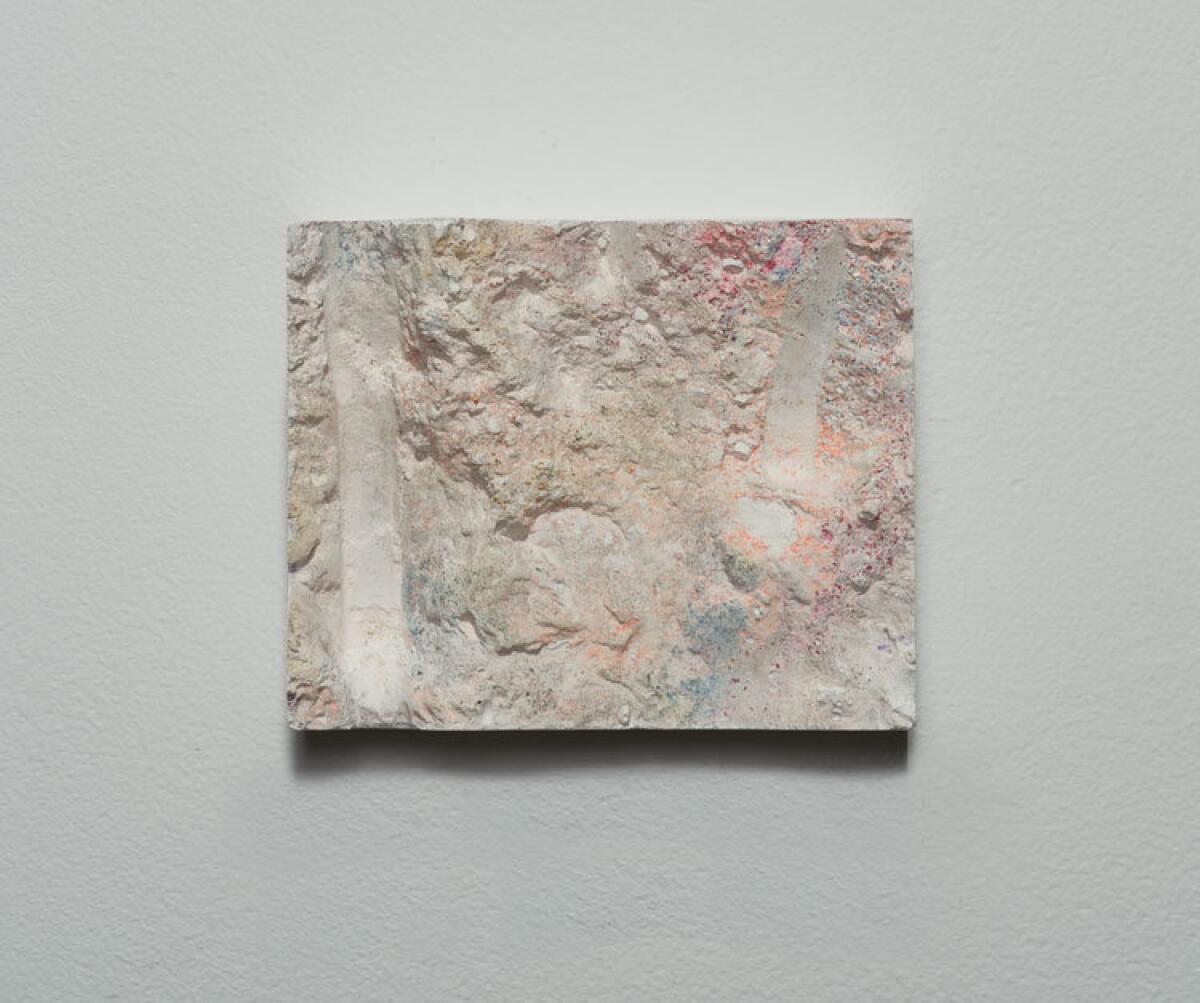 Arrayed across the center of the room are pedestals, each bearing a different steel tool head. The heads are the brownish color of heavy industry and are positioned with their chisel edges or hammer heads pointed down, as if frozen in the moment of striking. They are mini-dramatizations of that initial point of contact between a raw material and the person who sees something else in it.
Periodic loud pinging sounds echo from the back room. The audio piece is a recording of knapping, or the process of striking rocks together to make early Stone Age tools. The space reverberates with aural evidence of the advent of tools, the point at which nature became instrumentalized.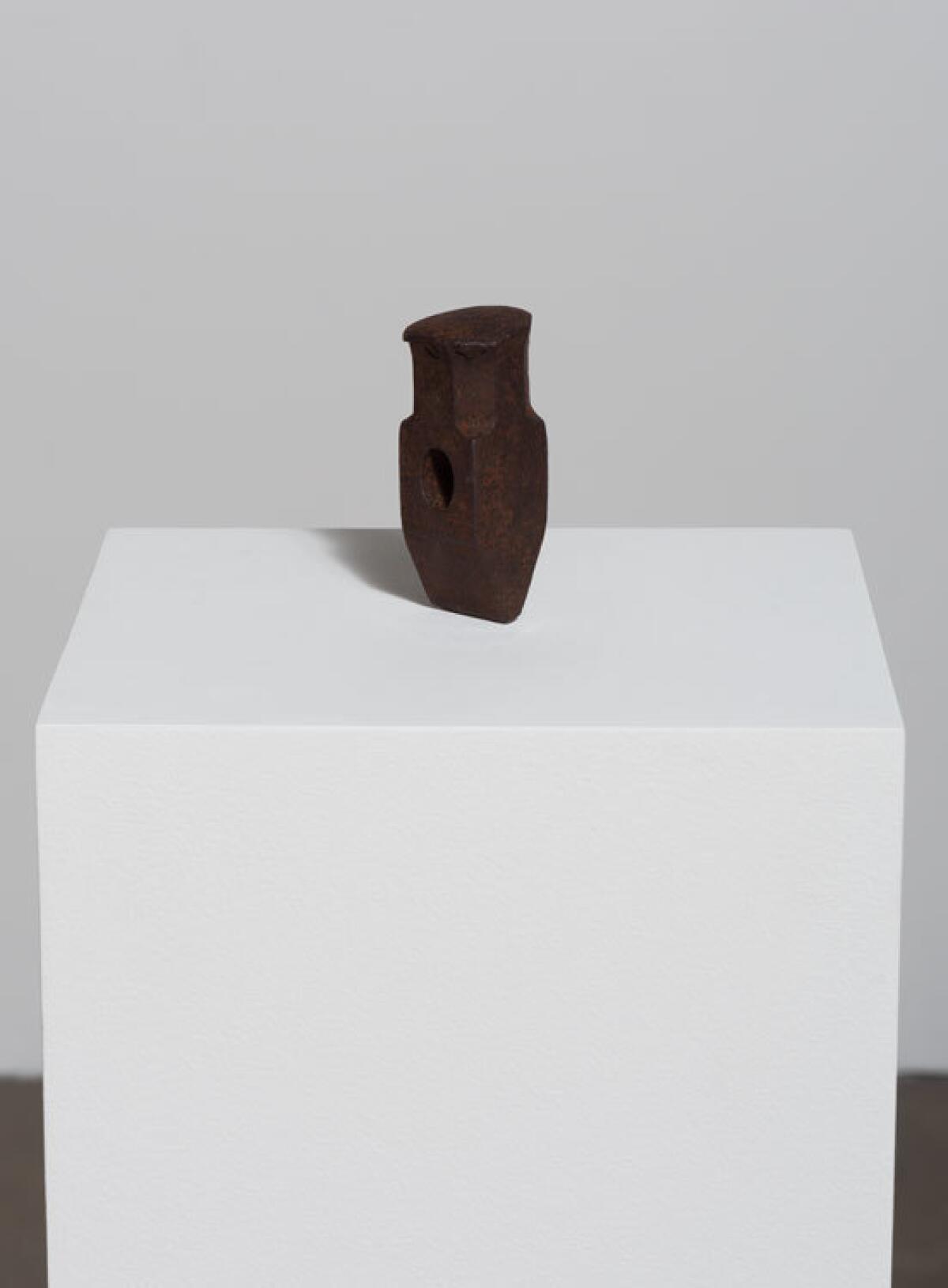 Still another room contains parts of industrial machinery that have experienced catastrophic failures. These broken bits are testaments to unmaking, the flip side of innovation. They attest to the point at which human ambition outstrips a material's inherent properties.
Finally, in another small space, is a single monitor displaying a series of microscope images of the edges of chisels. Oddly enough, these zoomed-in views look a lot like natural rock formations. The edge of the chisel is a pivot point at which something wavers between its natural state and what we want it to be. For better or worse, Abdalian suggests, tools (and art) are just desire set down in concrete form.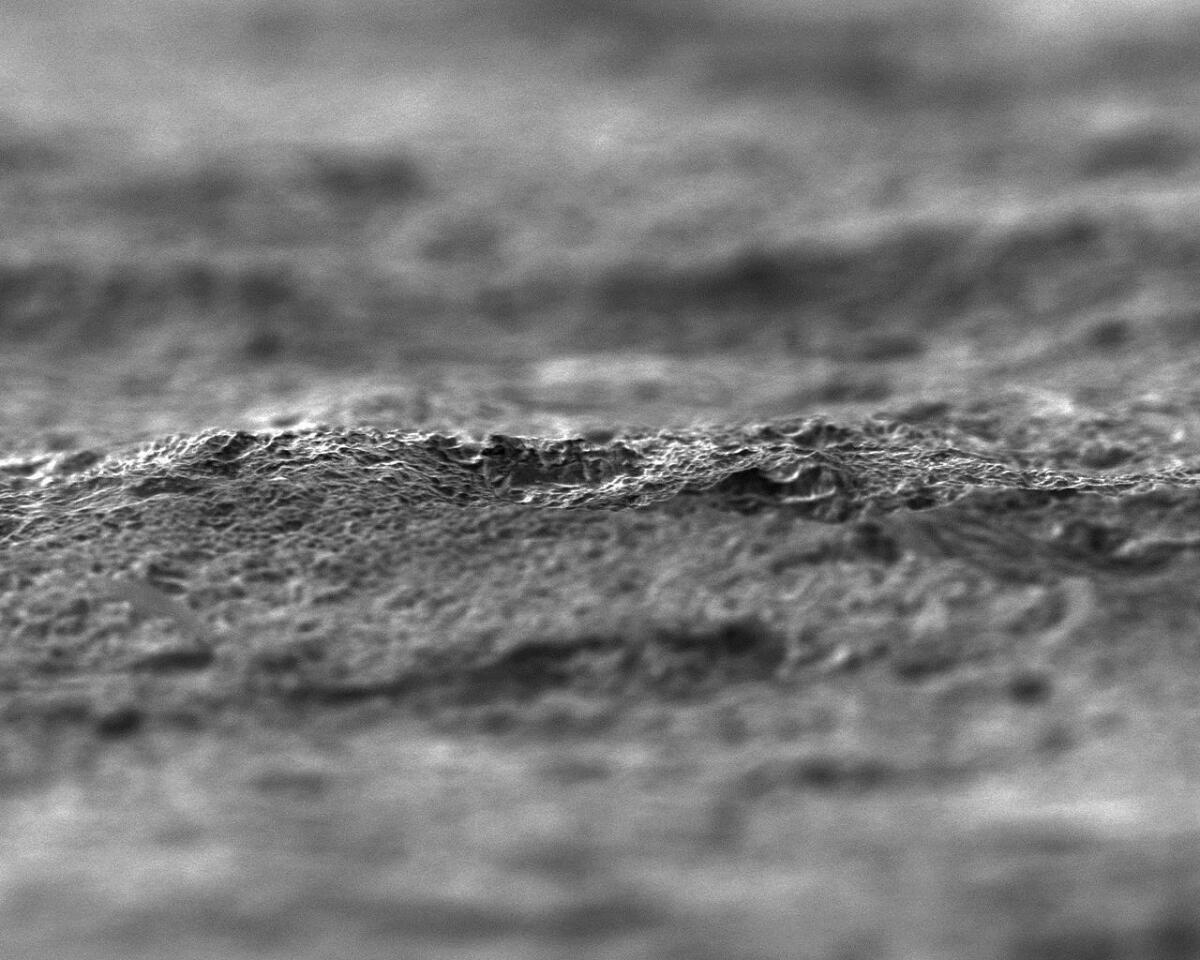 Zarouhie Abdalian: "Work"
Where: LAXART, 7000 Santa Monica Blvd.,
When: Closed Sunday and Monday. Through Sept. 2.
Info: (323) 871-4140, www.laxart.org
SIGN UP for the free Essential Arts & Culture newsletter »
Support coverage of the arts. Share this article.
Get our L.A. Goes Out newsletter, with the week's best events, to help you explore and experience our city.
You may occasionally receive promotional content from the Los Angeles Times.