Boyle Heights goes upscale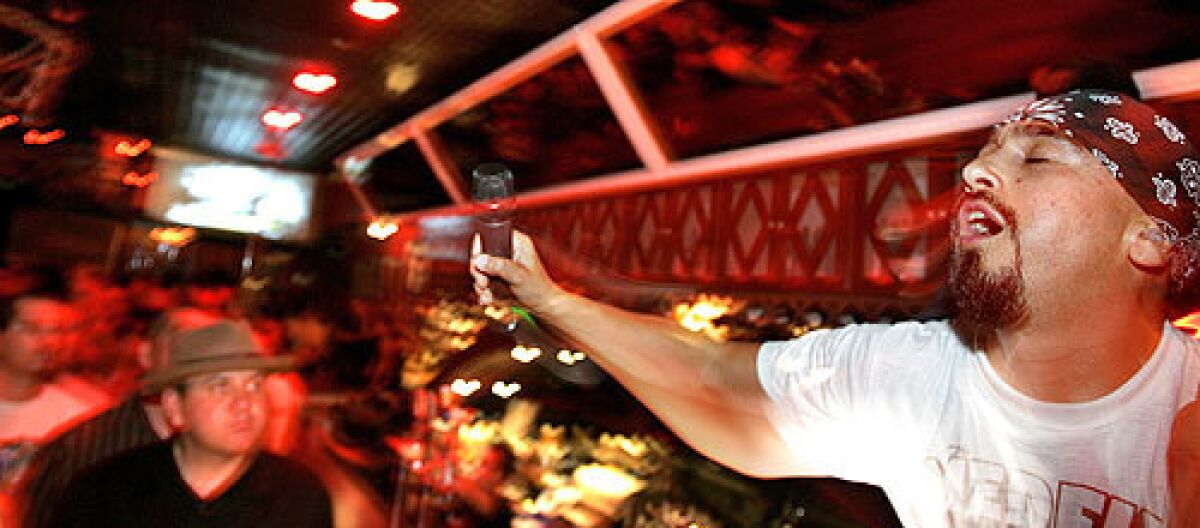 Los Angeles Times Staff Writer
On the surface, almost everything appears as it has for decades on East 1st Street in Boyle Heights, the neighborhood east of downtown known as a haven for immigrants and blue-collar families. It's mid-afternoon and a couple of tipsy men spill out of Las Palomas Bar, arms locked over their shoulders, heading toward the nearby birrieria, a restaurant specializing in goat stew. Others greet more soberly as they pass traditional mom-and-pop shops that line the thoroughfare, selling soccer trophies, mariachi outfits and secondhand clothes.
The only obvious sign of impending change is the huge hole in the ground at the corner of Boyle Avenue, where the new Gold Line light-rail station will be. Nobody notices the pickup truck parked next to the construction wall or the man in a beret who unloads cardboard boxes and slips them into the side door of a corner building with no sign out front.
His name is Guillermo Uribe and he's delivering a load of T-shirts emblazoned with the name of his new business, Eastside Luv, a wine bar for the barrio. Follow him and you will find the clues as to how this humble, hardscrabble neighborhood is being transformed by its residents.
At night, the club founded by this one-time engineer and Boyle Heights homeboy will be packed with young Latino professionals, artists, musicians, politicians, teachers, curators and even a fellow engineer or two. In only a few months, it has become a cultural mecca in a neighborhood hungry for meccas of its own.
"Right now, Eastside Luv is the only place to do Boyle Heights," says Fernando Cruz, a native son and regular customer. "It's the pioneer of night life in this neighborhood."
A new nightclub may not be news for the rest of Los Angeles. But for Boyle Heights, it's like getting a slice of LA Live. For all its history, this community came up short of creating a cultural scene of its own, with clubs, cafes and art galleries that could nourish its artistic life. Aside from underground parties, the area's young people went elsewhere -- Pasadena, Alhambra, Santa Monica -- for a night on the town.
"Why is it that we always have to leave the community to experience a legitimate night life?" asks Uribe, 37. "That's what led me back here, because there was a gap."
The Gold Line extension, set to open next year, is paving the way for development in Boyle Heights and beyond. The musicians who mingle at mariachi plaza, across from Eastside Luv, might soon be sipping cappuccinos as retailers jockey for space in the new train station. Other interests have their eye on the site of the landmark Sears store farther south at Soto Street. Already under construction is a new high school and refurbished Hollenbeck police station.
That's a total of $4 billion in current and projected plans, says Evangeline Ordaz, vice president of the East LA Community Corporation, a nonprofit serving low-income residents. The concern, of course, is that outside interests will squeeze out existing businesses, raise rents and forever change the neighborhood's deeply rooted character.
"That's one of the things we would like to preserve," says Ordaz, who's also a playwright. "In the face of all this big development, our fear is that this sort of small business would get pushed out."
To Uribe, that raises the specter of the dreaded 14-letter word - gentrification. "I don't want to be put under that umbrella, like some Hollywood guy coming in here with no idea about the culture or community," says Uribe, who owns the bar with his wife of 15 years, Arlene, also born and raised in Boyle Heights. "Maybe gentrification is going to take place. Who knows? But if it does, I think it's going to be by the children of Boyle Heights, people who are just proud to be back in the neighborhood."
Three years ago Uribe left his job as a construction manager to start a nightclub. After his bid for a downtown location fell through -- "and I was just crushed" -- he found his current spot, formerly the Metropolitan. But it was a mess. Even with his do-it-yourself expertise, remodeling the 1940s cantina cost him $200,000, he says.
The décor he calls "cholo chic." It's a mash-up of Tijuana brothel, Victorian sitting room and cool Hollywood rendezvous, squeezed into a long, narrow space of 1,200 square feet. The walls are covered with flocked wallpaper, the ceilings with decorative tin panels. The arched wine rack behind the bar, with its trestle-like storage spaces, evokes the bridges that span the nearby L.A. River. The custom chandeliers are made of stiffened chain link, evoking low-rider steering wheels.
Many details have other cultural connections. The long, elevated bench is upholstered in black corduroy to simulate so-called wino house slippers, a gangster fashion favorite. And armchairs are wrapped in clear plastic, a tribute to abuelita's method of preserving the living room furniture. "It's all made to feel like you're in someone's house," the owner says.
All except the chrome pole at the end of the sunken, 35-foot bar that doubles as a catwalk for the burlesque dancers who perform every Saturday. The pole is a clever disguise for the vent of a mop sink installed behind the bar, at the insistence of city inspectors.
The bar first opened in late 2006 but was forced to close for code upgrades. It reopened late last year and recently started featuring live music, with singer-songwriter Lysa Flores performing every Friday. On a recent Thursday, the band was Lil Bastards, a rocking outfit featuring Raul Pacheo from Ozomatli and guitarist Quetzal Flores.
The crowd was a who's who of the local Latino arts scene, including Reyes Rodriguez of Tropico de Nopal gallery; Pilar Tomkins, the Claremont museum curator; and David Reyes, author of the Chicano rock book "Land of a Thousand Dances." Customer Cruz came with his significant other, Conchita Sousa, who runs the cafe at her family's Olvera Street business, Casa de Sousa.
Twice, Uribe recalls, customers have come back to Eastside Luv with their mothers, to show off the place. "I felt really honored," he says. "It's like they were saying, 'Look, Ma! Look what's happening in our community.' "
Get our L.A. Goes Out newsletter, with the week's best events, to help you explore and experience our city.
You may occasionally receive promotional content from the Los Angeles Times.