Ilan Stavans' 'The Disappearance' comes to Skirball Cultural Center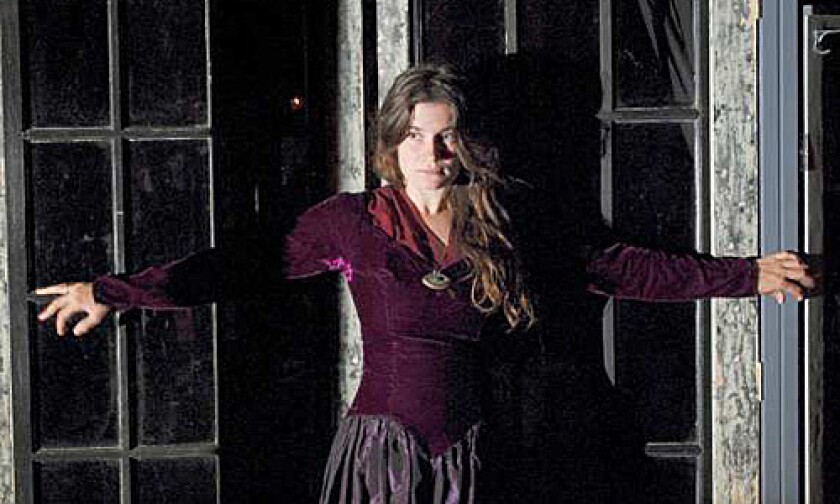 Los Angeles Times Staff Writer
Pine forests must shudder at Ilan Stavans' very name.
A scholar, fiction writer, literary critic, lexicographer, graphic novelist, public television host and all-around intellectual go-to guy on matters Judaic and Latino, the Amherst College professor has written more than 20 books and edited some 20 others since his arrival in the United States from his native Mexico in 1986. His latest, "Resurrecting Hebrew," recounts how the ancient biblical and liturgical language was reborn in the 20th century as Israel's everyday, secular tongue. As an editor, he is overseeing "The Norton Anthology of Latino Literature," scheduled to be published next year.
https:// www.amherst.edu/people/facstaff/istavans "> www.amherst.edu/people/facstaff/istavans , 47, also is about to unfurl "The Disappearance," his first play in English. Of all the theater companies in the world, he's collaborating with the one that for a quarter-century has harbored a suspicion of stories and held a bedrock aversion to words. Double Edge Theatre Stavans will stage the premiere at on Thursday and Friday.
The 26-year-old Double Edge reflects artistic director Stacy Klein's interest in conjuring dreamlike essences rather than straightforward storytelling. Ensconced communally since 1995 on a farm in Ashfield, Mass., Double Edge has incubated plays in which images, gestures, music and movement typically count more than dialogue. Spoken elements have been adapted from such sources as the poetry of Rilke, the writings of the Polish Jewish Holocaust victim Bruno Schulz and familiar tales. The Skirball shows will be Double Edge's first in California; Klein said the booking resulted from Stavans' contacts and favorable reports on Double Edge that prompted Skirball program director Jordan Peimer to check out a production.
Knowing Stavans' love of Cervantes, Double Edge had invited him last year to its indoor theater-in-a-barn for "The unPossessed," its version of "Don Quixote." The show began with a stack of books being readied for an Inquisitional burning -- with Stavans' memoir, "On Borrowed Words," at the very top.
"I was shocked and delighted at the same time," the writer said from his home in Amherst, where he lives with his wife and their two sons.
After a long post-play conversation, Stavans and the Double Edge members decided to collaborate. They chose "The Disappearance," a short story Stavans wrote in 2005. It sprang from one of his periodic visits to a wooden box he fills with newspaper clippings and writing ideas. What leaped out was an article from 20 years before, about a Belgian Jewish actor's strange protest against the widely perceived anti-Semitism in "Garbage, the City and Death," a play by German film director Rainer Werner Fassbinder. The actor faked being abducted by neo-Nazis, emerging with abrasions that, as the hoax was uncovered, turned out to have been self-inflicted.
From that, Stavans wove a twisting, many-layered tale that keeps a reader off balance, like those of his hero, Jorge Luis Borges. Its core question is whether Jews in the Diaspora ever can live in full freedom and not have to conceal some part of themselves.
Throwing in with Double Edge meant doing things the company's way. As Stavans describes it, rehearsals took place at night, starting with up to 45 minutes of quasi-Dionysiac exercises meant to break down creative inhibitions with physical frenzy and near-exhaustion.
As a young man in Mexico, Stavans (né Stavchansky) wrote, acted in and directed plays. His father, actor Abraham Stavans, is well known for his roles in telenovelas.
Stavans' stage adaptation of "The Disappearance" borrowed scenes from "The Merchant of Venice" to resonate with the Belgian actor's tale. But Double Edge takes any author's words and ideas not as a vision to fulfill, but as a springboard for the troupe's own interpretations and interpolations, which will include sequences with puppets.
Stavans says he relished collaborating on other artists' turf and not being fully in control for a change. But when he recently saw a preview of "The Disappearance" in Massachusetts, the experience, he says, was "very rewarding and also anxiety-producing. 'Is the story still your story? Has it evolved so authorship has slipped away from you?' I gave them suggestions, but the magic of it is now in their hands."
For a year or more he was welcomed as part of a group; now, as planned, he's transitioned back to being a friendly outsider. Klein, the Double Edge artistic director, says Stavans' written comments after the preview reminded her of the need to keep the story and characters clear, and led to "really helpful" changes.
Stavans says he has no problem embracing the role of the outsider. His grandparents came to Mexico from Eastern Europe in the early 1900s, and prejudice was common as he grew up in the predominantly brown-skinned, Roman Catholic nation. Now he's a Latino living in America, with dual Mexican and U.S. citizenship.
"The artist is by definition an outsider . . . someone who is not happy with the way things are, who looks at paradoxes and contradictions." He says his own contradictions prevent him from giving a firm answer to his play's question: Where, for a Jew, is home?
But as a writer, if not as a Jew, Stavans says he can create his own haven. "Home is not the place where you believe you're totally and forever accepted. It is that portable space -- a mental creation -- that allows you to freely reflect on what you see and what you think."
"The Disappearance," Skirball Cultural Center, 2701 N. Sepulveda Blvd., Los Angeles. 8 p.m. Thursday and Friday. $25. (877) 722-4849 or www.skirball.org.
---
Inside the business of entertainment
The Wide Shot brings you news, analysis and insights on everything from streaming wars to production — and what it all means for the future.
You may occasionally receive promotional content from the Los Angeles Times.