Museums observe A Day With(out) Art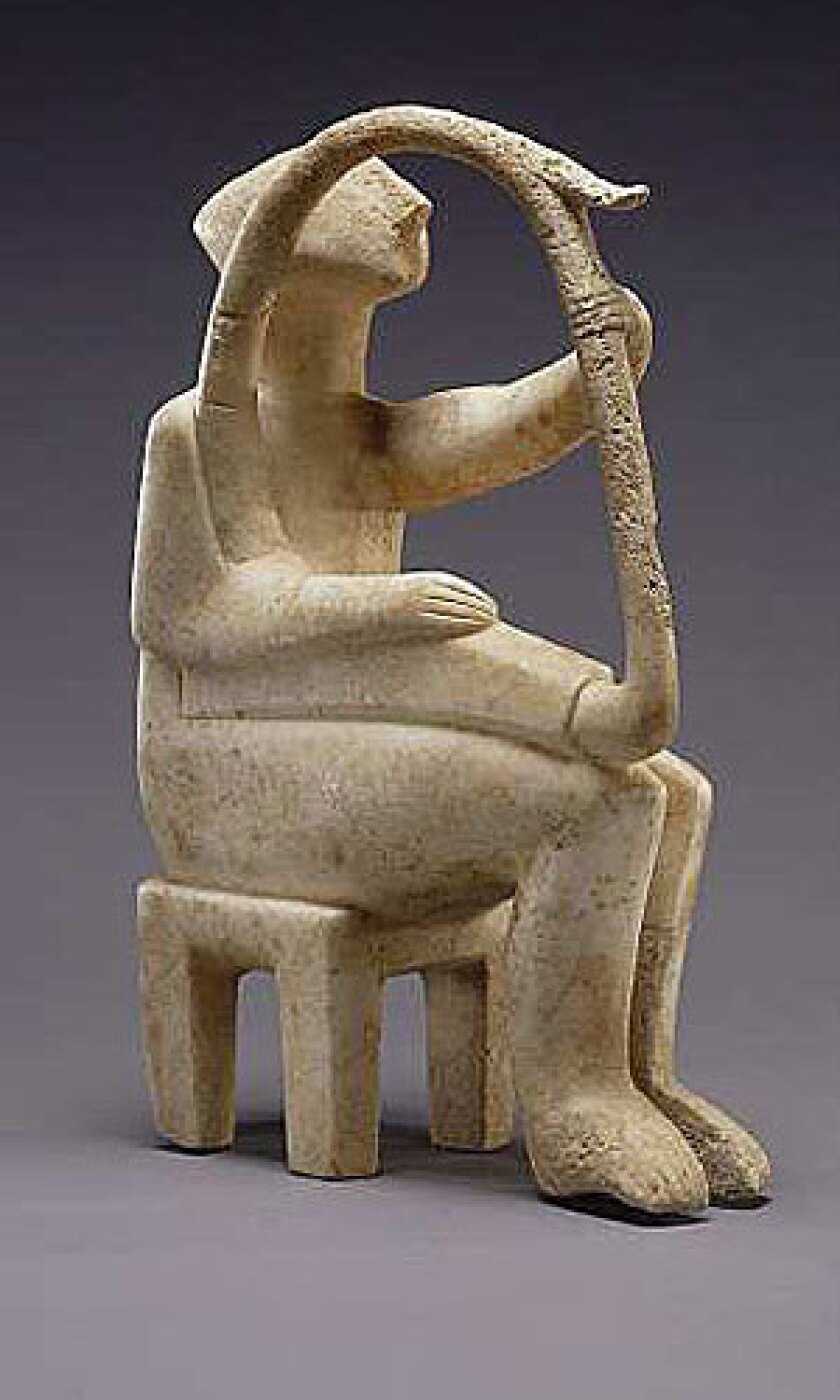 On Monday, the Greek marble statue of a man playing a harp located in the center of the Prehistoric and Bronze Age Arts gallery at the J. Paul Getty Museum will be cloaked in black cloth. But it's not being prepped to be cleaned. Nor is there maintenance work to be done. Its concealment is emblematic of the creative loss in the arts community by AIDS.
The veiling of the circa 26th century BC Cycladic sculpture is part of the museum's 19th annual observance of A Day With(out) Art, a time when the international arts community stops to remember and react to the AIDS crisis and its effect on the art world. It coincides with , an international campaign aimed at educating the public about the disease.
"Traditionally the Getty has marked the day, and we saw no reason to stop this year," said Rainer Mack, manager of education at the Getty Villa. "The shrouding of the work symbolically encapsulates A Day With(out) Art by depriving people access to a particular work of art. We chose this particular statue because as a musician, he represents an artist."
The initial movement of 800 U.S. art and AIDS groups blossomed into a collaborative project of thousands of national and international AIDS service organizations, museums, galleries and other arts organizations. In recent years, however, its force has dwindled.
"Lots of organizations sort of have the [AIDS] programming in their schedule already so they didn't really need us to remind them," said Nelson Santos, associate director of Visual AIDS, a volunteer organization of artists and art professionals applying the influence of the arts in the fight against the illness. "We also feel it's important to recognize the AIDS pandemic throughout the year instead of just observing it one day."
Some Southland museums -- such as LACMA, MOCA, Fowler Museum and Hammer Museum -- with a history of sharing in the observance won't be doing so this year. Though they may not be participating, some acknowledged showcasing exhibits or artwork that examine the disease's force.
"Unfortunately we don't have any exhibition or program on the subject this year, due to our exhibition schedule and the fact that the museum is closed on Monday," said Stacey Ravel Abarbanel, spokeswoman for Fowler Museum at UCLA, who noted that the exhibit "Dress Up Against AIDS: Condom Couture by Adriana Bertini" had opened there on World AIDS Day 2006. "But our commitment to the subject goes well beyond a one-day annual observance."
Earlier this year, the museum featured Make Art/Stop AIDS, a traveling exhibition of 60 works exploring how artists around the world are responding to AIDS and how their work helps in raising awareness.
In addition to the shrouding of the statue, the Getty has other events planned for the day. Visitors can make commemoration cards -- embellished, if they choose, with images of plants that symbolize life, death and remembrance, such as rosemary, myrtle and pomegranate -- and hang them with red ribbon from a tree branch to share with other visitors, an act inspired by ancient rituals of remembrance.
"We wanted to try and develop something that would enable people to respond a little more actively," Mack said. "The memory trees will provide a forum for people to reflect on the meaning of the day."
A series of 20-minute talks also will be held, examining the ways in which loss has been memorialized through artworks and nature.
Day Without Art, developed by the Visual AIDS organization, began in 1989 to honor people in the art community struck down by the illness and to raise awareness. One day a year, galleries close their doors in observance; others shroud paintings. In 1997, the name changed to A Day With(out) Art as artists have shifted emphasis by creating works in response to AIDS.
At the Armory Center for the Arts in Pasadena, a World AIDS Day exhibition is on view. In "All My Little Failures," Andrew McPhail addresses the question of HIV and AIDS in the form of sculpture, drawing, video and photography; each looks at the menacing quality objects can evoke when viewed through the lens of an illness.
"A one-day observance just isn't enough," Santos said. "But it's a step."
Villarreal is a Times staff writer.
---
Your essential guide to the arts in L.A.
Get Carolina A. Miranda's weekly newsletter for what's happening, plus openings, critics' picks and more.
You may occasionally receive promotional content from the Los Angeles Times.