'Once on This Island' at UCLA's Freud Playhouse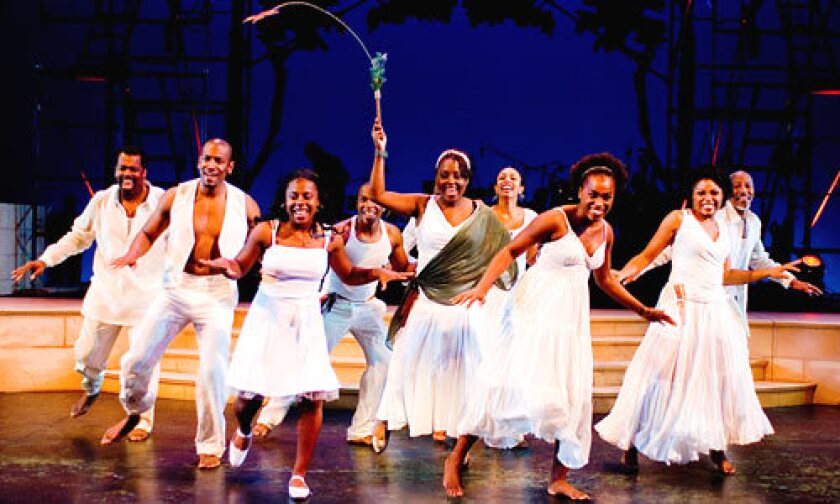 Los Angeles Times Staff Writer
Vivacious, exotic and scored to a calypso-reggae beat, "Once on This Island" is a Caribbean cruise of a musical that offers audiences an abundance of pleasantly superficial diversions and sunny ports of call.
That Reprise Theatre Company's revival often transcends the show's touristic premise is mostly because of a fully committed cast that fuels this pleasure ship with a bottomless source of diesel kick.
Much credit should also go to director Billy Porter, whose smart staging uses the spatial limitations of UCLA's Freud Playhouse to remarkable advantage. Compact without feeling constrained, this production boasts an elegant concision that brings out the musical's strengths while minimiz- ing its weaknesses.
Loosely adapted from Hans Christian Andersen's "The Little Mermaid" by Stephen Flaherty and Lynn Ahrens, "Once on This Island" takes place in a former French colony where a free-spirited peasant girl, Ti-Moune (newcomer Kristolyn Lloyd), longs to join the ranks of the landed aristocracy.
Her path crosses that of a wealthy young man named Daniel (Jesse Nager), whose car crashes during a stormy night. Hopelessly infatuated, Ti-Moune consults a supernatural demon who agrees to conjure up true romance if the heroine is willing to ultimately trade her life for Daniel's.
Filled with references to the occult, "Once on This Island" often threatens to sink into a swamp of silly voodoo-isms and other specious signifiers of exoticism. But Reprise's production keeps the musical firmly rooted in specific emotions and a fundamentally pessimistic view of human nature.
Lloyd's performance as Ti-Moune is confident without insisting on likability. Her character can be appealing, romantically naive and even stupid -- all of which registers through the actress' carefully controlled performance. Vocally, Lloyd is strong in the middle range and somewhat insecure on the high notes, but she's charismatic and shows enormous promise.
The rest of the cast is impressively versatile incarnating the peasants, aristocracy and spirits who inhabit the island. Pop singer Ledisi successfully blends into the ensemble, nicely underplaying her earth-mother character's big number, "Mama Will Provide."
As the hunky dreamboat, Nager finds the right notes of romantic ambivalence for Daniel. The actor gets to unleash the full power of his tenor voice only in the ballad "Some Girls," but it's enough to cast a swoony spell over the entire story.
Staged on a mostly static set, the production relies on the power of suggestion and symbolism to evoke the magical island. Production designer John H. Binkley uses a single flower to represent a forest and a pair of flashlights to suggest a swerving car. It's a risky visual strategy, especially considering that the musical begs for a lush tropical-aquarium treatment.
But the relatively restrained approach reinforces the show's framing device, in which a young girl (Darina Littleton) observes the events onstage as if absorbing a bedtime story.
Perhaps motivated as much by budgetary considerations as artistic ones, Reprise's artfully economical staging respects the audience's ability to color in the details for itself.
Produced on Broadway in 1990, "Once on This Island" appears to be aging remarkably well, though some of Flaherty's music retains a saxophone-heavy, soft-rock sound. Ahrens' lyrics aren't particularly inventive, but they flow freely and avoid too much sentimentality. (The show is also partly based on the novel "My Love, My Love" by Rosa Guy.)
"Once on This Island" provides a solid start to Jason Alexander's first full season as Reprise artistic director. It may not be the most adventurous or original choice for an opener, but it makes good on Alexander's goal of appealing to a more diverse audience base.
If the rest of the season sails this smoothly, Alexander will be home free. Until then, the tropical breezes wafting off the Freud stage should be enough to transport even the most cynical holdout into a state of glowing appreciation.
"Once on This Island," Freud Playhouse, UCLA, 405 Hilgard Ave., Westwood. 8 p.m. Tuesdays through Fridays; 2 and 8 p.m. Saturdays; 2 and 7 p.m. Sundays. Ends Sept. 14. $60-$75. (310) 825-2101 or www.reprise.org. Running time: 1 hour, 30 minutes.
---
Inside the business of entertainment
The Wide Shot brings you news, analysis and insights on everything from streaming wars to production — and what it all means for the future.
You may occasionally receive promotional content from the Los Angeles Times.