Debbie Reynolds sings, jokes, does impressions -- and shows a little leg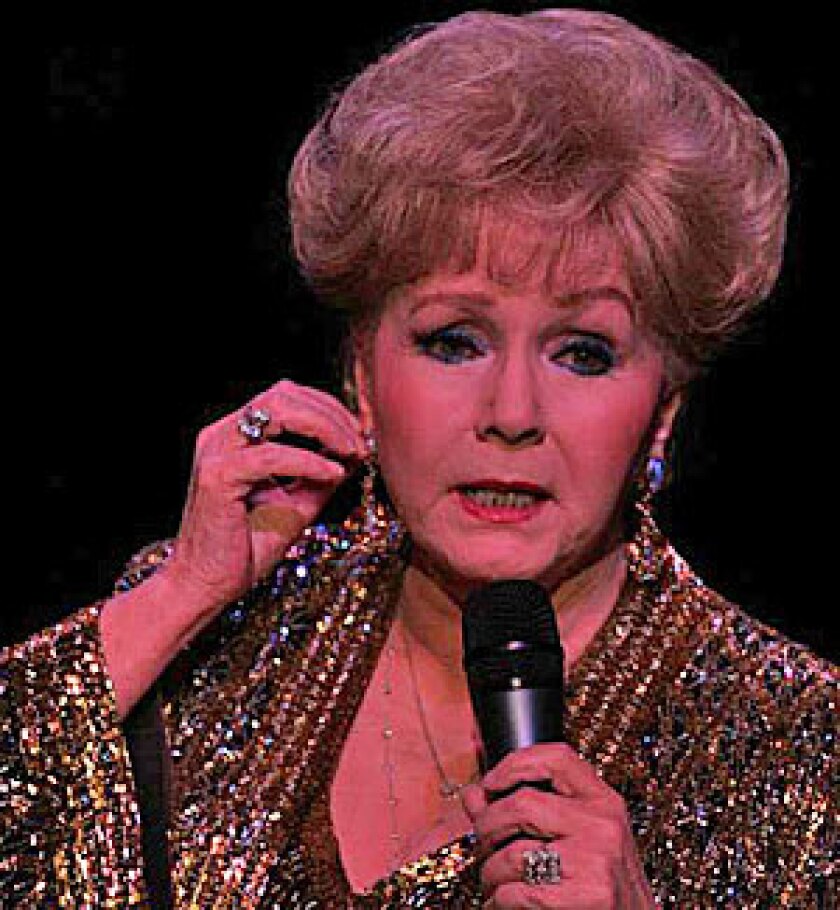 Los Angeles Times Staff Writer
Mary Frances Reynolds is back in the old neighborhood.
You know her as Debbie Reynolds. That's the name given to her when, as a 16-year-old, she was first under studio contract. Talent scouts had spotted her in the Miss Burbank beauty contest, which she'd entered despite being a tomboy whose most distinguishing talent was an ability to lip-sync to Betty Hutton records.
For two weeks, Reynolds is performing at El Portal Theatre in North Hollywood, just blocks from her old family home in Burbank. As a kid, she rode her bike to the theater to see movies. Now she's on its stage with a show road-tested through years of nightclub dates and tours. What she presents is, essentially, a variety act: a few songs, a handful of impersonations and rather too many salty-tongued wisecracks.
She gives the audience all she's got, and if, at 76, neither her voice nor her body is as supple as they once were, she allows no one a chance to disparage her before doing it herself. Referring to the leg on display through a floor-to-thigh slit in her gold sequined gown, she cracked at Wednesday's opening that she reveals "just the one leg, because everything else is shot." Shortly thereafter, she exhorted musical director/keyboardist Joey Singer and percussionist Gerry Genuario to launch into the second song "before I get tired."
She gibes her ex-husbands and, in what seems a ploy to counter whatever notions you might have gleaned from "Postcards From the Edge," she displays happy home movies of children Carrie and Todd Fisher. Reminiscences from the making of such movies as "Singin' in the Rain," "Tammy and the Bachelor" or "The Unsinkable Molly Brown" are in short supply, however.
The closest she comes is to show a series of film clips, singing along with her younger self up on the screen and dryly observing, "Can't do that today," while watching Gene Kelly, Donald O'Connor and herself dance up and down stairs and tumble over couches in "Singin' in the Rain's" "Good Morning" number.
Her song selections are mostly in the vein of such standards as "From This Moment On" and "That's Life," but Reynolds pulls a surprise when she turns to the country tune "Grandpa," recorded by the Judds, which sits nicely in lower part of her amber-honey singing voice. Only amid the too-infrequent songs does she let real feeling slip past her life-hardened, showbiz-honed exterior. The years melt away and, wow, there it is: that sweet, unguarded smile we fell in love with on the big screen.
---
Inside the business of entertainment
The Wide Shot brings you news, analysis and insights on everything from streaming wars to production — and what it all means for the future.
You may occasionally receive promotional content from the Los Angeles Times.