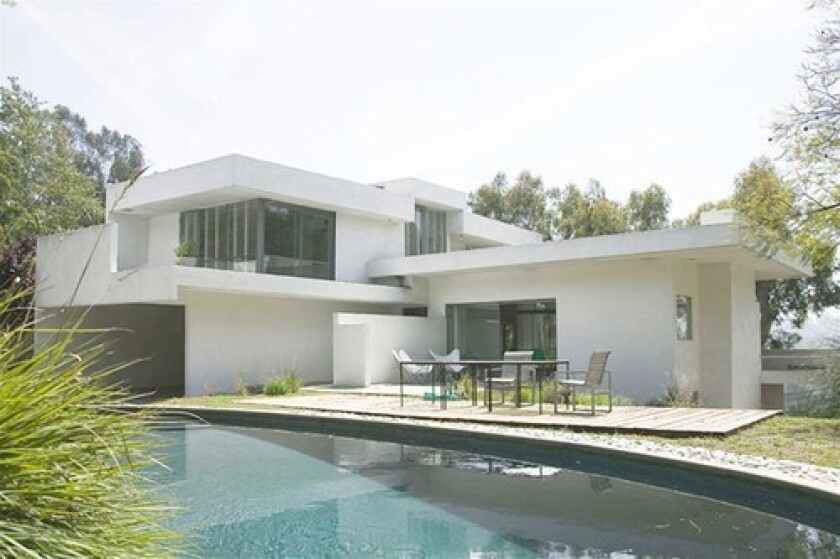 Los Angeles Times Staff Writer
The private owner of a Laurel Canyon home designed by Austrian architect Rudolf Schindler has donated the property to the MAK Center for Art and Architecture, the center is expected to announce Wednesday.
The Modernist home is the third Schindler residence to come under the stewardship of the nonprofit MAK Center, which owns the mid-Wilshire Mackey Apartment House (1939) and has its headquarters in Schindler House (1921-22), the late architect's own residence on Kings Road in West Hollywood.
Schindler's 1936 Fitzpatrick-Leland House was given to the center by Russ Leland, who purchased the home in 1990 and lived there for about 15 years, with the exclusion of several years in the early 2000s when he moved out during a major remodel. Leland, who bought the home for less than $700,000, made a considerable investment in restoring many elements of the property, formerly known as Fitzpatrick House.
"I definitely restored what was badly redone," Leland said. "I knocked down a wall and opened up the kitchen, but I did it in good taste. And I added onto a bathroom -- everybody thinks it's one of the best parts of the house."
The home, whose owners have included entertainer Martha Raye, has recently been assessed at $2.2 million.
MAK Center Director Kimberli Meyer said that the modern, L-shaped, trilevel, 2,400-square-foot home is unusual because it was built as a spec house for a developer, Clifton Fitzpatrick, rather than for a client who intended to live in it.
"It was a much bigger lot than Schindler was used to working on, and with a much bigger budget. It shows Schindler when he had a little bit more elbow room than he usually had," Meyer said. "It was way less funky than his other houses, with these clean, broad lines."
Leland, a businessman who has remodeled numerous properties, now lives in the Hollywood Hills in a home designed by Pierre Koenig and built in the 1980s.
"I found this incredible house, and that's about the time I decided I was done with my Schindler period. I got tired of being introduced as the one who owned the Schindler Fitzpatrick House," Leland said. "About the same time, I started talking to the MAK Center, and it made it easier knowing that it would have a continuing life."
The Fitzpatrick-Leland House is being used for the MAK Center's Urban Future Initiative, which provides two-month residencies to researchers from around the world. The first round of the fellowship program, which began in April and is funded through September 2009, will bring seven fellows to the facility; the first fellow is Marco Kusumawijaya, an architect from Indonesia.
Meyer said the MAK Center has yet to raise funds to maintain the home, estimated to cost $35,000 annually.
---