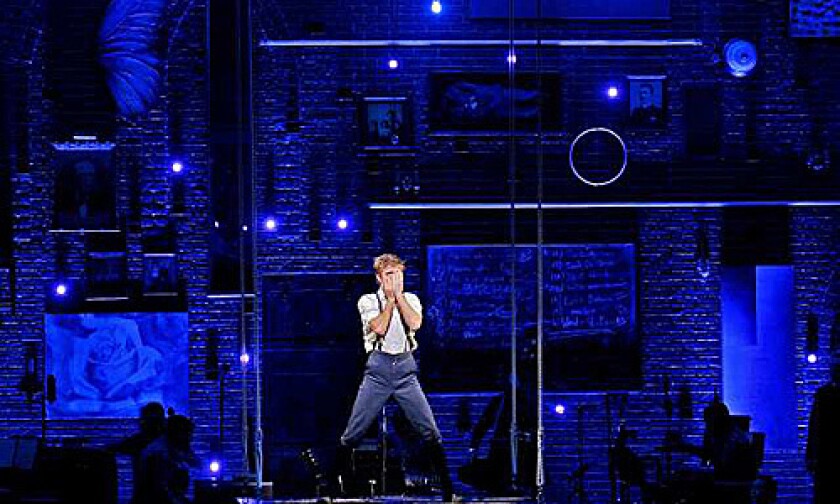 Morality evolves and musical styles change, but there's something constant about sex, teenagers and rock 'n' roll. Oops, almost left out the emotional glue holding together this perennial pubescent compound -- angst.
This handy little foreign word, signifying a whole lot of internal strife, is especially germane to "Spring Awakening," the Tony-winning indie-rock musical now at the Ahmanson Theatre. Based on Frank Wedekind's 1891 drama about provincial German youth discovering desire while parents and teachers keep them benighted about their bodies, the show moodily captures the jarring hormonal journey from adolescence to adulthood.
Representing one of the more stylish examples of the new wave of musicals ushered in by "Rent," "Spring Awakening" understands that all students at this awkward, mixed-up age -- even those living in some pastiche version of late 19th century Germany -- are rock stars in their own tormented minds. Caught between the demands of their anarchic natures and the rules of re- pressive society, what else can these kids do but pull out a microphone from under their uniforms and vocalize the pain?
Steven Sater, who wrote the book and lyrics, and Duncan Sheik, who composed the hypnotic music, transport us back to this phase of life with a brooding authenticity that distinguishes this work from the commercial pop of "High School Musical." But even if the subject matter seems like water under the bridge to some of you, "Spring Awakening" is worth seeing for its utterly original production.
Michael Mayer's staging gets the proportions poetically right. Bill T. Jones' unobtrusively eloquent choreography lends the piece unusual poise; Susan Hilferty's costumes supply vintage bohemian color; Kevin Adams' mesmerizing lighting (so good it deserves marquee credit) spreads enchantment; and Christine Jones' eye-catching scenic design (with its brick wall backdrop decked with paintings and a blackboard listing the song titles) creates a theatrical universe all its own.
A nice touch that's in keeping with Wedekind's pre-Brechtian roots is the seating of two groups of audience members on opposite sides of the stage. Actors, when not in a scene, join them, only to rise up from the spectator ranks when a number compels them. The effect helps spread the spirit of teen rebellion, which has been coursing in the air courtesy of Sheik's subtly spellbinding score, performed by an onstage band that seems perfectly at home in this intensified milieu.
In only one crucial area does this touring production fall short -- the somewhat unmodulated acting company. As the adult men and women, Angela Reed and Henry Stram would be advised to tone down their exaggerated antics, as would a couple of the scenery-chewing supporting boys. And it wouldn't hurt if the adolescent leads turned up the interior fire -- there's a reason, after all, their strung-out characters keep bursting into song.
But trust me: This shortcoming isn't particularly damaging. The show's emotion is delivered more through the music and the general context than through specific dramatic moments. And Mayer's fluid direction is as unstoppable as an ocean wave. In truth, the production is the star, and it's a dazzler.
Not that the cast should be completely passed over. As Wendla, the naive young woman who still doesn't know where babies come from, Christy Altomare becomes more haunting as her fate grows crueler. And her equally distressed girlfriends memorably groove to their own overwhelmed beat.
With his neo-punk, mad-scientist hairdos, Blake Bashoff as poor neurotic Moritz, the class scapegoat who can't live up to the expectations of unforgiving grown-ups or his own hammering superego, is a jangling, attention-grabbing presence. He might not be any more credible than Kyle Riabko's bland hunky Melchior, the school's turbulent artist-in-the-making. But whenever this doomed misfit is center stage it seems as though an electric wire has started crackling.
The story, which deals with sexual themes quite directly (and is performed with a bit of daring nudity) is better at taking the psychological temperature of these youths than marshaling them into a well-synchronized plot. The second half -- when the fallout of the adults' authoritarian stupidity comes raining down -- rushes by in a tragic blur that is moving more as a tableau than as a narrative.
But in musical terms, "Spring Awakening" opens the door to a thrilling future in which the aggrieved melancholy harmonies of the next generation are liberated from the conformity of stuffy theatrical traditions.
---