Recipe: Latkes with green onion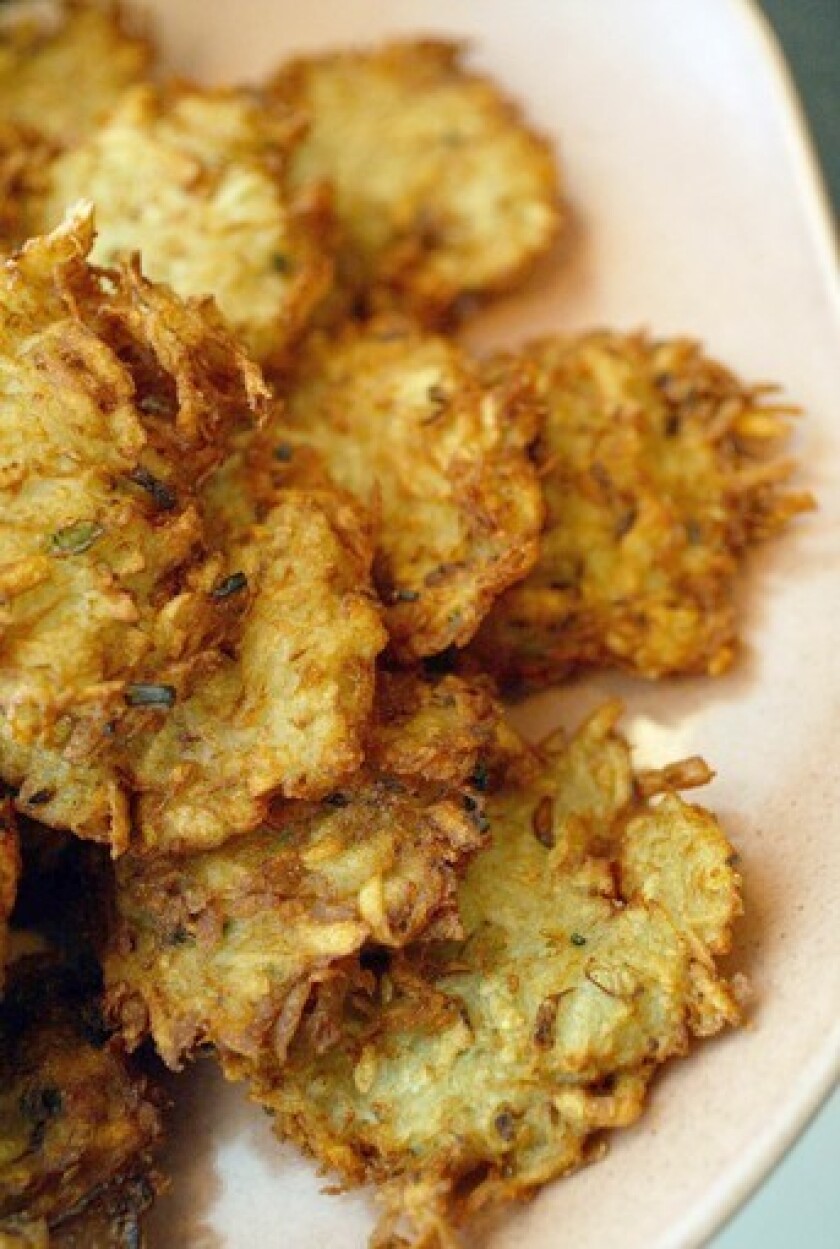 Total time: 1 hour, 10 minutes
Servings: 6 to 8 (about 20 latkes)
Note: From Lisa Loeb.
6 to 8 small russet potatoes (about 3 1/2 pounds)
1 medium onion
2 teaspoons salt
2 large eggs, lightly beaten
1/3 cup flour
3/4 cup chopped green onions, green part only
1/2 teaspoon freshly ground black pepper
1 cup canola oil for frying
1. Wash, peel and grate the potatoes and onions (a box grater on the large-hole side works well). Add the salt and allow the onion-potato mixture to drain in a colander for 10 minutes. Place the mixture in a clean dish towel and wring out the excess moisture.
2. Place the potato-onion mixture in a large mixing bowl. Add the eggs, flour, green onions and pepper.
3. Heat the oil in a 12-inch skillet over medium-high heat until it is hot but not smoking. Form the latkes by packing a one-fourth-cup dry measuring cup with the mixture.
4. Place the latkes in the skillet and flatten slightly with a spatula. Cook until they're golden brown underneath, about 3 to 5 minutes, then turn and cook the other side to golden brown. To keep the oil hot, cook only 4 to 5 at a time.
5. As the latkes finish cooking, remove them with tongs and let the excess oil drip off. Place them on a plate lined with paper towels and keep them warm in the oven. Serve with apple chutney.
Each latke: 114 calories; 2 grams protein; 15 grams carbohydrates; 1 gram fiber; 5 grams fat; 1 gram saturated fat; 21 mg. cholesterol; 242 mg. sodium.
---
Your essential guide to the arts in L.A.
Get Carolina A. Miranda's weekly newsletter for what's happening, plus openings, critics' picks and more.
You may occasionally receive promotional content from the Los Angeles Times.