Sister Wendy Beckett, celebrity TV art historian, dies at 88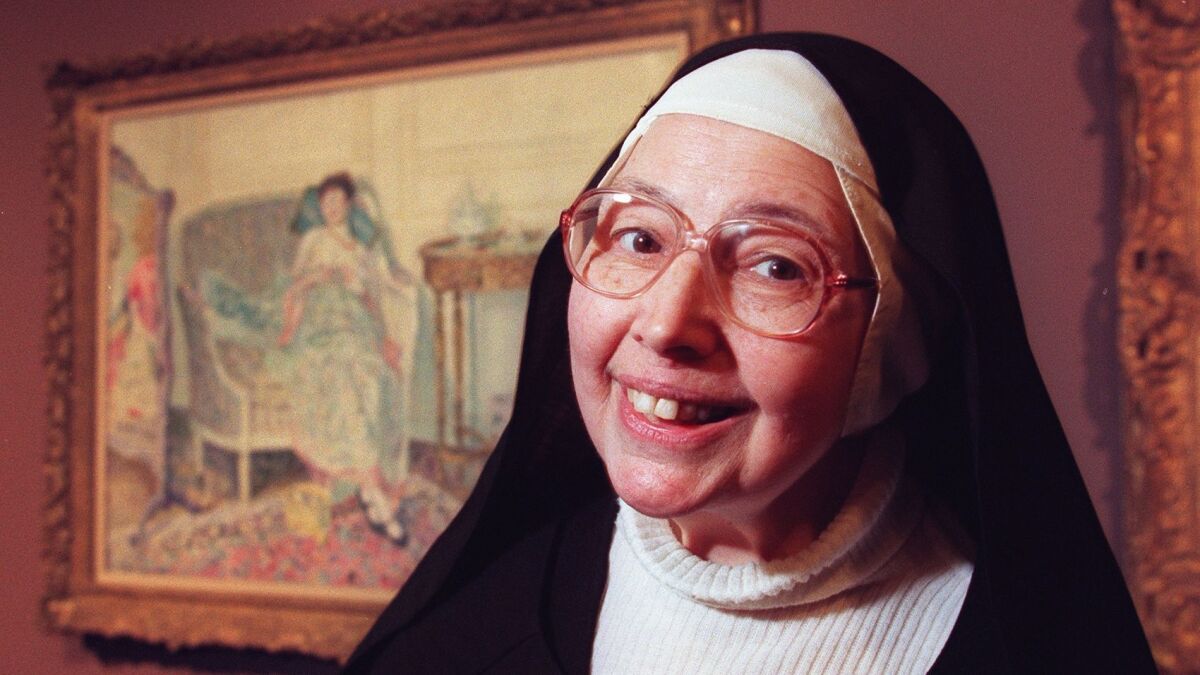 Sister Wendy Beckett, the cloistered nun who ventured out of seclusion to become a celebrity art critic and historian, died Wednesday at England's Carmelite Monastery Quidenham in Norfolk, according to the BBC. She was 88.
From the time she appeared in her first art appreciation program on BBC in 1991, Beckett's provocative and witty commentaries captured the attention of museum curators, book publishers and art critics as well as art lovers around the world.
She graduated from Oxford University as an honor student in literature in 1954 but taught herself the history of art from the hermit's trailer where she lived on the grounds of a Carmelite monastery in Norfolk, England. Museum postcards and exhibition catalogs were her main research materials.
Beckett began her art career as a magazine critic, reviewing exhibitions for small British art journals in the mid-1980s and published her first art book, "Contemporary Women Artists," in 1988.
At an art exhibit in Norfolk, where a BBC camera crew happened to be taping a documentary about feminist author Germaine Greer, Beckett was asked to give her impression of the show on tape. It launched her television career.
She cut an unconventional figure for a television personality with her black nun's habit and oversized eyeglasses. Critics pointed to her gapped teeth and her way of pronouncing "r" as if it were "w." Her producers were more impressed by the pithy, ad-lib analyses she could fit neatly into a soundbite, a feat that won her a reputation as "one-take Wendy."
From the airing of her first series, "Sister Wendy's Odyssey," in 1992, she evaluated artworks as if the artist were standing beside her. "Shame on you, Degas," she scolded the French Impressionist for portraying women in gawky poses. "You have a cold heart."
Her unique style drew close to 4 million viewers, mesmerized by her billowing black robes and unpretentious observations. "Odyssey" was the most successful BBC art program since Kenneth Clark's "Civilisation," which aired in the United States 23 years earlier.
For all of her unique features as a commentator, it was Beckett's ease in describing nude paintings that most confounded her viewers. Standing before a double nude portrait by modern British painter Stanley Spencer, she observed, "I love all those glistening strands of his hair. And her pubic hair is so soft and fluffy."
For the rest of her life she was asked to explain her views on sex. "The body is God's creation, like a tree, only better designed," she once replied. "God looked at his creation and said, 'It is good.' " In another interview she added, "There's too much puritanical fear of pleasure."
She was fully aware that a woman of the cloth could scare some people off. "They might think a nun had church-y designs on them," she admitted. But her unorthodox spiritual insights suggested otherwise. "I'm all for atheists," she once announced. "They have rejected the false god. Now it's on to find the true one."
In 1999, Beckett visited the Los Angeles County Museum of Art for her series on U.S. museums, called "Sister Wendy's American Collection." By then, her videos were sold in bookstores and used in art appreciation classes. Schoolchildren ran to her side when they saw her crossing the county museum's plaza. At lunchtime, her waiter sang to her on bended knee beside her chair.
Beckett's frequent director, David Willcock, referred to her as "Wens" and marveled at the effect she had on strangers. "Captains of industry rush around to find her a needle and thread," he said of a typical day with Sister Wendy. "Socialites give up their cab for her."
Some of her art world colleagues criticized her lack of exposure to original works of art, but she had at least as many admirers. Graham Beal who was artistic director of LACMA in 1999, first met Beckett by mail decades earlier when he was with the Walker Art Center in Minneapolis. She wrote, asking for a catalog of a George Segal sculpture exhibit. Beal sent it to her without charge.
Several years later, he moved to the San Francisco Museum of Modern Art, and postcards from the Norfolk monastery arrived there. When he finally met her at LACMA, Beal understood.
"I was impressed by the depth of her knowledge, even of artists who are not well known," he said. "I guess I'm not the only one she was writing to."
She was born Wendy Beckett, in East London, South Africa, one of two children. Her father was a bank clerk who later changed careers to be a doctor. "From the time I was age 2, my family knew that I would be a nun," she once said.
When she was a child, her family moved to Edinburgh, Scotland, where her father attended medical school before they returned to South Africa. At 16, she entered the Sisters of Notre Dame in England and began religious life as Sister Michael. Later, as an act of humility, she reclaimed her given name. She didn't like "Wendy." It made her think of "Peter Pan."
At Oxford University, as a student in her early 20s, Beckett lived in a nun's hostel and soon after graduation moved back to South Africa to teach in a religious school. But persistent heart trouble and a history of epilepsy drained her strength. Health problems combined with the dream of a contemplative life, which she had abandoned when she entered her order of teaching nuns, led Beckett back to England.
In the early 1970s, she was released from her vows as a Sister of Notre Dame and changed her religious status to "consecrated virgin," with the blessing of the Vatican. From then on, she was not a member of any religious order but continued to wear a homemade black habit, a variation on the one she wore as a Sister of Notre Dame.
Asked once to explain her choice, she said, "I am a nun. I will always be a nun." She had spent more than 20 years in a convent, perfecting the ways of religious life. As a hermit, she did not feel the need to belong to any particular order.
The Carmelites offered her a home on their property and took care of her for the rest of her life. They delivered her meals to the unheated trailer where she slept on the floor, surrounded by towers of art books. She in turn contributed most of her income to the convent.
By 2002, Beckett had published some 20 books and completed 11 art programs for public television. Royalties and residuals amounted to an income large enough for her to replace her trailer-hermitage for a newer model, with heat, and to put aside some money for her retirement, as well as help pay the convent's expenses.
As her fame grew, her passion for military history, crossword puzzles and detective stories became public knowledge. Asked how she managed to read so many crime novels, Beckett had a quick answer. "A person can pray and read at the same time."
Often in frail health, she spent most of her public life in a wheelchair and only stood up to deliver her light, witty comments before the camera. She once said she persisted because she had a calling to talk about art in ways the average person could appreciate. "If you don't know about God, art is the only thing that can set you free," she explained. "It challenges the human spirit to accept a deeper reality."
One of her last programs was "Sister Wendy at the Norton Simon Museum," which aired in October 2002. By then, viewers were accustomed to her mischievous humor and unconventional views.
Pausing before the 16th century Italian painting "Madonna and Child With Book," by Raphael, she zeroed in on the hefty baby Jesus. Reminding viewers that this child was the son of God in Christian theology, she offered her unconventional best advice. "Don't think, 'fat little bloke,' " she said. "Think young sumo wrestler."
Beckett is survived by her sister, Barbara.
---
Get our L.A. Goes Out newsletter, with the week's best events, to help you explore and experience our city.
You may occasionally receive promotional content from the Los Angeles Times.