Tony DeLap, pioneering West Coast figure in abstract art, dies at 91
Tony DeLap, the Orange County artist who helped to define West Coast minimalism through his meticulous exploration of the intersection of sculpture and painting, has died. He was 91.
DeLap died Wednesday at his home in Corona del Mar, said his studio assistant and archivist, Robin Johnson.
DeLap rose to prominence in 1964 when an illustration of his work was featured on the cover of Artforum magazine alongside a glowing review by then-Editor-at-large John Coplans. The work, exhibited at San Francisco's Dilexi Gallery, was a series of two-sided glass boxes with edges that descended inward toward the center.
By the late 1960s, DeLap was among artists including Billy Al Bengston, Craig Kauffman and Larry Bell who were pioneering what came to be known as the "Finish Fetish," with an emphasis on clean lines, simple shapes and bright, monochromatic colors.
"He is apart from and yet entirely amidst the whole trajectory of geometric abstract art in California," said longtime friend, curator and critic Peter Frank. "He's not quite a minimalist, he's not quite a traditional abstract artist, but he relates to all of them and did so early on."
As the first art professor to be hired at UC Irvine, DeLap influenced generations of artists including Bruce Nauman, Chris Burden, John McCracken and James Turrell.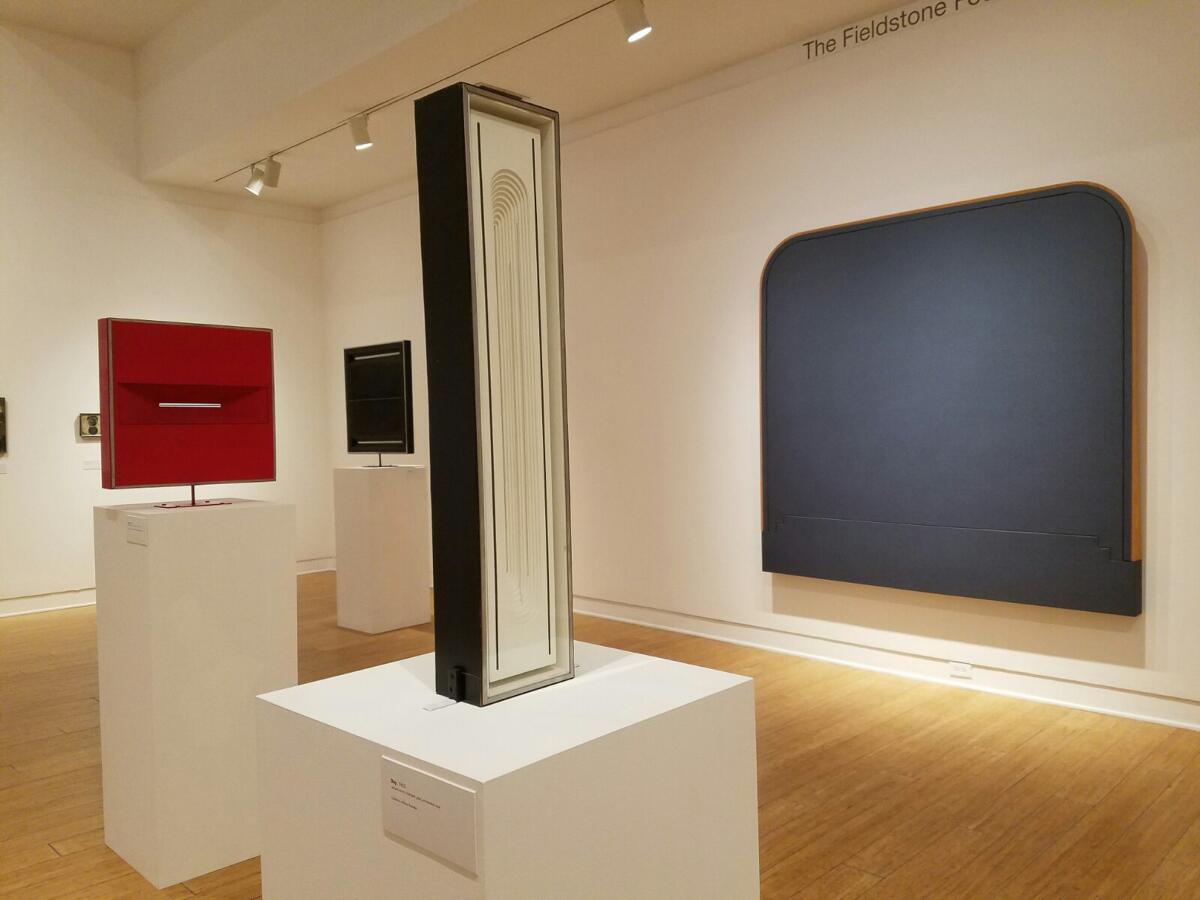 He is apart from and yet entirely amidst the whole trajectory of geometric abstract art in California.
— Curator and critic Peter Frank, on Tony DeLap
Edges — what they are and what they aren't, as well as the ways they can trick the eye into perceiving something other than what is there — were central to DeLap's work. So was a fascination with magic, which played out in the form of objects and shapes that seemed to float or defy architectural logic.
A longtime member of the Hollywood magicians club the Magic Castle, DeLap often incorporated illusion into his exhibitions.
"The subject of his art was perception," said Frank, adding that his emphasis on how viewers perceive art "was underscored not only by his training as a magician, but by his application of the artistic equivalence of magic tricks into his work."
DeLap became fascinated with magic at age 9 after sending away for a magic kit in the mail, Frank said.
"I love the stories of card hustlers and card cheats and the way they would design and invent sleights-of-hand," DeLap told The Times in a 1994 interview regarding his Cal State Fullerton exhibition "The House of the Magician: An Installation of Reconstructed Works from 1967-1979."
"There is no way in the world I would want to lead that kind of life, but I find it fascinating. I love the terminology, the slang, the technical information on how cards are palmed," he said.
LACMA: Concrete walls of the future museum are chic, but they come with consequences »
Born in Oakland on Nov. 4, 1927, DeLap studied art and graphic design in the Bay Area and attended the San Francisco Academy of Art. He later enrolled in Claremont Graduate School before returning to the Bay Area, where he taught at the San Francisco Art Institute, UC Davis and California College of Arts and Crafts.
DeLap claimed Orange County as home beginning in 1965 when he was invited to become a member of the founding faculty at UC Irvine, where he taught until 1991.
His work is held in the collections of the Los Angeles County Museum of Art, the Whitney Museum of American Art and the Tate Modern in London.
The most recent retrospective of DeLap's work, curated by Frank, ran last year at the Laguna Art Museum. It included 60 paintings and sculptures, plus more than 80 works on paper.
Malcolm Warner, executive director of the museum, remembers DeLap as a warm and delightful presence who took interest in every aspect of the staging of the exhibition.
"He had such a gift for friendship, and he was a great raconteur," Warner said. "Everybody who knew Tony loved him."
In an admiring review of the show, Times art critic Christopher Knight wrote: "One pleasure of the show is the abundance of his early works, dated between 1961 and 1974, when DeLap's well-known shaped hybrids of painting and sculpture began to emerge. … Double-sided tabletop boxes are fronted in glass. Inside are layered planes of thin, painted chipboard stepping down toward the center, often mysteriously suspended in space. The design is like an aerial view of an amphitheater."
DeLap reveled in the sense of mystery his art could conjure. In many ways it is his ability to combine artistic sleight-of-hand with matter-of-fact minimalism that best defines his legacy.
"Art today is more pluralistic than it used to be," DeLap said in a 1999 interview with The Times about his penchant for geometric legerdemain. "There's a lot of mixing up, and I think there's nothing wrong with having these diverse elements get together."
DeLap is survived by his wife, Kathy, and their two children, Kelly DeLap Evans and Jack DeLap, as well as three grandchildren.
Get our L.A. Goes Out newsletter, with the week's best events, to help you explore and experience our city.
You may occasionally receive promotional content from the Los Angeles Times.