Unfriendly skies for many a traveling musician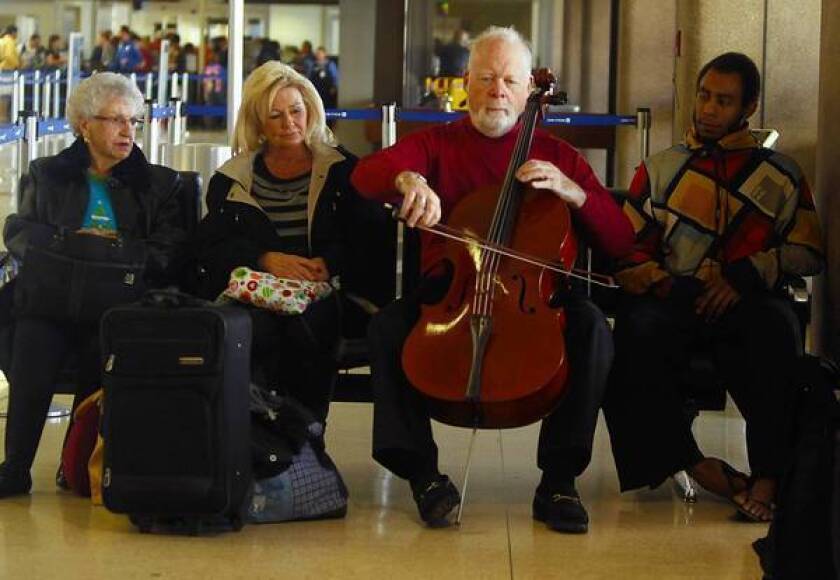 Loud grumbles can be heard by travelers at this busy time of year under normal circumstances, but what is that noise going on with itinerant virtuosos carrying on board million-dollar-plus Strads and Guarneris on their way to concert dates?
It's the sound of bureaucracy. And it's overtaking what used to be a well-understood, mutually respectful transaction — between cellists (mostly) and the industry that transports them and their treasured instruments. Cellists have been bearing the brunt because their cargo is too precious to check as regular baggage but so large that it requires an extra cabin seat.
"Air Canada tried to put my cello in a bassinet like a baby but one that doesn't wake and cry," says droll London-based cellist Steven Isserlis. "And when they couldn't get six seat belts around it, they threw us both off the plane!"
2012 IN REVIEW: L.A's top 10 arts and culture stories
"Southwest Air handed me back my double bass in its flight case — with the neck and scroll dislodged from the body by a jagged break," says Rice University grad student Drew Banzhaf, who had been on his way to an important audition. After the airline damaged his instrument, he said, the company "even made it difficult for me to file a claim."
Since 9/11, and with it the advent of Transportation Security Administration agents, and then the Great Recession — which caused airlines to cut corners and withhold services as well as niceties — musicians traveling with oversized string instruments have stood among the most aggrieved fliers.
In his blog, L.A.-based musician Lynn Harrell has written of 11 years of buying full-fare, SkyMiles-earning Delta tickets for himself and his cello's seat beside him, collecting half a million miles for both.
One day, Delta contacted him "in a rude letter that was really a hand-slap," he says, informing Harrell that his own frequent-flier miles were being confiscated and that both he and "Cello Harrell" would be barred from collecting miles.
According to Delta spokesman Paul Skrbec: "We advised him that mileage cannot be accumulated for tickets purchased for musical instruments."
The same thing happened with British Airways, Isserlis says. "I was threatened with legal action if I ever again attempted such a heinous crime as holding a mileage account in my cello's name. Nor was I to use rewards from my own account to buy cello's tickets."
It gets worse. TSA agents would disassemble instruments to search them.
"After 9/11," says Harrell, "cello endpins were removed by airport handlers, and my colleagues reported that they would arrive at the concert hall to find them missing. Imagine! They were rendered unable to play," he says, without these supporting spikes that attach the instrument to the floor.
Best of 2012: Jazz | Art | Theater | Dance | Classical music
Survival became a game.
"I would choose to travel with the fool-proof cello, the one whose endpin was not removable. Or, if planning to play a different one, I would take the pin off first and pack it in the suitcase. Sometimes, you see, there are ways to get around unreasonableness."
Harrell, who assigns "Cello Harrell" or "Orfeo Harrell" (named for the mythical character) as the passenger name for his cello's ticket, has other tricks too.
"I know how to skip all the roadblocks now," he says, such as avoiding certain airports and scheduling flights from 4 to 6:30 a.m., "because at that hour there's usually only one check-in agent, with no others to confer with about 'what to do with this cello.'"
Harrell, Isserlis and L.A. cellist Ralph Kirshbaum — all guest stars who fly to concert dates with orchestras worldwide — remember the relaxed days in the '70s and '80s — when airlines often had empty seats, flew bigger planes, rarely imposed strict rules and boasted cello-friendly flight attendants who could appreciate that inside those curvy cases were age-old treasures with intricate carvings, their wood burnished to a fine patina, all capable of emitting superior sound.
Sometimes a "block seat baggage" ticket, purchased as a separate seat for the instrument, was not even required.
Both Harrell and Kirshbaum used to find vertical storage closets on board. "And on [now-defunct] Pan Am, there were huge, fantastic bins overhead," Harrell recalls. "Years ago," says Kirshbaum, "I often sneaked my cello into a closet, or the steward would find a safe place for it."
Now, both sides — passengers with instruments and TSA agents — are wary of each other.
When Harrell's wife, Helen Nightengale, a studio musician, carried her newly purchased $5-million violin through a security check, says Harrell, "she said to the TSA guy, with some agitation in her voice, 'Please be careful.' And just for spite he whipped it out of its case and put it in a plastic box."
PHOTOS: Arts and culture in pictures
Kirshbaum says that after he'd been buying extra tickets for his cello for many years, he applied to American Airlines for the instrument's own mileage account — only to be told: "These accounts are a perk for human beings." But other carriers, United for one, grant frequent-flier programs to cellos, and Harrell patronizes them — always boycotting Delta.
He's heard similar stories from his violinist friends — some have been asked by TSA agents to remove the strings, he says, or even take the whole thing apart. TSA spokesman Nico Melendez says that security officials open cases only when a questionable object or liquid is detected through the X-ray machine.
And now, in a shaky global economy, some million-dollar instruments have become targets at customs counters. For instance, after a flight to London, cellist Adrian Brendel (son of pianist Alfred) was held by security until agents could determine the provenance of his cello, which was suspected of having been stolen.
And in August, officials at the airport in Frankfurt, Germany, reportedly confiscated violinist Yuzuko Horigome's 1741 Guarneri, valued at $1.2 million. The Wall Street Journal's Japan Real Time website reported that officials asked for 190,000 euros (about $250,000) in import duty, citing a lack of proper ownership documents, which Horigome had left at home in Brussels. Also at customs at the Frankfurt airport, according to DigitalJournal.com, Yuki Manuela Janke's $7.6-million Stradivarius violin was seized with the demand she pay the $1.5-million duty to retrieve it. Her case was finally resolved only through legal counsel.
Presumably, all these challenges and risks could cause traveling musicians to cut back on booking dates.
"Not at all," says Isserlis. "I play as many concerts as I want. Besides," he says, laughing, "it's good for an artist to suffer!"
Now, airports and musicians are figuring out ways to adapt. As 9/11 fears have abated, musicians won't see a repeat of the day a TSA agent tried to grab Kirschbaum's $3.5-million cello from its case and a supervisor had to be called in to mediate, as happened a few years ago.
"Finally, they let me lift it out," he says. "No way would I let it be handled by anyone. That challenge has been eliminated now. It does not happen."
And Banzhaf is still flying to orchestra auditions. "I'm nervous every time," says the bass player, whose father's insurance covered the $6,000 in repairs for the calamitous airline glitch. "But the bad publicity is moving TSA's hand to be more lenient. It's in the rules now that owners must be in the presence of screening for checking in his trunk. Some scanners don't believe it, so I still must fight for the right and show them the rules on my iPhone."
Even Isserlis, who humorously describes his cello as always having sat "quietly and respectably by my side and avoided alcohol even in first class, and therefore did not deserve bad treatment," has had a reprieve from his former carrier, British Air. "BA just notified me yesterday that, in view of my 'long history' with them, they are restoring my cello's membership to the frequent flier program."
He asks with a sigh, "Will wonders never cease?"
MORE
INTERACTIVE: Christopher Hawthorne's On the Boulevards

VOTE: What's the best version of 'O Holy Night'?

PHOTOS: Arts and culture in pictures
---
Get our daily Entertainment newsletter
Get the day's top stories on Hollywood, film, television, music, arts, culture and more.
You may occasionally receive promotional content from the Los Angeles Times.