Critic's Notebook: 'Jitney' a snapshot of '70s America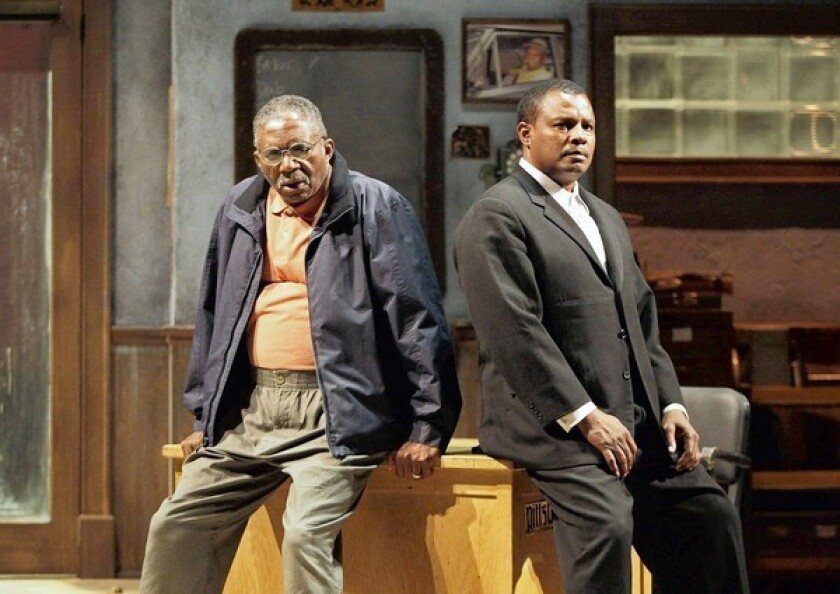 The notion that our unending recession is the worst since the Great Depression is now an accepted media sound bite. Yet to go by depictions in film, theater and television, the down-and-out 1970s makes our hard times look like easy street.
In the muscular South Coast Repertory production of August Wilson's "Jitney," which opened Sunday in a second engagement at Pasadena Playhouse, the era that taught us the meaning of "stagflation" becomes a central character, not unlike the way it did in those classic Norman Lear sitcoms of the period.
It's the fall of 1977, and urban funk is doing its best to electrify the urban blight. Shops are being boarded up and local governments are running out of money, but the fashion is getting wilder — plaids and polyesters appear to be in perpetual search of a singles bar. Women are roaring along with Helen Reddy. And Stevie Wonder is putting some snap in city dwellers' step.
These developments are captured by Wilson, who didn't miss a trick in his decade-by-decade examination of the mores and moral conflicts of African Americans struggling to find their footing in the 20th century. And they give a lift to Ron OJ Parson's staging, which turns up the groovy music and ushers in a parade of flamboyant outfits (designed by Dana Rebecca Woods), a few of which could have made a splash on "Soul Train."
This isn't just window dressing. It's a transitional moment for the characters, whose expectations are growing in wake of the civil rights movement and whose range of self-expression is expanding thanks to the social and sexual revolutions that followed.
If only the ailing economy would pick up. But the gypsy cab station in Pittsburgh where the play is set looks out on a desolate part of town anxiously awaiting demolition.
Becker (the emotionally galvanizing Charlie Robinson), the boss of this ragtag operation, has survived by following a strict set of rules. He's proud of what he has accomplished, but fate isn't honoring his sacrifices. The city is about to tear down the block where the business is located. More trying still, his son (Montae Russell) is about to get out of jail after serving a 20-year sentence for murder, and Becker can't forgive him for throwing his life away.
The tension in the play, as always with Wilson, is about clashing generational world views. What worked for parents doesn't necessarily apply to their children, though it's never easy to accept that parts of one's handbook for living have been rendered obsolete.
Cue the soundtrack of '70s R&B hits sailing ahead on the winds of change. Break out the peacock after-work garb. The '60s may have slammed into the downturn of the '70s, but progress marches on in its erratic yet inexorable way.
Wilson especially would go on to make great strides. "Jitney," first produced in 1982, would be the first in his landmark 10-play "Pittsburgh Cycle." It's an early work, lumpy in patches, but the playwright's genius is evident.
Filled with the gritty textures of its time, the play does something today's artists should emulate — reveal just how rooted we are in our uniquely styled moment of history.
---
Inside the business of entertainment
The Wide Shot brings you news, analysis and insights on everything from streaming wars to production — and what it all means for the future.
You may occasionally receive promotional content from the Los Angeles Times.