Review: George Bernard Shaw's wit wins out in 'The Doctor's Dilemma'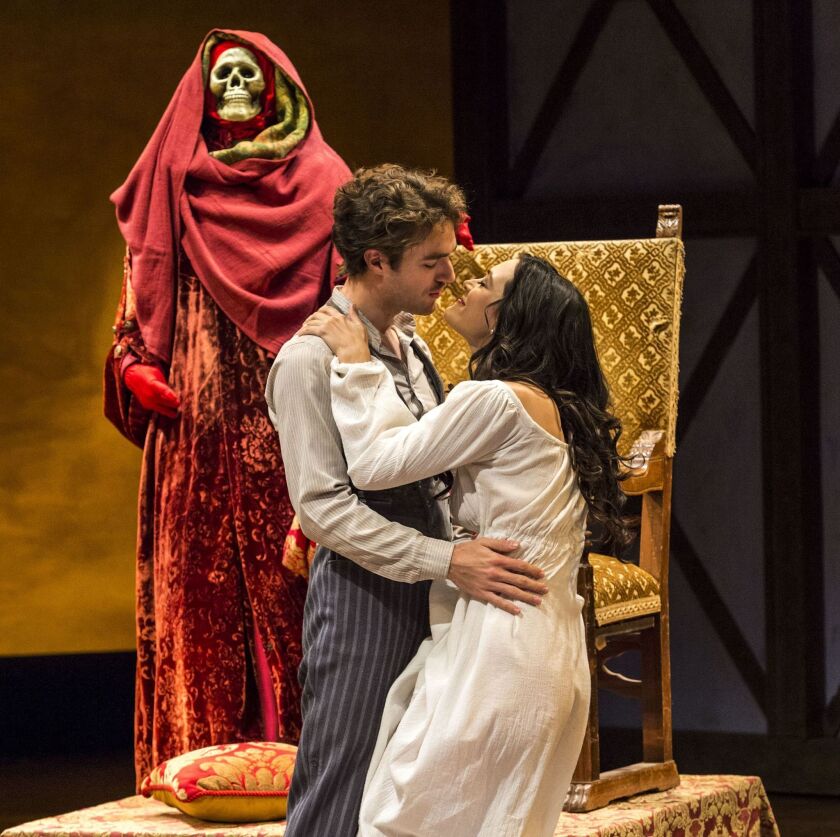 At a time when talk of "death panels" commands headlines, George Bernard Shaw's "The Doctor's Dilemma," recently revived in London to critical acclaim, is a particularly timely satire about a celebrated physician who has just discovered a life-saving treatment for tuberculosis. Solomon-like, he must decide whether to use his serum to save an absolute scoundrel who is an artistic genius or an honorable associate who is an undistinguished mediocrity. The fact that he is in love with the genius' wife makes his decision even more problematical.
For almost three hours, Shaw's signature wit is in ample supply. Conversely and irritatingly, so is Shaw's tendency to inject his own social and political beliefs into meandering interchanges of flagrant didacticism.
At the risk of infuriating Shaw enthusiasts and scholars, might one suggest that the frustratingly discursive "Dilemma" could have been, as is so often the case with Shakespeare, judiciously and respectfully pruned?
Enough with such blasphemous musings. After all, if stripped of extraneous rants, would Shaw really still be Shaw? Fortunately, in the play's lively current staging at A Noise Within, director Dámaso Rodríguez and a ready cast ride Shaw's hobbyhorse themes at a full gallop, blowing past the piece's occasional stodginess with sheer comical verve.
Particularly winning is Jason Dechert as Louis Dubedat, the brilliant but impecunious artist whose adoring wife, Jennifer (fetching Jules Willcox), is blind to his rampant imperfections. A charming wastrel, Dechert's Dubedat is a younger, suaver Alfred Doolittle, one cheerfully above the sordid demands of "middle class morality."
As Sir Colenso Ridgeon, the brilliant doctor who must decide whether to let Dubedat live or die, Geoff Elliott is the play's obvious straight man, although he is overly dour when a soupçon more sardonicism might have better served. Freddy Douglas and the ever-stalwart Robertson Dean set a high standard for drollery as Ridgeon's illustrious associates, eminent society doctors whose outrageous quackery is enthusiastically accepted by society's haut monde. Susan Gratch's scenic design nicely accommodates the frequent scene changes, while Brian Gale's lighting design and Doug Newell's sound and original music contribute to the handsome period ambiance.
Although this "Dilemma" presents just that, this solid production honors Shaw in all his puckishness and spleen.
ALSO
Critic's Notebook: Presidential debates as theater

Huntington's 'Strange and Fearful Interest' is a rare view of Civil War
Teatro ZinZanni sets up a tent in Costa Mesa and fills it with elegant chaos
--
"The Doctor's Dilemma," A Noise Within, 3352 E. Foothill Blvd., Pasadena. 8 p.m. Fridays, 2 and 8 p.m. Saturdays, 2 and 7 p.m. Sundays. Ends Nov. 25. $40 to $52. (626) 356-3100. www.ANoiseWithin.org. Running time: 2 hours, 45 minutes.
MORE:
CRITIC'S PICKS: Fall Arts Preview

TIMELINE: John Cage's Los Angeles
---
Inside the business of entertainment
The Wide Shot brings you news, analysis and insights on everything from streaming wars to production — and what it all means for the future.
You may occasionally receive promotional content from the Los Angeles Times.