MOCA architecture show, funded by Getty, could face cancellation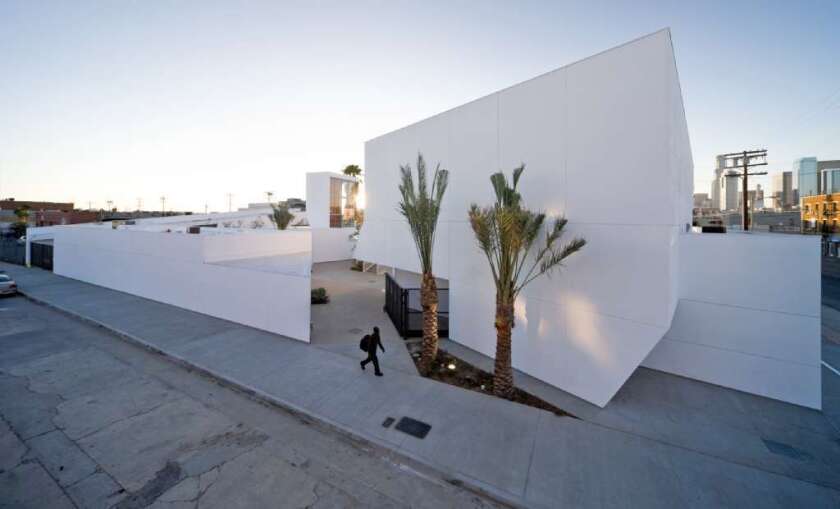 Times Architecture Critic
The curator of a major architecture exhibition at the Museum of Contemporary Art says he is concerned it will be canceled in advance of its planned June 2 opening.
"A New Sculpturalism: Contemporary Architecture from Southern California" is one of the central exhibitions in the Getty's new architecture series "Pacific Standard Time Presents: Modern Architecture in L.A."
Organized by Christopher Mount, who is identified in MOCA materials as a "guest curator" and not a full-time museum employee, it is scheduled to run through Sept. 2 at the Geffen Contemporary building in Little Tokyo.
The exhibition was planned as an exploration of the last 25 years of Los Angeles architecture, with work by Frank Gehry, Thom Mayne, Michael Maltzan, Barbara Bestor and many younger architects.
It was funded in part by a Getty Foundation grant of $445,000. No other single show in the PSTP series received a grant as large, according to a Getty press release. A 272-page catalog, co-published by Rizzoli, is already complete.
But in a phone interview Wednesday Mount said, "I am fearful it's going to be canceled."
According to Mount, former executive director of the Pasadena Museum of California Art, it will be difficult if not impossible to finish installing the show in time for a June 2 opening. At the very least, he said, "It's going to have to be delayed."
Calls and emails to MOCA officials were not returned.
As the show took shape over the last several months, some architects, including Gehry, began to worry about the direction in which Mount was taking it and how he was planning to position and explain their work.
Gehry withdrew from the exhibition last month, despite what he described as entreaties from Mount, MOCA Director Jeffrey Deitch and top officials from the Getty.
PHOTOS: Arts and culture in pictures by The Times
"I didn't feel comfortable in it," Gehry said. "It didn't seem to be a scholarly, well-organized show."
He added, "I'm subject to misunderstanding about the seriousness of my work. People assume I am just crumpling paper, and so forth. This was feeling a bit that way, a trivialization."
"I am upset for the 34 architects who are in the show," Mount said. "I think that the last 25 years of architecture in L.A. has been a remarkable period, and I think a major institution should be supporting this exhibition."
He added, "What I would like to see is a community uprising, so to speak, where these 34 firms stand up and say, you can't cancel a show that's four weeks away."
It is unclear what would happen to the contents of the show, which include specially commissioned pavilions by four emerging L.A. firms, if it were to be canceled.
Gallerist Douglas Chrismas said he had held preliminary talks with MOCA and some architects in the show about possibly mounting it later this year at his Ace Museum on La Brea Avenue.
"If the show was canceled or was not in the cards for them I would love to have the exhibition at Ace and give it -- along with the curator -- major attention."
"I'm waiting to hear back" from Deitch, Chrismas said. "I don't want there to be any awkwardness for him. It's his decision. I am not privy to what's going on at that museum. I don't want to get in the way of their curation in any way, shape or form."
CHEAT SHEET: Spring Arts Preview
He added, "Whatever's going to happen, it has to happen really fast. I would believe that MOCA would have to move fast and we'd have to move fast. The show might even move over here under MOCA's flag. I don't have an ego about that sort of thing."
In his foreword to the catalog, Deitch writes that the exhibition was planned to chart the "important Los Angeles architecture of the past twenty-five years, identifying key firms and practitioners whose works have not only distinguished this city as a locus for experimentation, but have also influenced design internationally."
Deborah Marrow, director of the Getty Foundation, declined to speak directly about the status of "A New Sculpturalism," referring questions to MOCA.
Asked in general terms how the foundation responds when a project it has funded is canceled or significantly altered, she replied, "In the realm of speculation, any time -- and it is very rare -- any time a grantee's project doesn't happen, we have procedures we follow. It rarely happens but it does occasionally. And we deal with it."
ALSO:
Pacific Standard Time moves forward
What's missing from Pacific Standard Time Presents
MORE
TONYS 2013: Nominees, photos and full coverage of the awards

CHEAT SHEET: Spring Arts Preview

PHOTOS: Arts and culture in pictures
---
Your essential guide to the arts in L.A.
Get Carolina A. Miranda's weekly newsletter for what's happening, plus openings, critics' picks and more.
You may occasionally receive promotional content from the Los Angeles Times.