The right time for Ross Golan's 'Wrong Man'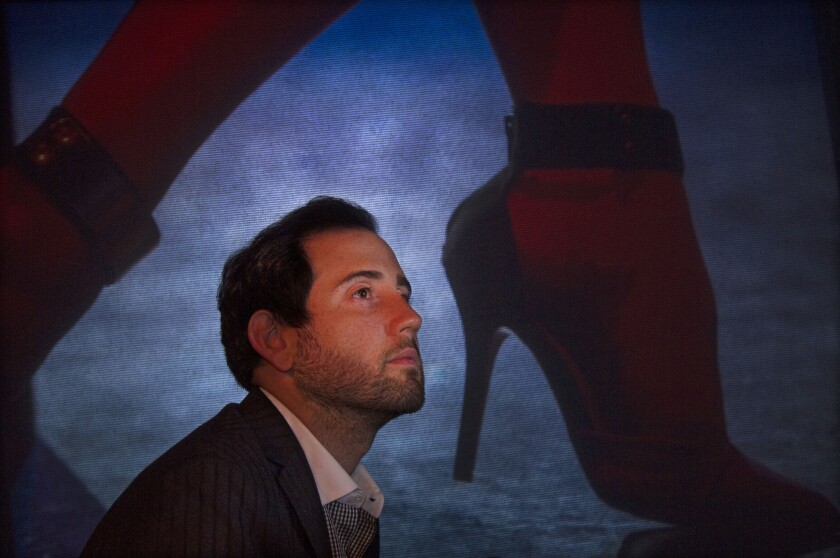 Not two hours after he performed his passion project in an 88-seat theater on a recent Sunday night, Ross Golan made the rounds at a Grammy after-party hosted by Daft Punk, smiling as Jay Z and Beyoncé glided by and making nice with Madonna and Skrillex and Pharrell Williams.
Inhabiting either world would have been inconceivable five years ago to Golan, whose first rock band had failed, whose second was flailing and whose days were spent toiling in his condo. Which was in foreclosure.
Now, with a resumé that includes writing songs for the likes of Justin Bieber, Nicki Minaj, Maroon 5, Cee Lo Green, Demi Lovato, Keith Urban and Lady Antebellum, the 33-year-old Chicago native is engaging in something of a crossover — Golan is the writer and star of "The Wrong Man," a theatrical production onstage at the Skylight Theatre in Los Feliz.
PHOTOS: Arts and culture in pictures by The Times
Billed as "an underground musical," "The Wrong Man" comprises 14 songs telling the story of a man falsely convicted of murder in Reno. It's the stuff of folk tragedies, a boy-meets-girl tale that goes wildly off the rails as a tryst turns into an unwanted pregnancy and then a vengeful frame-up by an estranged husband. Armed with just an acoustic guitar, his crooner's tenor and a thicket of lyrics, Golan plays the role of the protagonist Duran, holding forth from his cell on death row.
"The Wrong Man," directed and choreographed by four-time Ovation Award winner Lee Martino and featuring dancer Jennifer Brasuell as love interest Mariana, is staged deftly, with Brasuell's interpretive moves along with lighting and projected visuals setting a sensual but haunting mood for Golan's song cycle, which he began 10 years ago when he was a brash rocker fresh out of USC.
"There's a lot of metaphor for me in 'The Wrong Man,'" says Golan, who got his first record deal when he was in his early 20s and endured many of the industry's bumps and bruises (some of the legal kind) along the way. "I think there's nothing worse than when somebody gets screwed over, when somebody breaks your trust. You want to believe that the government and the legal system will do the right thing, but sometimes they don't. So this story definitely parallels a few situations in my life."
PHOTOS: Best in theater for 2013 | Charles McNulty
The story is a twist on Johnny Cash's "Folsom Prison Blues," whose narrator, of course, shoots a man in Reno "just to watch him die." "I always thought it interesting," Golan says, "that as a listener you have empathy for this guy who admits to killing another person."
But at the same time the songwriter was motivated by the controversy over capital punishment in his native Illinois, which put a moratorium on the death penalty in 2000 and eventually abolished it in 2011 over concerns about wrongly condemned men.
Musically, "The Wrong Man" can be described as R. Kelly meets Tom Waits, with the melodic sensibilities of artists like Justin Timberlake, Jason Mraz and Ben Harper — it's not far from the rap-reggae-rock hybrid that got the songwriter's trio, Ross Golan & Molehead, noticed in the first place.
The band released the album "Reagan Baby" in 2004, and the mélange of quick-witted ditties included political volleys, a swipe at then-jailbird Martha Stewart and a takedown of rapper Eminem.
"It was right after 9/11, I was 21 years old, and I thought we were all going to get drafted," Golan says. "I started writing very political songs because there were very few outspoken lyricists in our generation and I felt it was important to say something."
PHOTOS: Hollywood stars on stage
Embraced by tastemakers and ignored by the public, "Reagan Baby" sold but 8,000 copies. "Here was a white guy with an acoustic guitar doing rap-reggae songs — what aisle in the record store do you put that in?" Golan says. "But it was a successful failure for me. On one hand, I was validated by the record industry, and on the other I got to see what it was like to hate your own band."
Out of those ashes came the band Glacier Hiking, his collaboration with Tommy Walter, a founding member of Eels. They ascended to the level of local club headliner (current pop darlings Haim opened for them four years ago this month) before that project fizzled too.
"It was all part of the learning curve," Golan says. "You can use a baseball analogy for my career. Everybody wants to be Yasiel Puig, the guy who walks in and changes the industry like some weird prodigy. I'm not that guy. ... Me, I got drafted but spent time in the minor leagues."
Golan's break came when a friend put him in a studio co-writing with pop acts. "At first I was just another guy in the room — people more often would ask me to go get them coffee. But eventually I started getting cuts," Golan says. "If you want to know what it's like to be a songwriter, walk into a room with somebody you don't know and start singing at him, and then ask him what he thinks. That's what I do for a living."
CRITICS' PICKS: What to watch, where to go, what to eat
He remembers finishing a song that would end up on Maroon 5's album "Overexposed" just as he lost the condo he'd bought years earlier when he was a young gun. "My life at that point was so dark," Golan says. "But I'd rather sell my condo to live my dream than sell my dream to live in the condo."
Throughout his professional ups and downs, he often returned to the project that began in 2004 when he penned the title track to "The Wrong Man." The song cycle, fleshed out as Golan performed the piece at living-room shows, grew to include narratives encompassing the whole back story — the pickup in the bar, the liaison, Duran's attack of conscience, Mariana's pregnancy, the murder, the arrest and the trial.
The real perpetrator, not coincidentally, is a man in black. Sometimes singing, sometimes rapping, Golan infuses each yarn with vivid lyrics, like his rapid-fire description of Reno from "What Happens Here Stays Here":
"Bright lights bestowed the omens/ For tourists and Mormons/ Strippers and showmen/ High rollers and poor men/ Valets and doormen/ Whores and casino floor men/ Newlyweds and bachelors/ And resident Renoans/ While their kids stayed at home/ They defaulted on their loans."
PHOTOS: Celebrities by The Times
Co-producer Susan Dietz, who produced the Pulitzer Prize-winning "Topdog/Underdog" on Broadway and whose 30-plus years in Southern California theater include positions at the Pasadena Playhouse, Beverly Hills' Canon Theatre and L.A. Stage Company, learned of "The Wrong Man" after Golan performed it at entertainment attorney John T. Frankenheimer's house.
"I was very taken by it," she says. "There's nothing like this — it's an extraordinary piece, with a musical romanticism and wistfulness that [lend themselves to] the kind of elements audiences expect in a theatrical setting."
Dietz sees it as an important inauguration for the Skylight, reinventing itself as a destination for new, original work.
Golan sees "The Wrong Man" — none of which has been recorded — as a throwback to the true storytelling tradition.
"It's anti-YouTube and anti-mp3. At some point I might record it, but for now you have to experience it," he said. "I feel like a troubadour doing a 400-year-old art form, and I get now why the trouvères of old were playing their lutes for the aristocrats. It's all about experiencing the moment."
MORE
PHOTOS: Hollywood stars on stage

PHOTOS: Arts and culture in pictures
---
The complete guide to home viewing
Get Screen Gab for weekly recommendations, analysis, interviews and irreverent discussion of the TV and streaming movies everyone's talking about.
You may occasionally receive promotional content from the Los Angeles Times.