123 Astronaut, a Little Tokyo kiosk gallery currently displaying a very unusual egg
Wander along Astronaut Ellison Onizuka Street in downtown Los Angeles' Little Tokyo this weekend and you may stumble into a small kiosk displaying a large egg on a bright garden column. It's not just any egg, according to a certificate posted prominently to its right. It is the "Auspicious Egg" — the same, allegedly, as a centuries-old egg held in a temple reliquary in Asia.
An accompanying video shows an egg floating through space and urges viewers to imagine that "the hot wet goo inside the egg is flowing now, flowing down the sides of your head."
The video, whose aesthetics lie somewhere on the continuum between late-night public access and hypnotism video for the Egg Board, also encourages the spectator to "incorporate" into a mysterious entity known as the Wong Group.
A voice intones: "Now that you are fully incorporated you have zero responsibility for the consequences of your actions, and the unlimited freedom that comes with limited liability."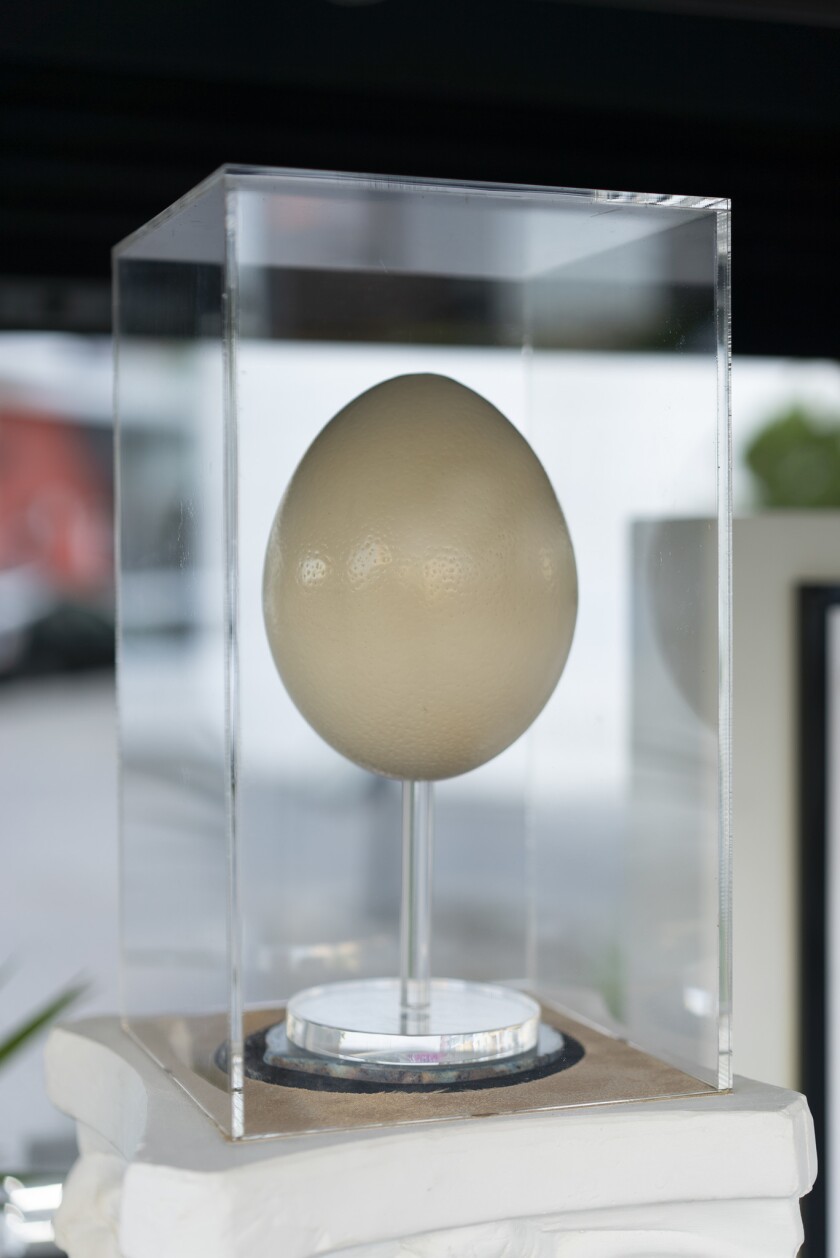 "The Auspicious Egg" may seem the product of some strange, ovular cult. But, in fact, it is a work of art — produced by an anonymous collective of artists, who, for the purposes of this installation, are known simply as the Wong Group.
The exhibit only lasts through Sunday, but the the kiosk isn't a random commercial stand on a touristy stretch or a simple art pop-up. It is a diminutive art gallery called 123 Astronaut that has been in business since December and has shows by other artists in the works.
"I found the space on Craigslist," says Anna Serota, one of 123 Astronaut's founders. "I'm always searching through Craigslist to find things."
After seeing the listing for the kiosk — of the sort typically used to peddle lighters and baseball caps — she called friends Collin LaFleche and Lester Garcia to see if they might be interested in establishing a gallery together. Both signed on. By December, they had a lease and their first exhibition: a group show featuring work by artists such as Alake Shilling, Maggie Lee and Al Freeman.
ALSO: A gallery so small it fits in a box — Annetta Kapon's Proxy »
The low overhead means there is little pressure to sell. "It's cheap enough for all of us to chip in on it without having to make money," says Serota.
It also means that the trio can keep things loose. There is no artist roster, nor is the gallery booked ahead for months at a time. Instead, shows are produced somewhat haphazardly — in some cases by reaching out to artists, in others by having artists or friends reach out to them. There are no press releases or fancy postcard invitations. Exhibitions are announced via the group's Instagram account, @123astronautgallery.
During its five months in existence, 123 Astronaut has shown paintings, sculpture and conceptual art. Opening in two weeks will be a show by L.A.-based musician and performance artist Elliot Reed.
ALSO: ArtCenter to take over downtown L.A. space of the abruptly shut Main Museum »
"We've had a good reception," Serota says. The gallery regularly draws artists, tourists, local shopkeepers and the habitues of one of the neighborhood's regular cosplay events. "We get a lot of homeless people that come and watch the video. Children will come and hang out and climb up the stand."
The point, ultimately, is to reach an audience beyond the same old gallery crowd with projects that, on the surface, don't always appear to be art.
At the opening of the Wong Group's project in late April, invited guests and downtown passersby commingled to watch the dramatic unveiling of "Auspicious Egg."
The piece makes jabs at late-stage capitalism, with its culty business-babble about unleashing potential. It also dwells in the absurd: The nine-minute video is literally asking viewers to sit and imagine being struck by an egg.
"All the pain that you've ever experienced has only been the cracking of a shell that concealed your truth," says the soothing male voice over a backdrop of spa music. "Now you're ready, you are ready for full self-incorporation."
Serota says spectators will often confuse the installation with propaganda for a real cult. At the opening, to confuse things further, the artists deployed actors playing fictional security guards and a fictional television crew. William Knight, a professional actor and voiceover artist (known for his work in anime), played a devoted acolyte of the fictional Wong Group mogul, Benedict Wong. At one point, he got the assembled crowd chanting in support of the egg.
"No one knew what was happening," says Serota with a laugh. "Including us."
"It was like a weird movie we were all in."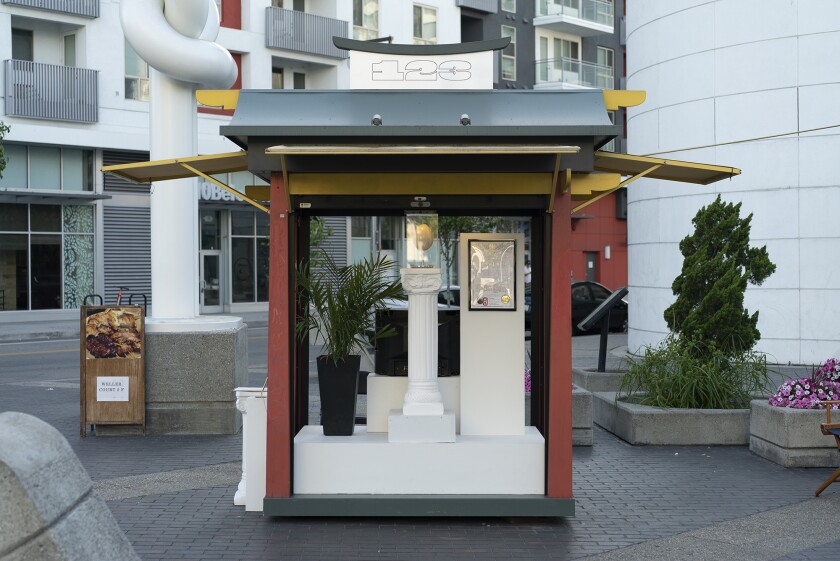 The Wong Group: "Auspicious Egg"
Where: 123 Astronaut, 123 Astronaut Ellison Onizuka Street, downtown Los Angeles
When: Through Sunday
Info: instagram.com/123astronautgallery or 123astronaut.la
ALSO: The private apartment gallery Bed & Breakfast that hosted Norberto Rodriguez's resting spots »
carolina.miranda@latimes.com | Twitter: @cmonstah
---
The complete guide to home viewing
Get Screen Gab for weekly recommendations, analysis, interviews and irreverent discussion of the TV and streaming movies everyone's talking about.
You may occasionally receive promotional content from the Los Angeles Times.