ArtCenter to take over downtown L.A. space of the abruptly shut Main Museum
ArtCenter College of Design is perhaps best known for its tucked-away location in the arroyo on the eastern fringes of Pasadena. But when the school was first opened by Edward "Tink" Adams in 1930, it resided in the heart of Los Angeles, in a warren of courtyard buildings on West 7th Street near MacArthur Park.
Now ArtCenter is making an L.A. comeback.
The college is taking over the space that until last year housed the Main Museum at 114 W. 4th St. in downtown Los Angeles. ArtCenter DTLA, an exhibition and event space, will stage shows, talks and other public programming by the college. The first show, "Going Clear," is scheduled to open May 16 with work by students in the ArtCenter's graduate art program.
ArtCenter President Lorne Buchman says the new space gives students the opportunity to be in a more central location, among the arts institutions of downtown.
"I'm excited about our students being able to be in that location and engage that community — that will make a huge difference," he says. "You'd be amazed how anyone west of downtown thinks of Pasadena as the hinterlands."
ArtCenter is leasing the building, which contains a combined 6,250 square feet of gallery space over two floors, from Gilmore Associates, the Los Angeles real estate development firm run by Tom Gilmore and Jerri Perrone. The school will pay $1 a year for the next 10 years for the building, with an option to renew.
Buchman says he is at work on a staffing plan for the new downtown space, which will likely include a dedicated curator and a full roster of public events.
"There are all sorts of ways we want to explore activity in that space," he says. "There's the L.A. art community already in that area. We could add design to that and some educational issues. There are special programs that we have in certain areas: social impact design, diversity and inclusion programs, dialogues and symposia. It's how we work not just with exhibitions, but with lectures and other programming."
ALSO: Homeless crisis in L.A. inspires tiny houses designed by students at ArtCenter »
The announcement, however, raises questions about what exactly happened to the Main Museum, a non-collecting institution that featured a wide range of work by Los Angeles artists, which shut down abruptly last year.
When it launched in 2016 with an informal series of performances and installations, the plan was that the Main Museum would ultimately expand into a 40,000-square-foot exhibition space that would take over the Farmers and Merchants Bank building next door. There were plans for a rooftop sculpture garden and an amphitheater designed by L.A. architect Tom Wiscombe.
But in December, as an exhibition of tiny houses designed by ArtCenter students came to a close, Main Museum director Allison Agsten suddenly announced that she and the rest of the museum's team would be leaving by year's end — leaving the fate of the institution unclear. At the time, a short letter by Agsten, published on the museum's website, noted only that "discussions about future plans in the space are ongoing between ArtCenter and the Main's founder, Tom Gilmore."
The most recent 990 tax statement for the museum, from 2016, showed the new institution to be in promising financial health, with $300,000 in expenses more than covered by $1.6 million in gifts and grants — money that likely came from museum founders Gilmore and Perrone, who laid down funding for the project. But no up-to-date tax statements have been published since then.
Gilmore was not available for comment. (An assistant at his office said he was not doing interviews about the museum and referred any questions about the space back to ArtCenter.) Wiscombe, who had also once served as a board member, referred me to Gilmore's office. A query to attorney Charlie Shumaker, who is listed on the 990 form as secretary, went unanswered. Agsten also was not available for comment.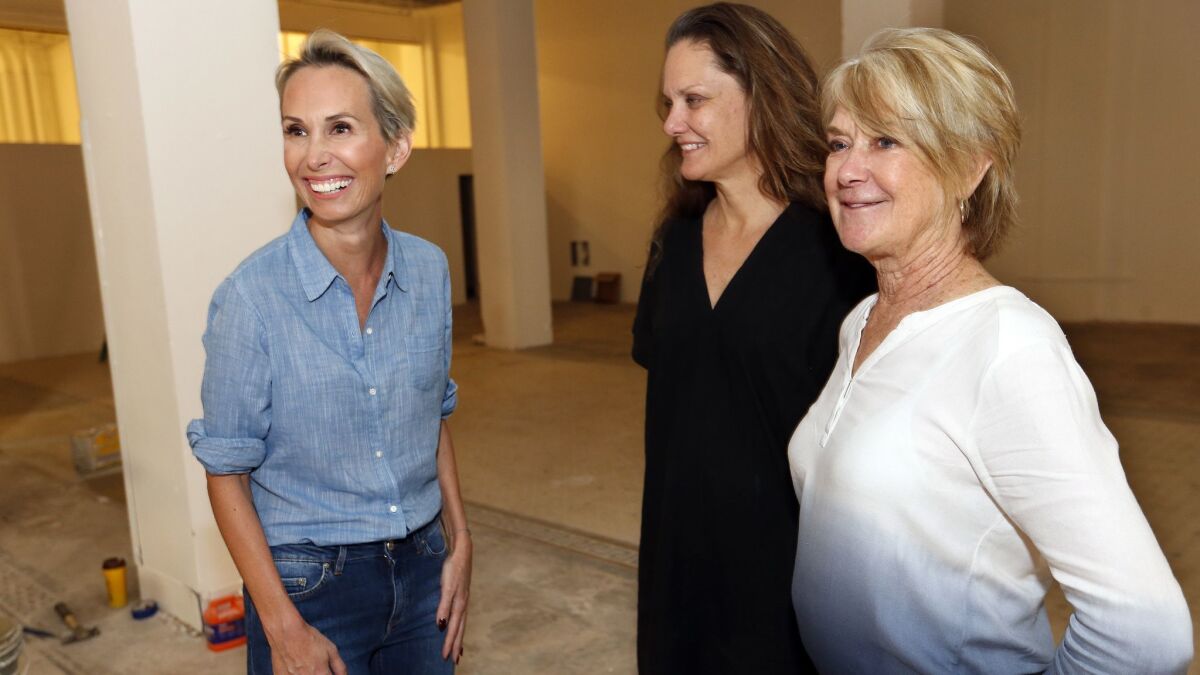 ALSO: New Main Museum in downtown Los Angeles reveals 'Beta' plans — and focus on art in L.A. »
Buchman says that with ArtCenter DTLA he aims to preserve some of the Main Museum's mission, which was to engage "with the most important ideas of our time through the art of Los Angeles."
"What the Main Museum was all about was to bring alive the Los Angeles art community and that is something I take very seriously as we move forward," says Buchman. "And to layer programs and educational opportunities and the outreach to community, it will lend itself to an interesting mix."
For ArtCenter, the new space represents another venue in which artists and designers will be able to engage the public. The main campus harbors the Williamson Gallery, which shows a range of art, design and new technologies; while a satellite branch of the school, located in a former engineering building on Arroyo Seco Parkway and East Glenarm Street, also in Pasadena, houses the Mullin Gallery, which is focused on fine art and automotive design.
+++
"Going Clear"
An exhibition of work by students in the masters in fine arts program at ArtCenter
Where: ArtCenter DTLA, 114 W. 4th St., downtown Los Angeles
When: Opens May 16 and runs through June 23
Info: artcenter.edu
carolina.miranda@latimes.com | Twitter: @cmonstah
---
Get our L.A. Goes Out newsletter, with the week's best events, to help you explore and experience our city.
You may occasionally receive promotional content from the Los Angeles Times.