A gallery so small it fits in a box: Annetta Kapon's Proxy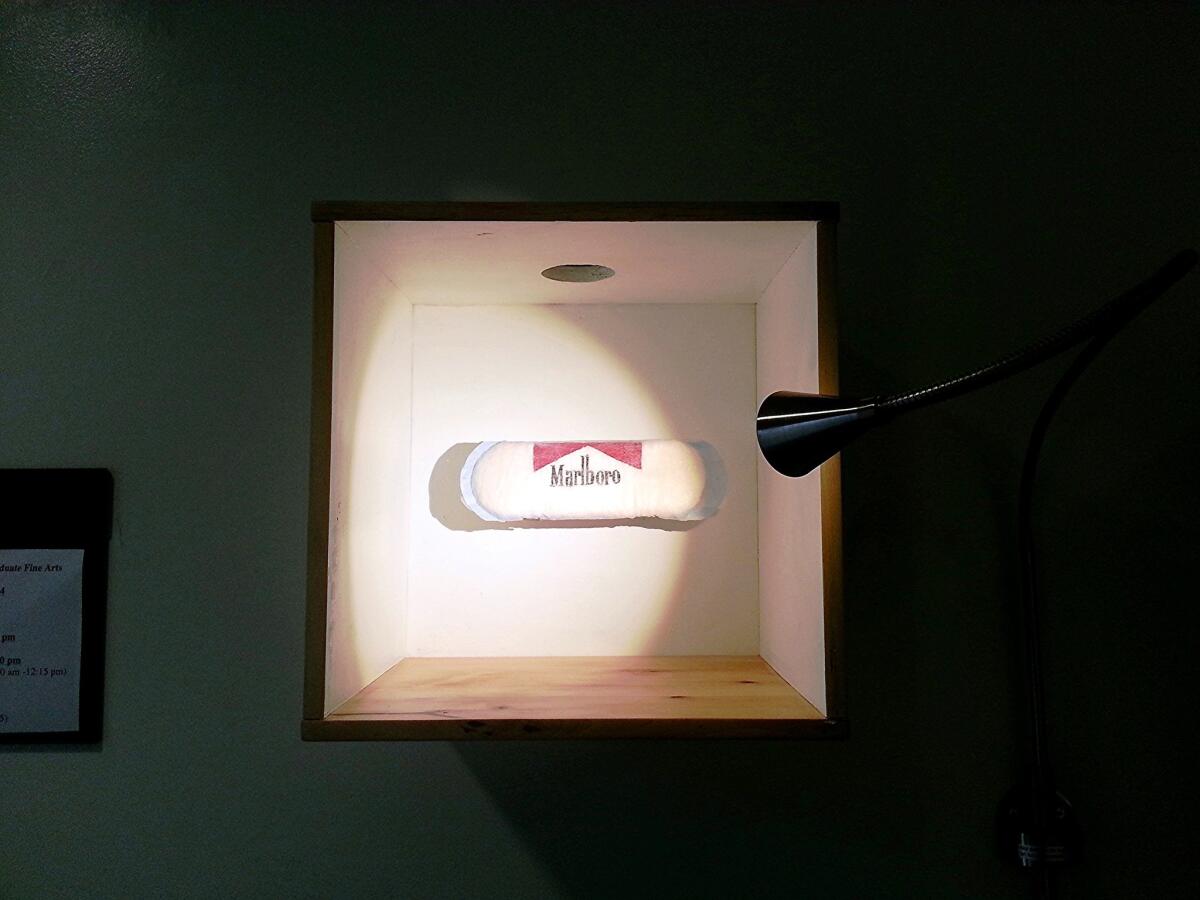 Over the decades, it seems that the art world has found ever more inventive places to stage shows. In the 1950s, L.A. curator Walter Hopps staged an exhibition on the Santa Monica Pier. In the early '90s, Swiss curator Hans Ulrich Obrist held a show in his northeast Switzerland kitchen. Italian prankster-artist Maurizio Cattelan in the early 2000s, along with curators Massimiliano Gioni and Ali Subotnick (the latter of whom now works at the Hammer Museum), opened the Wrong Gallery, a New York space that consisted of just a few square feet behind a permanently locked glass door. Then there's the Museum of Everyday Objects in the space of an old elevator shaft on New York's Cortlandt Alley.
But a professor at the Otis College of Art and Design may have them all beat. Annetta Kapon, who teaches at the school's graduate fine arts department, runs a gallery in a box. A box that measures roughly 1 foot square.
Proxy Gallery, as the space is known, hangs on the second floor of the college's graduate studio building in Culver City. And though it may be small, it has all the trappings of a regular gallery: white walls, bright lighting, polished wood floors. Every month, there is a new show.
"I'm treating the gallery in a very conventional way," Kapon says. "I do openings. I do press release. I document everything."
Proxy was launched in January 2013 and in its time has held 20 shows by artists from around the world. This has included sculptures made out of steel and copper, a participatory piece in which viewers were invited to draw lines in the space and an installation by Kathrin Burmester that consisted entirely of old library books.
New York artist Mary-Louise Geering is the subject of the current show, which closes today. Her installation, "Marlboro Pad," consists of a single sanitary napkin emblazoned with the logo for Marlboro cigarettes. Photographer Amanda Keller-Konya and artist Michelle Wiener are creating box-sized work for November's installation.
Though the gallery, which is open to the public, is located at Otis, it was conceived and is run by Kapon. Its small scale is, in some ways, a reaction to all of the overly large warehouse spaces that seem to be blossoming all over the city. "It's a problem to fill a big gallery," Kapon says. "I see artists do all kinds of tricks."
But it's the press releases that are probably the gallery's most humorous facet, since they often poke fun at the conventions of artspeak. On the release for Geering's show, Kapon writes:
On the one hand the technology of sanitary napkins (no flaps, no wings) harkens to a pre-iPad time, when a pad meant a pad. On the other the Proxy gallery is at face level so that the object installed within it both figuratively brings the crotch "into your face" and also, by connecting menstruation and smoking, conceptually compresses the body.
Kapon says she likes to have fun with the gallery.
"There is humor," she says. "But it also plays with the idea of prestige. When you say, 'I have a show.' People say, 'Congratulations.' They don't say, 'How many square feet was the gallery?'"
A closing reception for Mary-Louise Geering, "Marlboro Pad," will be held this evening from 6 to 8 at the Otis Graduate School Studios, 10455 Washington Blvd., Culver City, ospace.otis.edu/proxy_gallery. For information on the next exhibition, featuring a show by artists Amanda Keller-Konya and Michelle Wiener, keep an eye on this link.
Find me on Twitter @cmonstah.
Get our L.A. Goes Out newsletter, with the week's best events, to help you explore and experience our city.
You may occasionally receive promotional content from the Los Angeles Times.