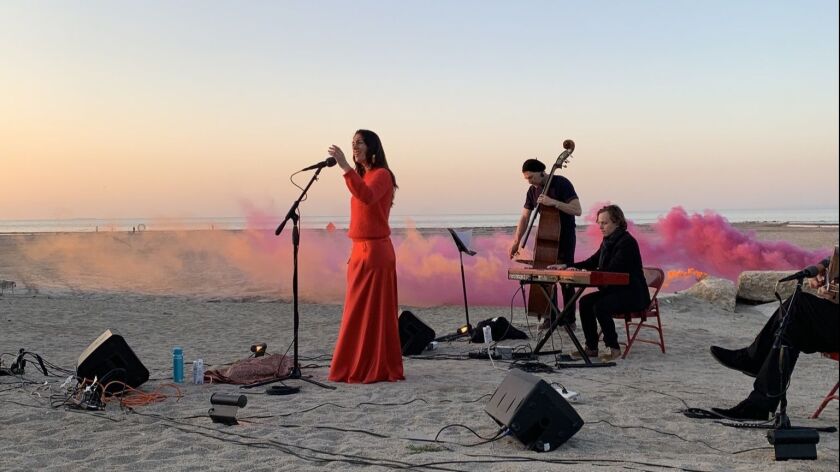 Reporting from Bombay Beach, Calif. —
It is dawn on Sunday morning and a sliver of blue light has begun to emerge from behind the Chocolate Mountains, illuminating the steely waters of the Salton Sea. Several dozen people, in an array of Mad Max-chic ensembles — patchwork furs, angel wings and at least one top hat — have gathered along the edges of a crumbling berm at Bombay Beach for a performance by mezzo soprano Ariana Vafadari.
The French-Iranian performer is dressed in radiant red, standing amid the mud-brown earth all around. As a sherbet-y light begins to brighten the sky, she issues her first mournful notes, from a song inspired by Anahita, an ancient Iranian deity associated with water and fertility.
"In these poems, she's dreaming about the time it was green," Vafadari tells me via telephone after the event. "She tells the story of another life before droughts and land burnings."
In these poems, she's dreaming about the time it was green. She tells the story of another life before drought and land burnings.
Ariana Vafadari
The setting couldn't have been more apropos: the Salton Sea, that early 20th century accident of water engineering in the Imperial Valley that in recent decades has become a symbol of environmental collapse, its water polluted with agricultural runoff, its desiccated playas a bonanza of toxic particulates. The lake's smell — somewhere on the continuum between fresh fertilizer and fish meal plant — has a way of sticking to the nostrils. The sunny resort towns that dot the area now lie in partial states of abandon.
Vafadari's unusual concert was one of the closing events at the fourth Bombay Beach Biennale, the scrappy art festival that goes down every year in the eastern Salton Sea town of Bombay Beach (population 295).
First held in 2016, the ironically titled biennial (held annually), is a sort-of-secret three-day spring arts festival. Performance, music, art installations, lectures, old-fashioned dance parties and general weirdness take place in locations around Bombay Beach, a 1950s-era resort town whose fortunes waned as pollution accumulated. Crumbling houses function as impromptu music venues and galleries; an old berm is transformed into an opera stage.
ALSO: The Salton Sea is a disaster in the making. California isn't doing anything to stop it »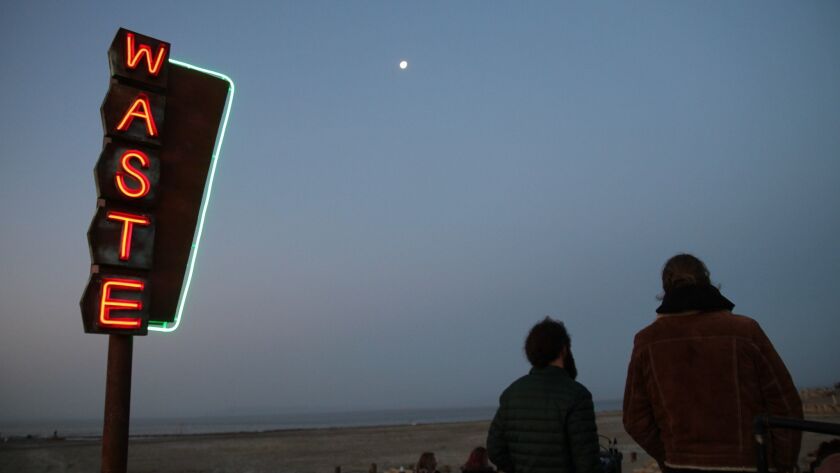 No museums or art foundations are involved. Instead, the biennial is funded by a loose collective that counts among its members Los Angeles hotelier Stefan Ashkenazy; arts patron Lily Johnson White, who serves on the board of the New York arts nonprofit Creative Time; and filmmaker Tao Ruspoli.
The festival is free, but attendees are encouraged to provide something in exchange for admittance, such as art or volunteer hours, and the number of passes to the Biennale is strictly managed: a max of 500 people, many of whom are invited via an informal email list. Pre-event publicity is kept strictly under wraps to prevent crowds from overwhelming the town. (Bombay Beach doesn't have much in the way of infrastructure; the nearest groceries are 37 miles away.)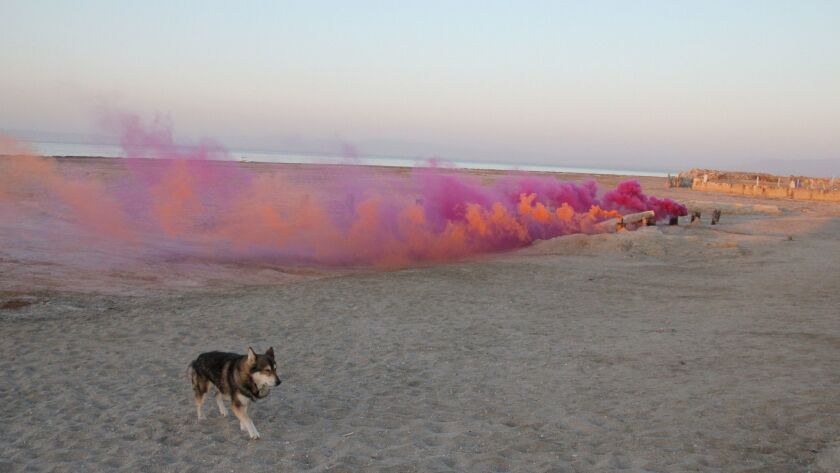 "The whole idea is that this is not a spectator event," says organizer Lauren Brand, a part-time Bombay Beach resident who works in production and public relations. "It's a celebration of the locals and the resident artists."
She notes that many of the art installations remain on view throughout the year, thereby encouraging return visits. In addition, many of the artists behind the festival are involved in municipal issues, such as trying to establish a waste-collection system. (Bombay Beach doesn't have one.)
"It's not just about entertainment value," Brand says.
ALSO: As salinity grows and toxic dust spreads, patience wears thin at Salton Sea »
Of all of this year's Biennale events, I was only able to attend Vafadari's operatic concert. But even a short time there reveals startling juxtapositions: whimsical art installations amid the detritus of a town consumed by man's worst instincts. Boho art types traipsing down a street where a home encircled by chain link bears a placard that reads: "Prayer is the Best Way to Meet the Lord. Trespassing is Faster." There was also the striking vision of Vafadari singing under a luminous sky as the malodorous smells of agricultural contaminants lingered in the air.
And there was something ethereal about it.
Vafadari, who is based in France, came to perform at the Bombay Beach Biennale at the behest of Brand, who first saw her sing at a Sufi music festival in India. As Brand explained the environmental circumstances at Bombay Beach and the Salton Sea, Vafadari realized that the theme of water and despoliation tied in perfectly with the album she is presently recording, inspired by Anahita.
"When Lauren told me about the festival, I was astonished by the link to the project I am writing," says Vafadari. "I was very interested. For me, it's very important to bring opera to places that you are not expecting it."
MOVIE REVIEW: 'Bombay Beach' a lyrical tone poem »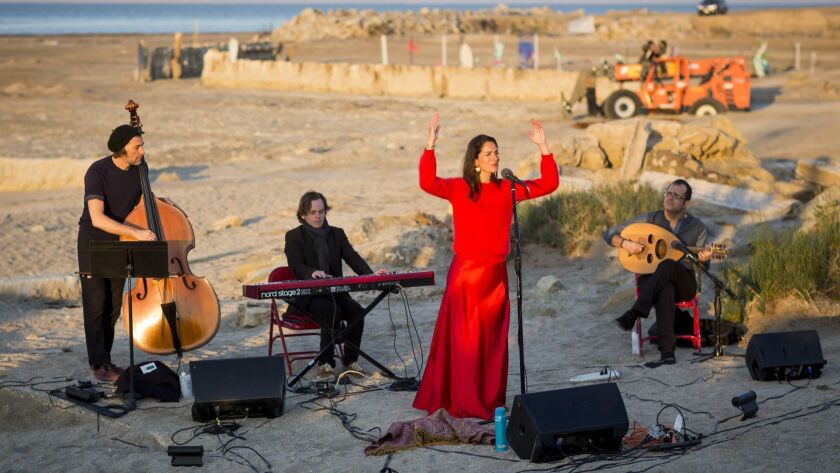 Brand says it was a case of art and environment syncing up: "The whole idea of a woman awakening to a dying sea … it was like an a-ha moment."
So on Sunday morning Vafadari premiered her in-progress work, accompanied by Julien Carton on piano, Nicolas Deutsch on bass and Sirvan Manhoobi on oud. The audience took its place in rented seats, on the sand or on pieces of concrete detritus that served as impromptu benches. Occasionally, a dog wandered through.
And for an hour Vafadari sang to Anahita and to the water and to the sun as it rose over the mountains and bathed everybody in light.
ALSO: Meet the anonymous artist installing bus benches at neglected stops on L.A.'s Eastside »
carolina.miranda@latimes.com | Twitter: @cmonstah
---