Bert Rodriguez is turning his apartment into a museum — with him in it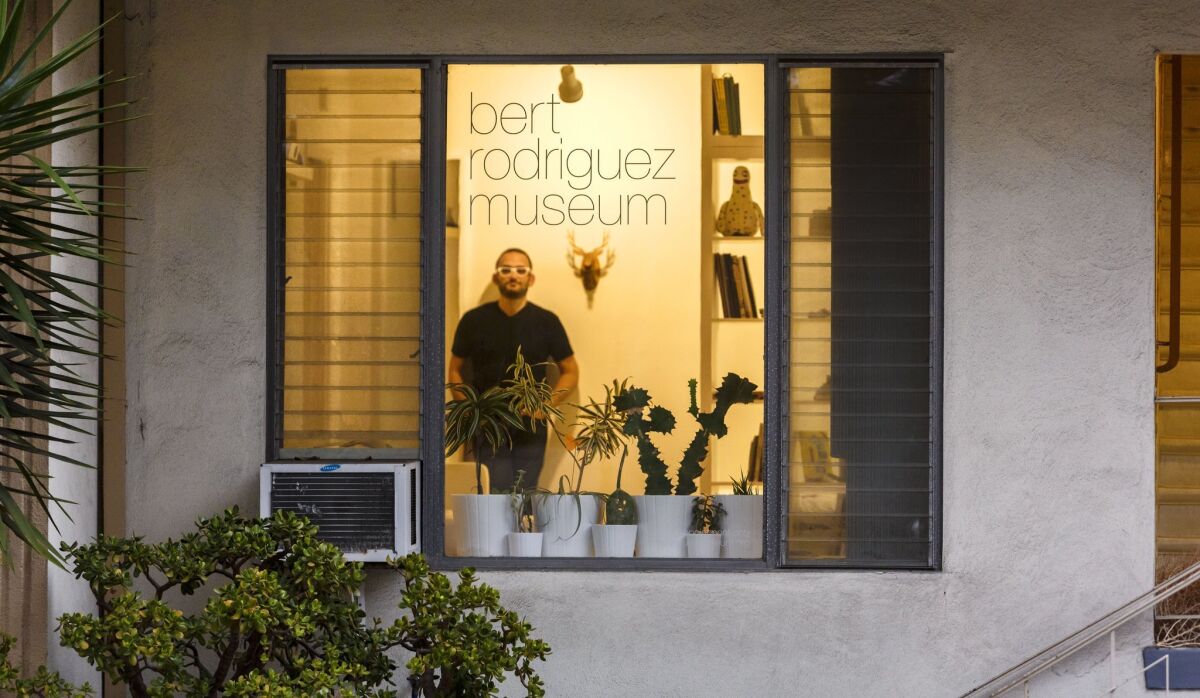 Visitors to Stockbridge, Mass., can drop in on a museum that features Norman Rockwell's old studio.
The eastern edges of Long Island harbor the home and studio that belonged to Abstract Expressionist power couple Jackson Pollock and Lee Krasner.
And in Manhattan, it is possible to see the architecturally minded townhouse that once belonged to minimalist sculptor Donald Judd.
Transforming an artist's home or studio into a public museum after his or her death is not new. But Los Angeles artist Bert Rodriguez is turning the practice on its head.
Though he is very much alive (Rodriguez is only 39), and plans to remain so for a number of decades, he is currently in the process of converting his diminutive apartment into a full-fledged museum: the eponymous Bert Rodriguez Museum on Clinton Street in West Hollywood. It will have a board of trustees and not-for-profit status — even as he continues to live in the space, accompanied by Wilson, a shaggy Yorkie-Schnauzer mix.
"I'm doing it," says Rodriguez, "because no one is telling me I can't."
To be certain, Rodriguez's museum is as much a work of art as it will be an actual museum with objects to look at. The artist, who was born and raised in Miami (he's lived in L.A. for three years), has made a career out of ephemeral gestures and prankish actions that poke at the art world's obsessions with status and money.
In a show called "Advertising Works" at the Fredric Snitzer Gallery in Miami in 2007, he sold off all of his wall space to advertisers, then turned around and sold all of the ad banners as his own works of art. At the Whitney Biennial in 2008, he sat inside a room, designed like a psychiatrist's office, and offered "therapy sessions" to patrons, even though he is not a trained therapist. And for an exhibition at the Bass Museum of Art in Miami in 2009, Rodriguez greeted patrons to the museum in the front garden buried in soil up to his neck.
The artist has cooked meals with his mother and massaged art patrons' feet as part of his work, which includes elements of installation, performance, photography and sculpture. But he says that his latest gesture — a museum — gets at a system that often places the artist last.
"Everything is set up so that the least valuable asset in the ecosystem is the artist," he says. "My idea is to invert that ... I come from Miami where collectors often establish their own museums. There's this idea that [these spaces] provide authority and expertise. Well, I'm going to do that, but I'm going to do it as an artist."
And he seeks to do it without having to engage the outlet most artists have available to them: the commercial gallery.
"My work is not made to sell at art fairs," says Rodriguez. "It's a reaction to a space. This is very difficult to commodify, so a gallery doesn't necessarily make sense for an artist like me. You get all this pressure, 'Make some abstract stuff that I can sell.' But that's not really what I do."
The artist, in fact, recently severed commercial associations with his galleries, including Snitzer in Miami, which had represented him since the late 1990s.
"It's not like I need the commercial piece to have a relationship to the art world," he says. "I can do that through my museum."
The museum also plays with an idea that Rodriguez explored early on in his career: For his first-ever solo exhibition, the then twentysomething artist staged — somewhat facetiously — a full-blown career retrospective.
"It included everything I'd made from the time I was born to the time I went to college," he explains. "There was stuff like drawings of stick figures and snowmen. It was a bit of a joke — the idea that my first show would be a quote-unquote retrospective."
But it also toyed with established ideas about the natural progression of a career in the art world.
"It has a whole connection to chess," he adds. "Where you start with the end move and you build to it. That's what I'm doing. I'm working from the end of the story."
It should be noted that apartments have functioned before as art spaces. In August, Paul Soto, formerly of Susanne Vielmetter Los Angeles Projects, opened Park View, a gallery he runs out of his 350-square-foot apartment in the Westlake-MacArthur Park area. But Soto curates the work of other artists in his gallery. At the Bert Rodriguez Museum, the artist on display is Bert Rodriguez.
So how exactly will the museum work?
Rodriguez is currently in the process of putting together a board and filing for 501(c)3 (tax-exempt nonprofit) status. The museum, which he expects will be open to the public at some point in early 2015, will own and manage all of his works, as well as his exhibitions and appearances — like a lecture and book-signing he gave in San Francisco this past September.
Once the paperwork is completed, Rodriguez can then apply for funding to support programming. This will include exhibitions as well as lectures, film screenings and other events. Ultimately, he would like docents on hand to give tours of the space (which, incidentally, is all of 500 square feet), whether he is at home or not.
"There will be a donation box and people will be given stickers when they come in," he says. "It will function like a museum."
There are also plans for a gift shop — essentially, a row of shelves featuring merchandise he fabricates, such as dollar bills imprinted with funny sayings. And there will also be a cafe (a.k.a. the dining room).
Visitors will be able to poke around Rodriguez's sleeping area, done up with astronaut bedsheets, take a tour of the bathroom (complete with monogrammed towels) and peer at a shelf filled with books and various artsy curiosities, including a chess set and a coffee mug in the shape of breast. And, of course, there's Wilson, his dog.
"He's just another artifact," chuckles Rodriguez.
It's an approach filled with humor, but the artist sees the museum as a significant work.
"I'll be building this for years," says Rodriguez. "If I move, this moves with me."
Stay apprised of news about the Bert Rodriguez Museum at bertrodriguez-museum.org or via the museum's Facebook page.
-----
UPDATE: The Bert Rodriguez Museum will have a special preview viewing of the museum by appointment on Saturday, Dec. 6 and Sunday, Dec. 7, 833 Clinton St., #3, West Hollywood, 323-487-2378, museum@bertrodriguez.org, bertrodriguez-museum.org.
-----
Find me on Twitter @cmonstah.
Get our L.A. Goes Out newsletter, with the week's best events, to help you explore and experience our city.
You may occasionally receive promotional content from the Los Angeles Times.