How the iconoclastic life and quiet death of L.A. artist Chris Burden was captured in a new documentary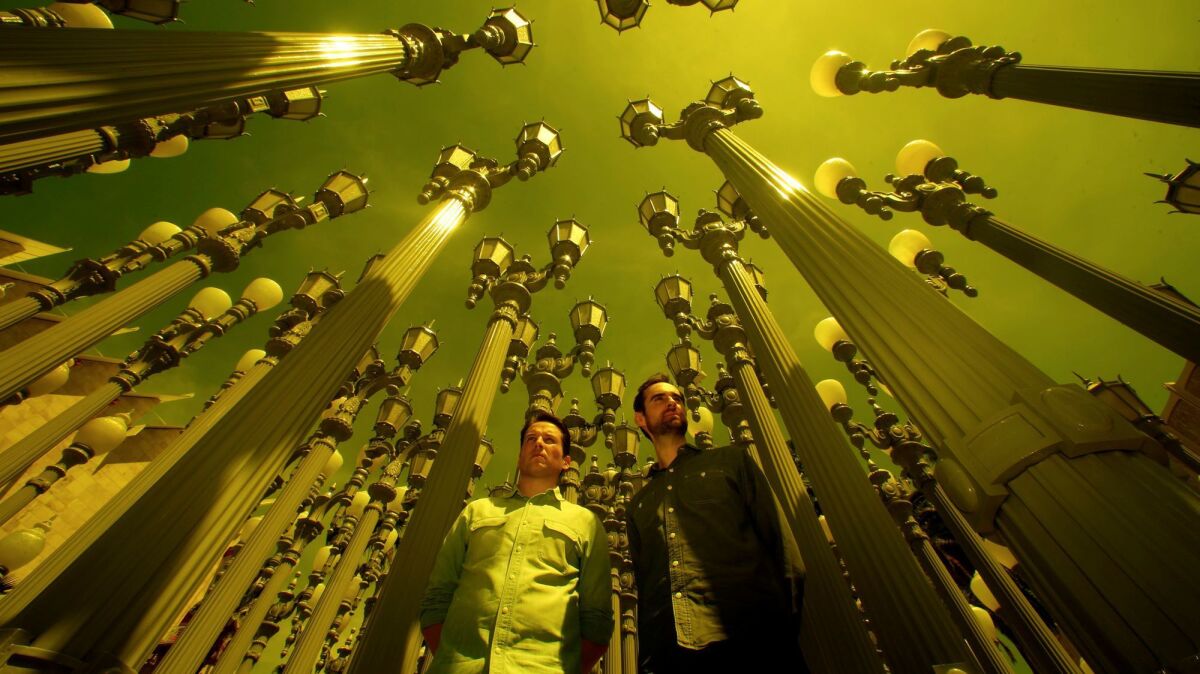 Every documentary has its challenges. Inadequate budgets. Complicated filming locations. Seemingly voluble sources who clam up the minute they get in front of a camera.
But when filmmakers Richard Dewey and Timothy Marrinan set out to make their debut feature documentary about the life and work of the Los Angeles artist Chris Burden, they didn't know that they would also be contending with his death. In the final months of his life, Burden was quietly battling malignant melanoma, a struggle he lost in the spring of 2015, when he passed away at age 69.
"We had no idea that we'd be capturing the end of his life when we started the project," Dewey says.
During his life, Burden was known for treacherous performances — in 1971, he had a marksman shoot him in the arm as a work of art — and for producing grand public sculptures, such as the street lamp installation, "Urban Light," that greets visitors to the Los Angeles County Museum of Art.
Dewey and Marrinan say that observing Burden produce some of his elaborate installations prepared them to complete their own labor of love. After more than half a dozen years of work, their documentary, "Burden," opened last week in New York and debuts in Los Angeles Friday at the Nuart Theatre. (It is also available for streaming on iTunes and Amazon.)
"There was a ton to learn from Chris," says Dewey.
"You have to have patience," Marrinan says. "You have to let things develop. You have to work out the small details."
"Burden" is a compact 90 minutes that tracks the artist from his years as a student at UC Irvine, where he was part of the university's first crop of MFA students, through his most iconic — and iconoclastic — performances: "Trans-fixed," from 1974, in which he had himself nailed to a Volkswagen Beetle in a position of crucifixion; the infamous "TV Hijack," from 1972, in which he held a curator at knifepoint on a local television program; and, of course, "Shoot."
The film opens with one of the art videos Burden paid to air on local television stations late at night in the '70s as a form of humorous self-promotion, and it closes with another work, one that provides the documentary with an emotional coda.
This consists of footage of the artist's last completed sculpture: "Ode to Santos Dumont," a small, fully functional dirigible that went on view at LACMA just five days after his death. The work was a floating, mechanical tribute to the Brazilian aviator Alberto Santos-Dumont, who flew a dirigible around the Eiffel Tower in 1901.
"[That piece] incorporated a lot of things that Chris liked to think about: history, revising history, aviation and engineering," Dewey says. "Here in the U.S., we say the Wright Brothers invented aviation. But Chris is saying, 'Wait, there's a Brazilian guy who had a role in aviation history.' It shows that the art works on a lot of different levels."
These sorts of myriad layers, present in so much of Burden's work, are what inspired Dewey and Marrinen, longtime friends united by an interest in film, to make a documentary about the artist.
Marrinan, who hails from England, first stumbled into Burden's art while at Harvard University, when he saw photos of early performances in a book. The images, he says, were "unforgettable."
Dewey, who's from Pennsylvania, became familiar with Burden after "Urban Light" was installed at LACMA in 2008. Reading a profile of the artist, he was surprised to learn that this beloved work of public sculpture had been made by an artist who'd had a key role in the avant-garde performance art scene of the '70s.
"You had a person who did these wild performances, but you also have this person who did these heartwarming civic sculptures," he says. "And my question was, how did he get from A to B?"
There's the experience of looking at the documentation and then there's the experience of what it was like to be in the room and pull the trigger.
— Timothy Marrinan, filmmaker, "Burden"
They began to answer that question with a magazine article. (In addition to film, Dewey has a background in journalism.) In 2008, the pair, both living in Los Angeles, teamed to write a profile of Burden for the New York-based Whitewall magazine. (Since then, they have both relocated: Dewey to New York, Marrinan to London.)
During that interview, they learned that the artist was about to stage one of his "Beam Drop" pieces in Antwerp, Belgium. For those works — first executed in Lewiston, N.Y., in 1984 — Burden would drop steel I-beams from a crane into a pool of concrete. Once the concrete hardens, it freezes the beams in a random arrangement, like an action painting produced on an industrial, 3-D scale.
Intrigued, Marrinan and Dewey followed Burden to Antwerp to make a 10-minute short about "Beam Drop" in 2009.
"It was a very low-budget affair," Marrinan says. "We drove over to Antwerp from London with a kit in the car and just started shooting with a friend of ours. We got to know Chris in that setting."
That led to the idea of embarking on a full-scale documentary.
"I was interested in the total commitment to his art," Dewey says. "Putting his body on the line, putting himself in these uncomfortable situations, and in the later years, doing these pieces that took years and years to come about. 'Urban Light' wasn't a commission from LACMA; he just started buying [street lamps]. He had hundreds of them. And it ultimately coalesced into this piece that becomes an L.A. landmark."
"What we wanted to do was show his art, then dig deeper," Marrinan explains. "To show the context in which his art was made and the ideas that he was grappling with so that people could come to their own conclusions. People do have a very divergent range of opinions about Chris' life and career."
And they wanted to do it in a way that would speak to a general audience.
"There are a hundred different ways to tell Chris' story," Dewey says. "But we wanted to tell it in a way that was accessible to people who aren't in the art world. We try to think in those respects."
In 2010, the pair traveled to Burden's Topanga Canyon compound and proposed the idea of a feature documentary. Burden agreed right away and provided the filmmakers with access to his personal archives — which included photographs, video and audio.
"Some of his archives were cassette tapes and reel-to-reel tapes, and we had some of it digitized for the first time," says Marrinan. "Some of it, I don't think has been seen."
The filmmakers also spent a good deal of time interviewing collaborators, friends, colleagues and experts.
"We wanted to get the vivid firsthand testimony of what it was like to be there," Marrinan says.
And do they ever. This includes interviews with Burden's first wife Barbara Burden, who assisted in many of the early performances, as well as Bruce Dunlap, the artist and marksman who famously shot Burden in the arm.
"The performances exist in two realms," Marrinan says. "There's the experience of looking at the documentation and then there's the experience of what it was like to be in the room and pull the trigger."
Also on the lineup is Phyllis Lutjeans, the curator who survived the episode at knifepoint on cable TV.
"I was really terrified," Lutjeans recalls in the film. "'What went through my mind was, "Has he lost it?" ... But I knew then and I know now that he was going to shift art history."
He had an eclectic set of interests, and a lot of his art is a combination of pulling from those disparate interests.
— Richard Dewey, filmmaker, "Burden"
Dewey and Marrinan say that part of their task was to get beyond Burden's sensational public persona to show the profound thinking that went into some of his work. The artist thought deeply about the nature of objects and art — and how the boundaries of each might be prodded and poked and, perhaps, blown to smithereens.
Seeded throughout the film are scenes from an interview that Regis Philbin conducted with Burden in the mid-1970s.
"I think you get the sense at the start of that interview that Regis is, like, 'Oh, here is this crazy guy,'" says Marrinan. "But Chris answers the questions really genuinely — and by the end I think he turns [Philbin] around. He is genuine about what he is doing. It's not just for shock value."
"He had an eclectic set of interests, and a lot of his art is a combination of pulling from those disparate interests," says Dewey. "That was interesting to see — how wide-ranging his knowledge was, from aviation to trains in the transportation space to the history of civic art in Rome and Paris. And he was really willing to go with his instincts and let things develop over a lot of time."
The documentary captures difficult moments too. In continuously trying to outdo himself on the performance front, the artist could often alienate those who were close to him.
"Burden" covers his transition back to sculpture, which like his performance work, played with elements of force and aggression: the "Beam Drop" pieces, the impossible towers made out of Erector set parts and the 1987 installation devoted to chronicling all of the submarines employed in the U.S. Navy's fleet (a wry take on the history of U.S. militarism).
During filming, Dewey and Marrinan happened upon the completion and installation of one of Burden's more popular Los Angeles works: the frenetic "Metropolis II," a three-dimensional cityscape clogged with highways and filled with speeding toy cars (currently on long-term view at LACMA).
Dewey says that he is grateful for what they were able to capture before Burden's death.
After his passing, as the filmmakers worked to complete the film, "we had to dig deeper for archival materials." Marrinan says.
"In some ways," he adds, "an unexpected limitation like that can benefit a project. When we did get hold of some of the early footage of him, it was so great to see him talk about those projects at the time that they were happening. The ideas were so present to him."
"People move in and out of your life," Dewey says. "To have him move into your life at that period? It's a remarkable experience."
"You have an unusual relationship making a documentary with someone," adds Marrinan. "You have this imposed distance, you are behind the camera. ... But when you're not filming them, you're talking about them, thinking about them, thinking about the structure, going over the interviews you've shot. You feel so close to your subject.
"The film, it's the culmination of a whole process for us, and a really great experience. It's a shame that Chris couldn't see it."
---
'Burden'
Not Rated
Running time: 1 hour, 30 minutes
Playing: Nuart Theatre, West Los Angeles
Streaming: iTunes, Amazon
Sign up for our weekly Essential Arts & Culture newsletter »
ALSO:
Review: Chris Burden's 'Ode to Santos Dumont' inspires wonder, delight
Chris Burden's architectural intelligence
Chris Burden dies at 69: artist's light sculpture at LACMA is symbol of L.A.
Review: 'Obit' is a lesson in how to bring the dead to vivid life
Get our L.A. Goes Out newsletter, with the week's best events, to help you explore and experience our city.
You may occasionally receive promotional content from the Los Angeles Times.