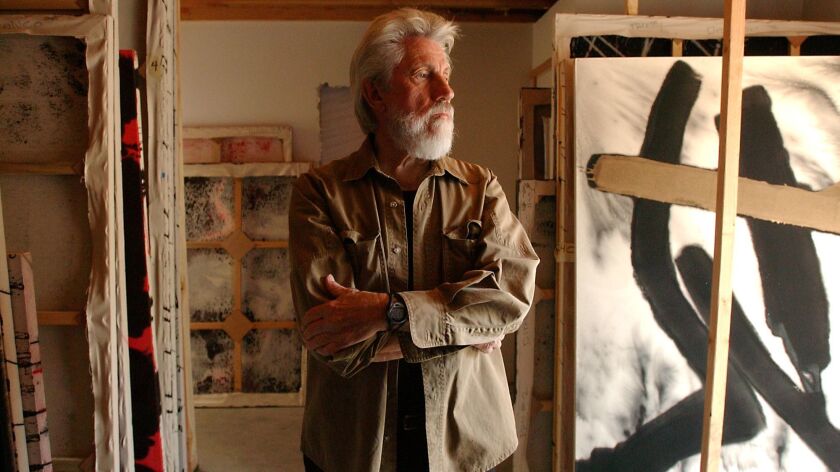 A bit of sadness. And some riotous performances. The week in culture has run the gamut. I'm Carolina A. Miranda, staff writer at the Los Angeles Times, with your week's important culture news:
'COOL SCHOOL' PIONEER PASSES
Ed Moses, the personable Los Angeles painter known for a wide range of works that employed detailed pattern and broad gestural strokes, passed away Wednesday at 91. The artist, who was based in Venice and associated with the transformative group of 20th century L.A. artists known as the "Cool School," was a restless painter who never settled on a signature look — choosing instead to continuously experiment.
"I realize that for a professional artist, being emblematic or having a signature style is important," Moses told The Times shortly before a retrospective at L.A.'s Museum of Contemporary Art in the 1990s. "But I don't consider myself a professional artist. That's someone who is responsible to the fact that this is a business enterprise ... someone who asks, 'What are my costs? What are my revenues? Who is my audience? Is this going to be acceptable to the audience?' I always had this dumb idea that you are the visionary for the audience. You open their possibilities." Deborah Vankin and Suzanne Munchnic wrote the obit. Los Angeles Times
A WOMAN SHALL LEAD THEM
A 2016 study by the League of American Orchestras found that more than 90% of professional symphony orchestra music directors are male. But as Times contributor Catherine Womack reports, that stubborn glass ceiling is cracking. This weekend, guest conductor Susanna Mälkki makes her third appearance as principal guest conductor of Los Angeles Philharmonic's 2017-18 season. She is one of four women to conduct the L.A. Phil this season. Huzzah! Los Angeles Times
ARCHITECTURE'S AWARD CONTROVERSY
The American Institute of Architects recently announced that it would not be giving out its prestigious Twenty-Five Year Award for 2018, a prize geared at honoring a building completed in the past 25 to 35 years. Times architecture critic Christoper Hawthorne notes that this marks a transitional period in architecture, when "post-modernism was enjoying an unsteady reign." Even so, he argues that the jury "ought to have tried harder." He then does their homework by providing a list of buildings that should have been considered — including key structures in California by Michael Graves. You're welcome, AIA. Los Angeles Times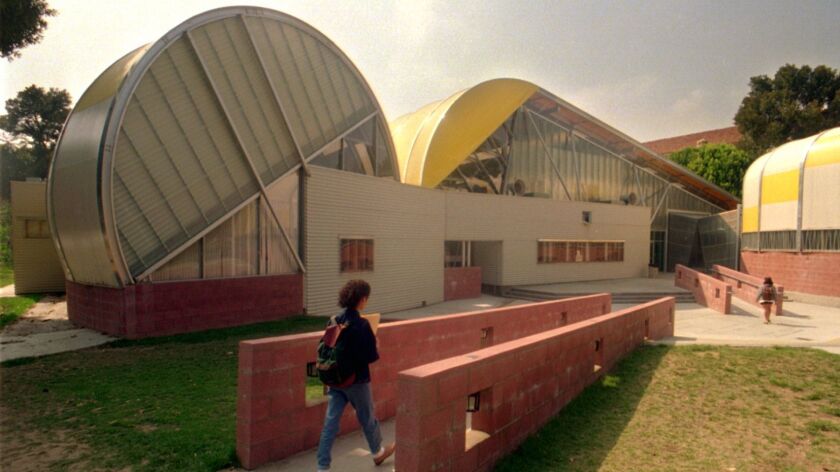 A COMEDY WITH SATIRIC BITE
"Small Mouth Sounds," currently being performed at the Broad Stage in Santa Monica, is a work that plays not with dialogue — but with silence. Bess Wohl's play takes place at a silent retreat, where conversation occurs in "fugitive bursts." "Loss, loneliness and physical pain are communicated through faces, breath patterns and collapsing postures," writes Times theater critic Charles McNulty. Some of the comedic aspects "diminish the work's perceptiveness," he notes, but, overall, it's a work that makes for "unforeseen connections." Los Angeles Times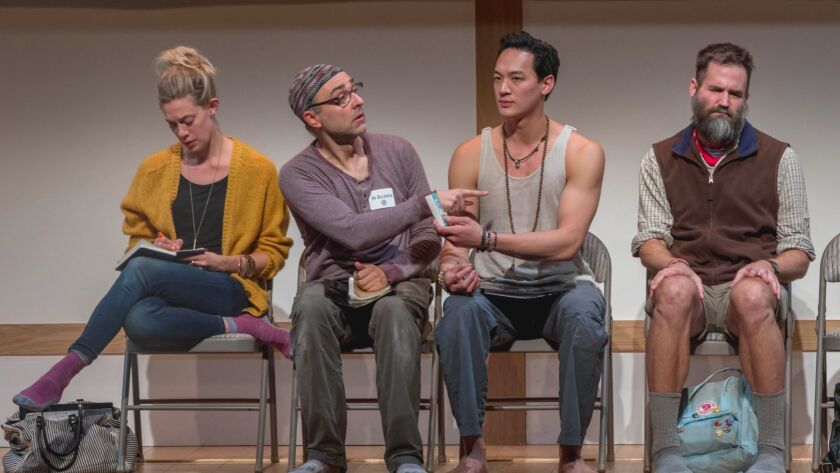 Plus, McNulty says he wishes he'd seen David Cale's "Harry Clarke" at New York's off-Broadway Vineyard Theatre sooner so that he could have spread the word before it closed. Thankfully, the play — a "feverish" character study — will soon be available as an audio production on Audible. Los Angeles Times
LADY GAGA OF NIXTAMAL
Machismo, corruption, violence, corporate exploitation, histrionic nationalism and the ravages of imperialism — those were just some of the topics addressed by Mexican singer Astrid Hadad (who likes to refer to herself as the "Lady Gaga of Nixtamal") at the kickoff of the Pacific Standard Time Festival: Live Art LA/LA at the Mayan theater last week. And I was there for all the riotous costume changes. Colonial critique, it turns out, can be totally glam. Los Angeles Times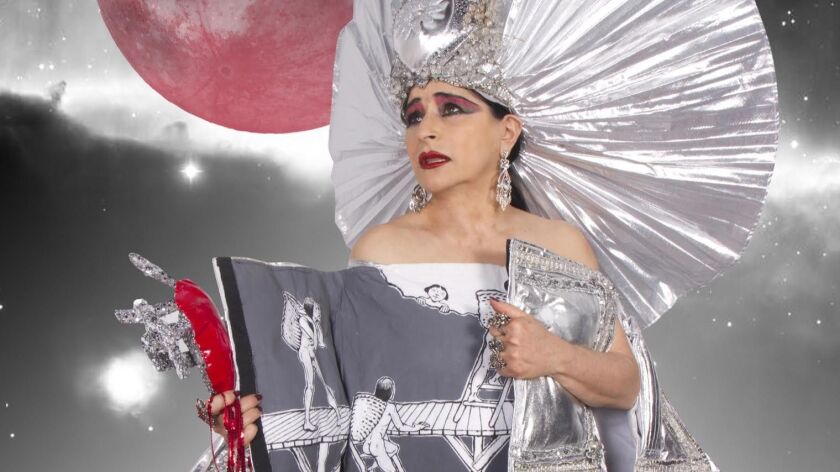 GETTING 'CANDIDE'
The upcoming L.A. Opera production of "Candide" will feature TV actor Kelsey Grammer and Broadway star Christine Ebersol. The pair talk with Times contributor Margaret Gray about Voltaire, Spanish ham and how 35 gets you pinned as "old" in Hollywood. Not to mention that time Grammer carried writer Lillian Hellman up a flight of stairs in her Blackglama mink: "It was a very cool and freaky, wonderful experience." Los Angeles Times
A WILD, DEFIANT STAND
Peruvian-born, Philadelphia-based artist Kukuli Velarde creates vessels that take their inspiration from the forms of pre-Columbian ceramics. But her wild pieces, now on view at the American Museum of Ceramic Art in Pomona, serve as a rejoinder of sorts, writes Times reviewer Leah Ollman: "She asserts continuity with her indigenous roots and kicks back defiantly at the forces that oppressed, mischaracterized and dehumanized her ancestors." Los Angeles Times
Plus, Ollman looks at an exhibition of sculptures by Ross Rudel at Baik Art that find the erogenous in organic forms. Los Angeles Times
INTO ACTION
The Times' Deborah Vankin, in the meantime, pops in on the pop-up "Into Action," a free nine-day festival exploring the intersection of art, music and activism. "The idea is to take a second and reflect on a year that's left a lot of people feeling insecure," says festival director Yosi Sergent, "a lot of families feeling like their future is in question." Los Angeles Times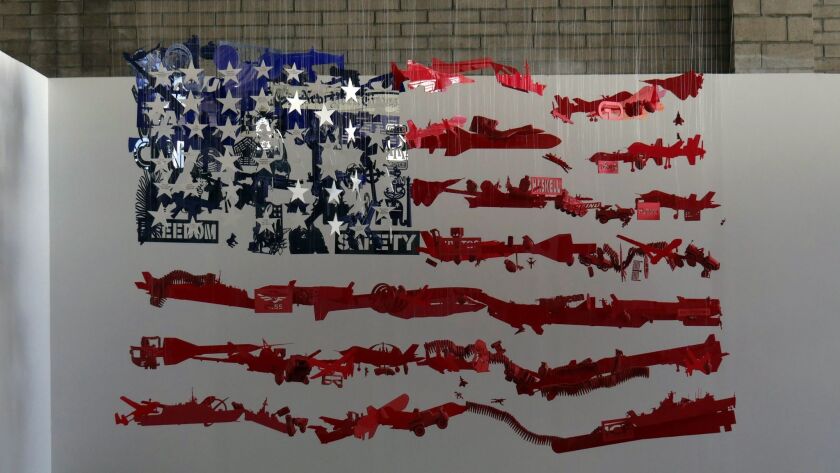 IN OTHER NEWS…
— A developer has bulldozed a historic Frank Lloyd Wright building in Montana as preservationists were trying to save it. Hyperallergic
— "The new embassy is bland, vanilla, just as a diplomatic dinner is rarely riotous and a diplomatic speech is rarely spellbinding." Critic Rowan Moore on why boring is good for the new KieranTimberlake-designed U.S. embassy in London. The Guardian
— A German museum has suspended a retrospective by photographer Bruce Weber amid allegations of sexual misconduct. Artnet
— The Pasadena Symphony has averted a strike after negotiating a new five-year labor contract. The agreement will include annual increases to musicians' minimum wage scale. Los Angeles Times
— It appears the Huntington has gained some significant Early American objects. Los Angeles County Museum on Fire
— Time to book plane tickets to Illinois: Inspired by Pacific Standard Time, the Terra Foundation in Chicago is funding a year-long celebration of regional art there. Chicago Reader
— Gas Gallery, the step van that is now a gallery. Los Angeles Magazine
— Catherine Opie has created a short film that tells the story of an L.A. arsonist who torches iconic Modernist homes. KCRW Design & Architecture
— The Whitney Museum has launched an emoji pack designed by L.A. artist Laura Owens. Hyperallergic
— Raven Wilkinson, the first African American ballerina to perform with a major touring group — and a mentor to Misty Copeland — has her story told in a new children's book. Time
— A study by the Asian American Performers Action Coalition has found increased diversity on Broadway stages. New York Times
​​​​​​​— The Iraq veteran choreographing dances about war. Dance Magazine
​​​​​​​— "Art was not other, an optional space to be filled in on the checklist of life. It was the purpose of living." A beautiful tribute to the purpose of art by Bean Gilsdorf — a piece that breaks my heart and makes my day. Open Space
AND LAST BUT NOT LEAST…
Since just about everyone I know (including me) has the flu, here's a video on Chicano healing from Lil Baby Dreamer. I shoulda never shared that 40 with Lil Cochina. YouTube
Sign up for our weekly Essential Arts & Culture newsletter »
ALSO
Datebook: The art and legacy of Eduardo Carrillo, altars to youth culture, Artforum ads of the future
Jan Baum, art dealer who pioneered La Brea's gallery row in the 1980s, dies at 89
L.A. artist Rodney McMillian peels back the facade on the ultimate symbol of power: the White House
---