Essential Arts & Culture: NEA threats, the Lucas museum vision, minimalist music and the return of Zubin Mehta
Oh, the brave new world that has such people in it! The big day, Donald Trump's inauguration, has come and gone. We're looking at a variety of stories that are related and not — from the possible slashing of the National Endowment for the Arts to George Lucas's new museum to a jovial gathering of the artists of L.A.'s Cool School (a perfect antidote to all the politics). I'm Carolina A. Miranda, staff writer for the Los Angeles Times, with the week's most intriguing arts stories:
Trump and culture
Could the Trump administration cut the National Endowment for the Arts and the National Endowment for the Humanities entirely? A report in the political publication The Hill states that the two agencies could be shut down and the Corporation for Public Broadcasting could be privatized. "Of course, eliminating these items from the federal budget won't make a dent in the accumulated deficit," writes art critic Philip Kennicott. "But it will appease a vocal constituency." The Hill, Washington Post
All of this makes classical music critic Mark Swed's essay, published earlier this month, about Sylvester Stallone heading up the NEA all the more prescient: The agency is indeed going to need a fighter. Los Angeles Times
In the meantime, I'll be spending inauguration weekend doing a series of posts about how artists and arts institutions are reacting (or not) to President Trump's inauguration. First up: A look the Ghostlight Project, a ceremony held Thursday evening at theaters around the country, where members of the performance community made a commitment to tolerance. I attended the gathering at the Actors' Gang in Culver City. Los Angeles Times
A look at the Lucas
What will the vision be of L.A.'s new Lucas Museum of Narrative Art? That's the million-dollar question — one that Times culture writer Deborah Vankin asks Mellody Hobson, who will serve as the museum's board chair (and who also happens to be founder George Lucas's wife). "We're going to do something very different, it doesn't quite exist yet," says Hobson, who describes the museum's mission and focus on photography, illustration and comic art. How that will be different from say, the Hammer Museum's masterful 2005 exhibition on comic book art, remains to be seen — but, hey, cool building. Los Angeles Times
Chillin' with the Cool School
Vankin also spent some time backstage with legendary Los Angeles artists Ed Moses, Ed Ruscha, Billy Al Bengston and Larry Bell at the Broad Stage in Santa Monica, as the former Ferus Gallery rat pack — a.k.a. the Cool School — gathered to talk about art in Los Angeles with critic Hunter Drohojowska-Philp. Naturally, there was much kidding around — as well as debate over how much Andy Warhol's soup can works sold for when they went on view at Ferus in the '60s. Thankfully, former proprietor Irving Blum was in the audience to answer the question. (Hint: They were cheap.) Los Angeles Times
A sort-of public park
The Arts District has a new park — and it comes with a fence and a lock. For his new weekly column, Times architecture critic Christopher Hawthorne paid a visit, noting other security architecture elements, such as curving benches with prominent armrests, to prevent the homeless from lying down. In other words, a design that is more about creating a comfortable space for well-to-do office workers nearby than one that is truly public. "If you live in a neighborhood with a chronic homeless problem, which means much of L.A. these days," he writes, "it's not a park designer's job to help you pretend you don't." Los Angeles Times
Minimalist music and more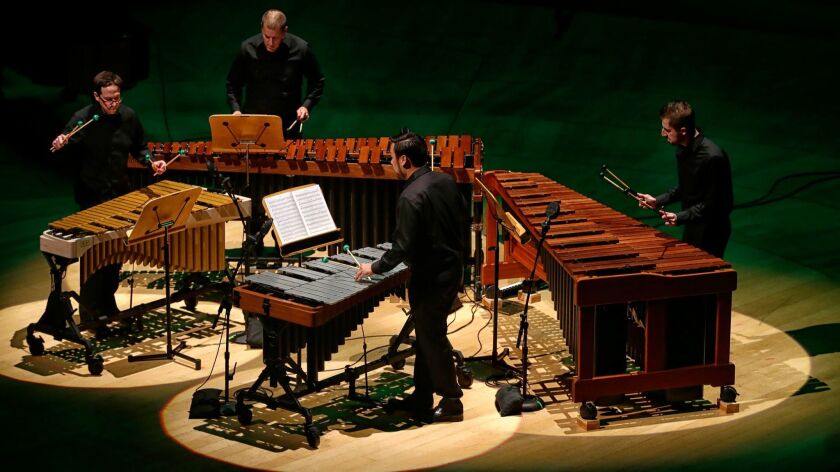 The Los Angeles Philharmonic marked the 80th birthday of minimalist composer Steve Reich with an all-Reich program at Walt Disney Concert Hall featuring compositions old and new. The old was the 1981 piece "Tehillim," which sets Hebrew Psalm texts to the voice of four women and a small instrumental ensemble. Times classical music critic Mark Swed reports: "The text here is tweet-length stanza from Psalm 18 that could well serve as a manual for how to serve a bewildered country as it turns, turns, turns during inauguration week to the avidity of pundits or the perversions of rash discourse rather than the wider vision of artists." Los Angeles Times
Speaking of the L.A. Phil, conductor Zubin Mehta was the orchestra's music director from 1962 and 1978. Last week, Mehta, who is now 80, was back for a special engagement with an eclectic program that featured Ravi Shankar's "Raga Mala" (with the composer's daughter Anoushka Shankar on sitar) and Richard Strauss's "Ein Heldenleben." It was, writes Swed, "a brilliantly affectionate performance with the one orchestra that makes, with full justification and apparent love, Mehta smile." Los Angeles Times
Plus, Swed also checks in with the latest iteration of JACK, the adventurous string quartet that just had a pair of gigs at the Wallis and REDCAT, and recently swapped out two members (a violinist and cellist). "The astonishing thing about the new JACK is that it does indeed have the same ring," he writes. Los Angeles Times
Staging the business of art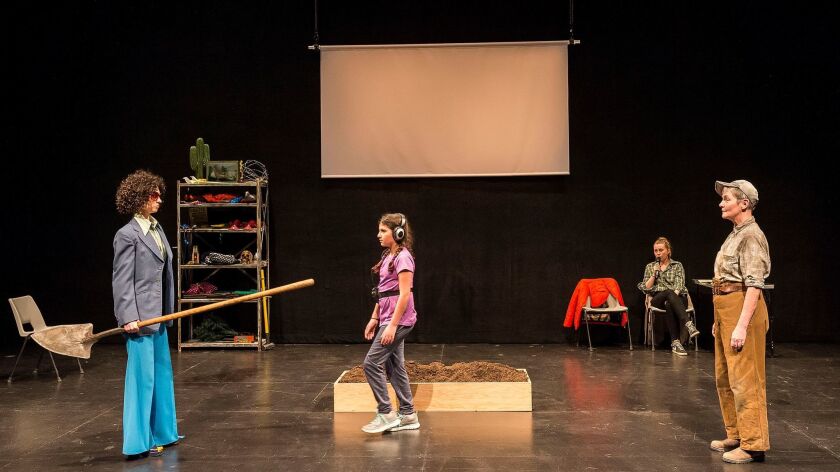 A successful artist leaves the art world at the peak of her fame — to be pursued, in death, by a young actress who seeks to play her on screen. Now on view at the Kirk Douglas Theatre in Culver City, "Adler & Gibb," created by experimental writer and director Tim Crouch, examines art world issues from corporatization to sanctimony and greed. But there's something "slightly derivative" about the work, reports Times theater critic Charles McNulty. "Crouch and his team appear to be borrowing from postmodern performance traditions (including even a soupçon of the Wooster Group) in a kind of avant-garde-by-the-numbers production." Los Angeles Times
An artist in the internment camps
The Noguchi Museum in New York City has a new exhibition, "Self-Interned, 1942," which looks at the unusual internment of Japanese American sculptor Isamu Noguchi at the Poston War Relocation Center during World War II (he volunteered to go) and how it may have shaped his work. The sculptures made in the immediate wake of his internment, writes critic Jason Farago, "are freighted with a bitterness and absurdity rare in his art." A very timely show. New York Times
Fancy footwork
The musical "La La Land" has been a favorite for its charismatic stars and the ways in which it employs Los Angeles as backdrop. But how does it hold up in the dance department? Times contributor Laura Bleiberg takes a critical look at Ryan Gosling and Emma Stone's routines, devised by Mandy Moore (the American choreographer, not the pop singer and actress). Los Angeles Times
Sort of related: A list of "really real L.A. movies." L.A. Taco
In other news…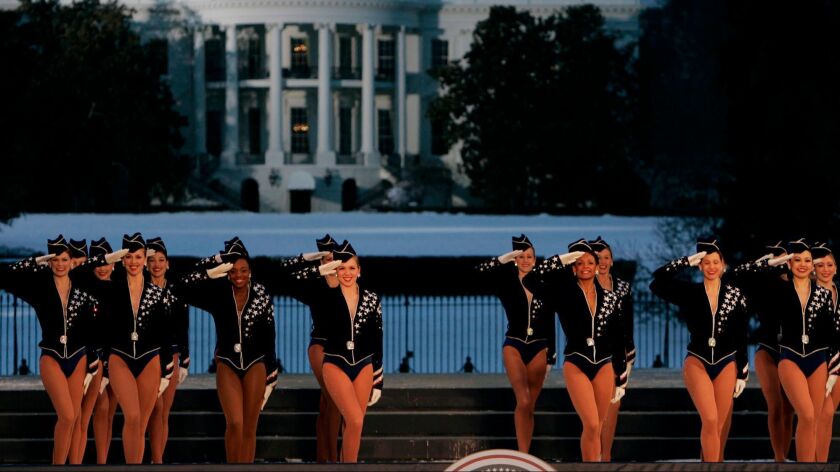 — A insider's view of the Rockettes — and the rift that Trump's inauguration has caused in the popular dance troupe. New York Times
— Sort of related: Critic Ben Davis makes a case for the #J20 culture strike on Inauguration Day: "It provides the framework for people to come together for a collective statement, rather than the individual symbolic gestures favored by the industry." Artnet
— Likewise, writer Robert Slifkin says the strike reminds us why art will matter in the era of Trump: "Arts organizations need to declare their dedication to a free and open discourse" and "a respect for cultural difference." Apollo
— Shepard Fairey discusses his new protest posters. Los Angeles Times
— The worst inaugurations, ranked. The Atlantic
— Pacific Standard Time: LA/LA, the Getty-funded exhibition series devoted to Latino and Latin American art, will kick off this fall with a Hollywood Bowl concert featuring Café Tacvba, La Santa Cecilia and Mon Laferte. Sounds like it's gonna be righteous. Los Angeles Times
— Many museums in the Los Angeles area will be free as part of Museums Free-for-All Day on Jan. 29. We have a list! Los Angeles Times
— James Conlon, the popular music director at the L.A. Opera, has renewed his contract through the 2020-21 season. Los Angeles Times
— The Los Angeles Opera has announced it 2017-18 season, and it will include unprecedented collaborations with the Lyric Opera of Chicago, the Joffrey Ballet and the Hamburg State Opera of Germany. Los Angeles Times
— Plus, a pop-up opera event takes over L.A.'s Union Station — The Times's Jeff Amlotte got video. Los Angeles Times
— Actor Alan Cumming will take over Walt Disney Concert Hall on Jan. 29, where he will sing "sappy songs." His advice: "Have a hanky at the ready." Los Angeles Times
— David Bowie's secret final project: A musical. That involved aliens. GQ
And last but not least…
Since everyone is no doubt thinking about the future, it seems like a good time to soak up Café Tacvba's most recent single, "Futuro" — which regardless of the language you speak is really fun to look at. YouTube
Sign up for our weekly Essential Arts & Culture newsletter »
---
The complete guide to home viewing
Get Screen Gab for weekly recommendations, analysis, interviews and irreverent discussion of the TV and streaming movies everyone's talking about.
You may occasionally receive promotional content from the Los Angeles Times.