Newsletter: Essential Arts & Culture: A wondrous Hedwig, Renaissance music remade, Boyle Heights gallery crimes
A flamboyant rock musical about a botched sex change operation is just what election-addled Los Angeles needs. Plus: A 16th century composition made new, gentrification tensions in Boyle Heights and an artist's feminine take on monsters. I'm Carolina A. Miranda, staff writer at the L.A. Times, and here are the most intriguing and bizarre arts stories of the week:
'Addictively wonderful' Hedwig
"Hedwig and the Angry Inch," the hit musical created by John Cameron Mitchell about a sex change operation (and a whole relationship) gone very wrong, is being re-staged at the Hollywood Pantages Theatre with "Glee's" Darren Criss in the title role. Contributing reviewer Margaret Gray writes that he plays the dramatic, insecure Hedwig with aplomb — in a performance that is "inexpressibly, addictively wonderful." Los Angeles Times
And if you missed it, Jessica Gelt's interview with Criss and Mitchell about the making of a millennial Hedwig is worth a read. Los Angeles Times
Lightness in nasty election
Times theater critic Charles McNulty writes that in the midst of our election slog-march, he was feeling weary about seeing Jon Robin Baitz's new play "Vicuña," at the Kirk Douglas Theatre, about a tailor who makes a transformative suit for a Trump-like candidate. But he says he was impressed by Baitz's impressive, "honest to goodness comedy" in which "comedy and menace work together to make clear the stark reality that's dauntingly upon us." Los Angeles Times
McNulty also took in a surrealist pop-up production at a warehouse in downtown Los Angeles: John Sinner's "An Invasion of Decency." The imaginatively staged piece, he writes, is "at once austere and flamboyant, campy and menacing," but "the febrile design team sets up a theatrical promise that is never fulfilled." Los Angeles Times
16th century music that moves
"Lagrime di San Pietro" (Tears of St. Peter), the composition by the late Renaissance composer Orlando di Lasso, has always presented a musical challenge: It is a musically merciless exploration of the disciple Peter's betrayal of Jesus. But a production staged by artistic director Grant Gershon and conductor Peter Sellars with the Los Angeles Master Chorale has transformed it, writes Times classical music critic Mark Swed. "'Lagrime' is a major accomplishment for the Master Chorale, which sang and acted brilliantly," writes Swed. "It is also a major accomplishment for music history." Los Angeles Times
Swed also attended a concert by the Youth Orchestra Los Angeles conducted by Gustavo Dudamel in Oakland. The concert wasn't musically perfect (the musicians are still learning), he writes, but the show nonetheless provided an "undeniable thrill." Los Angeles Times
Hate crimes against galleries?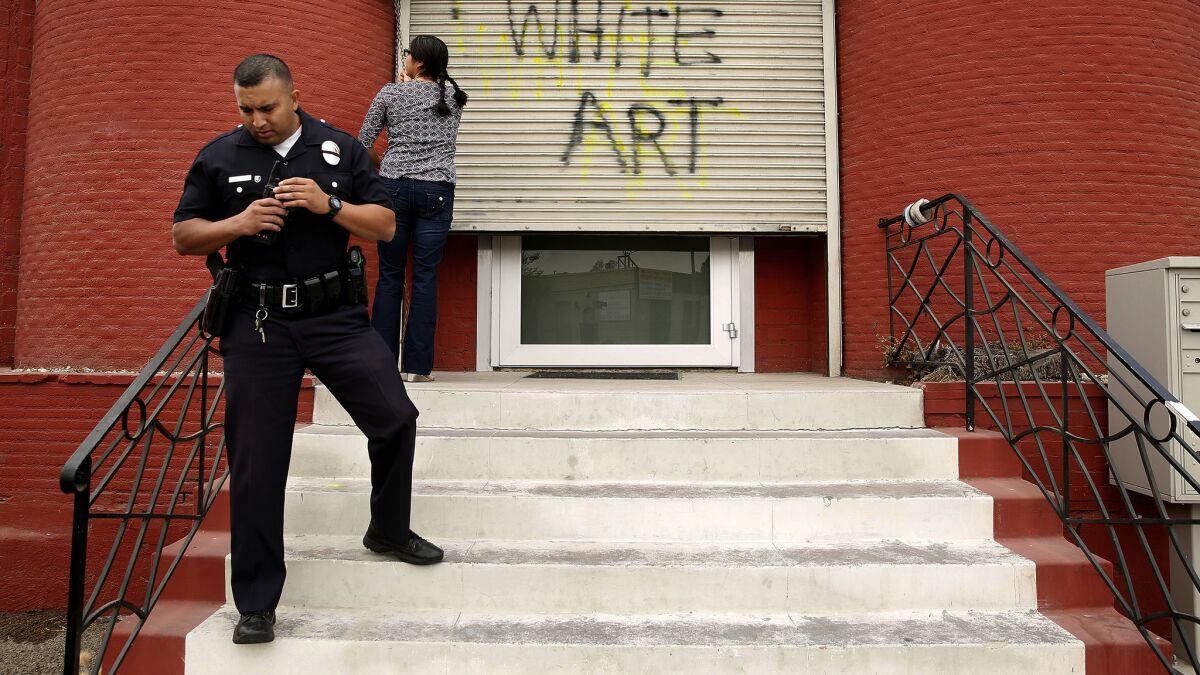 Three acts of vandalism against Boyle Heights galleries — including a graffiti tag about "white art" are being treated as a hate crime by the Los Angeles Police Department, reports The Times' Brittny Mejia. Police have not identified a suspect and the activist group Defend Boyle Heights issued a statement that it was not involved — but the group didn't condemn it, stating that "it is right to rebel!" The incident speaks to the growing tensions over gentrification in the historically working class neighborhood. Los Angeles Times
Marnie Weber's monsters
L.A. artist Marnie Weber has transformed a Hollywood gallery into a surreal chapel that is screening her first feature film, "The Day of Forevermore," about a young woman eager to break free from a witch mother and her coven of monsters. "I thought it would be interesting for a woman to fully embrace monsters," she tells me. "Monsters have a male energy … So for me it's that idea of befriending what you're afraid of on a metaphorical level." The show closes Saturday evening with a special performance by the artist. Los Angeles Times
A more sustainable L.A.
The population of Los Angeles is set to expand by 1.5 million people. But the city, in the midst of a housing crisis, isn't ready to absorb them. Pritzker Prize-winning architect Thom Mayne of Morphosis presents one possible solution: Adding density to the Wilshire Boulevard corridor. The solutions to this issue, he writes, do not reside in anti-development measures. "The realities of population growth and a warming climate, mean that preventing change is not an option," he writes. "Instead, we need to learn how to adapt and thrive in its midst." Los Angeles Times
In related news: As the city prepares to vote on Measure M, a sales tax hike that would support public transport, Alissa Walker looks at attitudes towards public transport in L.A. Curbed
Legendary dancer returns
The renowned dancer Carmen de Lavallade returned to her native South Los Angeles school — Thomas Jefferson High School — to speak with students about her groundbreaking life in the arts. It was a tough crowd, reports The Times' Jessica Gelt. But some students were moved to hear about the ways in which she broke racial boundaries in dance. Los Angeles Times
A party hearty at LACMA
Nothing like a gala to bring out the fine frocks and the socialites with looking-at-art face. Times reporter Deborah Vankin soaked up the scene at LACMA's annual Art + Film gala, co-hosted by Leonardo DiCaprio and Eva Chow, in honor of director Kathryn Bigelow and light and space master Robert Irwin. Writer Maxwell Williams also attended and got some valuable face-time with Jeff Koons over the important question of Cheerios. The whole shebang raised $3.6 million for the museum. Los Angeles Times, Artnet
Speaking of LACMA: The Times' Jeffrey Fleishman reports on the low-key man who just gave LACMA a $25 milllion gift. Eric Smidt spent two years in an orphanage; he now oversees the successful power tools outfit Harbor Freight Tools and is among the world's top art collectors. Los Angeles Times
Ashes at the opera
An opera lover tossed a friend's ashes into the orchestra pit at the Metropolitan Opera in New York last week — causing a terrorism scare. Roger Kaiser later wrote a heartfelt apology for his actions, saying that he simply wanted to express his devotion to the mentor who taught him about opera. It was "a sweet gesture to a dying friend," he writes, "that went completely and utterly wrong in ways that I could never have imagined." New York Times
IN OTHER NEWS…
— Interesting fact: David Bowie was a fan of the chunky-colorful, totally '80s designs of the Memphis Group. Los Angeles Times
— The Obama White House, writes critic Nate Chinen, has been very hospitable to jazz. He looks at how jazz musicians have contended with the presidential election in their work. New York Times
— Christopher Marlowe will officially be credited as co-author of three Shakespeare plays by Oxford University Press. NPR
— Lin-Manuel Miranda made a "Hamilton" mix-tape. Boing Boing
— "Hamilton," incidentally, has been sucking a lot of air out of the room with nonstop media coverage. The Times' Steven Zeitchek rounds up some of the smaller Broadway productions worth exploring. Los Angeles Times
— Nominees for the 27th annual L.A. Stage Alliance Ovation Awards have been announced. La Mirada Theatre for the Performing Arts leads the nominations. Los Angeles Times
— A first-ever filmed look at the burial site in Jerusalem's Church of the Holy Sepulchre said to contain Christ's burial chamber. National Geographic
— The Finnish government has vetoed funds for a Guggenheim Museum in Helsinki. A group of supporters is trying to keep the project alive. New York Times
— L.A. artist Barbara Kruger, known for her bold, graphic work, has designed New York magazine's latest cover, depicting Donald Trump with the word "Loser." New York
— A team of researchers at the Getty Center are studying the properties of a batch of avant-garde South American paintings to learn how to better preserve them in the future. Los Angeles Times
— The designers who are shaping the look of the cannabis industry. KCRW Design and Architecture
— How a Boyle Heights art center and a Franciscan nun helped foster L.A.'s early Día de los Muertos celebrations. LA Weekly
And last but not least…
The bizarre history of anti-suffrage cat memes. Thank you, Internet! Huffington Post
Sign up for our weekly Essential Arts & Culture newsletter »
Find me on Twitter @cmonstah.
---
Get our daily Entertainment newsletter
Get the day's top stories on Hollywood, film, television, music, arts, culture and more.
You may occasionally receive promotional content from the Los Angeles Times.