A millennial Hedwig? Darren Criss talks about a new generation rocking to this 'Angry Inch'
Darren Criss needs to be reminded that he's a millennial. The 29-year-old former "Glee" star is sitting in the gilded lobby of the Hollywood Pantages Theatre. Outside, banners proclaiming him the star of the rock 'n' roll musical "Hedwig and the Angry Inch" line the star-spangled boulevard.
"I thought I missed the millennial thing," Criss says, squinting and wrinkling his nose, as if the idea that he was the millennial Hedwig hurt his sense of pride. "I think I'm too old to be a millennial, or else I feel like I'm on the very front end."
With a birth date in 1987, Criss falls squarely in the generation maligned for what is perceived as its maddening self-absorption. But it's also a generation that has the most progressive attitudes toward gender fluidity and human rights for the LGBT community.
So having Criss play an East German singer who's genderqueer — identifying with neither sex, or both sexes — when the show opens Tuesday at the Pantages seems particularly apropos.
This could very well be the greatest role I ever play.
— Darren Criss
It's another milestone for a show that, over the course of its almost-20-year history, has notched a good number in its rhinestone belt. The deeply unorthodox musical opened off-Broadway in 1998 to a vastly different cultural landscape. It was a mere two years after the Defense of Marriage Act, which defined marriage as a union strictly between a man and a woman, was signed into law. It also was about eight months before the gay University of Wyoming student Matthew Shepard was tortured and left for dead beside a road in Laramie.
Criss, who has flown in for this interview from San Francisco, where "Hedwig" has been playing at the Golden Gate Theatre, says he is just another actor taking on the role created by John Cameron Mitchell, scored by composer Stephen Trask and played with aplomb on Broadway by a skilled roster that has included Neil Patrick Harris, Taye Diggs, Michael C. Hall and Mitchell himself. And let's not forget the dozens of actors and actresses who have played the part around the world since it became a cult hit.
"I've never given it an ounce of thought because I'm not reinterpreting anything — the audience is," Criss says, rapping fingernails painted a chipped black on a tufted lobby bench. "In the past year or two there has been this exciting boost in dialogue about the trans community, and I like to say the victory is in the discussion, whether it's being led by millennials or not."
Technically speaking, Hedwig is not transgender. The show derives its name from what is left of the character's manhood after a bungled sex change operation.
"The character doesn't really belong to any classification," says creator Mitchell, who originated the role of Hedwig in an Obie-winning, 857-performance run at the Jane Street Theatre. "She's a little bit of everything. She's a bit gay man, a bit drag queen, a bit genderqueer. She's not really trans — she's accidental trans. She's an outsider in every possible way."
What she wasn't, however — at least in the late 1990s — was the stuff of Broadway. Or a national tour.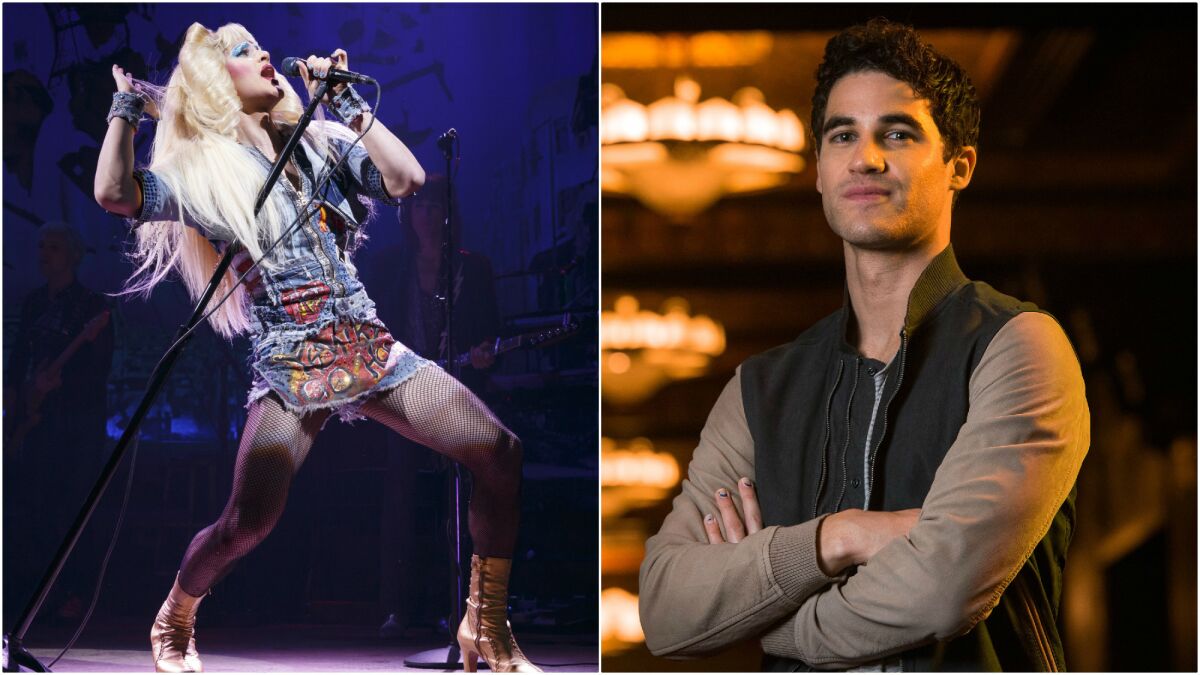 Hedwig's creators say it's not an issue of Hedwig being ready for the world at that time, but rather the world being ready for Hedwig. Now it is. Hedwig didn't have to change when she entered the mainstream, they say. It was the mainstream that did the changing. Suddenly, tourists from the Midwest waiting on line for hours to score tickets for a Broadway musical were happy to watch Hedwig strut her stuff.
"Does a piece of art change because the audience changed?" asks composer Trask. "I don't think anyone is intentionally bringing anything new to Hedwig, but it's sort of inevitable."
Criss puts it a different way: "One of the main characters of the show is the audience, and what's so great about that is that character is played by a different actor every night depending on the vibe of the crowd."
If the crowd is of the older, more white-bread matinee variety, Criss steers his performance in a more demure direction. If it's a rowdy Saturday night, Criss might fan those flames.
By the time the show finally opened on Broadway in 2014 at the Belasco Theater with a Tony-winning turn by Neil Patrick Harris, the audience consisted of people who would see the Supreme Court legalize gay marriage a year later. The times had changed, and the Great White Way was ready for, as Mitchell describes Hedwig, "an East German gender-bending punk rock singer with a botched sex change."
The show racked up eight Tony nominations and ran for 22 previews and 507 regular performances.
Producers of this first U.S. tour are betting that "Hedwig" can play not just in San Francisco and Los Angeles, but in 17 other stops including Salt Lake City, St. Louis, San Antonio, and Charlotte, N.C.
Criss says that the heart of the story — its universally relatable sense of heartbreak and loss — is at the core of its popularity. Hedwig gets the sex change to marry a man and escape East Germany. But after the couple arrives in Junction City, Kan., Hedwig's husband leaves her for another man. The show then follows Hedwig and her new husband and backup singer, a drag queen named Yitzhak (to be played in L.A. by Tony winner Lena Hall). Hedwig and her band the Angry Inch trail the sold-out tour of rock star Tommy Gnosis, Hedwig's former lover, who became famous singing songs they wrote together.
In many ways Hedwig is a metaphor for any outsider — and the reason why audiences have been drawn to her over the years, Mitchell says.
Now that trans and queer issues are not so alien, I think she's even more relatable.
— John Cameron Mitchell
"I think people were surprised that such an unusual character was someone they could relate to," he says of Hedwig's early days. "Now that trans and queer issues are not so alien, I think she's even more relatable."
Growing up in San Francisco in the 1990s, Criss was a high school actor surrounded by young, gay actors working in professional theaters.
"They'd take me out to the diner or wherever, and they were just a part of my life," says Criss, who is straight. "At no point did I go, 'Oh, cool, I'm hanging out with all my gay buddies.' You just don't think that way at all."
Mitchell liked Criss for the part of Hedwig because he had "this incredible queer straight-boy vibe about him." Many of Mitchell's friends are like that, he says, meaning, "they're very relaxed about the idea of gender fluidity."
It didn't hurt that Criss was also a rock 'n' roller at heart. He was always, as he puts it, "a guy with a guitar and a microphone," rather than someone formally trained in musical theater. He says he would ruin a show like "South Pacific."
Trask also wanted Criss for the role and approached him during a Broadway opening-night party. He admired Criss' performance in "Glee," in which he played gay teen Blaine Anderson.
"He just kind of jumped off the screen," Trask says. "You've got this show with a certain amount of machinery around all the performances, but Darren just popped out of the machine. He was clearly operating on a different level."
Interestingly, Criss remembers things a bit differently. He says he asked Trask if he could play the role. Playing Hedwig had been a dream since a 14-year-old Criss first saw the indie movie starring Mitchell.
Criss loved the story, with its brash David Bowie and Velvet Underground-inspired rock 'n' roll soundtrack and subversive plot line. Later in life, Criss and his girlfriend dressed as Hedwig and Yitzhak for Halloween.
"I've always had my sights set on this," he says. "This could very well be the greatest role I ever play."
------------
"Hedwig and the Angry Inch"
Where: Hollywood Pantages Theatre, 6233 Hollywood Blvd., Los Angeles
When: Preview on Tuesday, opening night Wednesday; performances 8 p.m. Tuesdays-Fridays, 2 and 8 p.m. Saturdays, 1 and 6:30 p.m. Sundays, through Nov. 27
Tickets: $35 and up (subject to change)
Information: (800) 982-2787, www.hollywoodpantages.com
ALSO
New exhibition in Pasadena peeks into Picasso's states of mind
Inuit throat singer Tanya Tagaq joins feminist performance series at the Broad
These rainstorms are made of xylophones and chicken wire but L.A. will take them
Get our L.A. Goes Out newsletter, with the week's best events, to help you explore and experience our city.
You may occasionally receive promotional content from the Los Angeles Times.