Like Black Friday but way cuter: First Hello Kitty Con opens in L.A.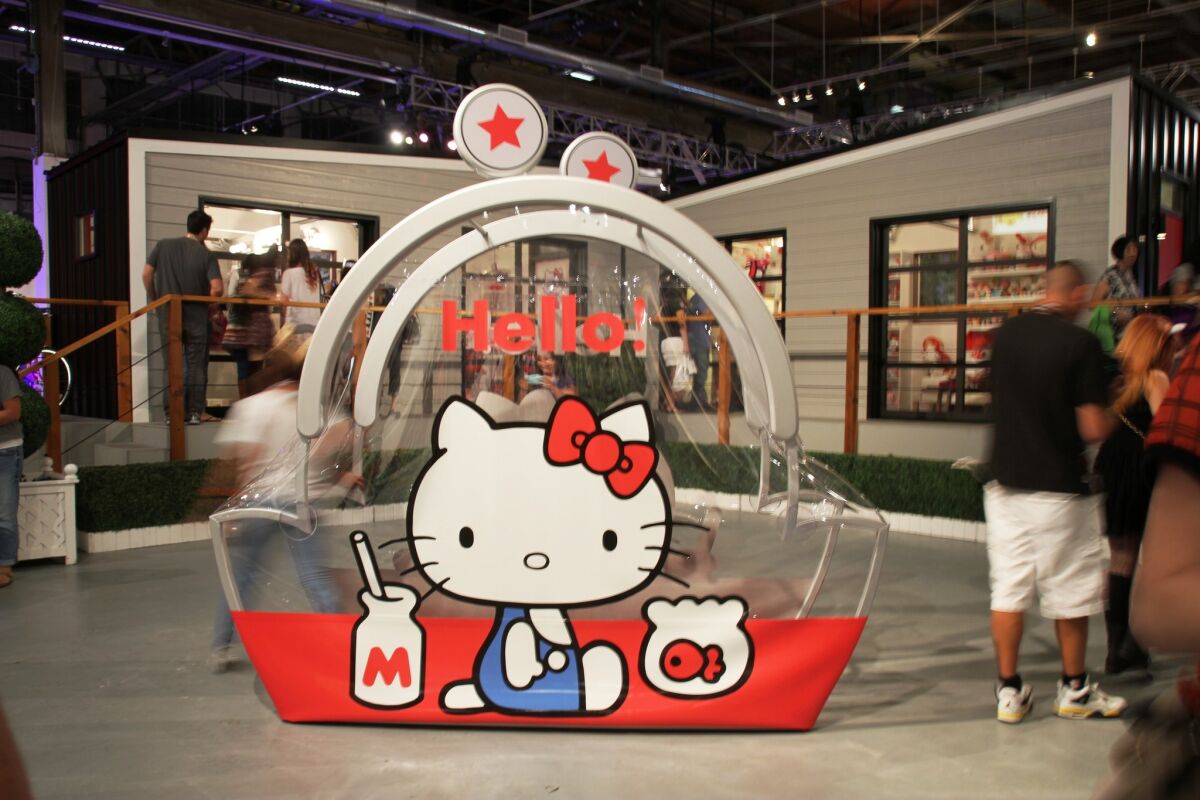 Take the merch-grabbing madness of a Thanksgiving Day sale. Add flouncy skirts and lots of pink. Mix with diabetes-inducing levels of cuteness (not to mention candy). That about sums up the first day at Hello Kitty Con, which opened in downtown L.A.'s Little Tokyo on Thursday morning.
The first ever convention devoted exclusively to Japan's famous mouthless icon — not a cat, despite her name — is being held at the Museum of Contemporary Art's sprawling Geffen building. Its first day of business drew thousands of attendees in all manner of creative Kitty-themed ensembles.
Organizers estimate that a total of roughly 5,500 people will be in attendance the first day. They expect a total of about 25,000 over the convention's four-day span. (It runs through Sunday.) Among various high-profile guests was pop star Katy Perry, who arrived for a visit late in the day.
The convention includes performances, interactive experiences and booths bursting with Hello Kitty-themed merchandise, from children's clothing to sporting goods to candy to plush dolls to Spam misubi-making kits. And for anyone who might think it's just for kids, think again. There were plenty of goods for adults featuring the Sanrio company's most profitable character, including cosmetics by Sephora, fashions by the L.A. boutique JapanLA and headsets by Beats by Dre.
Carol Nguyen, who was manning the Beats booth said sales had been very brisk.
"We brought 250 headsets for the entire weekend and we've already sold more than half," she said. "And it's just after noon."
Over at the JapanLA booth, owner Jamie Rivadeneira said they were already selling out of special-edition clothing items that featured Hello Kitty and the Simpsons.
"It's been crazy!" she said, before being dragged away by a client.
Some of the longest lines, interestingly enough, were for the Hello Kitty tattoo parlor. (No fake tats here; Kitty deals in real ink.) There, singer/songerwiter Lolo was getting an image of Hello Kitty tattooed on her side.
"I love her," says the crooner behind the single "Hit and Run." "I call my loft my Hello Kitty Palace. And I think this Hello Kitty tattoo is about to be my favorite Hello Kitty thing ever."
For anyone who was thinking they might pop in to go check it out — sorry, it's too late. Tickets sold out two weeks ago.
Hello Kitty Con runs through Sunday at MOCA Geffen, 152 N. Central Ave., downtown Los Angeles, sanrio.com/hellokittycon and moca.org.
Find me on the Twitters @cmonstah.
---
Get our L.A. Goes Out newsletter, with the week's best events, to help you explore and experience our city.
You may occasionally receive promotional content from the Los Angeles Times.