Eso Won Books isn't joining Mark Bradford's Art + Practice, but there's a new gallery and new partnerships
Less than two years ago, the artist Mark Bradford's ambitious Leimert Park gallery and social services complex Art + Practice opened with a Hammer Museum collaboration, displaying works by Charles Gaines in a temporary space.
On Saturday, A+P launches a new 6,000-square-foot gallery space with its debut show, "Black, White, Gray," an exhibition of works by sculptor Fred Eversley.
Based in Venice, Eversley is known for creating pieces that offer beguiling plays on color and light. He is a key figure in the California Light and Space Movement, fabricating cast-resin pieces that evoke mirrors and lenses. (Look through one of his pieces and you will see the space before you bent, distorted and stretched.)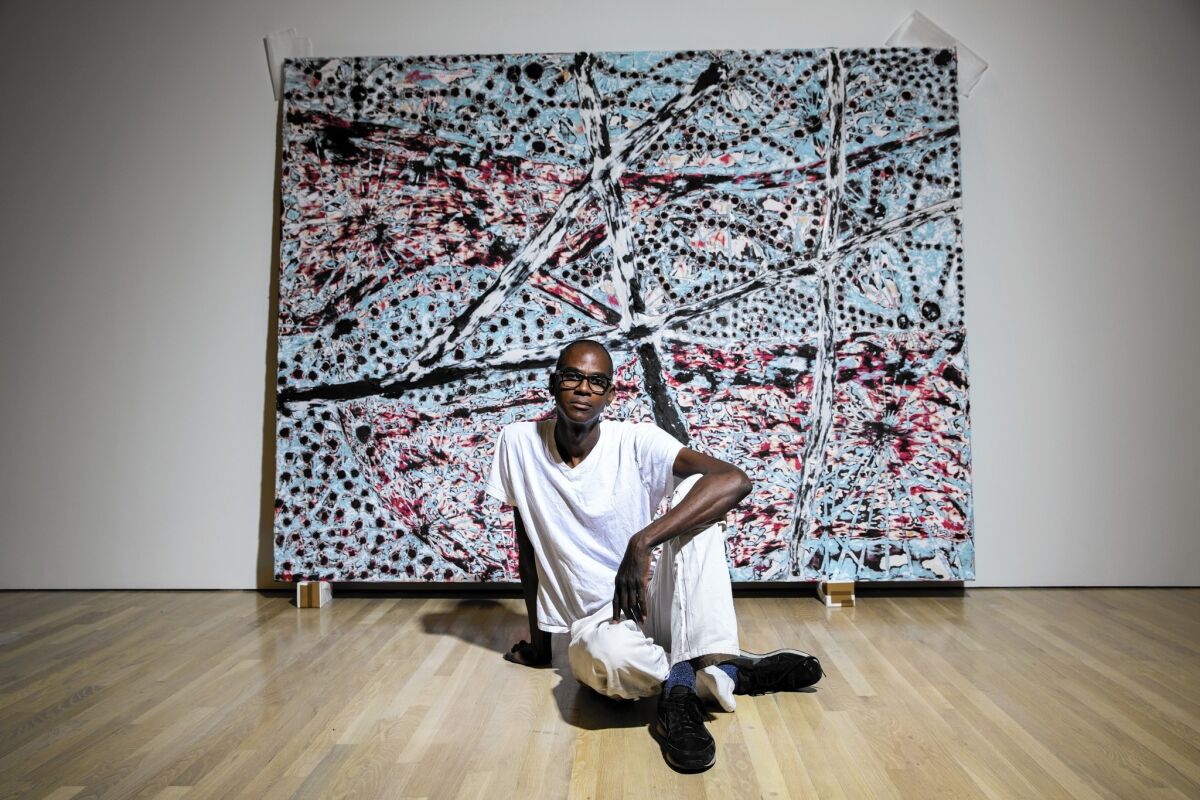 Like the 2015 Gaines show, the Eversley exhibition is another museum collaboration, this time with the Rose Art Museum in Massachusetts.
"The Rose developed the curatorial program," says Sophia Belsheim, Art + Practice's director of operations. "We supply the space. Fred has a studio in Abbot Kinney. We're excited to be doing this show."
The opening of the expansive gallery space at the corner of Degnan Boulevard and West 43rd Place — which at one point housed a chain drug store and later a beauty supply shop — marks a number of shifts for A+P. Established by Bradford with his partner, Allan DiCastro, and prominent L.A. art collector Eileen Norton, the organization operates a checkerboard of properties in the neighborhood. Some of these are still taking shape.
But there's been one withdrawal: Eso Won Books, the venerable Leimert Park bookstore, will not be moving into an A+P space as previously planned. Instead, the bookstore will remain in its current storefront on the west side of Degnan Boulevard.
Neither A+P nor Eso Won gave a clear indication of why the deal didn't work out.
"We just couldn't reach an understanding," says Eso Won co-owner James Fulgate. "We'll still be over here."
"Eso Won decided they just didn't want to come over," A+P's Di Castro says. "So, we're rethinking the space."
A+P, however, is forging ahead on other projects.
When the organization first launched, it did so with a two-year partnership with the Hammer Museum, which curated half a dozen A+P shows devoted to artists such as John Outterbridge and Alex Da Corte. That partnership ended in August, and now A+P plans to team up with institutions on a show-by-show basis.
"We want to see what works," DiCastro says. "We want to try other things."
The current exhibition is curated by Kim Conaty of the Rose Art Museum at Brandeis University.
As part of the changes, A+P also announced the establishment of a new partnership with foster youth services provider First Place for Youth. This is A+P's second social services partnership. The first was a two-year partnership with the RightWay Foundation, which recently moved to a new location still in the neighborhood. Through the new First Place for Youth partnership, foster youth transitioning into adulthood can receive coaching on employment, education, housing and healthy living. As part of the deal, A+P leases space to the organization at below-market rates.
"We'll be serving about 150 youth from this site," says Hellen Hong, a regional executive director for First Place. "This brings us to South Los Angeles, which has a high concentration of foster youth."
Belsheim says A+P is now looking for ways to provide job opportunities to some of the foster youth in the program.
"I'd like to have something in place by spring or summer of next year," she says, "something with a job-training component."
+++
"Fred Eversley: Black, White, Gray"
Where: Art + Practice, 3401 W. 43rd Place, Leimert Park, Los Angeles
When: Opens Saturday at 4 p.m. and runs through Jan. 28
Info: artandpractice.org
Sign up for our weekly Essential Arts & Culture newsletter »
Find me on Twitter @cmonstah.
ALSO:
Mark Bradford brings 'dexterity of De Kooning' and a commitment to activism to 2017 Venice Biennale
Alex Da Corte set Pop aflame at Art + Practice
After traveling the world, L.A. artist Mark Bradford gets a solo show in his hometown
A tour of Mark Bradford's Los Angeles
Artist Mark Bradford creates a bold logo for the Santa Monica Museum of Art's new identity as ICA LA
Mark Bradford's plans for 2017 Venice Biennale: 'The whole of who I am and where I am now'
Get our L.A. Goes Out newsletter, with the week's best events, to help you explore and experience our city.
You may occasionally receive promotional content from the Los Angeles Times.