Photo tour: Glenstone, the decade-old private museum outside D.C. is bucolic — and very blue chip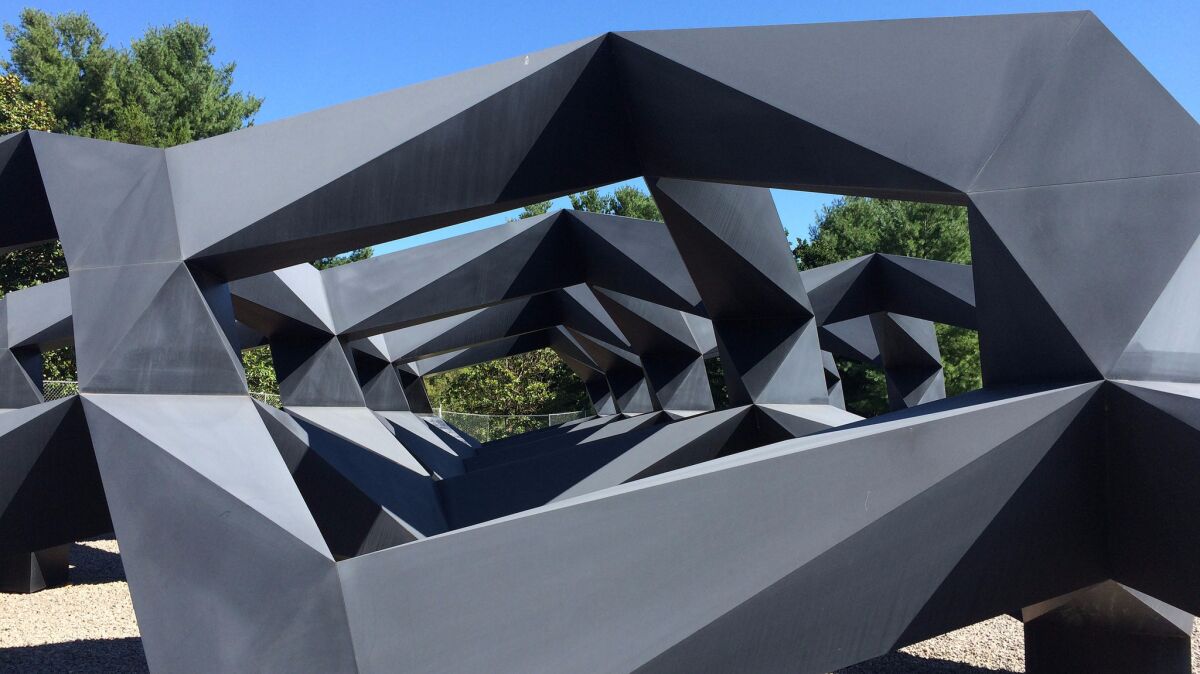 Reporting from Potomac, Md. —
Some private art collections are about the drama of the architecture. Others, the sheer accumulation of works. Glenstone, the private museum founded by collectors Mitchell and Emily Rales in Potomac, Md., is all about the arrival.
Two-lane roads wind through patches of farmland and well-manicured acreage studded with McMansions to arrive at Glenstone. The site (which also includes the Rales' private home) occupies 200 acres of land amid undulating countryside north of the Potomac River.
On a recent trip to Washington, D.C., I made the 40-minute drive to see Glenstone, which first opened its doors to the public in 2006. The collection consists of a mix of outdoor sculpture and installation, as well as a 9,000-square-foot gallery stocked with rotating exhibitions.
And it's all pretty awe-inducing.
A 223-foot-long ribbon-like steel work by Richard Serra hugs the contours of a hillside within view of a pond. A flowering sculpture by Jeff Koons, "Split-Rocker," stands on a mound overlooking area manses. Crouching, spider-like, on a bed of gravel, is Tony Smith's sculpture, "Smug," from 1973/2005, an aluminum lattice that evokes his related work, "Smoke," on view at LACMA.
A short hike travels down to the banks of a creek, where three stone cottages built by the British-born sculptor Andy Goldsworthy each contain an installation crafted from clay. The one called "Boulder" consists of a giant clay sphere that must surely have the dimensions of a dinosaur egg. (Think: big.) These are a highlight.
Glenstone is an alluring place. The art is arranged in such a way as to let both landscape and visitor breathe. The docents, who lead the guided tours, are personable and knowledgeable. The setting couldn't be more pastoral.
But it's a blue chip dude-fest. All of the outdoor installations are by high-profile men: Serra, Koons, Goldsworthy, Smith, Ellsworth Kelly (represented by a rare monumental sculpture) and Felix Gonzalez-Torres (a pair of marble reflecting pools).
Likewise, the rotating exhibition currently features the work of minimalist Fred Sandback, who was best known for working with colored yarn in mind-bendy ways. (Far more subtle than the outdoor works, it makes for an intriguing show.)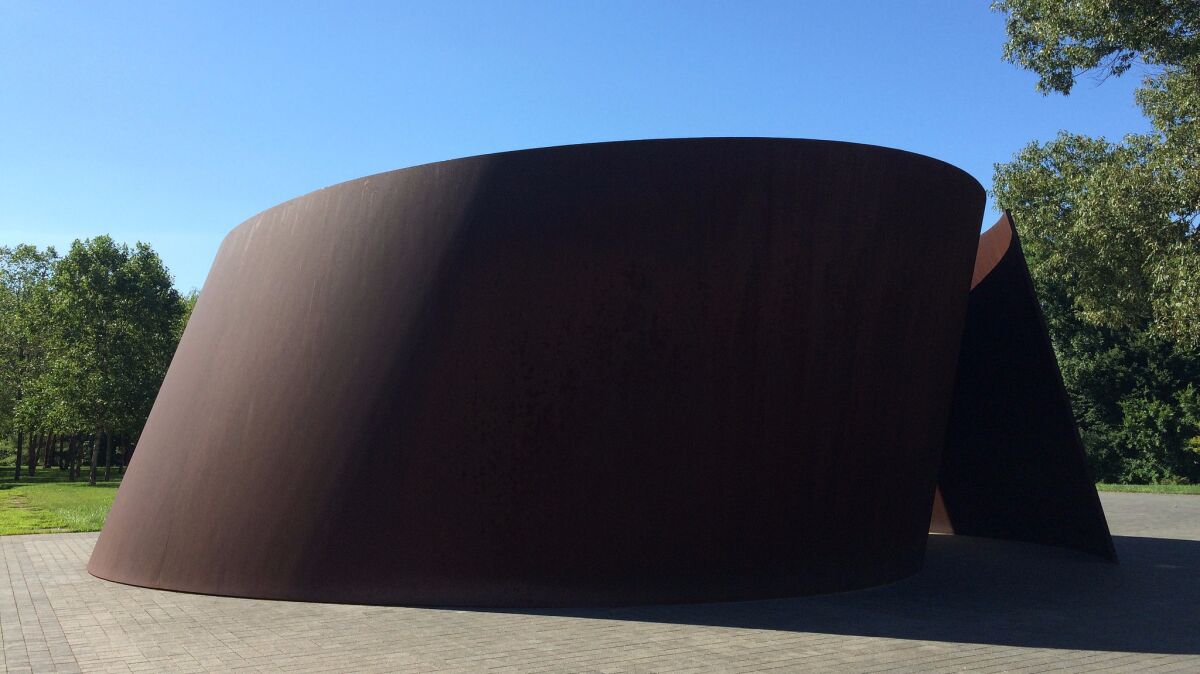 Glenstone is in the midst of expanding its campus so it can show more works from the collection. In addition to the current Charles Gwathmey-designed temporary gallery space, it is adding a new museum by Thomas Phifer and Partners that will add 50,000 square feet of indoor exhibition space. (Estimated completion date: Late 2017 or early 2018.)
One hopes this rising museum will feature a greater variety of artists and works. But as it stands, the building will greet visitors with more testosterone art: Next to the pavilion will be a new piece by land artist Michael Heizer, of LACMA boulder fame. (His aggressive installation techniques at Glenstone are spectacularly chronicled by Dana Goodyear in the New Yorker this month.)
Glenstone, in other words, sticks to a familiar roster of male art stars — collection as shopping list. (Serra, Heizer and Koons are all represented by the Gagosian Gallery; Kelly and Smith by Matthew Marks.) It's a line-up that couldn't be more safe or predictable.
In this way, Glenstone couldn't be more of its setting: Tony, status-conscious Potomac. And while it's a lovely place to visit, I wouldn't want to live there.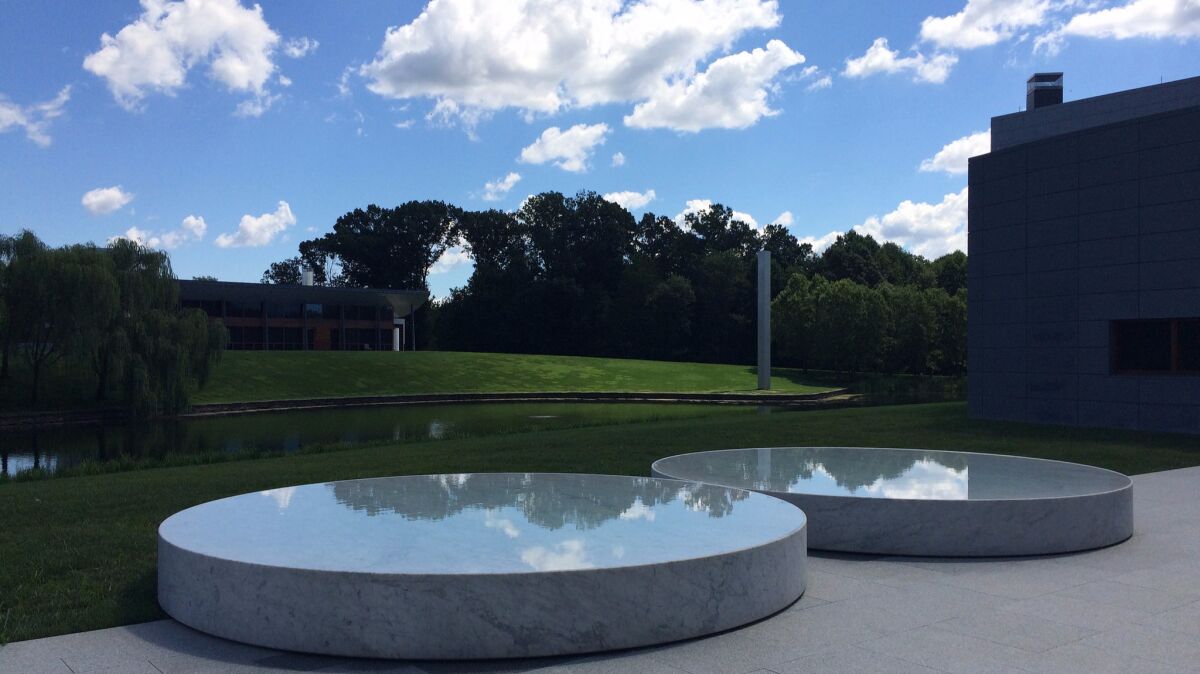 "Fred Sandback: Light, Space, Facts"
Where: Glenstone, 12002 Glen Rd., Potomac, Md.
When: Through December; appointment required
Info: glenstone.org
Get the Essential Arts & Culture newsletter delivered to your inbox — written by me! »
Find me on Twitter @cmonstah.
Get our L.A. Goes Out newsletter, with the week's best events, to help you explore and experience our city.
You may occasionally receive promotional content from the Los Angeles Times.