Newsletter: Essential Arts & Culture: The theatricality of the Olympics, Wall Street on stage, a Luis Buñuel opera
Olympics pomp and design. A play about greed and our financial system. And an opera inspired by Luis Buñuel. I'm Carolina A. Miranda, staff writer at the Los Angeles Times, and here are the top arts and culture news stories:
U.S. viewers of the Rio Olympics have reveled in Katie Ledecky's swim records, Michael Phelps' multiple wins and gymnast Simone Biles' buoyant, gold medal floor routines. Times theater critic Charles McNulty has been focused on the pageantry, reporting on an opening ceremony that, in true Brazilian style, "combined gravitas with gravity-defying bounce." Los Angeles Times
In related news: Times architecture critic Christopher Hawthorne is using the Olympics to re-examine the work of Roberto Burle Marx, the Modernist landscape architect whose designs left an indelible imprint on the Rio de Janeiro landscape. Writes Hawthorne: "If there were ever a body of work seemingly tailor-made to be captured by blimp, helicopter, hotel balcony or drone and sent out to the rest of the world via TV, computer screen or smartphone, it belongs to Burle Marx." Los Angeles Times
Guardian architecture critic Oliver Wainwright is also looking at design at the Olympics, covering everything from architecture to Speedos. The Guardian
Plus: The Rio Olympics' sustainable medals. Hyperallergic
Gemini G.E.L., the vaunted print studio that has produced limited edition works for celebrated artists such as John Baldessari, Robert Rauschenberg and David Hockney, is not only marking a half century of existence, it's about to be the subject of a new exhibition at the L.A. County Museum of Art. Co-founder Sidney Felsen reminisced with the Times' Deborah Vankin about Gemini's humble beginnings: "We thought it was gonna be a hobby, that it would be fun to hang around the artists." Los Angeles Times
A play that picks apart Wall Street
"Junk: The Golden Age of Debt," the new work by Pulitzer Prize-winning playwright Ayad Akhtar — on view through Aug. 21 at the La Jolla Playhouse — takes on the '80s financial system, when debt overtook value as a way of accumulating wealth. The Times' McNulty says this enthralling ensemble performance is "brisk, lucid and at times highly suspenseful," taking the viewer into a world governed not by morality, but by the almighty dollar. Los Angeles Times
McNulty was less enamored with another San Diego production: Steve Martin's new play "Meteor Shower" — which he describes as an act of "Hollywood welfare." Good thing Martin has a well-remunerated day job. Los Angeles Times
An opera inspired by Luis Buñuel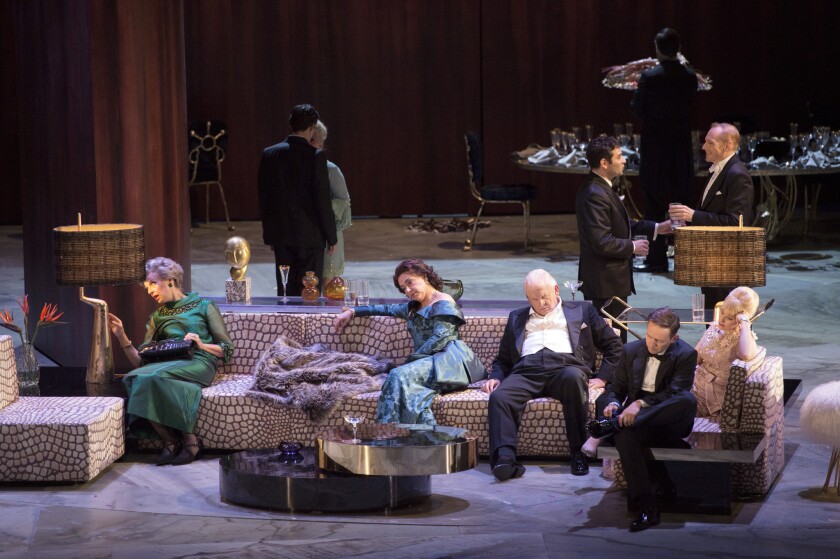 Composer Thomas Adès' "The Exterminating Angel," an opera inspired by the Luis Buñuel film of the same name, is causing a sensation at the Salzburg Festival in Austria with a storyline that pierces the pretensions of the bourgeoisie and music that captures the essence of social decay. "If there is a method to all the musical madness," writes Times classical music critic Mark Swed, "it is hysteria raised to exhilarating new heights." Los Angeles Times
In a new show at Art + Practice in Leimert Park, artist Alex Da Corte takes the bright, commercial tropes of Pop art but uses them as a way of expressing more somber narratives. "Da Corte's elegy for shattered love," writes Times art critic Christopher Knight, "is written in unexpected, often surprising visuals pieced together from the cheerily indifferent language of pervasive popular culture." Los Angeles Times
In other news: It's summer group show season and Knight has been dutifully scoping out some of the most worthwhile. These include exhibitions at China Art Objects (all about the self), Various Small Fires (the grind of city life) and Samuel Freeman (inspired by foghorns, though, sadly, not leg horns).
Washington's intriguing new museum
There have been a lot of big new museum openings in the last year — and one of the biggest will be happening late next month on the National Mall, when the National Museum of African American History & Culture unveils a new 400,000 square foot complex. I paid a visit to architect David Adjaye's structure-in-progress — as well as one of his D.C. libraries — and it's made me very enthusiastic about the imminent opening of this new institution. Los Angeles Times
French artist Frédérick Gautier is scouring the 51-mile Los Angeles River for discarded objects and architectural elements that he can use as points of inspiration for a series of clay objects. The finished objects, reports the Times' Deborah Vankin, will go on view in downtown L.A. at the end of September. Los Angeles Times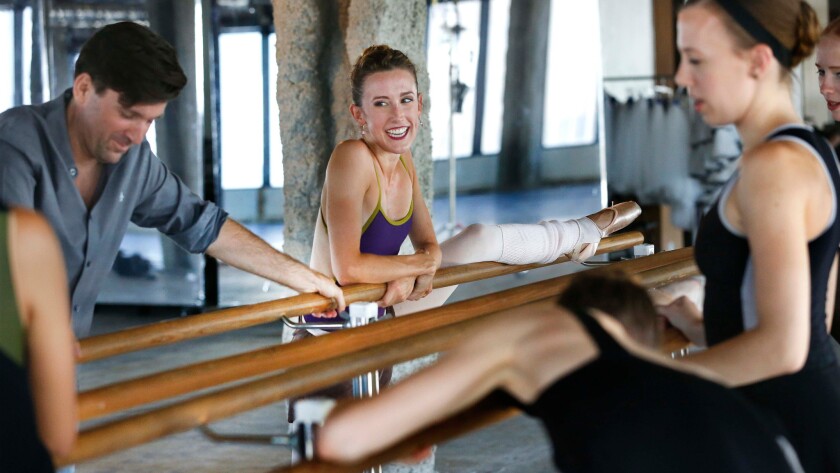 It's a regimen of grand jetés, cabrioles and pirouettes. Times staff writer Jeffrey Fleishman spent time with artistic director Lincoln Jones and the dancers from American Contemporary Ballet to observe how a dance is born — conceived by choreographer but shaped by the contributions of the dancers. The resulting ballet, "Music + Dance: LA II" will be performed in downtown L.A. through Sunday. Los Angeles Times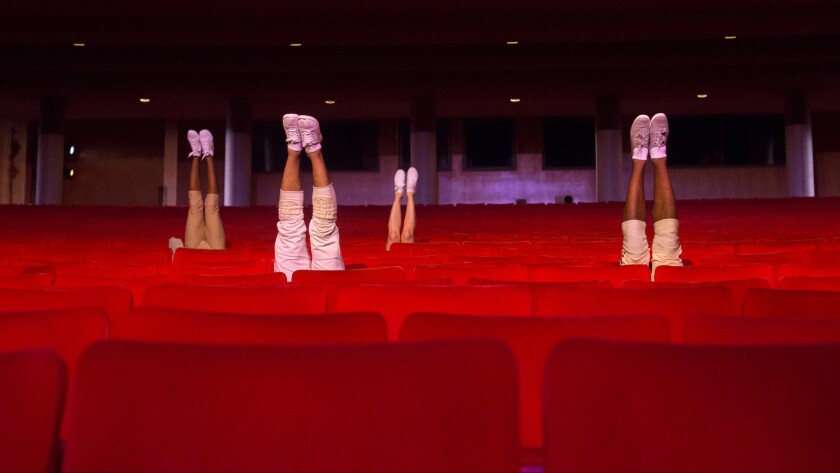 Moves After Dark brings dance to some unlikely spaces around the Music Center in downtown Los Angeles, including a Grand Park fountain and the Dorothy Chandler Pavilion's seats. The wild choreographies, writes Christina Campodonico, flip the perspective between performer and audience in performances that, at times, border on the unwieldy. Los Angeles Times
In other news
— In Europe, Dan Flavin's neon sculptures are no longer art, they have been declared goods — making them subject to a 20% tax. The Guardian
— When the artist's word isn't good enough: Painter Peter Doig says he didn't paint a particular desert landscape in the '70s. A collector is taking him to court to prove otherwise. New York Times
— Is the redesigned LACMA big enough? William Poundstone parses the square footage. Los Angeles County Museum on Fire
— Anglo-Italian performance artist Vanessa Beecroft wishes she were black and lives in a Hollywood Hills home she has dubbed the "favela." This is not going over well on the Internet. The Cut
— Art patrons (and agriculturalists) Lynda and Stewart Resnick control a whole lot of California's water. Mother Jones
— Urban design ideas for remaking dreary freeway underpasses. Curbed
— How Gustavo Dudamel and the USC marching band turned a crowd-pleasing Tchaikovsky Spectacular into a concert that offered musical fire. Los Angeles Times
— The Wooster Group, as David Ng reports, is bringing "Town Bloody Hall," a play inspired by the feminism-themed 1979 documentary of the same name, to downtown L.A.'s Redcat theater next year. Los Angeles Times
— Charles McNulty looks at how the staging of three lesser-known Tennessee Williams plays around SoCal offer fresh insights into his legacy. Los Angeles Times
— YouTube has turned L.A. choreographer Tricia Miranda into a star. New York Times
— Bringing ballet to Soweto. PBS
— President Obama's summer playlist. Groovy. The White House
Last chance
Huntington Beach photographer Deanna Templeton has spent years exploring the nature of moody female adolescence, making images that capture teens looking both demure and defiant. The images are now on view at Little Big Man Gallery in Boyle Heights, paired with fragments of the artist's own teenage journal entries. The results are at once emotional, poignant and funny. Through Saturday. 1427 E. 4th St., Unit 2, Boyle Heights, Los Angeles, littlebigmangallery.com.
And last but not least…
The Kardashians read books about architecture. Sort of. Keeping Up With the Kardashians
Find me on Twitter @cmonstah.
---
Inside the business of entertainment
The Wide Shot brings you news, analysis and insights on everything from streaming wars to production — and what it all means for the future.
You may occasionally receive promotional content from the Los Angeles Times.