How the Trump travel ban is already impacting L.A. arts institutions and artists
The Trump administration's executive order on travel, barring entry into the U.S. for those arriving from seven predominately Muslim nations, is reverberating throughout the arts community.
"The recent executive order barring entry into the United States from citizens of seven nations is antithetical to the values of the Getty, and we condemn it in the strongest possible terms," James Cuno, president of the J. Paul Getty Trust, said in a statement. "We believe that the order is ill-advised, unnecessary, and destructive. The Getty stands against it and adds its voice in favor of established American principles of freedom and engagement."
For some, the executive order is personal.
Los Angeles conceptual artist Marjan Vayghan, whose family hails from Iran, had an uncle get caught up in the travel ban when he arrived at LAX on Friday to reunite with his family. Instead, Ali Vayeghan — who has a green card acquired after more than a decade of paperwork — was deported back to Iran before a federal judicial stay could take effect.
"We did not think this would be a big deal," she told the Los Angeles Times. "We'd pick my uncle at LAX, eat, hang out, travel. We didn't know our entire world would turn upside down."
Vayghan spent much of the weekend protesting at the airport while trying to determine her uncle's whereabouts. "Today I went for my uncle," she stated via text message on Saturday. "Tomorrow I'm going back for all the families that haven't been affected [yet]."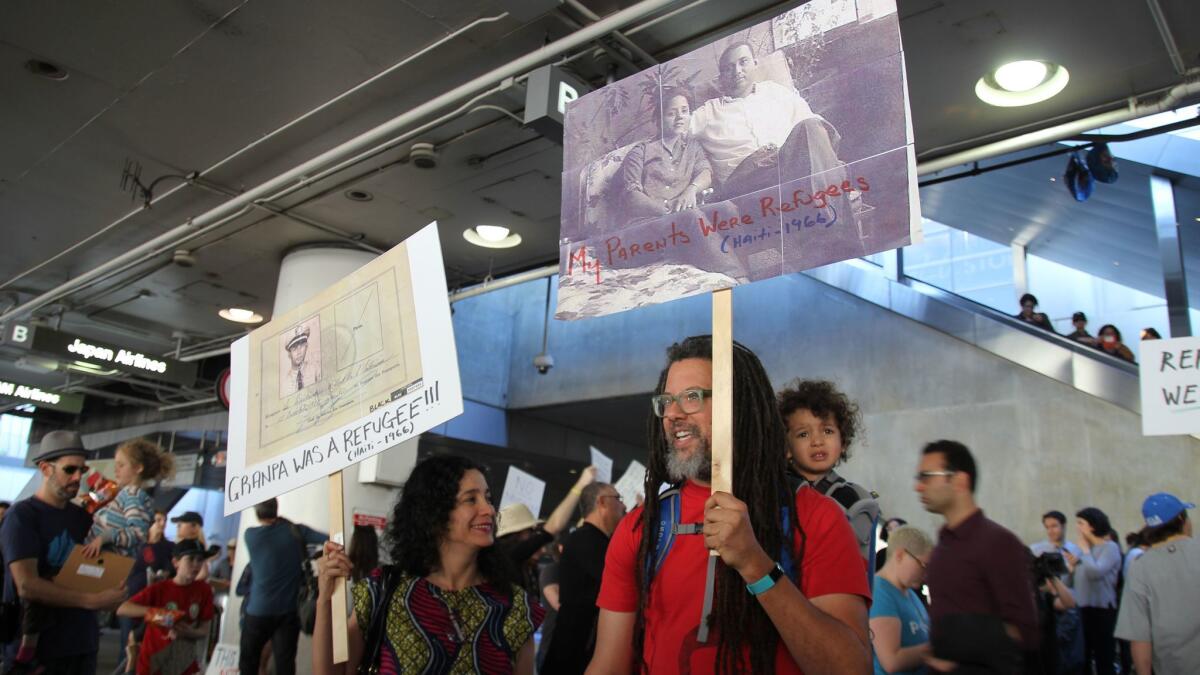 Family also motivated Ilona Berger to pile into artist Rachel Mason's grey Toyota van along with art conservator Annie Wilker and a bunch of handmade signs to join a caravan of art workers participating in the airport protests Sunday afternoon.
"My mother's family came from the Soviet Union — they were Jews who came as refugees," said Berger, who runs the Hollywood contemporary arts space Last Projects. "My family was really grateful to be here."
Cultural figures all around Los Angeles — from visual artists to educational administrators to members of the roots rock band La Santa Cecilia (one of whose members resides in the U.S. on a green card) were in the crowds of protesters. On Twitter, the band posted the statement: "In solidarity and love with our Muslim brothers and sisters!"
We believe that the order is ill-advised, unnecessary, and destructive.
— James Cuno, J. Paul Getty Trust president
The Markaz, a Hollywood-based organization that stages literary, musical and other events exploring the culture of a broad swath of largely Muslim nations, from Sudan to Afghanistan to Azerbaijan, dispatched translators to LAX to assist families of travelers who got mired in the ban.
Jordan Elgrably, the director of the Markaz, said the executive order on travel is bound to make life more difficult for his organization. Even before the ban, the Markaz cancelled, on average, at least one event a year because performers couldn't secure visas on time or at all.
"We're really at the mercy of the Department of Homeland Security and that's been the case for a long time," Elgrably said. "We have a concert on Saturday, Feb. 4, of Moroccan performers [Master Hassan Ben Jaafer & Innov Gnawa]. One is American and the others are Moroccan citizens. Once they get on a plane to go home, we don't know if they can ever come back."
Though Morocco is not one of the seven nations on Trump's ban list (which includes Yemen, Iraq, Syria and Libya), the ban nonetheless leaves a question mark hanging over future exchanges.
In early March, the Markaz is hosting an event at Larchmont Village's Chevalier's Books to mark the 10th anniversary of the bombing of Baghdad's Mutanabbi Street, once one of Iraq's most important literary centers. Elgrably said that all of the participants for the program are in the U.S., so the program is a go. But he is concerned about events moving forward.
The same goes for larger institutions, including the Los Angeles County Museum of Art. "We do have ongoing programs that could be affected," said Linda Komaroff, who oversees the museum's Middle East department.
In April, LACMA is unveiling an exhibition of works by Saudi artist Abdulnasser Gharem. Saudi Arabia, a key U.S. ally, isn't on the ban list, but the political situation could complicate the request for Gharem's visa.
Moreover, the museum is in the middle of organizing a large exhibition titled "The Field of Empty Days: The Intersection of Past and Present in Iranian Art," which is scheduled to open in May 2018.
"It includes works by a lot of Iranian artists active from the '70s to the present day," she said. "Some live outside of Iran and many continue to live in Iran and we hope that all of them would be able to come to the exhibition."
The Farhang Foundation, an L.A.-based cultural organization that promotes the study of Iranian culture — and helped organize a new exhibition of Iranian video and photography at the Craft and Folk Art Museum — is facing a similar quandary.
"We're concerned, very concerned," said executive director Alireza Ardekani. "We do many projects and exhibitions and film festivals. We're the sole sponsor of the UCLA celebration of Iranian cinema. As part of this program, we invite filmmakers from Iran to do Q&As and present their films, and based on this ban, none of them will be able to come unless something changes. It's a huge loss to us and UCLA and to Southern California to not be able to do this."
"The net effect of all of this is to cut down on communication at a time when we need it most," LACMA's Komaroff said. "When your information is entirely restricted to a war-like situation, to acts of terrorism, to what you see on television, you can't make an informed decision about [a culture]: Are they like me? Are they not like me?
"What museums do, certainly encyclopedic museums which cover the art of all times and of all regions, like LACMA," she added, "is provide a diversity in the cultural sphere that we need."
The Getty Trust's Cuno said in his statement:"Curiosity, diversity, and tolerance are the core values of the humanities, values that require free movement of people and ideas. That's why, for years, the Getty has supported scholars, scientists and professionals from around the world — including from targeted nations — in pursuing research and study here with us. It's also why we are proud to welcome people of all faiths, colors, ethnicities, and nationalities into the Getty community."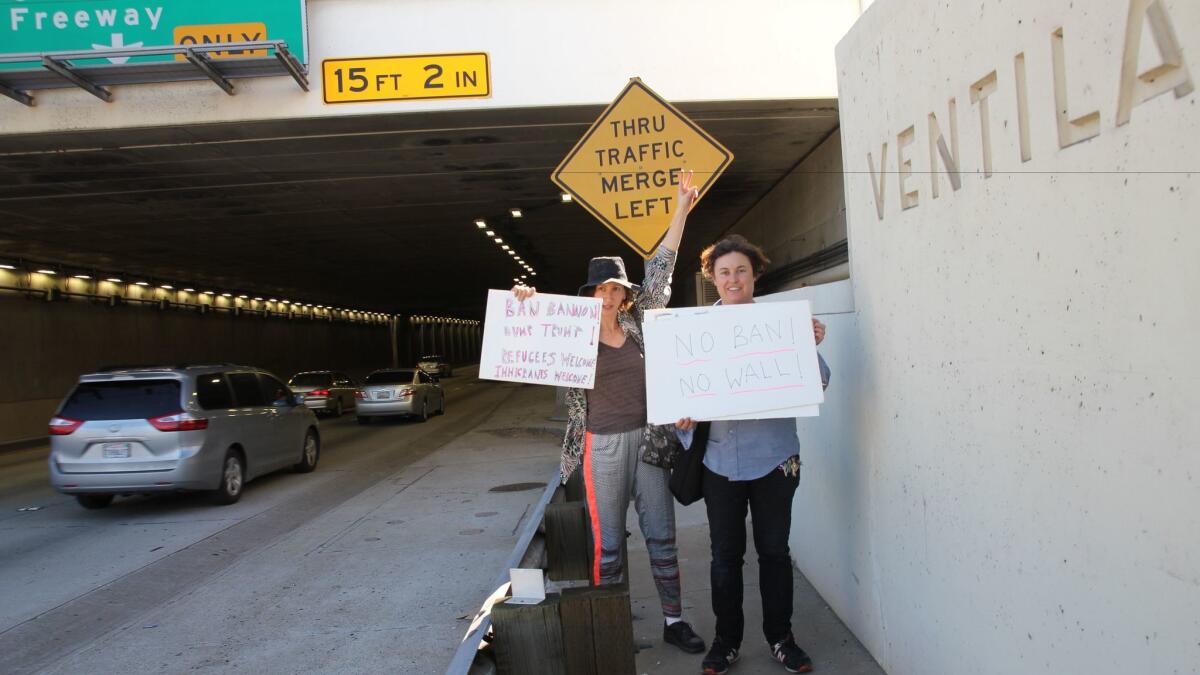 Marshall Astor, an artist who works as an administrator at Otis College of Art and Design, and attended the protest at LAX on Sunday with a contingent of colleagues, agreed that international connections are key to the art world — and added that a travel ban could put a serious chill in international admissions at area arts schools.
"International travel is part of the day-to-day in the educational universe," he said, standing before the arrivals area at Tom Bradley International Terminal. "I've written visa letters for students — and it's difficult as it is."
Astor was motivated to participate in the protests by his own family's history.
"My adoptive family was denied entry to the U.S. in 1917 after being butchered in their hometown near Kiev [in Ukraine]," he explained. "And when my grandparents got to Ellis Island, they were told no more Jews so they became Canadians."
It was a story echoed by other artists in attendance — such as painter Carolyn Castaño, whose family is from Colombia, and Haitian American writer Gary Dauphin, who were bearing signs that featured photos of Dauphin's parents inscribed with the phrase: "Granpa was a refugee!!!"
"My parents were political exiles," Dauphin said. "My father came as a political refugee. He fled the Duvalier regime."
"Friends of ours have family that have been detained," added Castaño. "I was so horrified to hear about Trump's executive order."
Mason, the performance artist — who for part of the protest on Sunday was dressed as her character, FutureClown, greeting passengers at international arrivals — said the travel ban stands in opposition to what art is about.
"Unless you have some definition of art that is about restriction and cutting off access," she said. "As an artist, I can't not be here."
Sign up for our weekly Essential Arts & Culture newsletter »
Twitter: @cmonstah
Twitter: @debvankin
ALSO
As Trump talks building a wall, a Japanese art collective's Tijuana treehouse peeks across the border
With vigils, a film, a comic and plenty of marching: How the L.A. art world faced Trump's inauguration
Artist Theaster Gates on W.E.B. DuBois and what Donald Trump doesn't get about Chicago
Get our L.A. Goes Out newsletter, with the week's best events, to help you explore and experience our city.
You may occasionally receive promotional content from the Los Angeles Times.