Behind the impasse that led USC's 2016 MFA students to withdraw in protest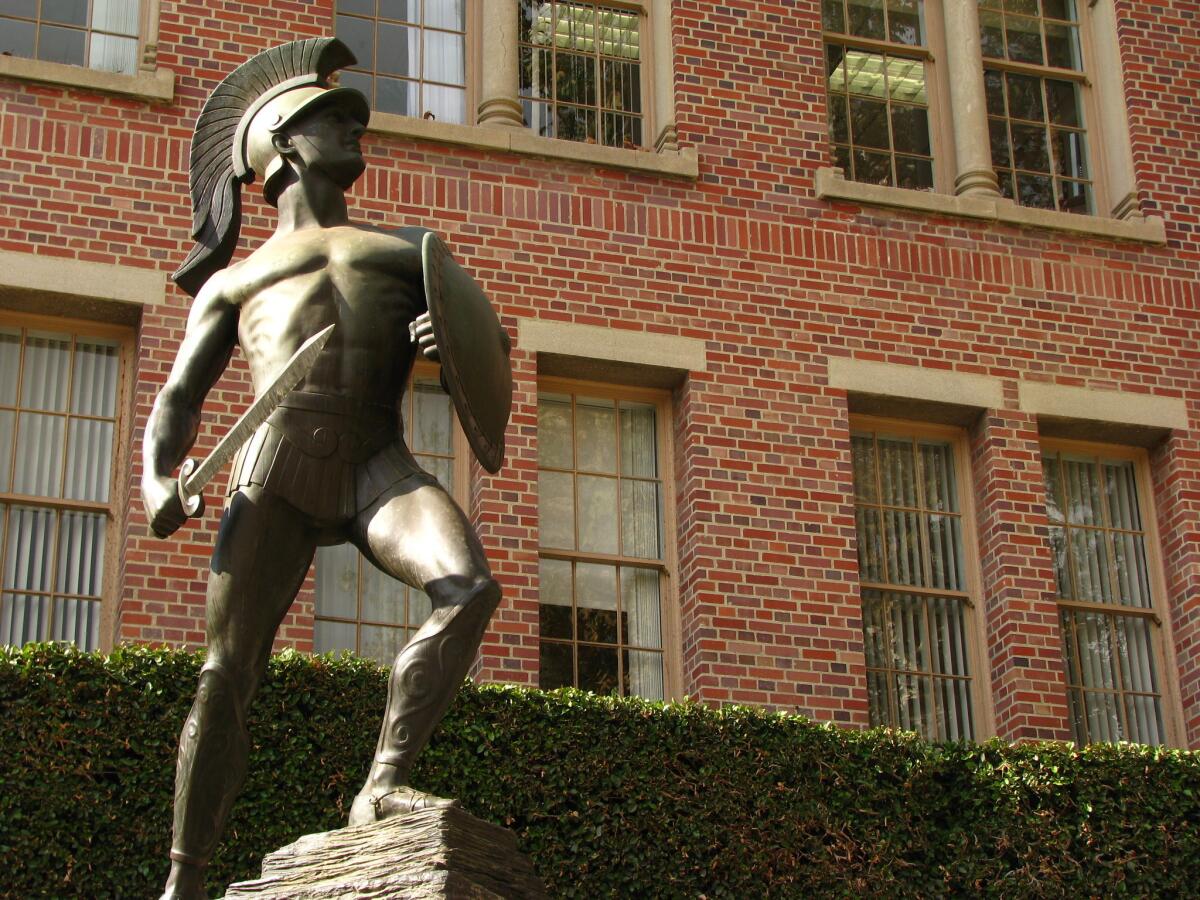 The graduate class of 2016 at USC's Roski School of Art and Design withdrew in protest Friday from the visual arts program over administration and curriculum changes.
The master of fine arts students publicly posted a letter on the website Art & Education. "We are a group of seven artists who made the decision to attend USC Roski School of Art & Design's MFA program based on faculty, curriculum, program structure and funding packages," they wrote. "We are a group of seven artists who have been forced by the school's dismantling of each of these elements, to dissolve our MFA candidacies."
The conflict stems from changes made to the program after students had already arrived on campus, as well as resignations by prominent faculty members.
"It's a different program from what I enrolled in," said George Egerton-Warburton, an Australian national who turned down offers from Columbia University and Pasadena's Art Center College of Design to attend USC. "I had a dreamy first semester — it had a tone of rigor. But we've lost that this semester."
Beyond the MFA candidates' specific issues, there has been concern among some students and faculty that USC might be marginalizing the work of the fine arts department in favor of creating buzzier academic programs that draw the tech set.
Egerton-Warburton is especially concerned about coursework focused on teaching and criticism replacing the studio-intensive, visiting-artist courses for which the program is known.
"We were presented with a different curriculum," the students' letter said, "one in which entire semesters would occur without studio visits, a bizarre choice for a studio art MFA."
In response to a request for comment, Roski School dean Erica Muhl emailed a statement to the Times (which you can read in its entirety on the school's website).
"I regret that several of our MFA students have stated they will leave the program over issues that were presented to us, and that we considered to have been resolved, specifically having to do with financial aid and curriculum," Muhl said. "The school honored all the terms in the students' offer letters."
In addition to curriculum changes, the students were upset that they were no longer guaranteed teaching assistant positions. Mid-year the students were asked to submit applications with writing samples and references.
"We were told that we would have to apply for, and compete with a larger pool of students for the same TA-ships promised to us during recruitment," the students' withdrawal letter stated.
Muhl, however, said in her emailed response, "We offered the students scholarship support with an option to apply for a TA-ship in their second year."
The visual arts MFA program at Roski is small but highly respected, comprising a total of 14 to 16 first- and second-year students per year. Known for its artist-centered approach and generously funded fellowships, it has produced many well-regarded contemporary artists, including international art star Paul McCarthy, who got his MFA at USC in 1972; installationist Amanda Ross-Ho, and multimedia artist Elad Lassry, who has shown his work at the Venice Biennale and the Museum of Modern Art in New York.
In 2013, Muhl, who has a music background, was appointed dean of the art and design school. But she wears other hats at the university.
In addition to overseeing Roski, she is the director of USC's newly launched Jimmy Iovine and Andre Young Academy, which accepted its first class last fall. The program integrates studies in art, design and computer science, as well as business and venture management. It was funded by a $70 million grant from Interscope Records co-founder Iovine and Young (better known as rapper Dr. Dre), who together run the streaming service and audio company Beats Electronics.
Muhl has also helped launch a co-branded online master's degree with Wired Magazine that kicks off this fall with a hybrid curriculum focused on design, business and tech.
DeWitt Godfrey, president of the College Art Assn. and a Colgate University professor of art and art history, says that at a time when many parents and students question the utility of pricey university degrees, many universities are responding with programs that play up the possibility of future employment.
"In the case of USC," he said, "they're making a big push into an interdisciplinary arts school that has a lot to do with technology and uses a lot of Silicon Valley buzzwords like 'disruption.'"
Soon after her arrival as dean, Muhl oversaw a name change: from the Roski School of Fine Arts to the Roski School of Art and Design
At many schools that feature both art and design, Godfrey says, "design gets more attention and often more funding."
With the curriculum changes at USC have come significant departures and personnel shifts in the fine arts division.
In December, Frances Stark, a prominent Los Angeles artist and tenured professor of painting and drawing, abruptly left the school after a decade of teaching. This month Stark opens a one-woman show at the Art Institute of Chicago and, in October, she has a solo at the Hammer Museum in Los Angeles. She received tenure in 2012.
Around the same time as Stark's departure, A.L. Steiner, a photographer and installation artist whose work has been shown at the Hammer and New York's Whitney Museum, stepped down as director of the MFA program to focus on teaching. In February, graduate coordinator Dwayne Moser, who had been at Roski for half a dozen years, left the school entirely.
Reached via email, Stark declined to comment on why she left the university, but emailed a statement of support for the students. "The students are correct in terms of funding, curriculum, and faculty structure," she wrote. "All changed in relation to the program they agreed to enter."
Moser said that he left to "gain some distance from institutional politics." Steiner could not be reached for comment.
Godfrey said that the high-profile departure of Stark raises other issues as well.
"I'd say that the disconnect between the faculty and the administration is much more alarming," he said. "The problem isn't just disenfranchising students, it's forcing faculty out. When you see a tenured person leaving, there's always the concern that they will be replaced by part-time or adjuncts — and that trend is really worrisome."
The USC seven, meanwhile, emphasize that withdrawing was not a decision they took lightly.
"It's a big thing," said Julie Beaufils, one of the letter's signatories. "I came from France to come to this program. I didn't apply to any other program because I wanted this one specifically — because of faculty like Frances Stark."
Schafer, who is from New York and left a full-time job at Art in America magazine to attend USC, said everyone is now scrambling to find jobs now that their studies are coming to a premature end. She had applied to a number of other schools — including UCLA and Yale University — but had decided to attend USC because of the intimate nature of the program and its strong reputation among young contemporary artists.
"It's kind of traumatic," she says of the decision to withdraw. "But I'll stick around L.A. Personally, I'm considering reapplying to UCLA."
To read the full letter from the seven students visit artandeducation.net.
Find me on Twitter @cmonstah.
Get our L.A. Goes Out newsletter, with the week's best events, to help you explore and experience our city.
You may occasionally receive promotional content from the Los Angeles Times.