A new U.S.-Mexico border? At the Venice Biennale, imagining a binational region called MEXUS
Teddy Cruz and Fonna Forman aren't the sort of urbanists to get squeamish over a little raw sewage.
In 2011, the pair led a curious procession of 300 day-trippers from San Diego's side of the border through a drainage pipe to Tijuana.
"We negotiated with Homeland Security for a year to let us transform one of the drains [under the border wall] into an official port of entry for 24 hours," says the architect Cruz, seated in a map-covered studio he shares at UC San Diego with Forman, a political scientist. "They said okay because we were exiting the U.S. But we had to have Mexican immigration waiting for us at the other end."
The pipe connects a natural preserve on the U.S. side with higher elevation canyonlands to the south. A video on the website of San Francisco's Yerba Buena Center for the Arts, where Cruz and Forman exhibited their work last year, shows a pair of immigration agents at a folding table stamping passports as a stream of dingy wastewater cascades beside them.
"It's sewage," Forman says matter-of-factly. "And maquiladora waste."
The action was part of a larger project in which Cruz and Forman examine how political boundary lines between countries sometimes fail to take into account the larger natural forces that shape a region. For example, concrete drainage channels integrated into the current border wall have accelerated the movement of waste from an informal settlement in Mexico's Los Laureles canyon into an estuary in the United States.
"The wall has been sold as an artifact of security," says Cruz, "but it's actually an artifact of environmental insecurity."
Forman and Cruz don't look at the U.S.-Mexico border as a dividing line. They look at it as a region — one with a shared culture, economy and environment. That vision is why they were chosen as one of seven design teams to be featured in the U.S. Pavilion's official exhibition, "Dimensions of Citizenship," at this year's Venice Architecture Biennale, which opens Saturday.
For this project, Cruz and Forman have reimagined the U.S.-Mexico border. Starting with the by-now familiar undulating shape of the dividing line, they erased the narrow political boundary and created a new 154,000 square-mile border region they call "MEXUS." The outline, which frames a broad swath of interwoven mountain and river ecologies, bears a passing resemblance to a dragon — a shape the designers humorously refer to as "the monster." (San Diego contains the head; Brownsville, Texas, the tail.)
With this map, Cruz and Forman highlight the broader environmental issues the U.S. and Mexico face as one.
"It is," Cruz says, "about how to bring institutions at odds with one another to an understanding that they are both mutually responsible for advancing the agenda."
As part of their practice, Cruz and Forman established community field stations in the greater San Diego-Tijuana region to share and gather data for a cross-border study. Their goal is to better understand common values shared by inhabitants in one of the largest binational metropolitan areas in the world.
In addition, they've mapped the eight watersheds that straddle the length of the 2,000-mile U.S.-Mexico border. They will present that research and other documentation about the ways nature has shaped this contentious border as a large-scale installation to be unveiled at a preview viewing of the Biennale's U.S. Pavilion on Friday.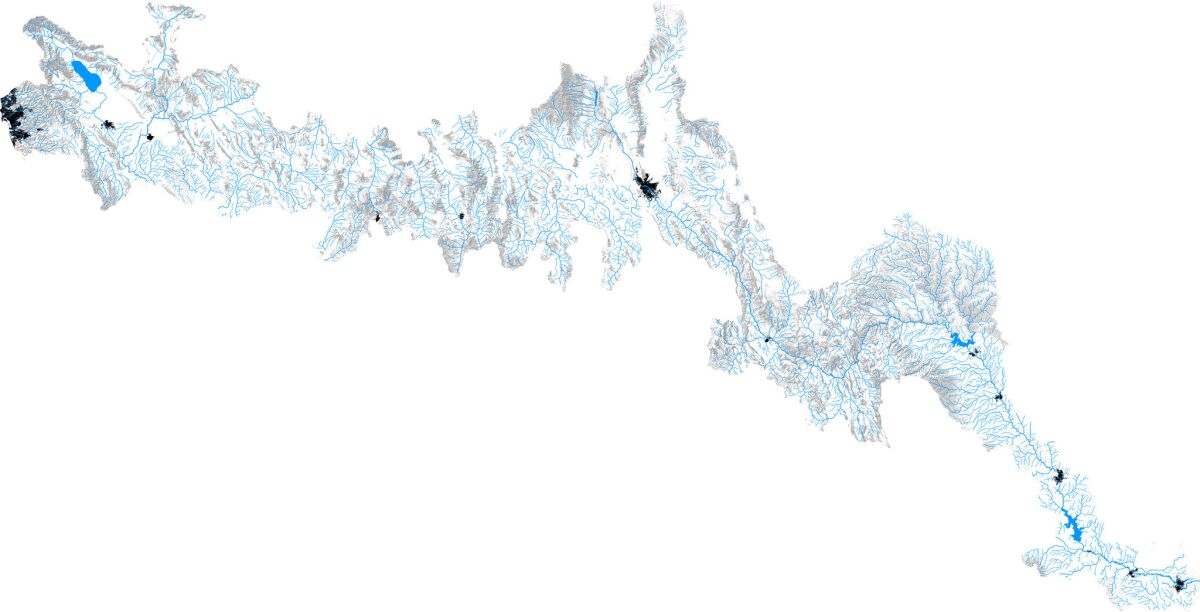 Other projects from well-known architectural firms also explore aspects of citizenship beyond simple notions of the nation-state for the U.S. Pavilion exhibition. Chicago's Studio Gang has been investigating a new type of civic monument as part of a riverside development project in Memphis. New York's Diller Scofidio + Renfro will show satellite images of lights on Earth at night as a way of seeing which populations have literal access to power.
New York City landscape architecture firm SCAPE will present a project on ecological citizenship — how humans have shaped the landscape around Venice (a crucial topic at a time of rising tides). Plus, Chicago artists and designers Amanda Williams and Andres L. Hernandez are teaming up with hair artist Shani Crowe for a work inspired by the ways in which race shapes identity and the built environment.
"The two muses are Harriet Tubman and Harriet Jacobs," says "Dimensions" co-curator Mimi Zeiger. "African Americans have not had the full rights of citizenship for much of our history, so what is the black spatial practice of citizenship?"
"The piece will be metaphorical and aesthetic," she adds. "For architects, it may challenge their understanding of what architecture is."
Challenging the idea of citizenship is also one of the goals of the "Dimensions" exhibition.
"For us, it's about how do we complicate this idea of understanding where we belong and not being beholden to national citizenship," Zeiger says.
The word "citizen" and "city" both have their roots in the Roman word "civitas," which translates roughly to a community bound by shared laws, including nature's. A citizen can be a citizen within all manner of communities — not just a national one.
"We all have many identities," Zeiger says. "You have the identity of your neighborhood. You have the identity of your city. You have the identity in an online game — which transcends borders."
And those borders? "It's way more complicated and rich than a single line," she says.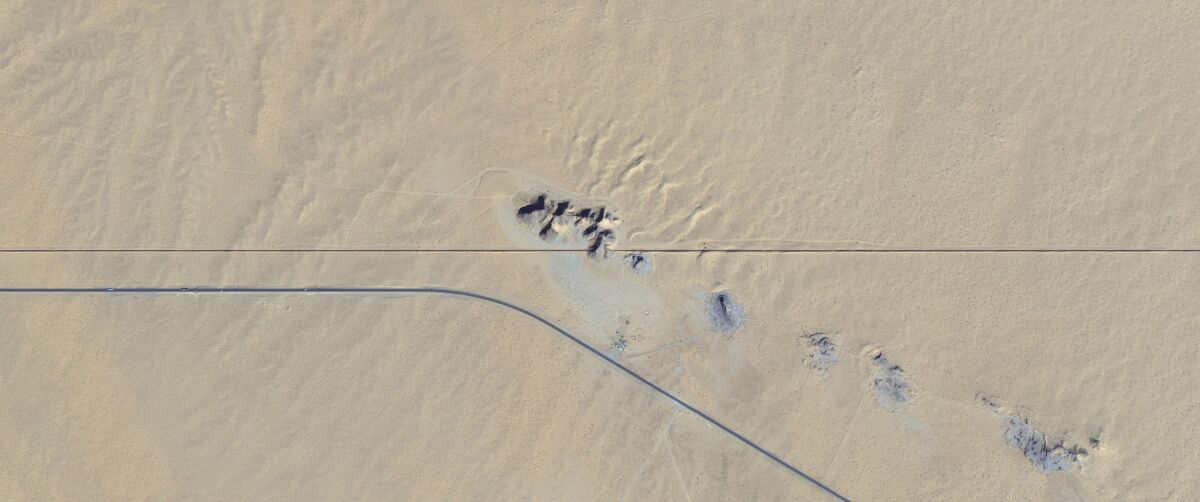 But "Dimensions of Citizenship" lands at a moment in which some lines appear to be hardening — at least in the United States.
Donald Trump campaigned for the presidency on the promise of building a "big, beautiful wall" to keep out Mexican immigrants, whom he has variously described as criminals, "rapists" and "animals."
This makes an exhibition that questions established notions of borders and citizenship a little quixotic and a lot subversive. It is more remarkable given the fact that any installation in the U.S. Pavilion must be approved by the National Endowment for the Arts, then by the State Department — two federal agencies.
"We made the pitch to the NEA in January of 2017," Zeiger says. "It was between the election and the inauguration. I thought we had a snowball's chance to get this piece around citizenship through — but then we got it."
Which also makes "Dimensions of Citizenship" just a little bit meta: a show that deconstructs national identity will be showcased within a pavilion that is premised on national identity in a city, Venice, that was once an independent nation-state.
To further puncture the concept of nationhood, the exhibition will also feature a "transit lounge" that will screen a range of international films that deal with ideas of in-betweenness — such as a 1968 Afrofuturist film about the space race, which tells the story of a young Zambian woman who is prepared by her tribe to be shot into space.
"This isn't all spinach," says Zeiger.
The exhibition was commissioned by the School of the Art Institute of Chicago and the University of Chicago and the concept was developed by a trio of curators: architectural historian Niall Atkinson and architect Ann Lui, both from Chicago, and Zeiger, an independent curator and critic based in Los Angeles.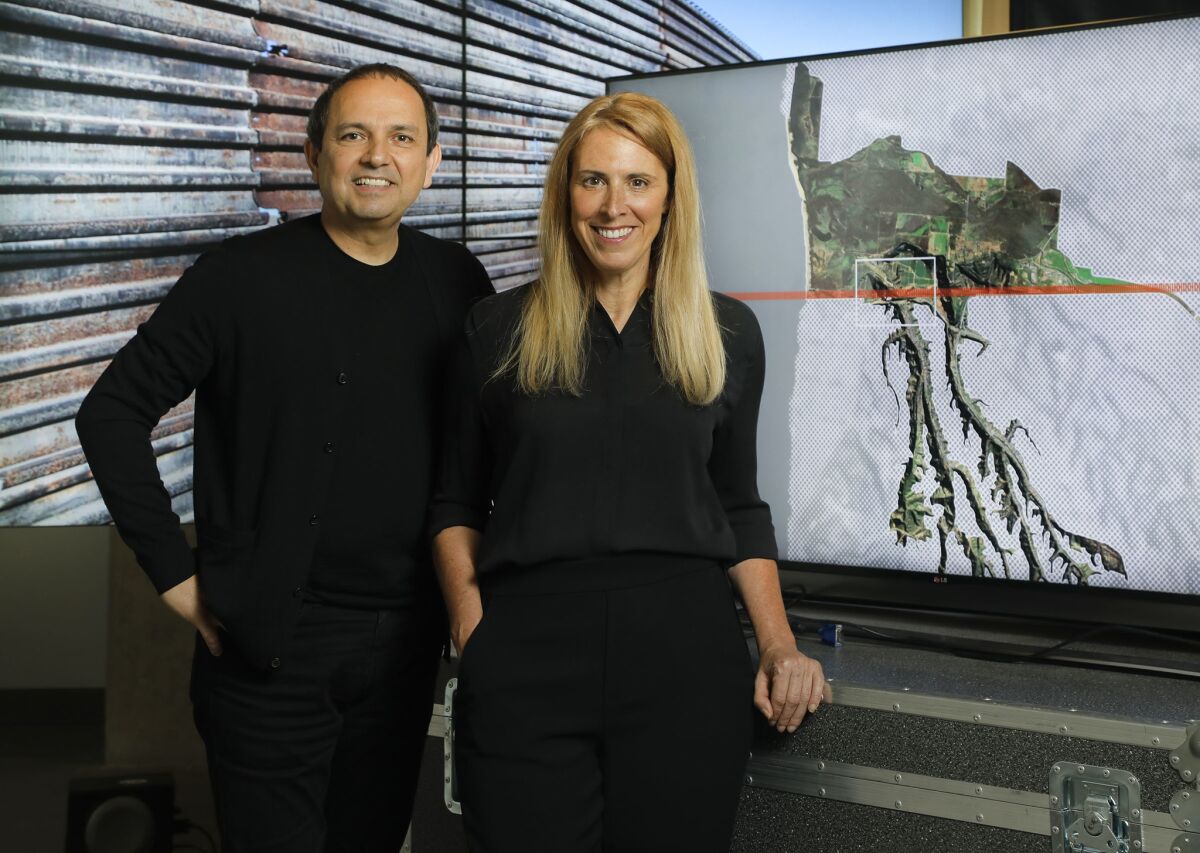 Of the teams represented, Cruz and Forman are the only ones from California. But the questions they raise are universal — and go beyond the glut of renderings depicting the border wall and its various, more aesthetic alternatives.
"The border wall can be such a strong architectural draw that it tends to dominate," says Zeiger. "We were able to take a much wider look at how these things are seen."
And taking a wider look at the ways in which the U.S. and Mexico come together is something Forman and Cruz have been doing for years, though they arrived at the topic of the border in different ways.
Guatemala-born architect Cruz — a recipient of the prestigious Rome Prize in 1991 at the tender age of 29 — immigrated to San Diego as a young man and was quickly intrigued by what proximity to Mexico represented. Forman is a political theorist best known for producing a celebrated revisionist history on economist Adam Smith. She was interested in working on issues of development when she landed at UC San Diego in 2002 — and the border represented a "dramatic proximity of wealth and poverty."
"Entering Tijuana for me was nostalgic," Cruz says. "I was back in Guatemala, basically. It resonates with home. I could never see myself any other place."
The border also set him on his path as a research architect: "My disillusionment with architecture was crossing the border and seeing these inequities that my field was not talking about at all."
In 2011, they established UCSD's Cross-Border Initiative, which promotes community-led solutions to urban design problems. That same year, they also founded their eponymous studio.
"Basically on our first meeting, we planned our first conference together," says Cruz with a smile. "It was instantaneous."
Together, they make a formidable pair: loquacious, frank, hyper-articulate, dead serious in their attempts to shift cultural narratives about the border from those that dwell on conflict and xenophobia to ones that focus on points of connection and collaboration — since, wall or no wall, the San Diego/Tijuana border is an irrepressible point of exchange.
For Cruz, shifting those narratives is as important as coming up with some inventive design.
"Climate action, for example, doesn't only depend on energy technology," says Cruz. "It depends on culture. It depends on shifting patterns and social norms. Artists and architects can be great interlocutors of that."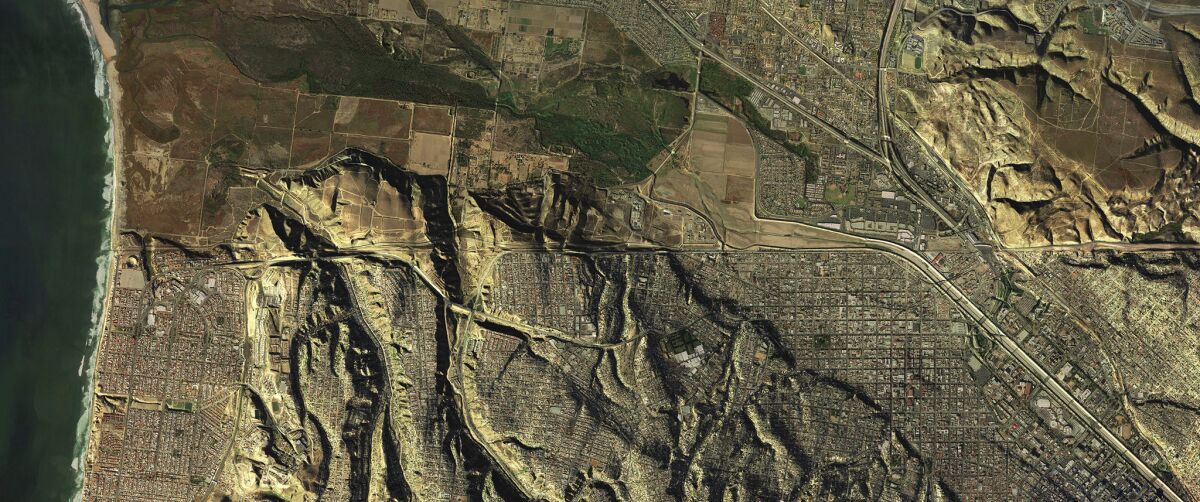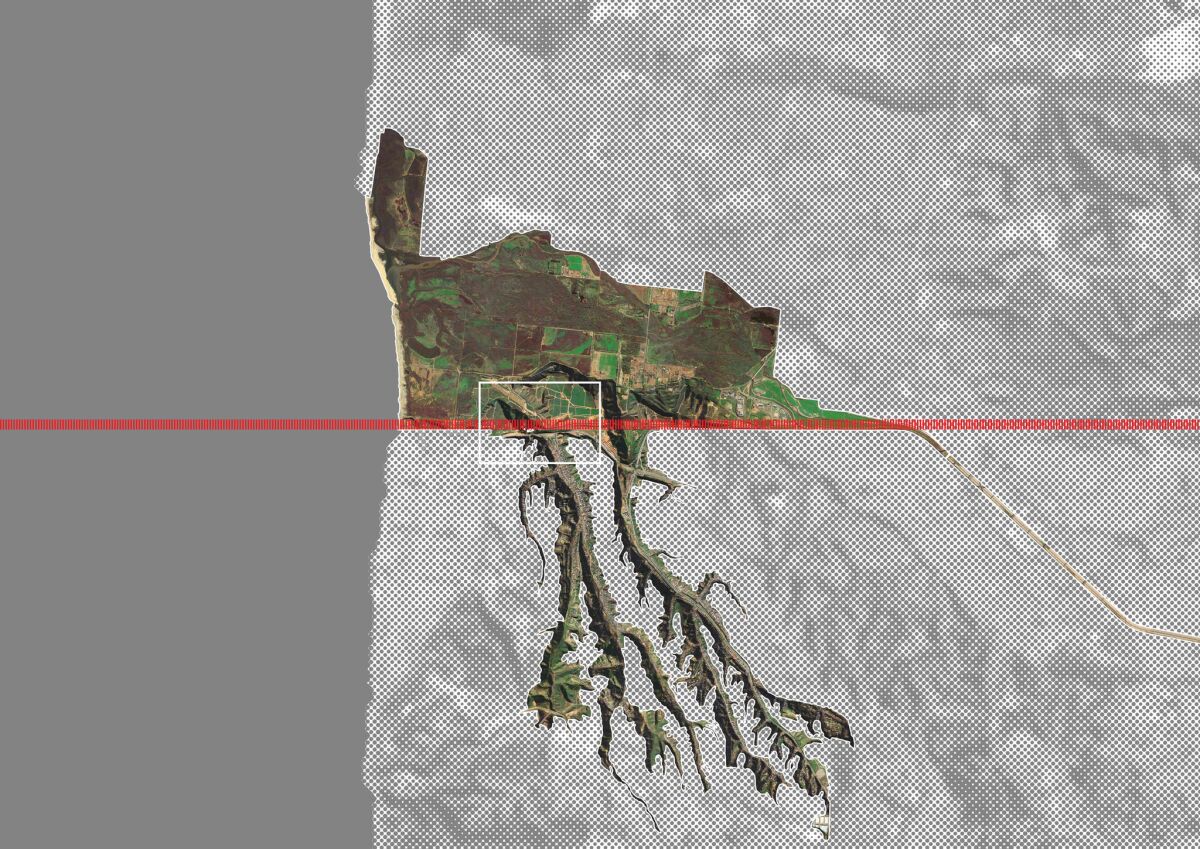 As part of their research into watersheds, Cruz and Forman have created an inventory of public lands in Los Laureles that can serve multiple purposes — as green space, environmental education center and natural buffers to mitigate flows of waste. And they are working to see how they can create a mechanism to invest in those spaces so that they might be preserved.
"Instead of the investing in the wall," says Cruz, "can we invest to get the poor settlement to regulate the flow of waste? Can we get the poor residents to take care of the rich estuary?'
The subjects are tricky, but in these types of projects, Zeiger says she sees plenty of optimism.
"In architecture, if we don't allow ourselves to visualize a condition that is different than the current condition, then we really cut off how we will impact the future," she says.
For Forman, that consists of fomenting a new type of border culture.
"Citizenship," she says, "is not an identity card. It's about coexisting and building a city together."
---
Sign up for our weekly Essential Arts & Culture newsletter »
Get our L.A. Goes Out newsletter, with the week's best events, to help you explore and experience our city.
You may occasionally receive promotional content from the Los Angeles Times.