'It's going to be a big, fat, beautiful wall!': Trump's words make his California climb an even steeper trek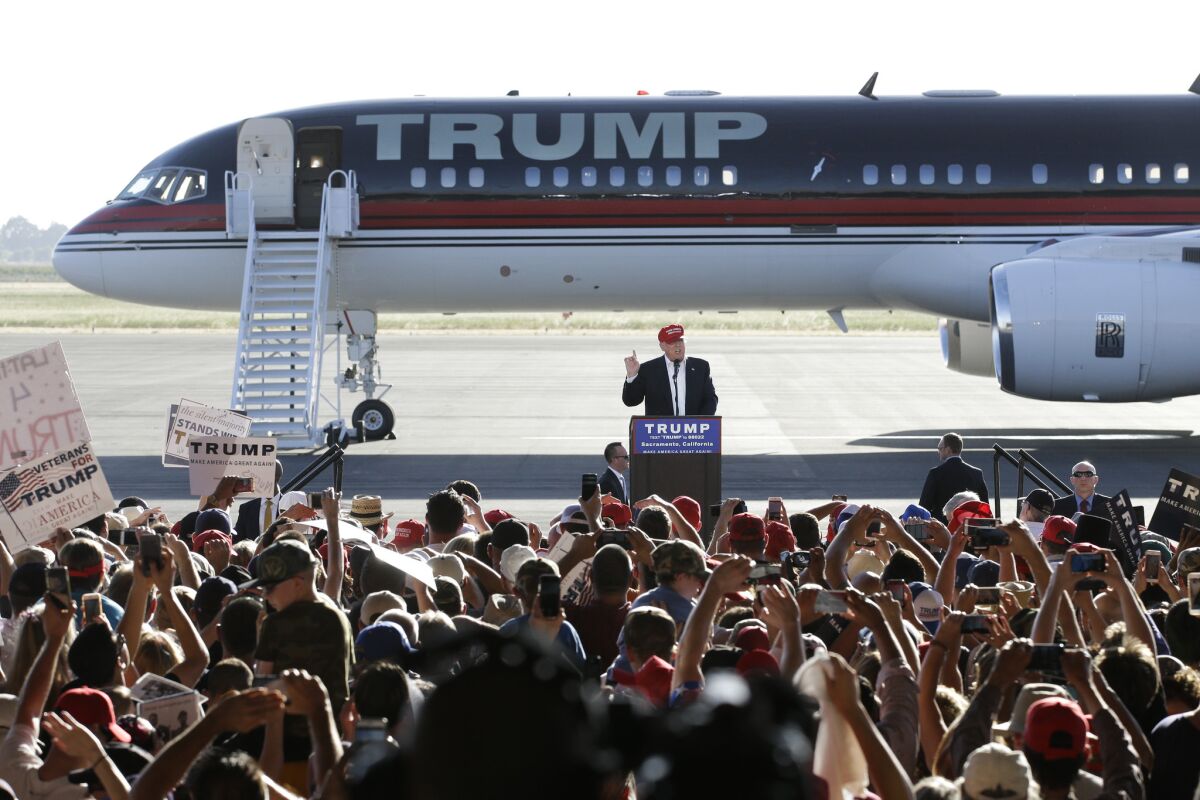 Donald Trump says he can be the first Republican presidential nominee to win California since 1988, but his rhetoric on immigration, the environment and guns risks pushing the strongly Democratic state even further out of his reach.
In recent travels across the state, Trump has shown no inclination to modulate his language the way nominees normally do as they turn from their party's primary toward a wider general-election audience.
Instead, he has emphasized positions that are not only out of step with independents and Democrats whose support he would need to carry California, but also with many fellow Republicans in the state.
"He's reinforcing all of the negative stereotypes of the Republican brand that have been hurting us for 20 years, which is a peculiar approach to putting California back in play," said Mike Madrid, a Republican campaign consultant in Sacramento.
At rallies in Anaheim, San Diego, Sacramento, San Jose and Redding over the last week, Trump has riled up overwhelmingly white crowds with his call to build a wall along the southern border and force Mexico to pay for it.
"It's going to be a big, fat, beautiful wall!" Trump shouted to cheering supporters Thursday night in San Jose.
More than 7 in 10 Californians oppose building a border wall, according to a poll last month by the Public Policy Institute of California.
Though Republicans favored the proposal, they are a sharply diminished force in California elections, thanks largely to a GOP hard line on illegal immigration that has turned away the state's growing Latino and Asian population. The party's share of California voters has slid to 27%.
In San Diego last week, Trump deepened his trouble with Latinos as he attacked the judge overseeing a fraud lawsuit against Trump University, his defunct real estate program, calling the judge a Mexican and saying, "I think that's fine."
He went further Thursday and Friday, saying the ethnic heritage of U.S. District Judge Gonzalo Curiel, who was born in Indiana to Mexican immigrants, made it a conflict of interest for him to handle the case. "He's a Mexican," Trump told CNN. "We're building a wall between here and Mexico."
Bill Carrick, a veteran California strategist running the U.S. Senate campaign of Democrat Loretta Sanchez, called the initial remark "blatantly racist" and "blatantly stupid."
"It just makes it harder for him to have any appeal to Latino voters at all – and a lot of other voters," Carrick said.
Republican leaders have voiced similar concerns on a national scale. Senate Majority Leader Mitch McConnell of Kentucky said Thursday that he worries Trump might drive Latinos from the Republican Party the way GOP nominee Barry Goldwater did with blacks after opposing the Civil Rights Act during the 1964 presidential race.
McConnell, who has endorsed Trump, told CNN that Trump made a "big mistake" last week by attacking Republican Gov. Susana Martinez of New Mexico, the nation's first Latina governor.
Trump spokeswoman Hope Hicks did not respond to a request for comment.
It's going to be a big, fat, beautiful wall!
— Donald Trump, to cheering supporters in San Jose
Trump can be deft about calibrating his rhetoric at times, routinely muting some of his more controversial positions.
Apart from answering reporters' questions, Trump rarely discusses his support for barring Muslims from entering the U.S., punishing doctors who perform abortions, overturning the Supreme Court ruling that legalized same-sex marriage, and deporting millions of immigrants in the country illegally.
Trump also refuses to answer questions about his demand in 2011 that President Obama release his birth certificate to prove he was born in the U.S.
And he rarely talks about his belief that climate change is a hoax, a topic he often raised on Twitter in the years before his run for president – and one that could cause him trouble in California.
On the eve of his California visit last week, Trump told a petroleum conference in North Dakota that he would withdraw the United States from the landmark Paris treaty to curb greenhouse gas emissions.
"In a Trump administration, political activists with extreme agendas will no longer write the rules," he said.
But 8 in 10 Californians, including half of Republicans, viewed global warming as a serious threat to the state's economy and quality of life, a Public Policy Institute survey found last year. And nearly two-thirds of Californians supported the state making its own policies separate from the federal government to address global warming.
At his California rallies, Trump has steered clear of climate change. But in Fresno, he mocked environmentalists, saying their misguided efforts "to protect a certain kind of 3-inch fish" were depriving farmers of sorely needed water.
It was a sharp break with the custom of California Republicans to use support for environmental protections to appeal to Democrats and the independents who side with them in most statewide elections.
The state's last Republican governor, Arnold Schwarzenegger, made efforts to cut greenhouse gas emissions a cornerstone of his 2006 reelection campaign. Schwarzenegger also broke with conservatives in his party on immigration, supporting a path to citizenship for many of those in the country illegally.
When he was first elected in the 2003 recall election, Schwarzenegger also had advantages Trump will not: Most Californians thought the state was moving in the wrong direction, and they strongly disapproved of its Democratic leadership.
"That's not the mood in California now," said pollster Mark Baldassare, president of the Public Policy Institute of California.
Trump's staunch opposition to gun control could also pose problems in the state, where polls have found most voters believe in stronger restrictions on access to firearms. At all of his campaign stops here, Trump has touted his endorsement by the National Rifle Assn. and accused his presumed Democratic rival, Hillary Clinton, of trying to abolish the 2nd Amendment.
"We're going to keep our guns — don't worry about it," Trump told the crowd in Sacramento. "You need them."
Beth Miller, a Republican campaign consultant in Sacramento, frets that Trump could cause long-term harm to GOP candidates in California who embrace his candidacy.
"It could potentially backfire for years to come," she said. "I think there are going to be a lot of Republican candidates who are going to have to very delicately distance themselves from Donald Trump's rhetoric."
As for Trump himself, his prospects in California are grim, according to the latest USC Dornsife/Los Angeles Times poll. It found that 71% of California voters had an unfavorable impression of him, and Clinton would beat him in a hypothetical November match up by 26 points.
ALSO
Speaker Paul Ryan endorses Donald Trump
Clinton says Trump's foreign policy agenda is 'dangerously incoherent'
Just like Clinton, Obama has an argument against what Donald Trump says about foreign policy
Twitter: @finneganLAT
---
UPDATES:
June 3, 5:41 p.m.: This article was updated with additional remarks by Trump.
June 2, 8:09 p.m.: This article was updated with a quote from Trump in San Jose.
---
Life is stressful. Our weekly mental wellness newsletter can help.
You may occasionally receive promotional content from the Los Angeles Times.