Audiosphere: Looking for a comedy podcast? Earwolf has dozens to make you laugh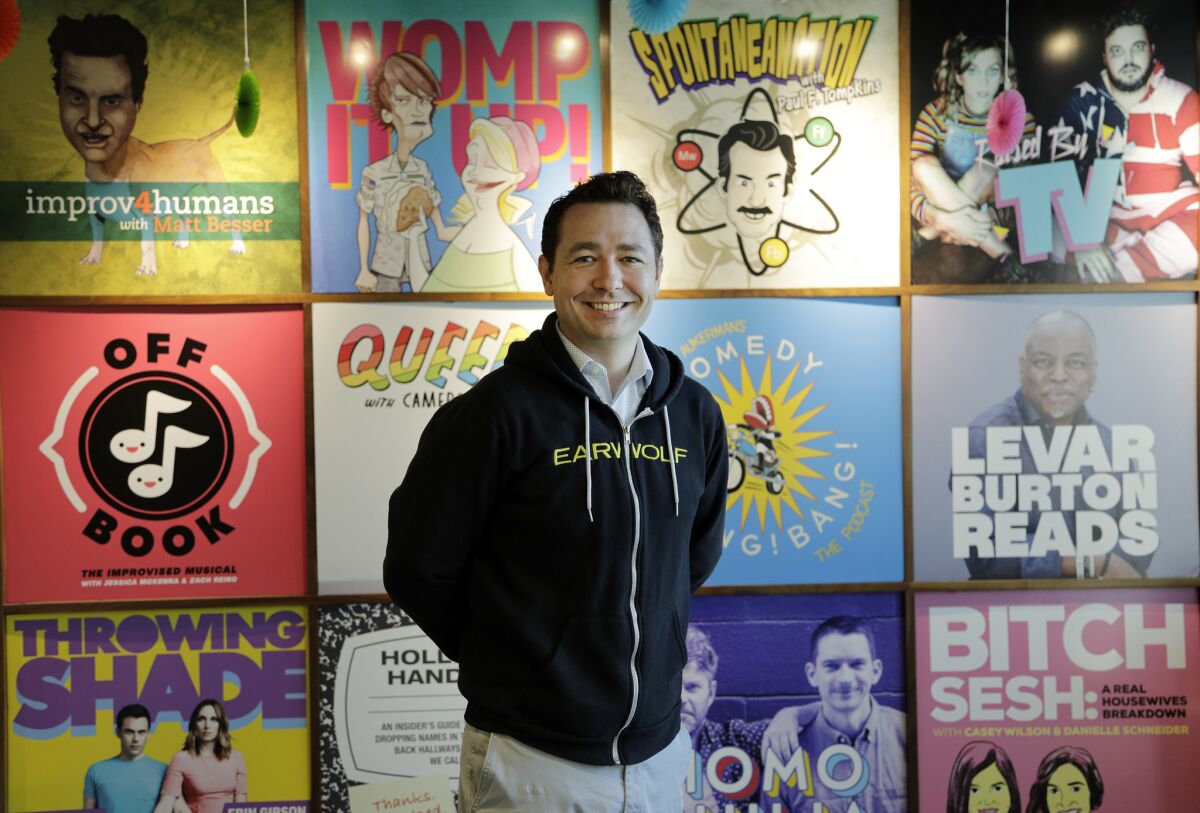 When Scott Aukerman and Jeff Ullrich came up with the idea of launching a podcasting network in 2010, it was a tough sell. Their connections in the worlds of television and stand-up comedy barely knew what podcasts were, let alone understood the appeal of bundling a whole bunch of them together.
"We would get laughed out the door," Aukerman says of some of their early meetings at talent agencies like CAA. "People really didn't get it at the time."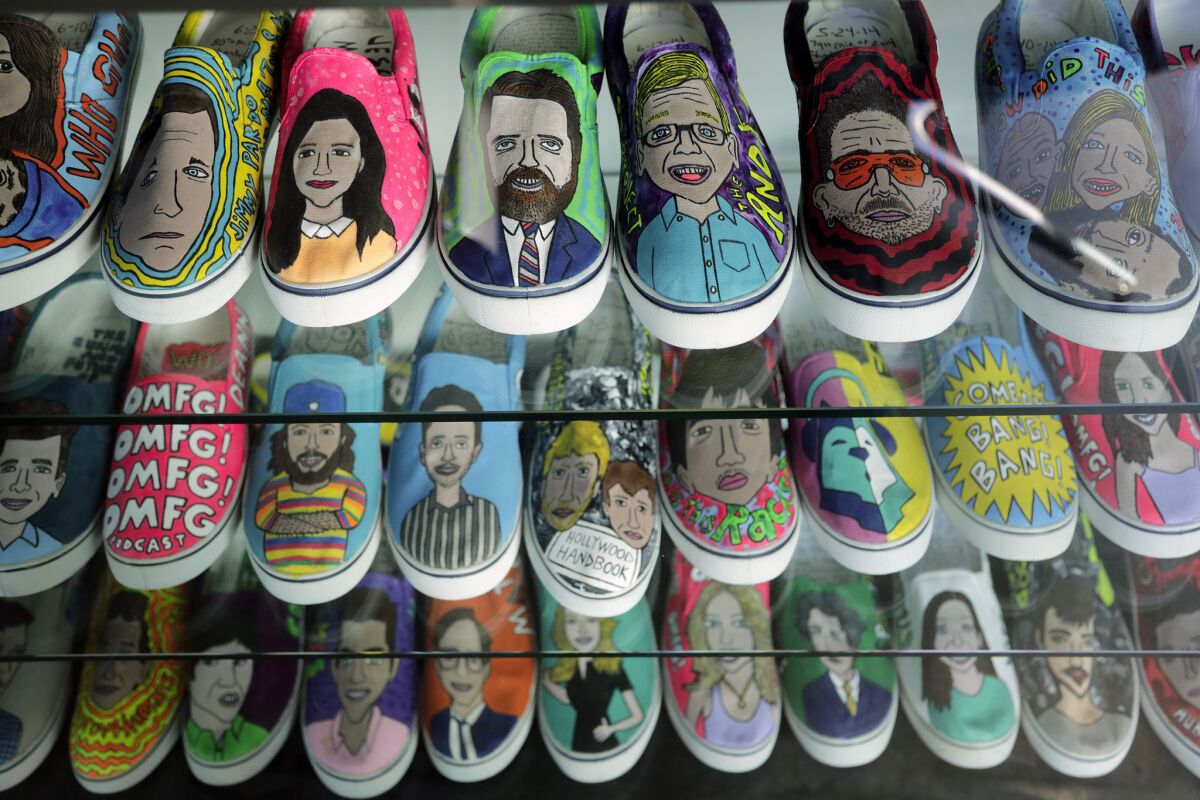 Eight years later, their network, Earwolf, is one of the most successful producers of comedy podcasts in the business, with 35 shows that are collectively downloaded over 14 million times a month. Anchored by Aukerman's own long-running "Comedy Bang! Bang!", Earwolf is now the podcasting home of an enviable roster of talent that includes Paul F. Tompkins, Michael Ian Black, Cameron Esposito, W. Kamau Bell, Hari Kondabolu and Gilbert Gottfried.
Recently, Earwolf raised its profile even further by welcoming Conan O'Brien into the fold. His long-form interview show, "Conan O'Brien Needs a Friend," is "our biggest show already," according to the network's executive producer, Colin Anderson.
Aukerman, a veteran of improv and sketch comedy who cut his teeth as a writer and occasional performer on HBO's '90s cult favorite "Mr. Show," got into podcasting more or less by chance. In 2009, a friend at radio station Indie 103.1, which had just left the FM dial and gone internet-only, said the station was looking for people "who wanted to do shows for free," Aukerman remembers with a laugh. Figuring it was a good way to promote his weekly alt-comedy showcase at the Upright Citizens Brigade Theatre, he jumped at the chance.
Within a year, Aukerman's radio show, "Comedy Death-Ray," had over 20,000 listeners each week. Hardly anyone listened live; instead, they were downloading the podcast version, which Indie 103.1 let him archive on his own website. "And it just kind of kept growing," he says.
Ullrich approached Aukerman as a fan of the show; the two wanted to work together but weren't sure how, until Ullrich suggested, almost offhandedly, that they start a podcast network. "The ambition of it really appealed to me," Aukerman says, noting that he had long been one of the few performers in the L.A. comedy scene who actually enjoyed the logistics of booking venues, renting equipment and promoting shows. Comedians, he explains, "pretty much want to just come into a room, do their thing and then leave. That was what I'd found at the UCB Theatre. So that was what we tried to base our network on."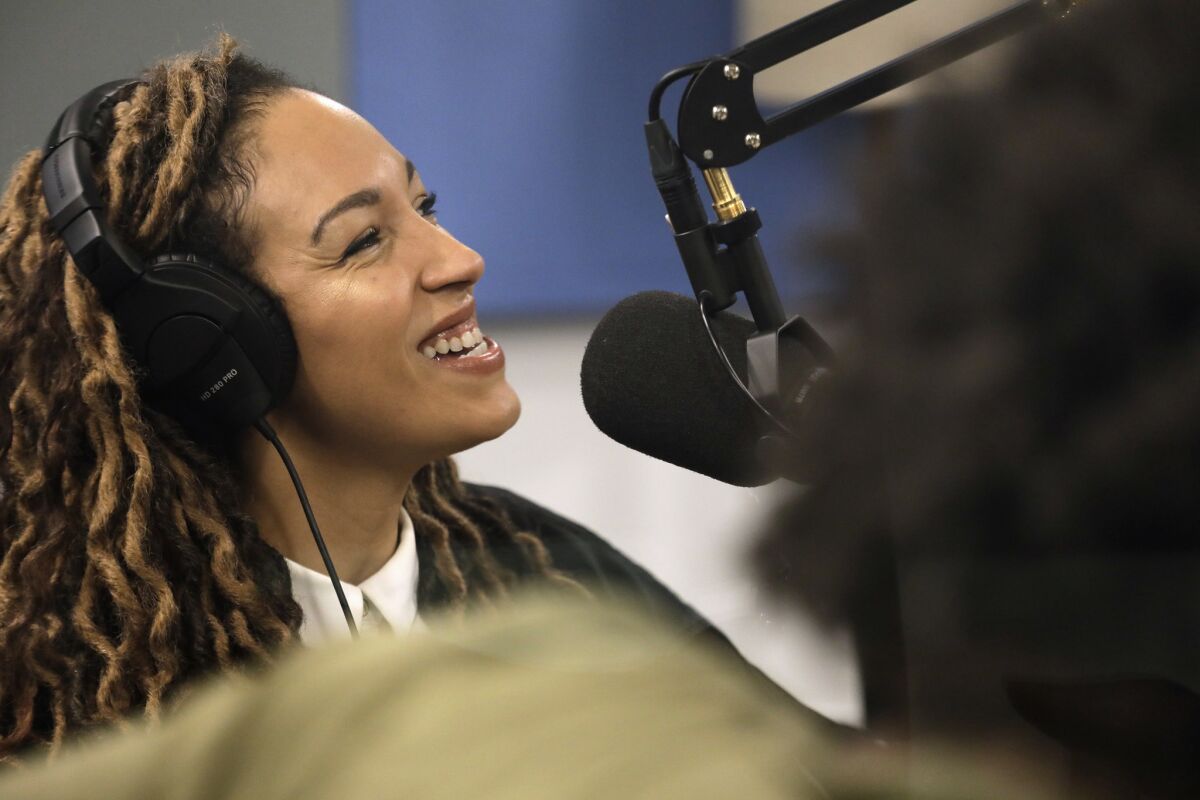 Ullrich and Aukerman set up their first recording studio in a tiny office space in Hollywood next to a marijuana dispensary. Besides "Comedy Death-Ray" — later renamed "Comedy Bang! Bang!" — their first show was "Sklarbro Country," a tongue-in-cheek sports program hosted by brothers Randy and Jason Sklar. Comedian Paul Scheer was another early joiner; Aukerman recalls him coming up with the premise and format of "How Did This Get Made?", his hilarious evisceration of famously bad films, on the spot at a Christmas party at actor Ed Helms' house.
"But most people took a pass on it," Aukerman says. "They didn't really see what podcasting was at the time or what it was going to be."
Today, Earwolf is still based in Hollywood but occupies several thousand square feet on the second floor of a gleaming, modern office complex just off the 101 freeway. In 2015, the network and its sister company, a podcast ad sales service called Midroll, were acquired by media giant Scripps. After the sale, Ullrich exited the company; in June 2018, Earwolf upgraded to better recording studios and more spacious digs.
Visitors to Earwolf's new headquarters are greeted by a wall display of logos for some of the network's most popular shows: Matt Besser's "Improv4Humans," the Real Housewives recap "Bitch Sesh," Cameron Esposito's "Queery" and one of Earwolf's unlikeliest hits, "Hollywood Handbook." Co-hosts Sean Clements and Hayes Davenport satirize their own network's most popular format — a mix of long-form interviews and character-driven improv sketches — by trading showbiz in-jokes, meta-comedy and off-topic tangents with their guests, who are frequently drawn from the ranks of Earwolf's other shows (a popular tactic at the network for cross-promoting its podcasts and strengthening its brand).
"It's satirizing [Hollywood] personalities and talk shows and just really bad conversations," Clements explains. "But it's done kind of dry and straight, so you could easily just mistake it for a really bad conversation or talk show."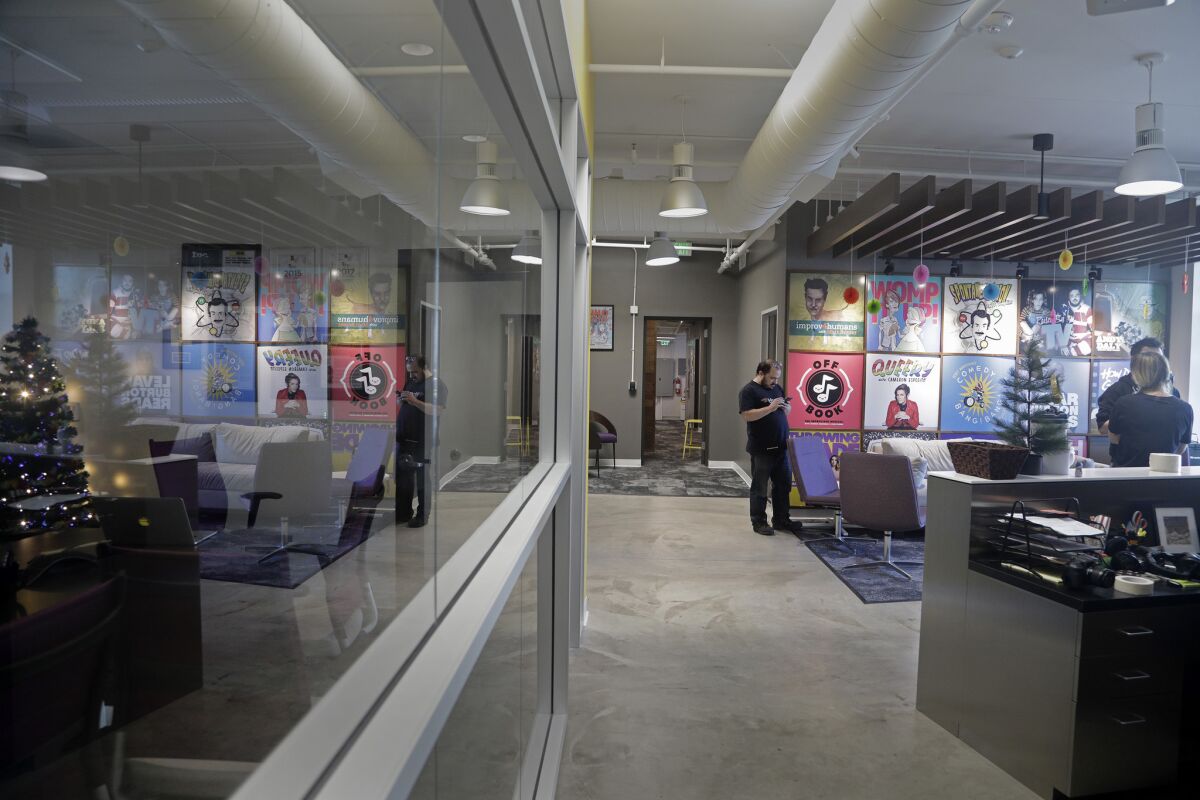 "It's not the most welcoming show," Davenport adds. "We've heard that it takes 15 to 20 episodes for people to really get the show, which from a marketing perspective is not ideal."
The appeal of other Earwolf shows is more immediate. On a recent Monday afternoon, co-hosts Andrew Ti and Tawny Newsome sit down with their producer, Cody "Zig" Ziglar, and a guest, Dave Holmes — the co-host of an Earwolf show, "Homophilia" — to record an episode of "Yo, Is This Racist?" Together they field voicemails from listeners on a variety of race-related subjects, from the racist undertones of tiki culture to the etiquette of covering up offensive tattoos. Newsome, a comedian, actress and musician with an easy air on the mic, came aboard last year and provides a snappy comic foil to the wordier Ti, who created the podcast based on his Tumblr blog of the same name.
"Why aren't Nazis better at having tough names?" she quips at one point, during a discussion of YouTube personality PewDiePie's recurring use of anti-Semitic humor.
"The new Nazi aesthetic is, 'Who, me?'" Ti replies, in an innocent, sing-song tone.
"Yo, Is This Racist?" is one of Earwolf's longest-running shows — it recently released its 1,000th episode — but is emblematic of the network's growing efforts to diversify beyond its roots in what Anderson unabashedly calls "straight white male improv comedy." Since joining Earwolf in 2016, after stints at BBC Radio and rival podcast network Maximum Fun, Anderson has helped launch several LGBTQ shows, including "Homophilia," "Queery" and "Getting Curious," featuring "Queer Eye's" Jonathan Van Ness. Now he has his sights set on other demographics that remain underrepresented in the world of comedy podcasting.
"What we're trying to do now is find ways of bringing in [more] people of color and more women," says Anderson. Aukerman agrees: "We want to say [to our audience], 'Hey, here's women and people of color who have a similar sensibility that you're also gonna like.'"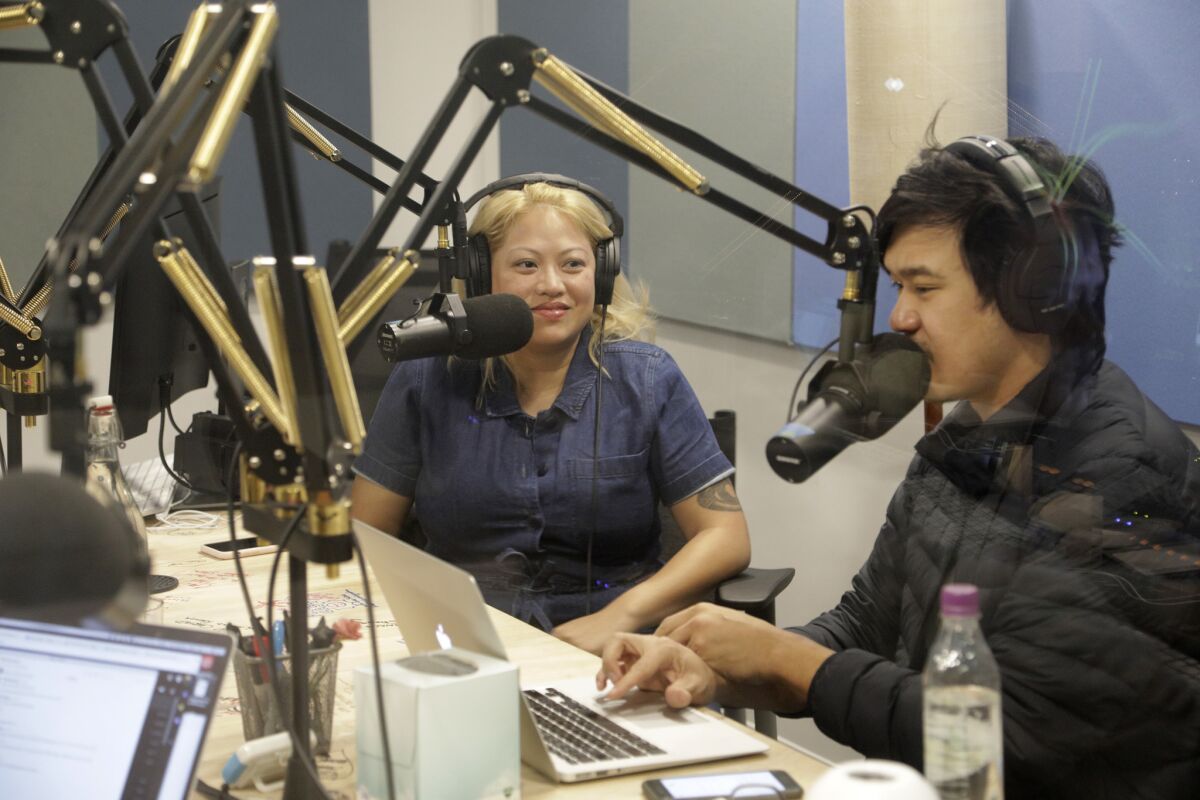 Inevitably, as the podcasting industry grows, Earwolf will have to keep pace with its competitors by landing more A-list talent like O'Brien. But Aukerman is hopeful that doing so won't detract from the network's more homegrown success stories like "Hollywood Handbook" and "Yo, Is This Racist?"
"That's the great thing about podcasting — hopefully, it's not the movie business yet," he says. "People just really respond to the content, and that's where hopefully podcasting won't be eclipsed by stars coming in."
And the stars will keep coming — especially if Anderson has any say in the matter. Watching O'Brien sing the praises of podcasting to big-name guests like Adam Sandler and Kristen Bell, Anderson says he only half-kiddingly has thought, "We need to be slipping business cards to these guys."
Get our L.A. Goes Out newsletter, with the week's best events, to help you explore and experience our city.
You may occasionally receive promotional content from the Los Angeles Times.