Arts Preview: Kendrick Lamar is an essential voice for Los Angeles and beyond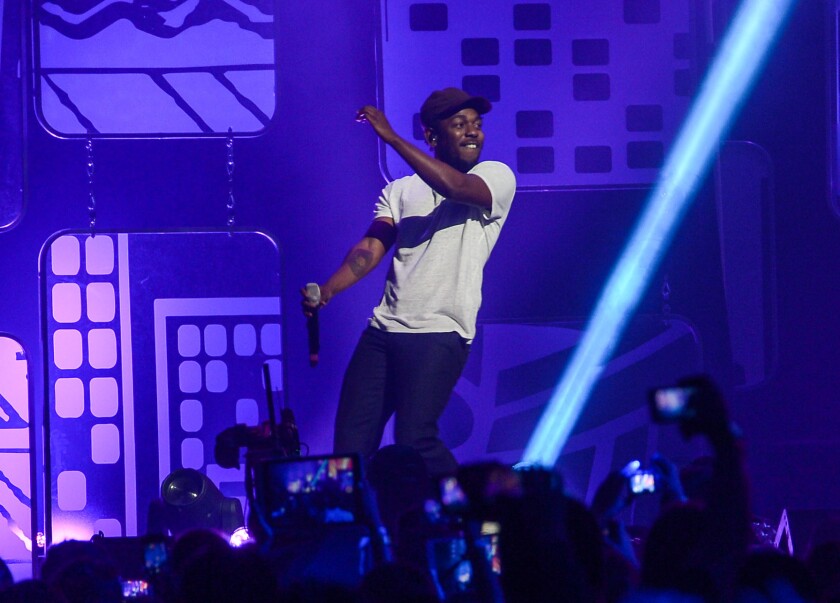 Los Angeles Times Pop Music Critic
The most memorable televised music performance of 2014 occurred on Nov. 15, when Compton's self-described human sacrifice Kendrick Lamar stood on the Studio 8H stage of "Saturday Night Live" and performed his then-new single, "i." It had been more than two years since the rapper's Grammy-nominated breakout album, "Good Kid, M.A.A.D. City," had confirmed the arrival of an essential Los Angeles voice.
In the interim, he had thrilled the community with one of the great rhymed cameos ever put to tape, on Big Sean's "Control." Its couplets were so powerful that the words resonated beyond the usual fanboy channels, a kind of shot heard 'round the world. He dubbed himself "Compton's human sacrifice," "important like the pope" and "a Muslim on pork," and he staked claim to not only the West Coast throne but foreign turf too, while giving a shout-out to Tupac Shakur: "I'm Makaveli's offspring, I'm the king of New York/king of the Coast, one hand, I juggle them both."
That verse furthered a buzz that had been building since Lamar, 27, released his debut EP, "Kendrick Lamar EP," in 2009 after a series of mixtapes. The "Control" boast has also raised the stakes for Lamar's third studio album, "To Pimp a Butterfly." The record, the year's most anticipated hip-hop album (Kanye West's forthcoming "So Help Me God" included), will arrive March 23. The reason: No one right now is speaking as directly and poetically as Lamar about race, identity and Los Angeles.
The "SNL" gig, coming as it did in the months after protests sparked by the fatal shooting of Michael Brown by a police officer in Ferguson, Mo., and other incidents, was a musical response in a charged moment. As the camera zoomed in on Lamar, wearing dark slacks, slip-on loafers and a T-shirt that glowed pink under the lights, the rapper looked into the audience and revealed eyes covered by blackened lenses. His hair, worn in short dreadlocks, was bunched cockeyed on his head. Like classic "SNL" performances from artists such as Talking Heads, Sinead O'Connor, White Stripes and West, Lamar looked strange, frightening, somehow wrong.
"Dedicated to the homies in the pen," Lamar said to start the performance of "i," the album's first single, before nailing a James Brown-suggestive "Hit me!" He stomped his foot while his band tore into the funk-laden riff, one based on the key phrase from the Isley Brothers' "That Lady." Over the next four minutes, Lamar delivered his verses with linguistic clarity, minus the oft-impenetrable insider metaphors or wasteful cusses that typify lazier lyricists.
FULL COVERAGE: Spring Arts Preview 2015
Hard on percussive phrasing and reveling in internal rhymes, Lamar described a South Los Angeles in turmoil, and he did so with a rhythmic snapshot that peaked at key moments with a three-word affirmation as a chorus: "I love myself."
They wanna say it's a war outside and a bomb in the street
And a gun in the hood and a mob of police
And a rock on the corner and a line for the fiend
And a bottle full of lean and a model on the scene yup
These days of frustration keep y'all on tuck and rotation
I duck these cold faces, post up fi-fie-fo-fum basis
Dreams of reality's peace
Blow steam in the face of the beast
The sky could fall down, the wind could cry now
The strong in me, I still smile
Tight with energy, Lamar rapped while gesticulating, his body scrunched and bobbing like Joe Frazier. He jerked his limbs on the beat, physical shocks that seemed to pummel his very spirit. He hit the chorus one more time: "I love myself!"
SPRING ARTS PREVIEW 2015: The lists
That performance set the tone for the new long-player's rollout, one that has been graceful and mercifully quiet, minus Kanye-style drama or Drake-esque midnight surprise. Unlike West, Lamar hasn't been teasing his record with fashion runway appearances, stage-storming viral incidents or boasts. Unlike Drake, he hasn't gunned for superfluous social media mentions. He's laid low. Scarcity breeds demand, one reason Lamar landed the last musical performance of "The Colbert Report."
Outside the spotlights, Lamar focused on writing and working it out with his band, a recent luxury, including contributions by bassist Thundercat, singer Anna Wise, multi-instrumentalist-producer Terrace Martin and percussionist Bilal. His new work shows a devotion to an organic brand of creativity, a truth expressed by Thundercat during a conversation in the fall. Thundercat, known for both his work as a solo artist and as bassist-collaborator with Flying Lotus and singer Erykah Badu, was in the middle of recording "To Pimp a Butterfly," and described it as an important and a highly musical record, one that was the result of all-night brainstorming sessions among a tight, focused group of contributors.
Los Angeles beat producer Flying Lotus had high praise for the record in early March. "New @kendricklamar album gonna pretty much destroy everything," he wrote.
"I pride myself on writing now rather than rapping," Lamar told Billboard magazine in January, one of the few interviews the artist has granted. "My passion is bringing storylines around and constructing a full body of work, rather than just a 16-bar verse." (He declined a Times interview request.)
On Monday, Lamar teased his new ideas on Big Boy's Real 92.3 radio show in Los Angeles via a freestyle on the anniversary of rapper Notorious B.I.G.'s death. Rapping over the late artist's 1994 classic "The What," Lamar compared the political parties to gangs, signaling a fearlessness sure to fuel "Untitled." "From Compton to Congress, it's set trippin' all around / Ain't nothin' new but a flow of new Demo-Crips and Re-Blood-icans / Red state versus blue state, which one you governing?"
That depth and love of language is one reason why novelist Michael Chabon recently annotated "The Blacker the Berry," the second track to arrive from the new record, at the Genius.com annotation site.
In the track, co-produced by longtime collaborator Boi-1da and Martin, Lamar voices the anger of millions of incarcerated peers: "I mean, it's evident that I'm irrelevant to society/ That's what you're telling me, penitentiary would only hire me."
Martin described the album to Billboard as "a soulful record."
"It's a record that needed to be done, and it's like the modern times of Public Enemy," Martin added. "It's a black record. It's a record about being black and being proud at the end of the day."
Lamar characterizes a similar sentiment more poetically in the song's chorus: "The blacker the berry, the sweeter the juice."
Twitter: @LilEdit
------------
FOR THE RECORD
March 15, 3:42 p.m.: An earlier version of this article referred to Kendrick Lamar's new album as "Untitled." The title has been changed to "To Pimp a Butterfly."
---
Get our daily Entertainment newsletter
Get the day's top stories on Hollywood, film, television, music, arts, culture and more.
You may occasionally receive promotional content from the Los Angeles Times.