SoCal dance listings, March 3-10: Jessica Lang Dance at Pepperdine and more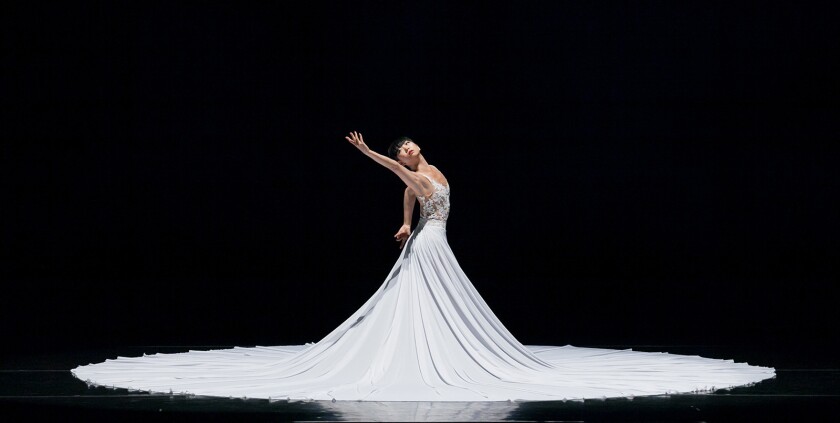 Matthew Bourne's Cinderella The choreographer re-imagines the Prokofiev ballet based on the classic fairy tale as a romantic fable set in London during WWII. Ahmanson Theater, 135 N. Grand Ave., L.A. Sun., next Sun., 1 and 6:30 p.m.; Tue..-Fri., 8 p.m.; Sat., 2 and 8 p.m.; ends March 10. $30-$135. (213) 972-4400.
Jessica Lang Dance The acclaimed N.Y.-based company gives its final area performance before disbanding next month; program includes 2008's "Solo Bach" and 2018's "This Thing Called Love" set to the music of Tony Bennett. Smothers Theatre, Pepperdine University, 24255 Pacific Coast Highway., Malibu. Tue., 8 p.m. $20-$50. (310) 506-4522.
The Oedipus/Antigone Project Workshop presentation of Lionel Popkin's evening-length multimedia performance piece inspired by Sophocles' ancient Greek tragedies. Getty Villa, 17985 Pacific Coast Hwy., Pacific Palisades. Fri.; 7:30 p.m.; Sat., 3 and 7:30 p.m.; next Sun., 3 p.m. $7. (310) 440-7300.
Clairobscur Dance The L.A.-based company performs artistic director Laurie Sefton's new work "Imminent Drift," plus the repertory pieces "Supremacy Ride" and "Triptych: Experience in Defiance." The Nate Holden Performing Arts Center, 4708 W. Washington Blvd., L.A. Sat., 8 p.m. $30-$45. (559) 860-9145.
Lula Washington Dance Theatre The L.A.-based troupe performs a selection of dances inspired by the writings of Ezra Jack Keats. Lewis Family Playhouse, 12505 Cultural Center Drive, Rancho Cucamonga. Sat., 1 and 4 p.m. $16, $18. (909) 477-2752.
Serenade and La Sylphide Los Angeles Ballet pairs the Balanchine classic set to the music of Tchaikovsky with the Romantic-era fable set in Scotland. Royce Hall, UCLA, 340 Royce Drive, Westwood. Sat., 7:30 p.m. $31-$99. (310) 998-7782. (Also in Glendale, March 16)
Tap Fest 2019 Celebration of tap dancing with Evan Ruggiero, Melinda Sullivan and others. Zipper Hall, the Colburn School, 200 S. Grand Ave., L.A. Sat., 6 p.m. $10. (213) 621-1050.
Mystic India: The World Tour Bollywood-style spectacular features dancers, musicians, aerialists and acrobats. La Mirada Theatre, 14900 La Mirada Blvd., La Mirada. Next Sun., 3 p.m. $15-$59. (562) 944-9801.
Nowruz Festival Celebration of Iranian New Year includes performances by Djanbazian Dance Company, Firuze Dance Company and others. UCLA's Dickson Court, 10745 Dickson Court, Westwood. Next Sun., noon to 5 p.m. Free. www.farhang.org
---
Your essential guide to the arts in L.A.
Get Carolina A. Miranda's weekly newsletter for what's happening, plus openings, critics' picks and more.
You may occasionally receive promotional content from the Los Angeles Times.