99 Seat Beat: Romanian clowns, subversive sandwich artists and human pets populate new plays in L.A.'s small-theater scene
Something old, something new: The selections in this week's 99 Seat Beat column are either world premieres or plays making their first appearance on local stages; nevertheless, they all have deep, long-established roots in L.A.'s vibrant small theater scene. All feature characters coping with dire economic, domestic and existential predicaments.
'Old Clown Wanted' at Odyssey Theatre
The essentials: Washed-up circus clowns answering a casting call cling to faded glory and trot out well-worn slapstick routines, alternately comforting and taunting one another as they as they await an audition that never materializes — think Bozo the Clown waiting for Godot. Romanian-French playwright Matei Vişniec's absurdist comedy is a modern-day successor to the existentialist theater of Samuel Beckett and Eugene Ionesco, this time with balloons.
Why this? The show is directed by Visniec's fellow Romanian ex-pat Florinel Fatulescu, whose expertise with this specialized genre includes a long association with Hollywood's now-shuttered Stages Theatre Center, a bastion of European avant garde theatre. As the clowns, José A. Garcia joins Odyssey Theatre Ensemble veterans Alan Abelew and Beth Hogan in this new translation by Jeremy Lawrence, also an accomplished actor at the Odyssey and other prominent local stages.
Details: An Odyssey Theatre Ensemble production at Odyssey Theatre, 2055 S. Sepulveda Blvd., West Los Angeles. 8 p.m. Wednesday Oct. 24, 8 p.m. Fridays and Saturdays, 2 p.m. Sundays (dark this Sunday); ends Nov. 4. $ $32 to $37 ($10 Sept. 29 and Oct. 24). (310) 477-2055, Ext. 2, www.odysseytheatre.com.
'American Hero' at IAMA Theatre
The essentials: The disappearance of a sub shop franchise owner leaves a trio of minimum-wage "sandwich artists" holding the bag in IAMA Theatre's West Coast premiere of Bess Wohl's 2014 subversive comedy. In deftly sketched, compassionate portraits of the working poor, a jaded single mother, a laid-off mid-level bank manager and an exhausted teenager supporting her ailing father struggle to keep their hopes alive despite by an upward mobility escalator that seems perpetually out of order.
Why this? In addition to clever dialog and insider insights into the fast food assembly line, the play is a prescient takedown of the so-called "booming economy" and its unequal beneficiaries. Opening its 11th season, IAMA Theatre Company continues its commitment to "cutting-edge, cool and hyper-modern stories for a streaming generation."
Details: An IAMA Theatre Company production at the Pasadena Playhouse Carrie Hamilton Theatre, 39 S. El Molino Ave., Pasadena. 8 p.m. Fridays (8:30 opening Sept. 21) and Saturdays, 7 p.m. Sundays; ends Oct. 21. $30 ($40 Sept. 21). (323) 380-8843,www.iamatheatre.com.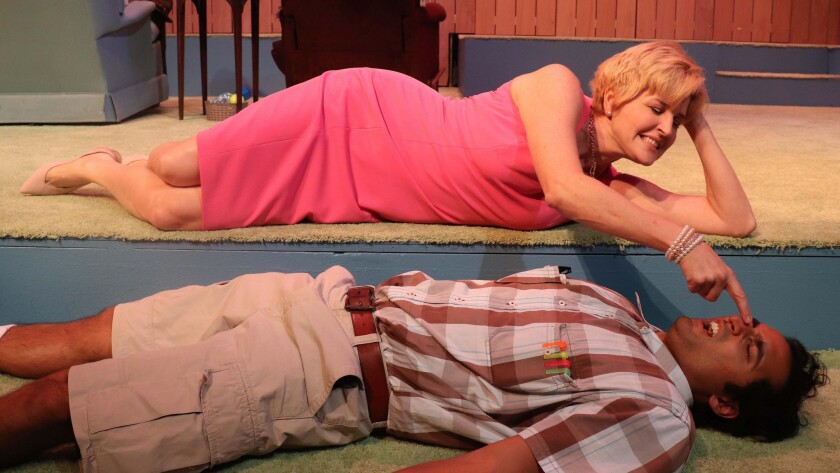 'The Rescued' at The Road
The essentials: In Julie Marie Myatt's quirky new allegorical character study, inspired by the stories of prison inmates, actors give human shape and voice to household pets rescued from animal shelters. It's understood the men represent dogs and the women cats, but their sophisticated thoughts, conflicts and self-discoveries are all-too recognizably our own.
Why this? NoHo's The Road Theatre excels in showcasing emerging playwrights with quality performances and productions. The company's 2016 productions of "John is a father" and "Birder" showed a memorable synergy with Myatt's touching, sympathetic treatment of damaged people and their struggle to overcome psychological wounds.
Details: A Road Theatre Company production at the Road Theatre on Magnolia, 10747 Magnolia Blvd. in North Hollywood. 8 p.m. Fridays and Saturdays, 2 p.m. Sundays; ends Nov. 11. $34. (818) 761-8838, www.roadtheatre.org.
'UK Underdog' at Zephyr Theatre
The essentials: In an affirmative tale of self-transformation, London-born actor-playwright Steve Spiro's new solo piece chronicles his evolution from a bullied Jewish runt into an accomplished martial artist, boxer community leader and animal rights activist. Like "The Rescued," the show also draws explicit parallels between at-risk humans and rescued animals.
Why this?: Spiro, a member of Venice-based Pacific Resident Theatre, developed this nuanced multi-character performance with director and company colleague Ann Bronston, also a prominent veteran of Rogue Machine, City Garage. All proceeds from the production will benefit Shelter Transport Animal Rescue Team and other selected animal charities and anti-bullying groups.
Details: A Shelter Transport Animal Rescue Team in association with Pacific Resident Theatre production at Zephyr Theater, 7456 Melrose Ave., Los Angeles. 8 p.m. Thursdays, Fridays and Saturdays, 2 p.m. Sundays; ends Oct. 28. $25. (323) 960-7788, www.plays411.com/ukunderdog
---
Your essential guide to the arts in L.A.
Get Carolina A. Miranda's weekly newsletter for what's happening, plus openings, critics' picks and more.
You may occasionally receive promotional content from the Los Angeles Times.