Review: Jason sails through worlds of wonder in A Noise Within's 'Argonautika'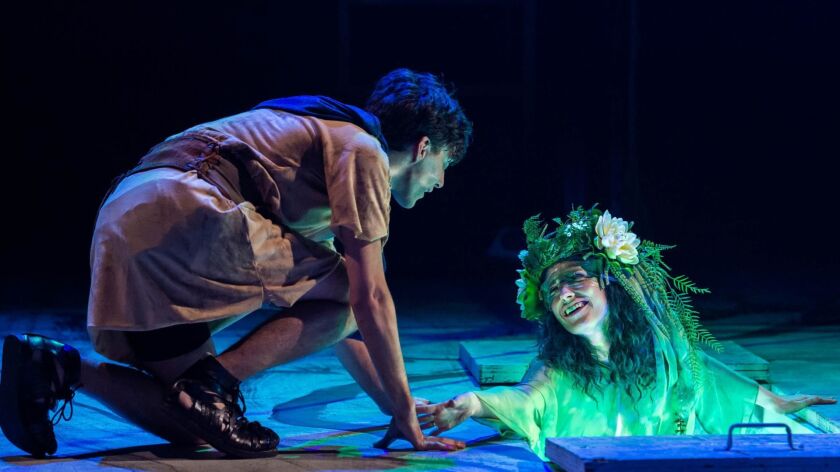 Even the grandest stories, full of epic adventures, are built of everyday experiences. Mary Zimmerman creates theater magic in much the same way, bringing the world's foundational tales alive with little more than the evocative power of the human voice and simple but imaginative stage tricks.
The Chicago writer-director is not on hand to stage her "Argonautika" — the Greek myth of Jason and the Argonauts — at A Noise Within in Pasadena. But as envisioned by the theater's co-artistic director Julia Rodriguez-Elliott, the show generates the eye-widening, gasp-inducing excitement that is characteristic of Zimmerman's work.
Zimmerman's best-known piece, "Metamorphoses," shapes Ovid's Greco-Roman tales into a storytelling session that she staged in and around a pool of life-giving, transforming water. The piece wowed Los Angeles when presented at the Mark Taper Forum in 2000.
Water is key to the Argonauts' perilous adventures too, evoked in sea-like billows of cloth or clusters of toy boats.
A winged, golden ram, a sea monster and a fearsome dragon materialize via puppets and masks. They — and the enchanted places they inhabit — are built of items available at any home-improvement or craft store. Who needs CGI when you've got this, plus the occasional song and a smattering of aerial acrobatics?
As of opening weekend, the complex production felt a bit hasty and perfunctory, but these flaws should disappear with repetition.
THE 99-SEAT BEAT: Our weekly column on the L.A. theater scene »
The sprawling story focuses on Jason, son of a usurped king, whose fearful, power-grabbing uncle sends him on a suicide mission to steal the Golden Fleece. (See: the golden ram mentioned above.) Jason rounds up the great heroes of his day and sets off on a perilous sea voyage aboard a ship called the Argo.
In the midst of heart-pounding dangers, the storytelling lingers over two love stories. One involves Jason (resolute Ty Mayberry) and the nascent sorceress Medea (poignant Angela Gulner). Medea's feelings for Jason spur her to unimaginable achievements but also overwhelm her better judgment. Once Eros' arrow lodges in her heart, the wound gradually turns her white gown crimson. The other bond exists between inseparable hunks Hercules (Frederick Stuart, giving the hero a thickheaded but warmhearted spin) and Hylas (Richy Storrs). When Hercules' devotion is put to a test, still more water, in the form of tears, drenches the story.
"Argonautika" also celebrates strong women. They are among the Argo adventurers, and Medea secures Jason's key victories. The goddesses Hera (imperious Veralyn Jones) and Athena (commanding Trisha Miller) guide the action, with Athena also the principal narrator.
Many in the cast of 17 cycle through multiple roles, keeping the stage teeming with characters.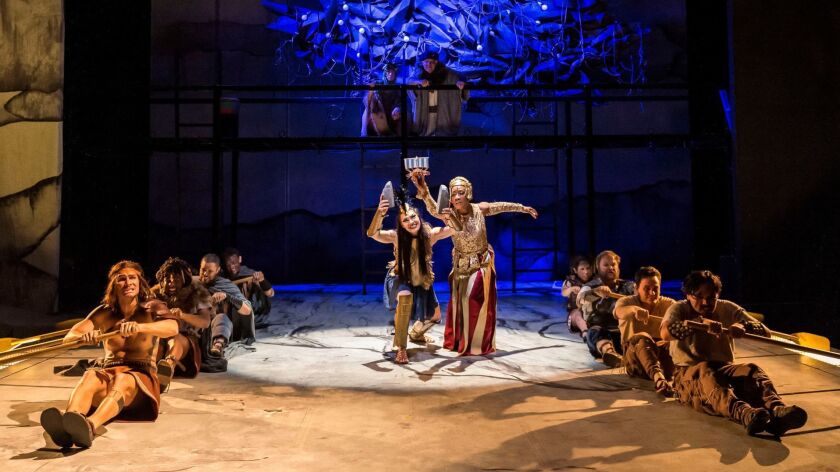 The floor of Frederica Nascimento's multipurpose set is littered with trap doors, useful as a pool for an unwary Argonaut to tumble into or as a field from which skeleton soldiers spring forth. Ken Booth's lights lend mystery and enchantment.
Jenny Foldenauer costumes the men in simple skirts and capes, the women in tunics, subtly underscoring the idea of ordinary people thrust into extraordinary circumstances by malicious rulers and capricious gods. Only the goddesses are given sparkles or fearsome armor.
Zimmerman's adaptation, introduced in 2006, is lively, funny and easy to follow, spoken in conversational, present-day language.
We see in this timeless tale our own challenges, temptations, fears and transforming loves. "Awake, arise, and be brave in the face of life's adversity," an Argonaut urges, having learned the hard way. Good advice, that.
♦ ♦ ♦ ♦ ♦ ♦ ♦ ♦ ♦ ♦
'Argonautika'
Where: A Noise Within, 3352 E. Foothill Blvd., Pasadena
When: In repertory various Thursdays through Sundays; ends May 5
Tickets: $25-$91
Info: (626) 356-3121, anoisewithin.org
Running time: 2 hours, 30 minutes
Support our coverage of local artists and the local arts scene by becoming a digital subscriber.
See all of our latest arts news and reviews at latimes.com/arts.
---
Get our daily Entertainment newsletter
Get the day's top stories on Hollywood, film, television, music, arts, culture and more.
You may occasionally receive promotional content from the Los Angeles Times.