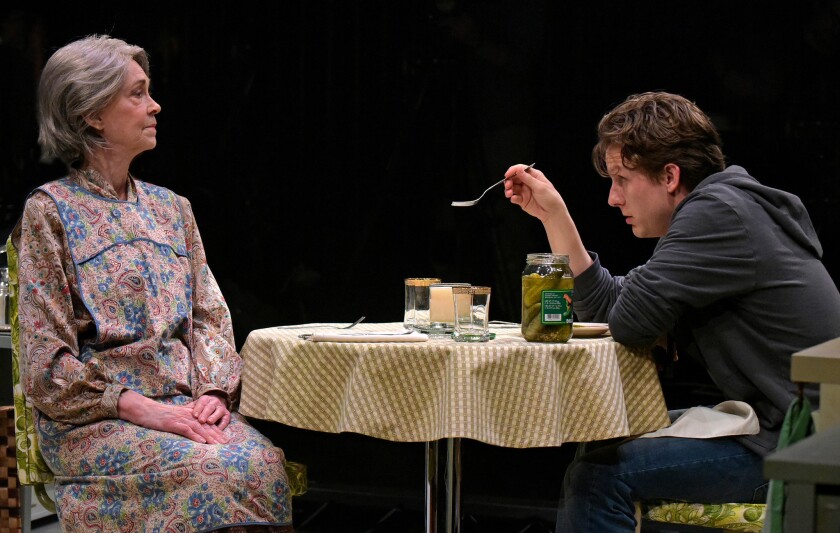 Los Angeles Times Theater Critic
"The Revisionist," a play by actor-writer Jesse Eisenberg about a pompous, inconsiderate young American novelist who pays a visit to a Polish relative he barely knows, tests an audience's tolerance for implausibility from the start.
Were it not for Eisenberg's movie star fame as a disaffected millennial sloucher (he's best known for his Oscar-nominated performance in "The Social Network"), it's hard to imagine this drama, which opened Friday at the Wallis Annenberg Center for the Performing Arts in Beverly Hills, receiving such a fine production. (Word has reached me that he plays a villain in the new "Batman v Superman: Dawn of Justice," but I remain blessedly ignorant of any details.)
Eisenberg starred in the "The Revisionist" in New York opposite the almighty Vanessa Redgrave. Here he remains the illustrious absent author, allowing us to see more clearly the rookie playwriting effort this is.
David (Seamus Mulcahy) is struggling to revise his new novel. His first book sold well, but the New York Times didn't love it, so the pressure is on. Instead of renting a cheap, secluded place in the Catskills like most New York writers on a tight budget, he hops a flight to Poland to spend a week in the small apartment of a much older second cousin who has kept in touch with his grandfather.
Maria (Deanna Dunagan), a Holocaust survivor and widow, is thrilled to welcome him to her home. She has kept the chicken dinner she lovingly prepared for him warm, and she can't wait to become better acquainted with one of the few family members she has left in the world. (Her parents and siblings were killed by the Nazis.)
Unaccountably, David has traveled thousands of miles to stay with a vulnerable relative he doesn't want to interact with. The chicken dinner, an extravagance for her, is wasted on him. David explains he's a vegetarian, but the real reason he won't sit down and break bread with her is that he's completely self-involved — exasperatingly and uninterestingly so in a play that for much of its running time operates like a two-hander.
David has bunkered himself in the bedroom that Maria has sacrificed for his comfort. He spends his time idly pecking away at his keyboard and furtively smoking pot out the window she has asked him to keep closed out of concern for her heating bill. When he does speak to her, he makes clear that, though he's a guest in her home, her very presence is oppressive to him.
There is no rule in drama that a protagonist should be likable or well mannered. Eisenberg throws into relief the shortcomings of this brash, entitled American, making it easy to see the cultural provenance of his psychological flaws.
But a central character must keep us engaged in his or her story. This basic requirement is shirked by Eisenberg, who has supplied no reason for us to want to spend more than few minutes in David's tedious company.
Director Robin Larsen has staged the play for maximum intimacy, with audience members seated on opposite sides of Tom Buderwitz's convincingly cramped one-bedroom apartment set. The sharp scenic focus is impressive (kudos to lighting designer Leigh Allen), but the effect is increasingly claustrophobic. How much longer will we be trapped in these confines with a narcissist devoid of eloquence, wit and emotional resonance?
At one point, in a rare moment of self-observing clarity, David asks Maria if she thinks he's a terrible person. The truth is he's a terrible character, and having seen both Eisenberg and Mulcahy in the role, I can definitively say that the problem lies in the writing. Mulcahy may deliver a very Eisenberg-ish characterization, but not even Marlon Brando in his heyday could have made us care about David.
It's something of a relief when Zenon (Ilia Volok), a taxi driver who has a filial relationship with Maria, turns up at the apartment. He's an odd character who doesn't speak English, cares mostly about his next glass of vodka and takes strange pleasure in shaving Maria's legs, but at least he breaks up the monotony.
Dunagan's portrayal of Maria is more subdued than Redgrave's, less flashy in its virtuosic realism. A Tony winner for her performance as the wrathful matriarch in "August: Osage County," Dunagan works in softer hues here, discreetly revealing Maria's intelligence and delicately disclosing the character's traumatic past.
While I don't think the play would have drawn such top-tier talent without Eisenberg's Hollywood cachet, Maria is a more multidimensional figure than David. She may in fact be the title character, a point that is made with admirable subtlety as the details of her history are drawn out.
But the drama doesn't belong to her exclusively. This is David's encounter with Maria, and David is a deeply annoying cipher.
Eisenberg attempts to pad the sociopolitical context by having Maria's TV set blare CNN reports of refugee crises. And there is the suggestion that the legacy of the Holocaust, although invisible in David's apparently secular Jewish life, haunts his imagination as a writer (his first book sounds like a young adult version of George Orwell's "Animal Farm") and may have even contributed to his anxious, antisocial personality.
But the play would need more than a revision for this latent material to come to the fore. It would require a complete overhaul.
------------
'The Revisionist'
Where: Lovelace Studio Theater at the Wallis Annenberg Center for the Performing Arts, 9390 N. Santa Monica Blvd., Beverly Hills
When: 8 p.m. Tuesdays-Fridays, 3 and 8 p.m. Saturdays, 2 and 7 p.m. Sundays. Ends April 17.
Tickets: $50
Info: (310) 746-4000, www.thewallis.org
Running time: 1 hour, 45 minutes (no intermission
---