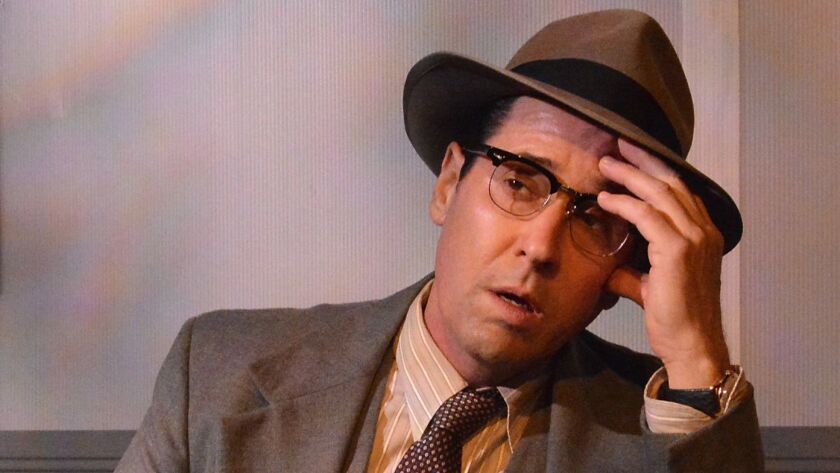 In age-conscious Hollywood, actors are generally eager for roles that make them appear young, but Rob Morrow is headed the opposite direction. In the Ruskin Group Theatre's production of "Death of a Salesman," the 56-year-old is playing Willy Loman, who has been so beat up by life that he's reached his 60s looking older.
Youth, however, is an advantage in this role. "It's Herculean," Morrow says. "There's something athletic about it that, if I were much older, I might be too old."
Willy, the title character of Arthur Miller's 1949 play, is the quintessential American worker left behind. A traveling salesman, he's had to scramble every day of his career just to meet household expenses. Late in his work life, he's been taken off salary and put back on commission, like a beginner.
In the play's first moments, he returns home in the middle of the night, utterly defeated. He hauls his sample cases as though they are loaded with all of his worries and disappointments — head down, shoulders bowed, feet shuffling. It's not comfortable.
"I take Pilates," Morrow says, "but Willy doesn't have great posture, so it takes a toll."
The transformation is perhaps especially surprising because Morrow's late 20s have been frozen in time in the early-'90s CBS comedy "Northern Exposure." For 5½ seasons he portrayed a young doctor from New York who begins his career in small-town Alaska.
He went on to play an FBI agent through six seasons of CBS' "Numb3rs," as well as defense attorney Barry Scheck in the 2016 FX series "American Crime Story: The People v. O.J. Simpson." He's also had a recurring role as a judge on the Showtime drama "Billions," but for many TV watchers he remains the playful, openhearted Dr. Joel Fleischman.
"People are so nice to me wherever I go," Morrow says as he indulges in a cigar on a patio outside the Santa Monica theater one recent afternoon. "It's the great icebreaker, fame. It's not like I'm Leonardo DiCaprio or something. But wherever I go, for the most part, I can get a conversation going because someone will know me. So I'm rarely lonely."
Asked what he's been up to lately, Morrow ticks through a varied list.
He's been directing for TV, including four episodes of the BET show "Games People Play," which are now airing. As an actor he's in the movie "The Kill Team," awaiting a release date, in which he portrays the father of a U.S. soldier implicated in civilian killings in Afghanistan. He's also a musician, singing, playing guitar and co-writing songs with Carlos Calvo for the Rob Morrow Band.
"Salesman" was not built around Morrow. His teenage daughter, Tu, has studied at the theater's affiliated Ruskin School of Acting, and Morrow has taught master classes there, but he learned about the production only when his wife, actress Debbon Ayer, called his attention to a casting notice.
Morrow says he inquired about the role, then immediately thought: "Please don't call me back — because it is a mountain, a beast of a play. I was scared of it, but I also knew I couldn't not do it."
As Morrow talks, Dr. Fleischman's easy smile makes frequent appearances, although the actor's personality is saltier than the G-rated TV persona.
He received some early-in-life inspiration for Willy Loman. "My dad was a salesman. I used to go on rounds with him. I know the whole game, his patter, sweet-talking the receptionists. I watched all of that very keenly."
Miller's drama has been a staple of stages large and small since its introduction, but Morrow sees a particular resonance with America today.
"It's interesting timing for this play," he says, "because it has a real populist essence to it. 'Populist' now gets thrown around in unfair usage. But Willy, he is the true populace.
"Arthur Miller is paying homage to the working man, the man who believes that if you work hard, you can achieve something and make a life for yourself." But even amid the prosperity after World War II, that proved elusive for many workers.
"All the different ways that the corporate ethos eats up individuals is laid out here," Morrow says. "Willy is the discarded worker in the system."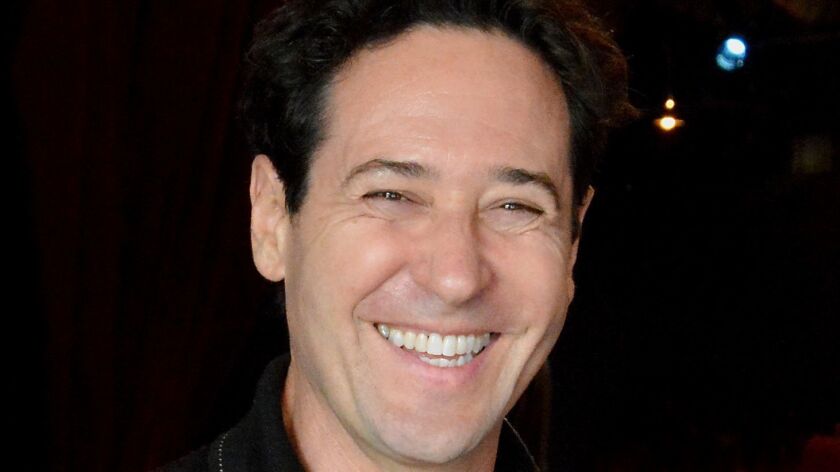 SEE OUR LATEST news and reviews at latimes.com/arts. »
Like Willy, Morrow is hardworking, says Robert Adamson, who portrays Biff, the older of Willy's two sons. "He's always ready to put in a little more work, a little extra time."
Morrow is "very much the patriarch" of the company, adds Adamson, 33. "He's very giving and very open," fostering such a close bond that "I feel very much like he's my dad up there, and it's easy to have my heart break."
In addition to adopting Willy's stooped posture, Morrow has had to memorize a mountain of lines that shift through time as Willy searches his memory, trying to figure out where he lost his way. And he's continually roaming the dark places in Willy's soul.
The payoff? "It's just fun to play something so rich," Morrow says. "And it's fun to age up a little bit, because I'm old enough now to know the things that change as you get older, the aches or hair coming out of your orifices.
"I don't really care in terms of vanity or anything," he adds. "It's actually liberating."
====
'Death of a Salesman'
Where: Ruskin Group Theatre, 3000 Airport Ave., Santa Monica
When: 8 p.m. Fridays and Saturdays, 2 p.m. Sundays, through Aug. 4. No performances July 12-13.
Tickets: $25-$35
Info: (310) 397-3244, ruskingrouptheatre.com
---