16 Images
Tonys 2012: This is how stars are born
There are certain performances each Broadway season that remain in the memory and mark an actor as a significant artist to watch. Most of the performers on these pages are new to the Tony nomination list; a few are previous nominees. But they've never given a performance quite like the ones discussed here. Meet some of the actors whose work this year sets a different agenda for them and provided those who saw them one reminder of why we go to the theater.
(Joan Marcus and Carol Rosegg)
When "Newsies," adapted from the 1999 Disney film, opened last fall at New Jersey¿s Paper Mill Playhouse, word drifted back across the Hudson River that a star had been born. That assessment was seconded when the 27-year-old Texas-born actor was tapped to play Clyde Barrow in the ill-fated Broadway musical version of "Bonnie and Clyde." Once that show closed, Jordan was free to reprise his role of crusading newspaper boy Jack Kelly. With his velvety voice and classic good looks, Jordan — Constantine Maroulis' understudy in "Rock of Ages" — the Tony nominee for lead actor has sparked a persistent question: Is this guy the next Hugh Jackman?
(Mike Coppola / Getty Images)
Forget the widely touted special effects in the new Broadway musical "Ghost." What really drew the buzz was Randolph, the spirited 25-year-old actress who plays Oda Mae Brown, the dissembling storefront psychic played by Whoopi Goldberg in the 1990 film. Randolph briefly played the role in London prior to making her Broadway debut. She brings fire — as well as unexpected vulnerability — to a woman on whom, says the actress, God has decided to play a practical joke. Her brassy, wild-eyed performance has earned her a Tony nomination for featured actress in a musical.
(Joan Marcus)
Whether stripping down to the black lingerie of a dominatrix or fumbling into a white ruffled dress to portray a European aristocrat, Arianda gives an electrifying performance in David Ives' "Venus in Fur." Arianda first played the role of the mysterious Vanda off-Broadway, just months after graduating from New York University. The New Jersey-born actress of Ukrainian descent made her Broadway debut the following season in a Tony-nominated turn as the ditsy-yet-savvy heroine of a revival of "Born Yesterday" — and received a Tony nomination. Last fall, she reprised Vanda on Broadway and another lead actress nomination followed.
(Joan Marcus)
In 2001, Kayden, above right, made a stirring Broadway debut as the pigtailed and droll Little Sally in "Urinetown," for which she was nominated for a Tony. In the intervening decade, she lost the pigtails and is now playing a hapless French cook called upon to impersonate a seductive siren in the revival of Marc Camoletti's sex farce "Don't Dress for Dinner." Raised in Orange County, Kayden has proven to be an inveterate scene-stealer. (Just watch some of her appearances on "MADtv.") As Suzette is drawn into the schemes of two adulterers, Kayden grows increasingly loopy — and looped — in a performance that her idol Peter Sellers would admire. She is nominated for lead actress in a featured role of a play.
(Joan Marcus)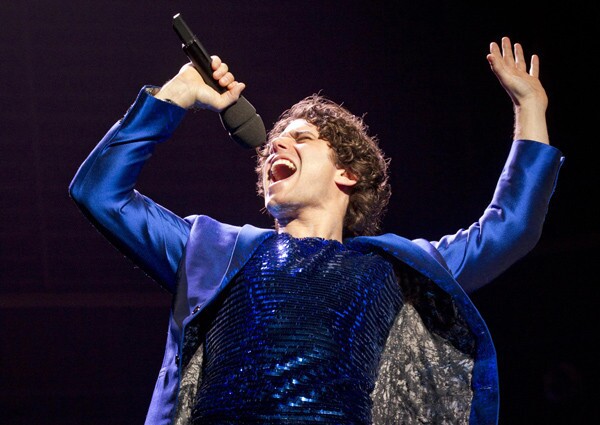 While not exactly sympathy for the devil, Young does elicit a stirring empathy for his glorious-voiced Judas Iscariot in the new revival of "Jesus Christ Superstar." Young has said that he conceived his Judas as a devout, religious person who fears that the mania surrounding Jesus will bring Roman wrath down on his tribe. The critical raves that Young earned both at the Stratford Shakespeare Festival and La Jolla Playhouse followed him to Broadway, where he has been nominated for a Tony for featured actor in a musical.
(Joan Marcus)
The revival of "On a Clear Day You Can See Forever" may have been a rare stumble for director Michael Mayer ("Spring Awakening," "American Idiot"), but he received nothing but plaudits for casting Jessie Mueller as the aspiring jazz singer Melinda Wells, who emerges out of the body of a hypnotized young gay man in this tale of reincarnation. The Chicago-born actress salvaged two dreams from the ruins of "Clear Day": a Broadway debut opposite Harry Connick Jr. and a Tony nomination: featured actress in a musical.
(AP)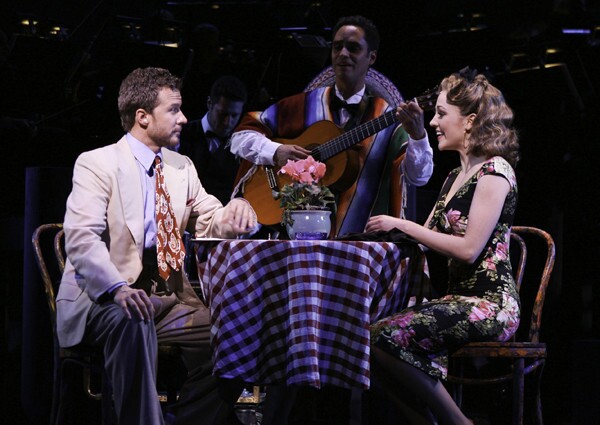 The actress long ago dispelled whatever skepticism greeted her Broadway debut in "Grease" — she won the role of Sandy Dumbrowski in a reality TV show, ¿Grease: You¿re the One That I Want.¿ In the five years since, she took over for Kelli O¿Hara in "South Pacific," played ingénue Hope Harcourt in "Anything Goes" and was Bonnie Parker in this season's short-lived musical "Bonnie and Clyde," for which she¿s been nominated as lead actress in a musical. Osnes, 26, is said to have helped shape her role in the musical, which first bowed in a 2009 production at the La Jolla Playhouse.
(Ari Mintz / AP)
In Lydia Diamond's drama "Stick Fly," Rashad, above right, is the 18-year-old daughter of a maid in a summer house on Martha's Vineyard, quietly observant of its "bougie" (as in black bourgeoisie) inhabitants. Yet she was a magnetic and confident presence with her piercing doe eyes and lithe figure. The 26-year-old actress, nominated as lead actress in a featured role, was memorable as a rape victim in Lynne Nottage's Pulitzer-Prize-winning "Ruin," a role she won just after graduating from Cal Arts. Though "Stick Fly" had a short run, it may be remembered as Rashad's Broadway debut.
(Richard Termine / Court Theater)
It's not surprising to learn that Davis once competed in beauty pageants. She knows how to wield her lithe body as well as she wields a fiddle, playing the brash, whiskey-and-soap-opera-loving Czech immigrant Reza in "Once." The musical has given the Texas-born actress the chance to show off her fourfold talent: belting songs, dancing the tango, jumping on bars and playing the violin like a gypsy. Davis had never done a professional musical before "Once" and admits she was terrified at the prospect. Despite her fears, she earned a Tony nomination for featured actress in a musical.
(Joan Marcus)
As part of the audition for the role of the Czech émigré who restores the artistic fire in a heartbroken Irish busker in the musical "Once," Milioti was given a couple of weeks to learn to play a classical piano piece. She threw herself into the task with discipline and rigor and won the role of "the Girl." For her efforts, she has earned enthusiastic reviews and a Tony nomination for lead actress in a musical. Milioti has yet to see the film with Markéta Irglová and Glen Hansard on which the musical is based, but she captures its pathos and romanticism.
(Joan Marcus)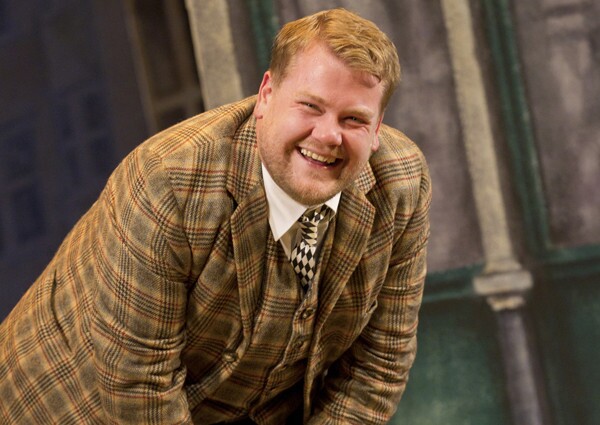 When a buxom redhead asks Corden in "One Man, Two Guvnors" whether he prefers eating or making love, the portly 33-year-old actor pauses for a beat, then a wicked smile curls around his lips. Turning to the audience — who by now is well acquainted with his rapacious appetites — he says, "It's a tough one that, innit?" Corden, who made his Broadway debut in "The History Boys" in 2006, proves a hilarious guide into a comic world of 1960s petty gangsters. As the servant Francis Henshall, his lead-actor nominated performance is a master class in low British comedy, split-second timing, and cunning improvisation.
(Joan Marcus)
"She does that eight times a week?" is a typical reaction to Bennett's brutal and gutsy performance as Judy Garland in Peter Quilter¿s controversial new play, "End of the Rainbow." The 50-year-old English stage and television actress has previously won Olivier Awards for her West End performances in "She Loves Me" and "Hairspray." The real high-wire act is Bennett's daring interpretations of six of Garland's best-loved songs. Segueing between a hotel room and London's Talk of the Town nightclub, the play has made Bennett, well, the talk of the town. And a lead actress nominee.
(Carol Rosegg )
In "Clybourne Park," the drama inspired by Lorraine Hansberry's "A Raisin in the Sun," Shamos plays dual roles that he has described as "jackassy." In the first act, set in 1959, he is a community leader who discourages his white neighbors from selling their house to a black family. Fifty years later, he is half of a young couple moving into the now-blighted neighborhood and meeting with longtime residents. His character often says what others might think but would never say aloud. To Shamos' great credit, pegging either character as simply "racist" becomes complicated, and he was nominated for a featured actor Tony.
(Lawrence K. Ho / Los Angeles Times )
His performance as a deaf, doddering, and much-maligned octogenarian waiter in "One Man, Two Guvnors" may be one of the shortest ever to be nominated for a featured actor Tony. But every minute is so jam-packed with pratfalls, slaps and tumbles that the nomination for Edden, above right, came as no surprise. More remarkable is that the wispy-haired geriatric character is played by a 33-year-old actor. Edden was teaching clowning when he auditioned for "One Man, Two Guvnors" at the National Theatre. A year later, Edden is making his Broadway debut, earning acclaim, laughs — and a weekly visit to the chiropractor.
(Joan Marcus / Music Box Theatre)
At a recent Broadway fundraising gala, Kazee shyly accepted compliments for his tender and poetic performance as the disillusioned Irish busker in "Once." Raised in a Kentucky trailer by blue-collar parents, the 36-year-old community college dropout is astonished to find himself a Broadway star. He shouldn¿t be. He's paid dues: a replacement Sir Lancelot in "Spamalot," playing opposite Audra McDonald in ¿110 in the Shade¿ and years in Los Angeles with then-girlfriend Megan Hilty looking for TV work. But nothing has fit Kazee so perfectly as "Guy," for which he is nominated as best lead actor.
(Jennifer S. Altman / For The Times )